Curve Accepting Nominations for 1st Summit Bank Teachers of the Year to be Honored on Teacher Appreciation Night
Three winners will receive $100 cash prizes, with nominations open until March 31st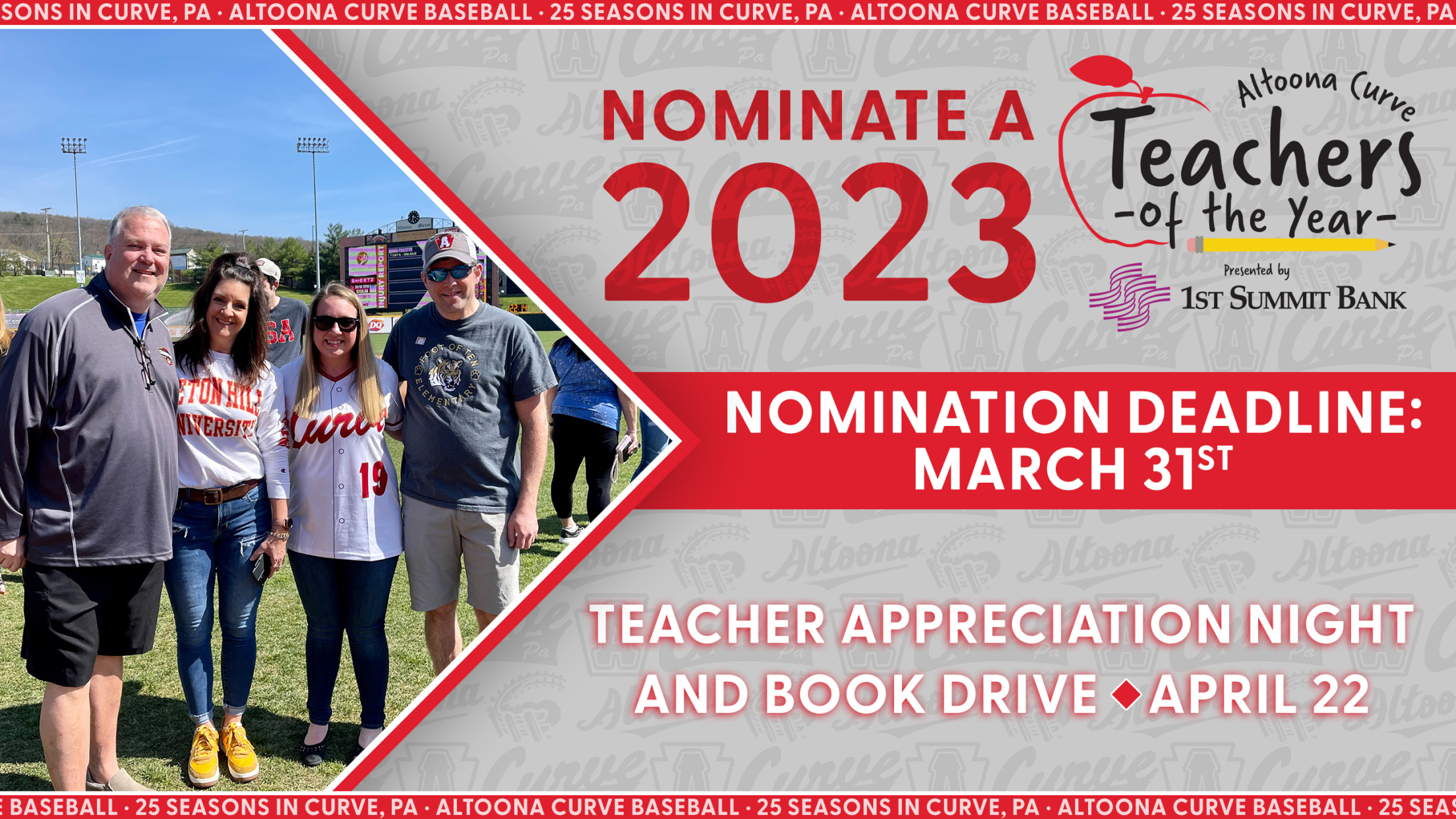 The Altoona Curve are excited to announce the opening of the 2023 1st Summit Bank Teachers of the Year Competition. Three nominated teachers will be named Teachers of the Year with a special on-field ceremony on Teacher Appreciation Night, presented by 1st Summit Bank, on Saturday, April 22 at Peoples
The Altoona Curve are excited to announce the opening of the 2023 1st Summit Bank Teachers of the Year Competition. Three nominated teachers will be named Teachers of the Year with a special on-field ceremony on Teacher Appreciation Night, presented by 1st Summit Bank, on Saturday, April 22 at Peoples Natural Gas Field when the Curve host the Bowie Baysox at 4:00 p.m.
"We are excited to once again partner with 1st Summit Bank to honor our local teachers!" exclaimed Curve GM, Nate Bowen. "Everyone has a favorite teacher that helped them through hard times and to get where they are today and we are happy to honor some of the great Teachers we are blessed to have in Central Pennsylvania."
Teacher Appreciation Night will honor individuals who exude enthusiastic passion and creative skills to educate our next generation. The three winners of Teacher of the Year will receive a $100 cash prize as well as special gifts from the Curve and 1st Summit Bank.
Nominations for Teacher of the Year will be accepted through March 31 and all submissions can be made here.
"1st Summit Bank is once again excited to recognize the top educators of our region with the Teachers of the Year Award," said Sean McCool, Public Relations and Communications Manager for 1st SUMMIT Bank. "As we found last year, our teachers are truly making a tremendous difference in the lives of our youth. Our team at 1st Summit Bank wants to commend the effort and commitment of our teachers."
Any kindergarten through 12th grade teacher is eligible to be nominated by a student. Every nominated teacher will receive two (2) complimentary Grandstand tickets to Teacher Appreciation Night on Saturday, April 22 and will be contacted by a Curve Ticket Representative after their nomination has been received.
Teacher Appreciation Night will also host a Book Drive which will benefit elementary school students who come from a low-income background. Fans are asked to drop off new books at the gate upon entrance and a suggested list of books will be made available here.
For tickets and more information, visit AltoonaCurve.com, call 877.99.CURVE or stop by the PNG Field box office. Additionally, the Stockyard Team Store is open Monday-Friday from 9 a.m. to 5 p.m., during every home game and online 24/7/365.