Sky Carp release daily promo schedule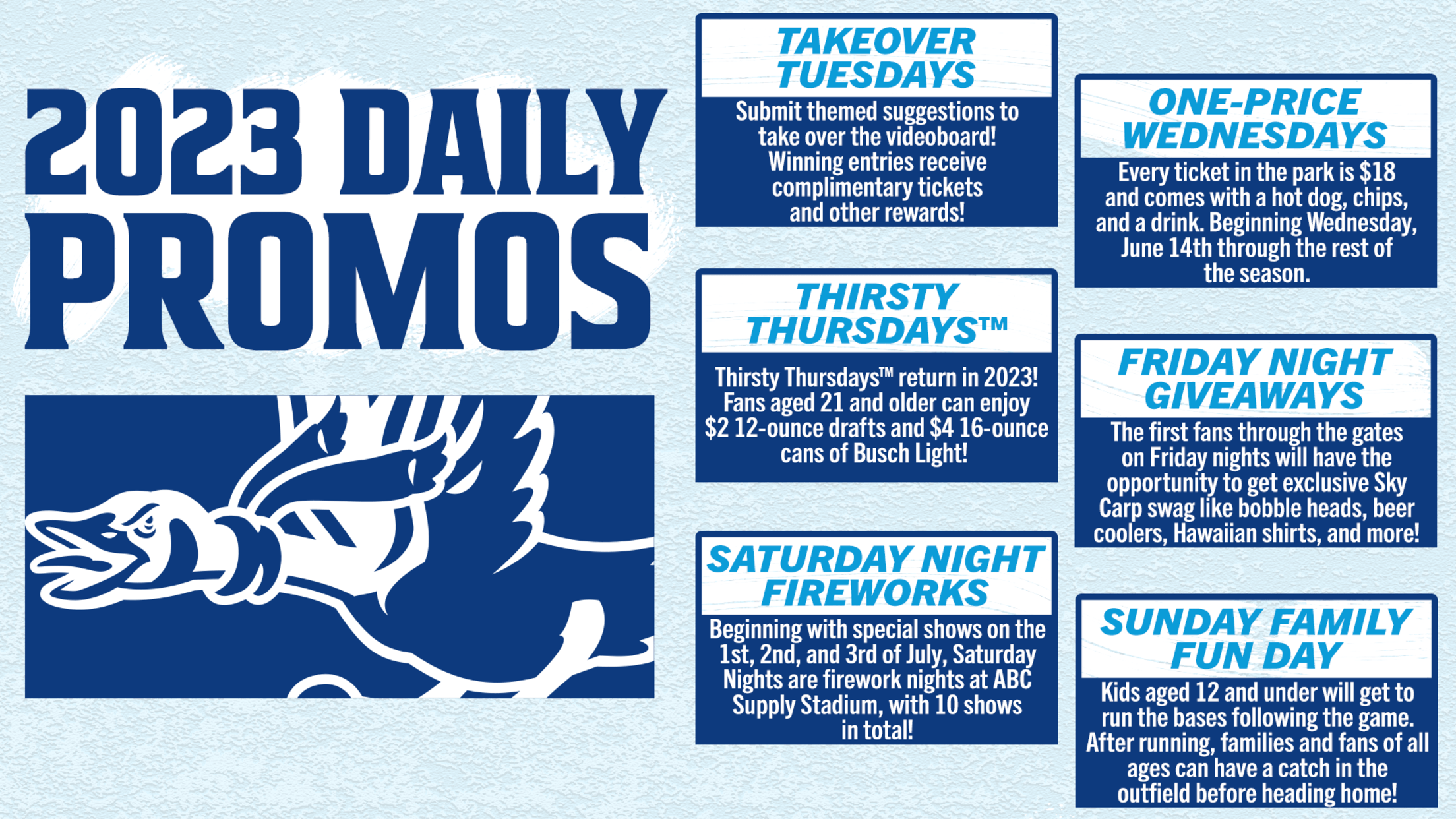 BELOIT — The Beloit Sky Carp are blending some traditional fan favorites with exciting new endeavors in this season's daily promotional schedule. Each day of the week will feature a different promotion that is sure to excite fans as they look forward to the 2023 season. Takeover Tuesday is an
BELOIT — The Beloit Sky Carp are blending some traditional fan favorites with exciting new endeavors in this season's daily promotional schedule.
Each day of the week will feature a different promotion that is sure to excite fans as they look forward to the 2023 season.
Takeover Tuesday is an ideal way to kick off the traditional six-game homestand. Fans can submit theme ideas to skycarp.com. Dinosaurs, video games...heck, even a barnyard theme! It's all up to you!
Not only will the winner see their theme displayed throughout the evening at ABC Supply Stadium, they will also receive four free tickets to the game, and a chance to throw out the first pitch. The link to submit your idea is here: https://www.milb.com/beloit/tickets/takeover-tuesdays
One-Price Wednesday is also new this season. Beginning Wednesday, June 14, all tickets on hump days will be $18. That price of admission includes a hot dog, chips and soda from our concession stands.
Fan favorite Thirsty Thursday™ will be back this season! Fans can enjoy a 12-ounce draft of Busch Light for just $2, and 16-ounce cans for just $4.
Sunday Family Funday, a huge hit at games for years in Beloit, is back as well. Kids 12 and under can run the bases just like the players following the game. After the base run is completed, fans of all ages can take to the outfield to have a catch before heading home. Don't forget your gloves!
A baseball season in Beloit wouldn't be complete without a heaping helping of fireworks, and 2023 will be no different. The Sky Carp will be putting on 10 fantastic shows throughout the summer on Saturday evenings. Shows on July 1st, 2nd and 3rd will kick off the shows.
Giveaways were mighty popular with fans last season, and the Sky Carp have a full list of terrific items that fans can go home with on select Fridays throughout the summer. Stay tuned for the dates and the particulars on the items, as well as our full promotional schedule!
The Beloit Sky Carp are the High-A Affiliate of the Miami Marlins and play their games at ABC Supply Stadium -- the heart of the Riverbend District.
Get tickets at SkyCarp.com or call the Box Office at 608-362-2272.