'Giveaway Week' -Bisons June 13-18 Homestand includes 4 giveaway events
From Irish Night to Father's Day, leave the ballpark with a little something extra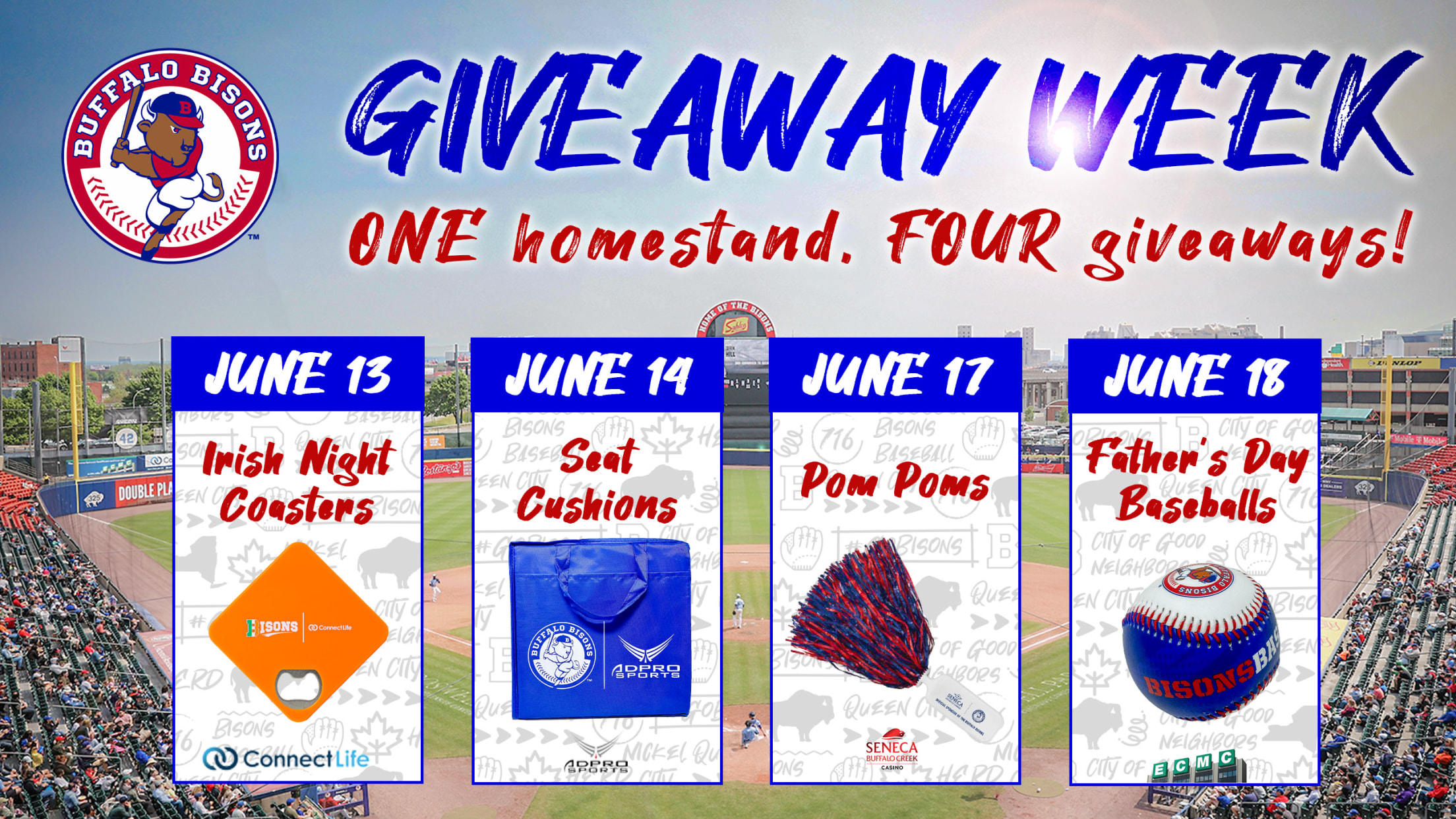 GET MY TICKETS Take me out to the ballpark and come back with a little something extra... it's "Giveaway Week" at Sahlen Field as the Bisons host the Syracuse Mets, June 13-18. While two Thruway Series battle it out on the field, we're starting the fun before you even reach
Take me out to the ballpark and come back with a little something extra... it's "Giveaway Week" at Sahlen Field as the Bisons host the Syracuse Mets, June 13-18. While two Thruway Series battle it out on the field, we're starting the fun before you even reach the seats with FOUR GIVEAWAY EVENTS in our next six home games.
The fun starts with the series opener as Tuesday, June 13 is Irish Festival Night (7:05 p.m.) with an Irish Night Coaster Giveaway to the first 1,000 fans (Gates 6 p.m.), presented by Connect Life. Then Wednesday, June 14, the best seat in the house gets even better with a Seat Cushion Giveaway to the first 2,000 fans (Game 7:05 p.m., Gates 6 p.m.), presented by ADPRO Sports. As we celebrate Native American Heritage Night on Saturday, June 17 (6:05 p.m.), the first 1,000 fans will receive a Pom Pom Giveaway, courtesy of the Seneca Buffalo Creek Casino (Gates 5 p.m.). Finally, as part of Father's Day at the Ballpark on June 18 (1:05 p.m.), the first 2,000 fans will receive a Logo Baseball Giveaway (Gates 12 p.m.) that they can then use for the postgamePlay Catch on the Field with Dad. TICKETS
All giveaways will be to the first allotted fans through the Inspire Dental Gate at Swan St. only and will not be sold in stores. The Bisons upcoming homestand will also include the 2nd Annual Lacrosse Night on Thursday, June 15 (7:05 p.m.) with the N.L.L. Champion Buffalo Bandits and our next Honda fridaynightbash! on June 16 (7:05 p.m.), with pregame Resurgence Brewing Happy Hour and Postgame Fireworks. It's a homestand full of fun, so get your tickets today and we'll see you at Sahlen Field.