Knights Beat the Sounds 4-3 in 10 Innings Friday 
Sell-Out Crowd of 10,413 Fans Watched Exciting Walk-Off Win at Truist Field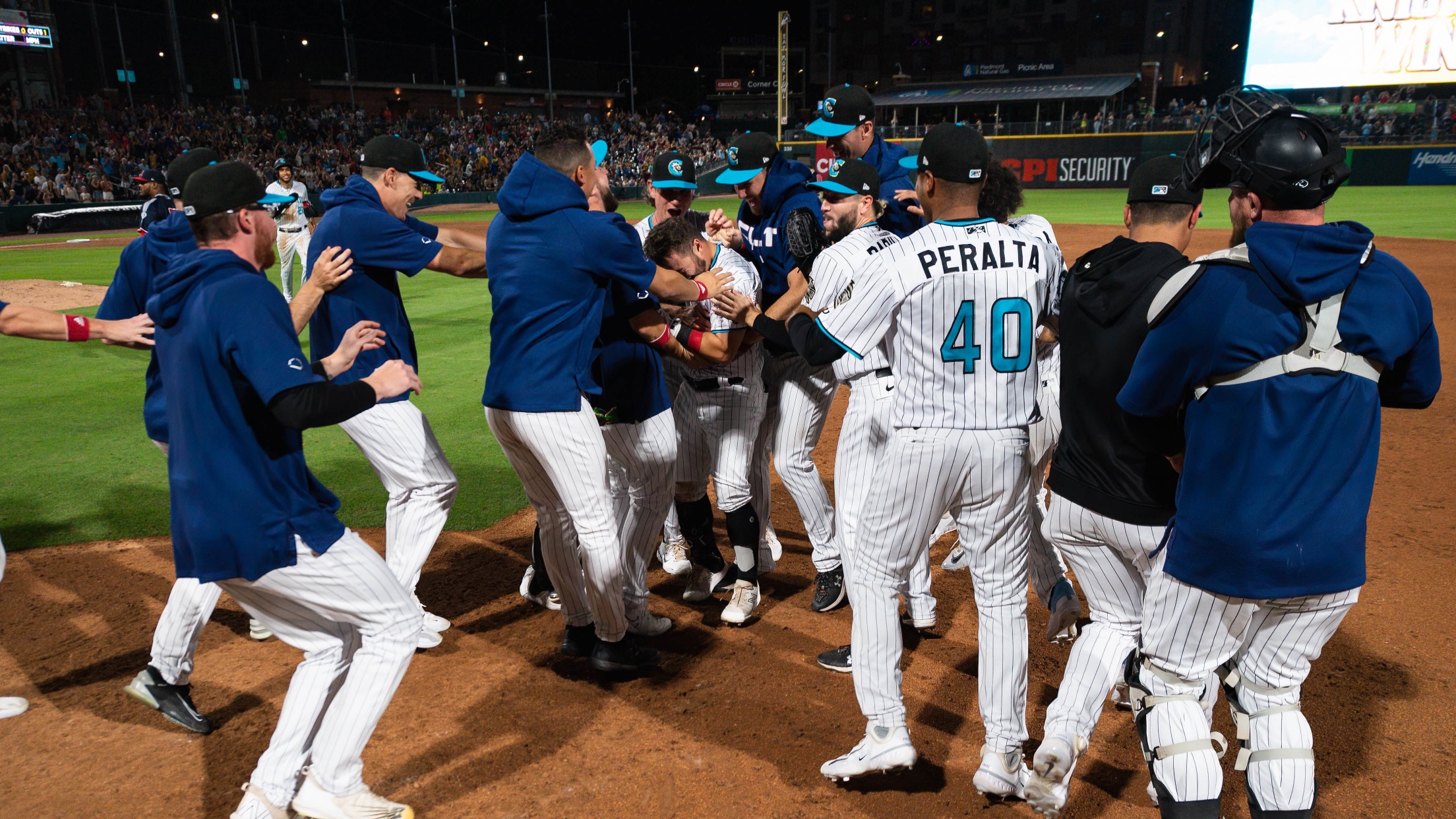 Nate Mondou hit the game-winner in the 10th. (Laura Wolff/Charlotte Knights)
(UPTOWN CHARLOTTE, NC) -- Second baseman Nate Mondou singled home Oscar Colás in the bottom of the 10th inning to propel the Charlotte Knights to a thrilling 4-3 walk-off win in game four of the six-game series against the Nashville Sounds in front of a sell-out crowd of 10,413 fans
(UPTOWN CHARLOTTE, NC) -- Second baseman Nate Mondou singled home Oscar Colás in the bottom of the 10th inning to propel the Charlotte Knights to a thrilling 4-3 walk-off win in game four of the six-game series against the Nashville Sounds in front of a sell-out crowd of 10,413 fans from Truist Field in Uptown Charlotte. With the win, the Knights evened up the series, two games to two.
In the bottom of the 10th inning, Laz Rivera started at second base, but was the first out of the inning after he was thrown out on a bunt fielder's choice by Colás. Still, the Knights continued to rally. Right fielder Víctor Reyes then walked to give the Knights runners on first and second base with one out. Enter Nate Mondou.
On a 0-1 count, Mondou ripped the Bennett Sousa offering into right field and Colás came around to score the game-winning run. Sousa (2-1, 3.95), the former Charlotte hurler, was charged with the loss.
Mondou had two of Charlotte's eight hits on the night, including the game-winner. Catcher Carlos Pérez had a game-high three hits on the night for the Knights.
Charlotte RHP Alex Colomé (3-0, 1.17) earned the win after he fanned two batters in the top of the 10th inning, giving way to Charlotte's walk-off victory. RHP Luke Farrell started Friday's game for the Knights and was sharp over three innings. Farrell allowed just one hit and did not allow a run in his three innings of work.
The Knights will continue the six-game series against the Nashville Sounds (Triple-A affiliate of the Milwaukee Brewers) from Truist Field on Saturday night. The "Voice of the Knights" Matt Swierad and long-time Knights broadcaster Mike Pacheco will have the call for all of the action on www.CharlotteKnights.com. Fans can watch the game live on MiLB.tv and the Bally Live app. First pitch on Saturday is set for 7:04 p.m. from Uptown Charlotte, NC. Former Charlotte Knights pitcher Mike Wright will also join Matt and Mike beginning at 7:00 p.m. as the game will be broadcast live on My 12 WMYT.