Knights to Partner with Oklahoma Joe's for "Joe-nanza" on Sunday, June 4
In Partnership with Oklahoma Joe's, Team is Set to Give Anyone with the Name "Joe" or A Version of That Name a FREE Ticket to the Game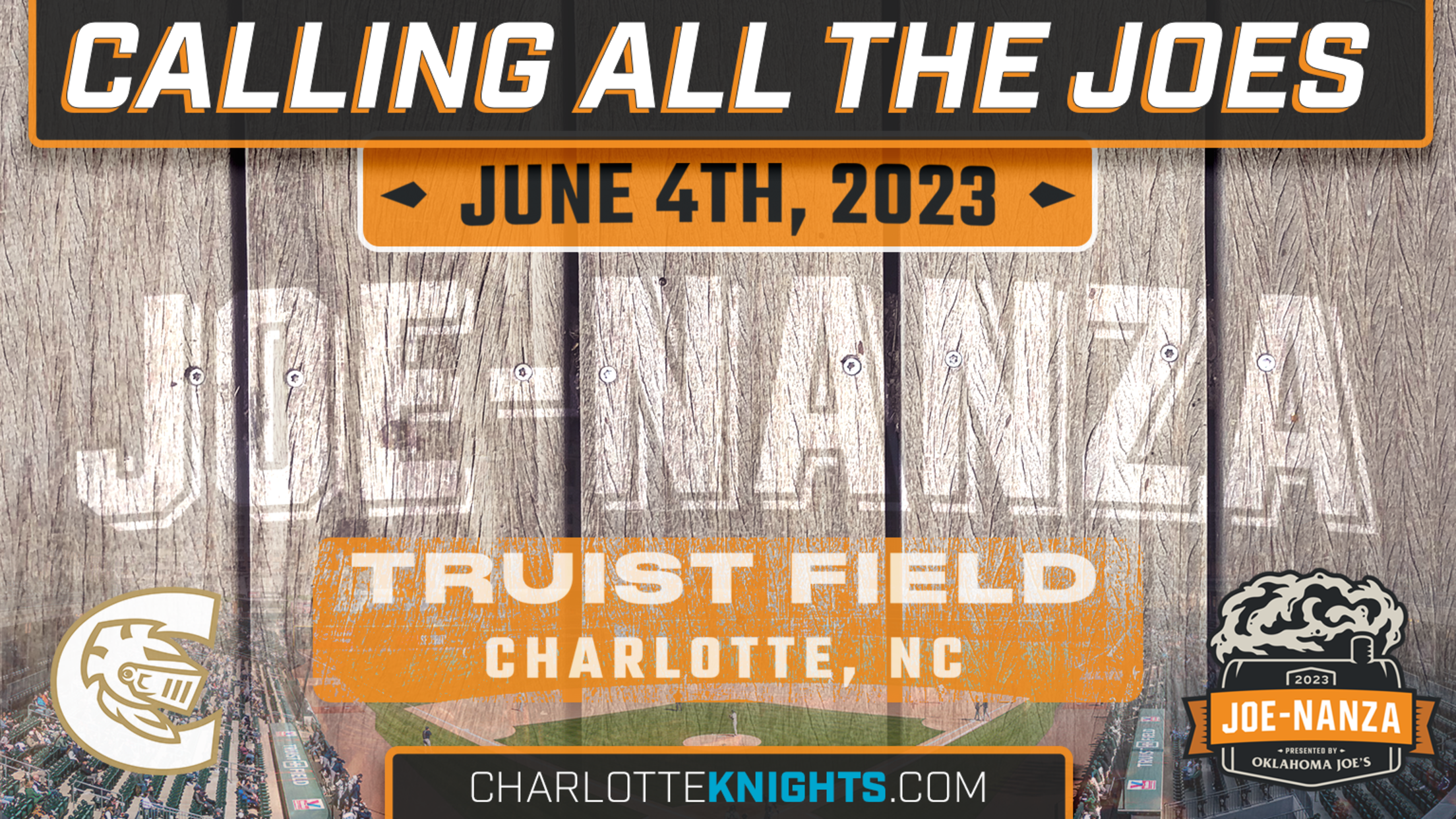 (UPTOWN CHARLOTTE, NC) – The Charlotte Knights and Oklahoma Joe's -- the Official Smoker and Grill of the team -- are pleased to partner for "Joe-nanza" at Truist Field on Sunday, June 4. On this day, the Knights will host the Nashville Sounds (Triple-A affiliate of the Milwaukee Brewers) in
(UPTOWN CHARLOTTE, NC) – The Charlotte Knights and Oklahoma Joe's -- the Official Smoker and Grill of the team -- are pleased to partner for "Joe-nanza" at Truist Field on Sunday, June 4. On this day, the Knights will host the Nashville Sounds (Triple-A affiliate of the Milwaukee Brewers) in a 1:05 p.m. game and all fans with the name "Joe" or a version of that will receive a free ticket to the game. The first 1,000 fans through the gates will also receive a "Joe-nanza" commemorative T-Shirt.
Gates for Sunday's game will open at 12:00 p.m. and fans can expect Joe-themed and cookout-themed promotions throughout the game. The Knights and Oklahoma Joe's will also attempt to set the record for most "Joe's" at a baseball game. All fans with the first name "Joe", "Joseph", "Joey", "JoJo", "Josie", etc., are invited to attend the game for free. An online form for a free ticket can be found here: https://www.joenanza.com.
"We are thrilled to team up with the Charlotte Knights for a celebration of real smoke flavor and all things 'Joe," said Leandi McMurphy, Senior Director, Brand Marketing at Char-Broil and Oklahoma Joe's. "Oklahoma Joe's is a brand deeply rooted in the belief that the best times are those spent with family and friends and what better place to bring everyone together in Charlotte than with the Knights and America's favorite pastime."
As part of Sunday's game, the Knights are excited to welcome legendary sports journalist, Joe Posnanski, to throw out the game's ceremonial first pitch. Posnanski, a Charlotte resident, is the #1 New York Times bestselling author of six books, including The Baseball 100, The Soul of Baseball and The Machine. He is the current author of his own blog, JoeBlogs. His new book, Why We Love Baseball: A History in 50 Moments, is scheduled to be released this September.
*CHARLOTTE KNIGHTS *
The Charlotte Knights are the Triple-A affiliate of the Chicago White Sox since 1999 and play at Truist Field in Uptown Charlotte since 2014. Since moving to Queen City, Truist Field has been among the most visited ballparks in all of Minor League Baseball. Tickets for all games during the 2023 season can be purchased online at www.CharlotteKnights, by phone at 704-274-8203 or in person at the Truist Field Ticket Office. Charlotte Knights Baseball, Experience The Game, The View, The Fun!
OKLAHOMA JOE'S
What began with a dozen of Joe Davidson's homemade smokers at the 1987 Oklahoma State Fair has sparked and stoked today's beloved Oklahoma Joe's brand. With a lineup of iconic smokers, grills and accessories, Oklahoma Joe's helps adventurous cooks craft real smoke flavor their way. Oklahoma Joe's embolden BBQ hobbyists, enthusiasts and pitmasters of all types to live in full flavor — using food to strengthen connections with the people, places and processes they hold dear. For more information on Oklahoma Joe's, visit www.oklahomajoes.com.