Top 5 "Joes" in Knights History
Knights Partnering with Oklahoma Joe's for "Joe-nanza" on June 4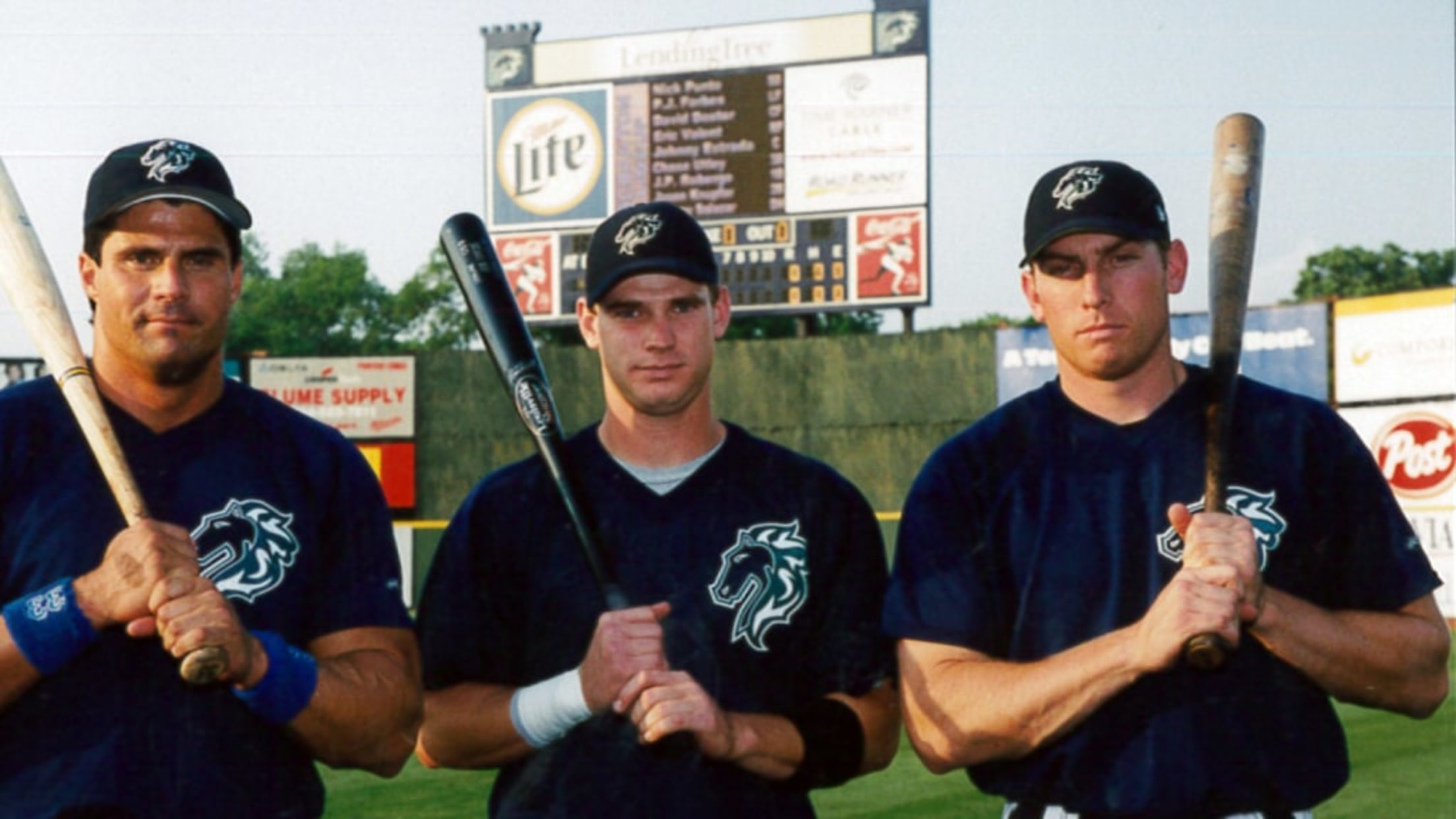 José Canseco, Joe Crede & Joe Borchard with the Knights in 2002. (Brian Westerholt)
On Sunday, June 4, "Joe" and any version of "Joe" will be taking over Truist Field. Yep, it's "Joe-nanza" presented by Oklahoma Joe's and anyone with the name "Joe" or a version of that, will receive a free ticket. Legendary sports writer Joe Posnanski will throw out the game's ceremonial
On Sunday, June 4, "Joe" and any version of "Joe" will be taking over Truist Field. Yep, it's "Joe-nanza" presented by Oklahoma Joe's and anyone with the name "Joe" or a version of that, will receive a free ticket. Legendary sports writer Joe Posnanski will throw out the game's ceremonial first pitch.
In celebration of "Joe-nanza" I thought it would be fun to come up with a look at the some of the "Best Joes" in franchise history.
Here are my Top Five...
Joe Borchard
It doesn't get much better than Joe Borchard when it comes to Charlotte Knights franchise history. He is one of the most accomplished players to ever put on a Knights uniform. He is among the all-time franchise leaders in nearly all offensive categories. He hit 78 home runs with the Knights and added 227 RBIs over a four-year span. He ranks second in games played, second in at-bats, second in hits, first in home runs, first in doubles, first in RBIs, second in runs scored and first in walks (156). For his efforts, he was inducted into the Charlotte Baseball Round Table of Honor in 2019.
Joe Crede
A fifth round pick of the Chicago White Sox in the 1996 MLB June Amateur Draft, Crede was a standout player for the organization. A member of Chicago's 2005 World Series Championship, Crede made his mark on the Knights in 2001 and again in 2002. Along with Joe Borchard -- and later Jose Canseco -- Crede provide the Knights offense with a spark. He hit .277 with 17 homers and 65 RBIs in 2001 and hit .312 with 24 homers and 65 RBIs in 2002.
Joe McEwing
McEwing had a solid career as a player in the majors -- earning the nickname "Super Joe". He played nine seasons in the 'bigs between the St. Louis Cardinals, New York Mets, Kansas City Royals and Houston Astros. After his playing days, he spent time with the Knights -- first as a hitting coach in 2008 -- and later as a manager in 2011. He's still in the game today and back with the Cardinals as the team's bench coach in 2023.
Joe Siddall
Siddall played for the Knights in 1996 when the organization was the Triple-A affiliate of the Florida (now Miami) Marlins. He excelled as the team's backstop that year in just 65 games. He hit .280 (53-for-189) with 22 runs scored, 13 doubles, one triple, three home runs and 20 RBIs. He is currently a TV analyst for the Toronto Blue Jays.
José Canseco
Yes, that Jose Canseco! He played for the Knights briefly in 2002. He hit five home runs in 18 games with the Knights that season -- his last season in affiliated baseball. For his Major League Baseball career, he accumulated 462 career home runs.