Hooks Roll Out High School Baseball Schedule at Whataburger Field
Opens Feb. 28 with Banquete-T-M & King-Ray doubleheader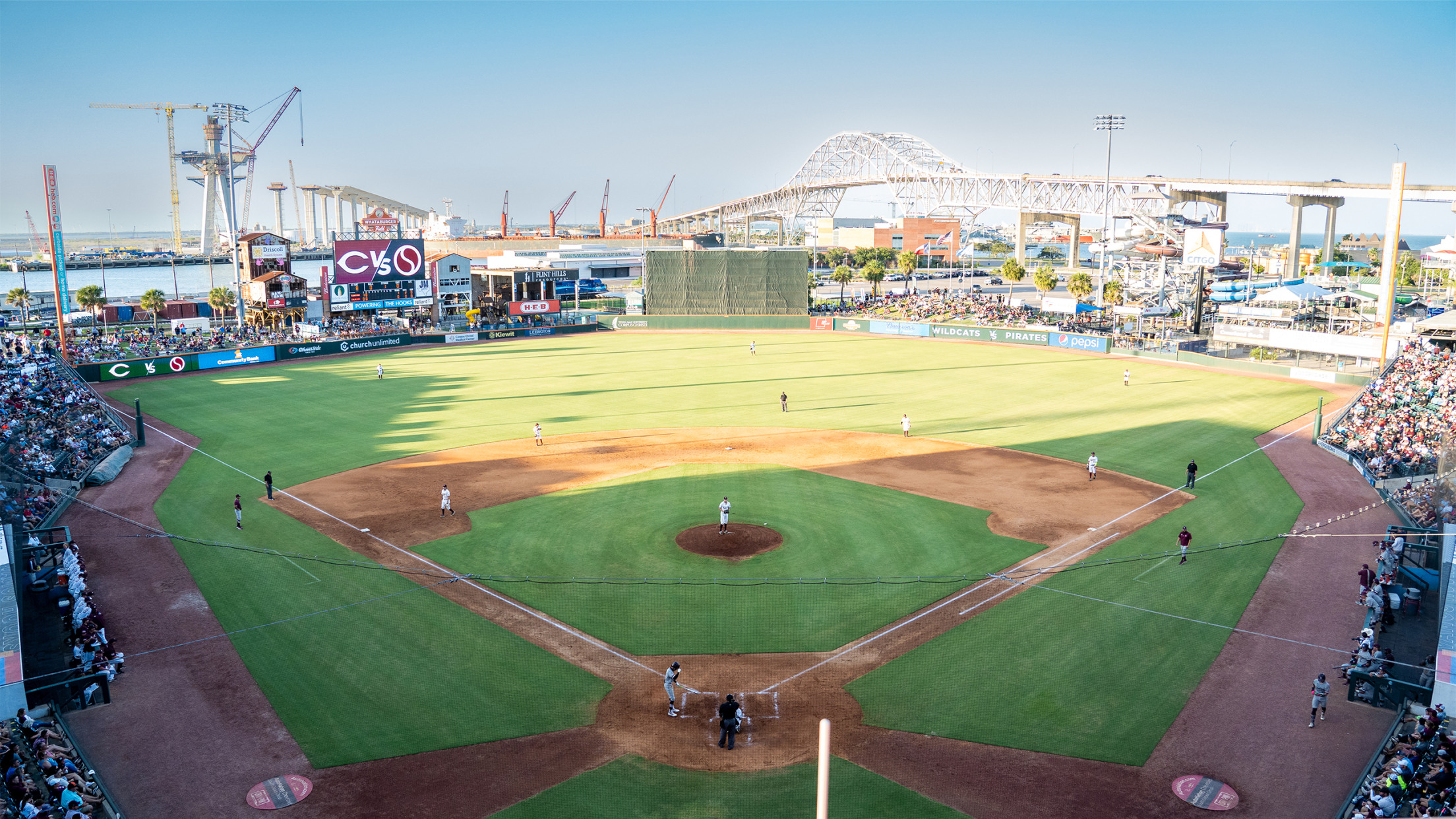 CORPUS CHRISTI – Tickets are on sale for high school baseball at Whataburger Field. The 2023 slate, presented by the Corpus Christi Medical Center, is comprised of 21 games in 32 days and currently features programs from 24 Coastal Bend high schools. Prep action starts with a Tuesday, February 28
CORPUS CHRISTI – Tickets are on sale for high school baseball at Whataburger Field.
The 2023 slate, presented by the Corpus Christi Medical Center, is comprised of 21 games in 32 days and currently features programs from 24 Coastal Bend high schools.
Prep action starts with a Tuesday, February 28 twin bill as Banquete draws Tuloso-Midway in the opener followed by King and Ray in the nightcap. The semifinals and final of the Mira's Baseball Classic are Saturday, March 4.
A March 6 matchup featuring Flour Bluff and defending Class 3A state champion London precedes a spring-break run of eight games in five days. Sinton, the 4A champs from a year ago, finish the flurry by playing Beeville in the finale of a Friday, March 17 doubleheader.
Tickets are $6.50 for adults and $3.50 for students. For doubleheaders, each ticket purchased allows entry for both games. Parking is $5. Call 361-561-HOOK (4665) for additional details.
Tues, February 28
Banquete vs. Tuloso-Midway at 5:30 PM | BUY TICKETS
King vs. Ray at 8 PM | BUY TICKETS
Sat, March 4
Mira's Classic Semifinals and Final | BUY TICKETS
11 AM, 2 PM, 5 PM
Mon, March 6
Flour Bluff vs. London at 5:30 | BUY TICKETS
Mon, March 13
Gregory-Portland vs. Carroll at 1 PM | BUY TICKETS
London vs. Rockport-Fulton at 5:30 PM | BUY TICKETS
Tues, March 14
Taft vs. Bishop at 5:30 PM | BUY TICKETS
Wed, March 15
Goliad vs. Cuero at 1 PM | BUY TICKETS
Gregory-Portland vs. Flour Bluff at 5:30 PM | BUY TICKETS
Thu, March 16
Miller vs. Moody at 1 PM | BUY TICKETS
Fri, March 17
Veterans Memorial vs. Ray at 1 PM | BUY TICKETS
Sinton vs. Beeville at 5:30 PM | BUY TICKETS
Tues, March 21
Veterans Memorial vs. Moody at 5:30 PM | BUY TICKETS
Friday, March 24
Sinton vs. Ingleside at 5:30 PM | BUY TICKETS
Incarnate Word Academy vs. St. John Paul II at 8 PM | BUY TICKETS
Tues, March 28
Mathis vs. Aransas Pass at 5:30 PM | BUY TICKETS
Flour Bluff vs. Carroll at 8 PM | BUY TICKETS
Fri, March 31
Rockport-Fulton vs. Orange Grove at 5:30 PM | BUY TICKETS
King vs. Moody at 8 PM | BUY TICKETS