Hillsboro Hops and Breakside Brewery Announce Signature Beer
Walk Off IPA Official Beer of the Hops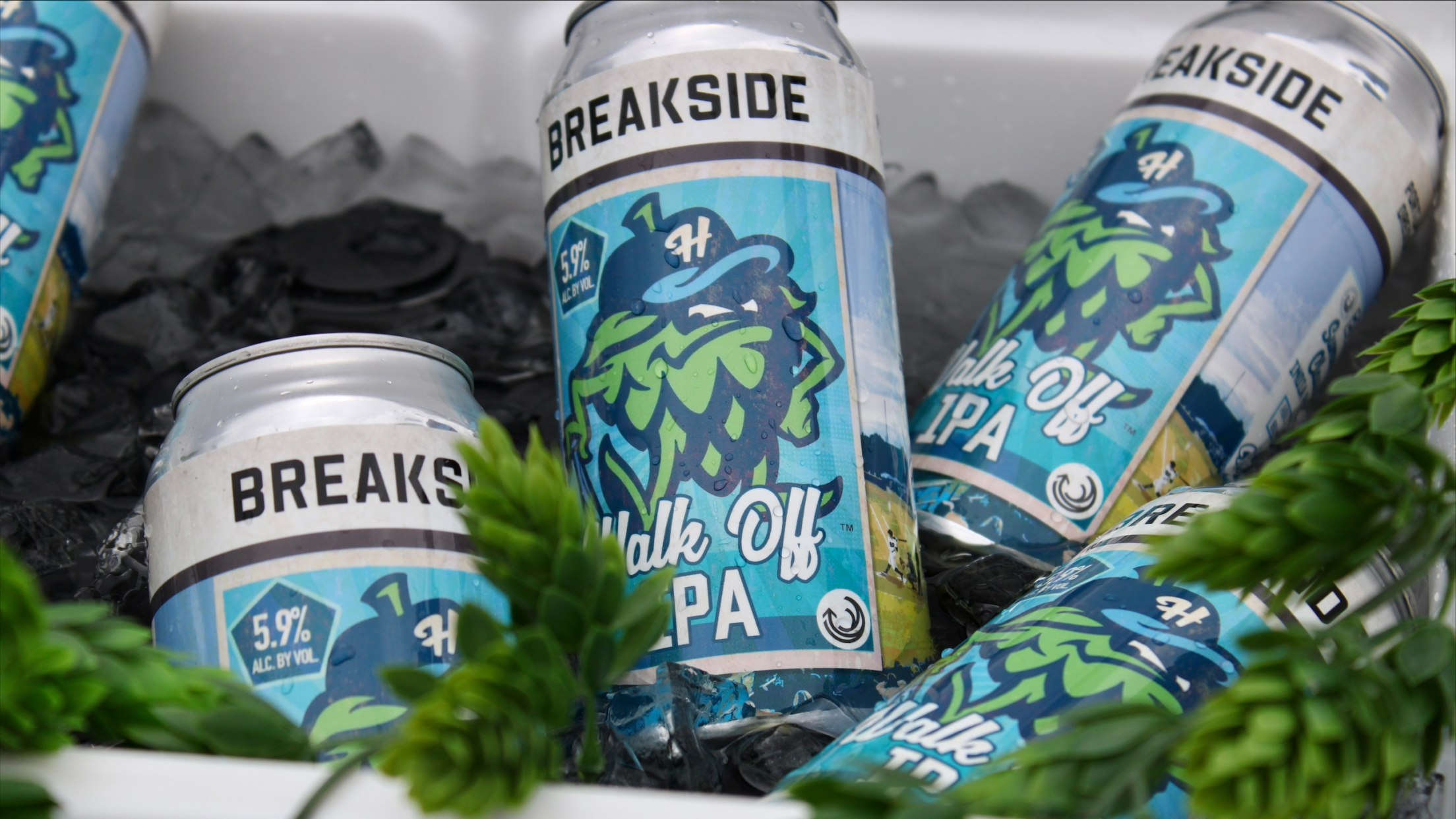 Hillsboro, OR (May 24, 2023) – The Hillsboro Hops and Breakside Brewery today announced a new signature Hops branded IPA, "Walk Off". The Hops and Breakside, one of Oregon's most decorated and innovative breweries, have collaborated for the past few months on all aspects of the beer. This will be
Hillsboro, OR (May 24, 2023) – The Hillsboro Hops and Breakside Brewery today announced a new signature Hops branded IPA, "Walk Off". The Hops and Breakside, one of Oregon's most decorated and innovative breweries, have collaborated for the past few months on all aspects of the beer. This will be the Hops' first signature beer since fan favorite, "Long Ball". Walk Off will first be available at a Launch Party during the game on Wednesday, May 24 at Ron Tonkin Field where $5 16 oz. cans and pours will be served before first pitch. Samples of the product will also be available at Craft Beer Night (21+) on Thursday, May 25th.
"We're thrilled to release, Walk Off, our new summer IPA in partnership with the Hillsboro Hops. Minor League baseball is straight up nostalgic for us," said Ben Edmunds, Brewmaster, Breakside Brewery. "I grew up whiling away summer evenings watching the Duluth Dukes and Schaumburg Flyers play in the unaffiliated Northern League, and nothing accompanies the cheers, heckles, and sheer fun of a baseball game with friends than a couple of cold beers and ballpark concessions."
"After a 5-year hiatus, we're excited to partner with Breakside to create this special Summer IPA collaboration and bring a signature beer back to Hops fans," said Matt Kolasinski, Hops' Senior Vice President of Partnerships & Operations. "We couldn't ask for a better partner, who was great to work with every step of the way, and we think both Hops and Breakside fans are going to love it."
Hops fans will be able to enjoy this beer throughout the summer while taking in Hops games and also be able to find the beer for purchase at local stores throughout the Portland metro area until early Fall. "Walk Off IPA clocks in at a respectable 6% and is loaded with an orchard's worth of fruit notes: Mosaic leads the charge in this hop blend and provides baseline notes of mango and berry; Cashmere brings its exotic vibes to the table with notes of wild raspberry, light coconut, melon, and rhubarb; finally, we add in some New Zealand-grown Taiheke from our friends at Freestyle Farms," said Edmunds.
Tickets for the launch party, Craft Beer Night and all remaining home games can be found at Hillsborohops.com or by calling 503-640-0887.
About Breakside Brewery: Breakside Brewery opened in 2010 in Northeast Portland as a restaurant and pub brewery and has grown to be a highly regarded regional brewery producing 30,000 barrels annually. The brewery is known for its broad portfolio of award-winning, innovative beers. In 2013, Breakside expanded operations to Milwaukie, OR with a production facility and taproom capable of producing 40,000 barrels of beer per year. The brewery opened its third location in 2017— a lively brewpub in the Slabtown district of Northwest Portland and a fourth location in 2021 in Lake Oswego. In 2019, Breakside became one of only a handful of employee-owned breweries in the country. Two more locations are planned to open in the Summer of 2023 - Beaverton, Oregon and Astoria, Oregon. Breakside sells beer in Oregon, Washington, Hawaii, Arizona, Colorado, Idaho, Montana, Alaska, Northern California, British Columbia, Alberta, and Japan.
About the Hillsboro Hops: The 2014, 2015 & 2019 Northwest League Champion Hillsboro Hops are the High-A baseball affiliate of the Arizona Diamondbacks of Major League Baseball. The team's season runs from April to early September. The franchise relocated to Hillsboro in 2012 and began play in 2013 at Ron Tonkin Field. Follow the Hops on Facebook at www.facebook.com/HillsboroHops and on Twitter, Instagram and TikTok @HillsboroHops.