New Hillsboro Hops Entertainment Venue to Provide $190M in Economic Impact from Construction
$64M in Economic Impact & 381 Full-Time Jobs Post Construction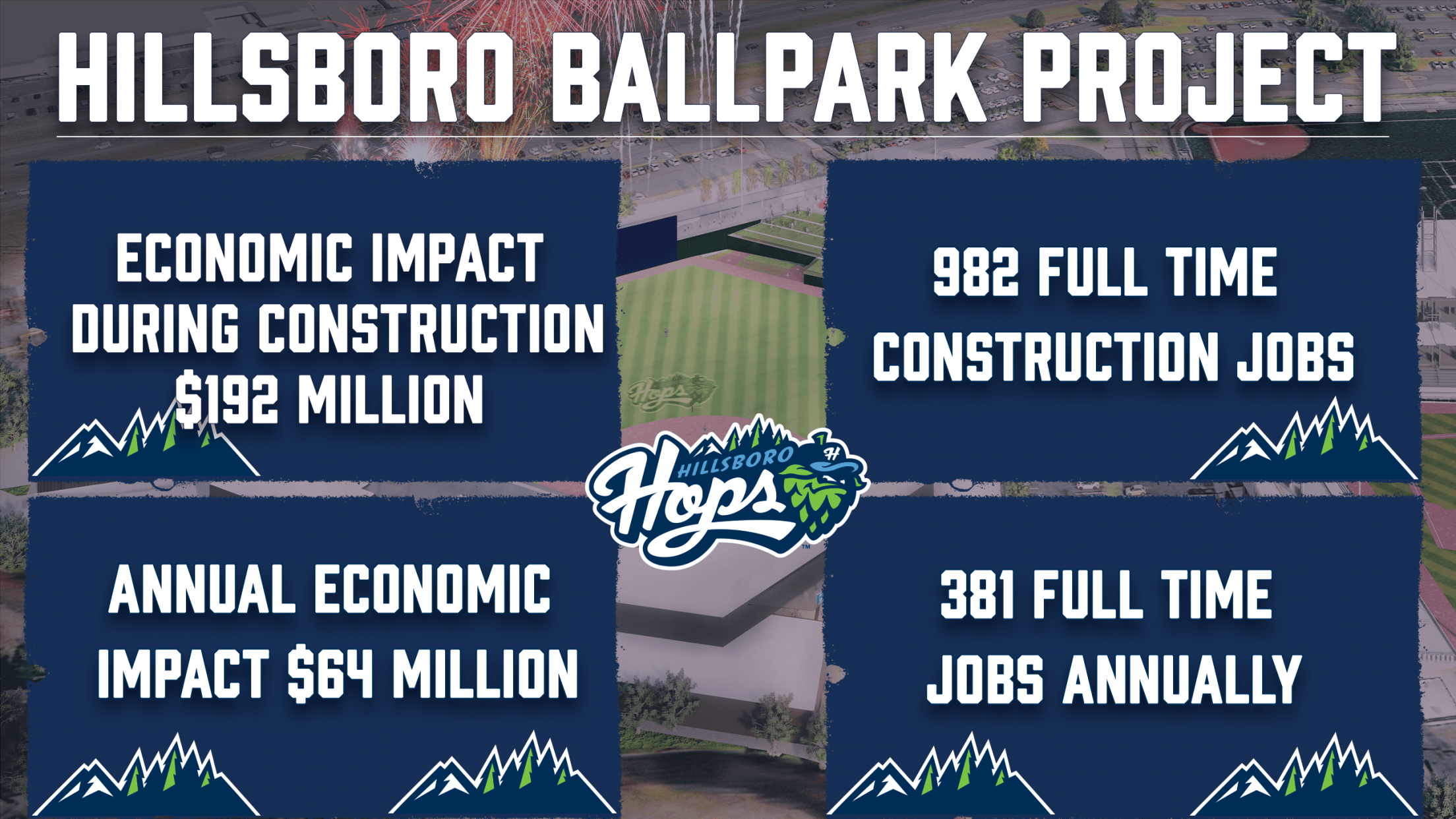 Hillsboro, OR. (May 25, 2023) – After a recent study conducted by ECONorthwest, the Hillsboro Hops (@HillsboroHops) announced today that their new ballpark and entertainment complex will provide $190M in economic impact from construction and $64M in annual economic impact once the venue is open. The Hops are scheduled to
Hillsboro, OR. (May 25, 2023) – After a recent study conducted by ECONorthwest, the Hillsboro Hops (@HillsboroHops) announced today that their new ballpark and entertainment complex will provide $190M in economic impact from construction and $64M in annual economic impact once the venue is open. The Hops are scheduled to break ground on the new venue later this year with an opening scheduled in 2025.
The new state-of-the-art venue will play host to Hillsboro Hops baseball games, concerts, festivals, youth sports, regional and national tournaments, and family events. The Hops play 132 games per year (66 home games) as an affiliate of Major League Baseball's Arizona Diamondbacks.
Projected Economic Impact from Construction:
$192M
982 Full-Time jobs
$83M in labor income
Projected Economic Impact Post-Construction:
$64M annually in economic output
381 Full-Time Jobs annually, paying $20M in wages
$3M in state and local taxes annually
The year-round entertainment venue will be built next to Ron Tonkin Field, adding new seating capacity. For Hops games, the ballpark will seat 6,000 fans and for concerts, capacity will be 7,000.
The Hops signed a 10-year agreement with Major League Baseball in 2021 that required the club to meet certain venue standards.
The original intent of the project was to renovate Ron Tonkin Field to meet the new MLB standards. After the completion of preliminary design and analysis, it was determined that it will be more cost effective to design and build a new ballpark due to extenuating site constraints.
Since moving to Hillsboro in 2013, the Hops have contributed $903,000 in grants to the Hillsboro community.
"While the economic impact numbers are staggering, especially at a time of potential recession, the primary reason we are so ambitious with this project and willing to invest over $80 million of private funds is we need venues like this in our region," said KL Wombacher, Hillsboro Hops President and General Manager. "We need venues that attract events and bring people together for shared experiences. This new venue will provide enjoyment and memories for decades to come leading to an enhanced quality of life we all desire."
About the Hillsboro Hops:
The 2014, 2015 & 2019 Northwest League Champion Hillsboro Hops are the High-A baseball affiliate of the Arizona Diamondbacks of Major League Baseball. The team's season runs from April to early September. The franchise relocated to Hillsboro in 2012 and began play in 2013 at Ron Tonkin Field. Follow the Hops on Facebook at www.facebook.com/HillsboroHops and on Twitter, Instagram and TikTok @HillsboroHops.