Close Encounter: Looking back at The Martian in HV
Jasson Domínguez proved to be a high-impact player for the Renegades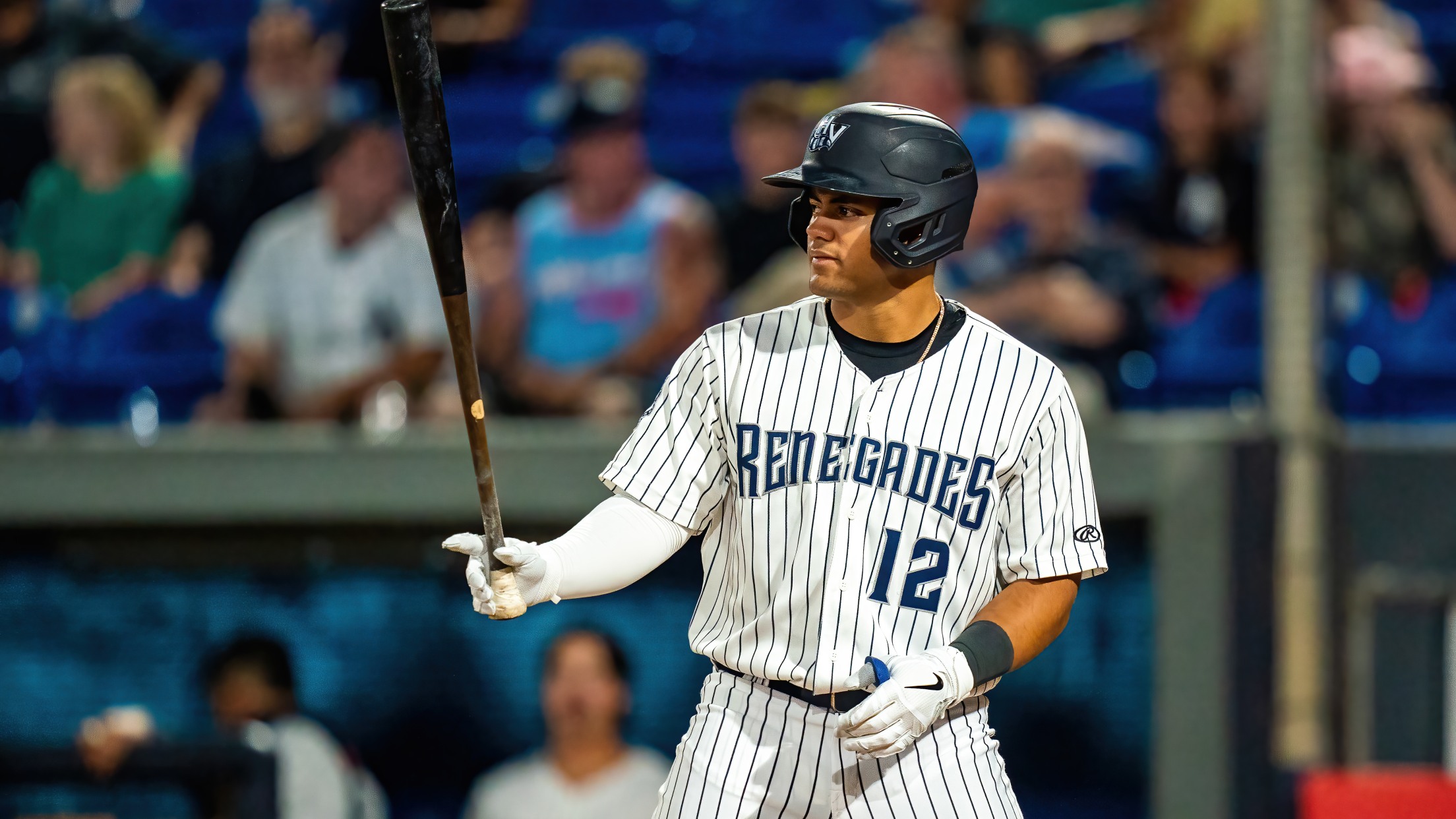 Jasson Dominguez was named South Atlantic League Player of the Week on Sept. 12. (Dave Janosz)
Over the last handful of seasons, there has been perhaps no prospect in baseball with more hype than Jasson Domínguez, who drew attention from MLB prospect watchers since the time he was just 13 years old. He signed with the Yankees for a record $5.1 million bonus as a 16-year-old
Over the last handful of seasons, there has been perhaps no prospect in baseball with more hype than Jasson Domínguez, who drew attention from MLB prospect watchers since the time he was just 13 years old. He signed with the Yankees for a record $5.1 million bonus as a 16-year-old in 2019, and in 2022, Renegades fans finally had the chance to watch Domínguez take his talents to the Hudson Valley.
Though he only suited up for 40 games down the stretch of the year, his impact was massive as the Gades made a push for the SAL North Second Half title. After that run ultimately fell short, he finished the season with the Double-A Somerset Patriots, and is currently awaiting his assignment to start the 2023 season.
But as we hit the end of the year, let's look back at Domínguez's time in Renegades pinstripes in 2022.
The Beginning
It all began with a viral video. Tampa Tarpons manager Rachel Balkovec delivered the news to Domínguez's friend and fellow outfielder Grant Richardson that he was going up to High-A just before the All-Star Break. Then right after that news, she said that after Domínguez participated in the All-Star Futures Game, that he would join him in Hudson Valley.
Earlier this week, Jasson Domínguez delivered the news to @Grantr_1 that he was being promoted to @HVRenegades... Little did @gonjass7 know, he would be joining him up north! 👏 pic.twitter.com/beab8qRVlP

— NYYPlayerDev (@NYYPlayerDev) July 16, 2022
His first three games with the Gades were on the road in Wilmington, Delaware. On Friday, July 22, The Martian struck out in his first at-bat and popped out to shortstop in his second. He then singled in the sixth and walked in the eighth – scoring runs both times.
Then, in the top of the ninth with the Renegades down to their final out trailing 5-4, Domínguez turned around a Jose Ferrer fastball and sent it screaming over the wall in right-center for a solo home run to tie the game at 5-5. The Gades ultimately lost 6-5 in 10 innings, but the message was sent: The hype was real.
He had two more hits the next night, and a hit and a walk in the series finale, returning home to Dutchess Stadium batting a blazing .417/.500/.667 in his first three games in High-A.
That next week saw massive crowds at The Dutch to watch Domínguez play, though he struggled, going just 3-for-25 with nine strikeouts a six-game series with the Brooklyn Cyclones. When the Renegades hit the road again to take on the Jersey Shore BlueClaws, he got back on track with hits in five out of six games and never looked back.
Consistency
After going hitless in four straight against Brooklyn from July 27 through 30, Domínguez didn't go hitless in consecutive games again until September 4 and 6 against Jersey Shore and Wilmington, respectively. He simply went out and was a hitting machine from the start of August on, batting .331/.428/.545 in his last 31 games. Domínguez had multiple hits 11 times in that stretch, including a run of four multi-hit games in five days in late August.
#Yankees No. 3 prospect Jasson Domínguez has eight hits in his past seven games, including his second High-A homer Saturday.@ANG_Recruiting #ServeYourWay pic.twitter.com/5gt27L3Pr1

— Hudson Valley Renegades (@HVRenegades) August 9, 2022
Mostly he was just very consistent at the plate in his approach. He never struck out more than two times in a game, and drew walks in an excellent 13.8% of his plate appearances. Additionally, he went 15-for-16 on stolen base attempts, with his one caught coming on a controversial call at second base.
Finishing On a High Note
Domínguez's final two games with the Renegades were some of his best performances of the season. Back in Wilmington, he went 2-for-4 with a two-run home run on Friday, September 9 as the Renegades lost to the Blue Rocks 5-4.
The next night Domínguez made history, hitting home runs as both a left-handed batter and a right-handed batter, accomplishing the rare feat with long balls in the third and seventh innings while collecting three RBIs. The impressive power display was a fitting way for The Martian to end his season with the Renegades – leaving people walking away believing in the hype.
His maturity on and off the field was noticeable and impressive for a teenager who has been in the spotlight for years. He was well-liked by the Renegades coaching staff and his teammates, and showed off his personality and sense of humor in his interactions with the media. Domínguez embraced the attention he was getting, but didn't let that let him lose sight of the ultimate goal of improving his game.
He will be only 20 on Opening Day in 2023, and no matter what level he starts at, there is still work to be done for Domínguez before he can realize his potential as a big league star. But the short stint he had with the Renegades this year showed exactly why he is the budding superstar that he has been hyped as.