Juan-derful: Renegades down Blue Rocks on Friday
Carela shines, Henson homers in 5-2 triumph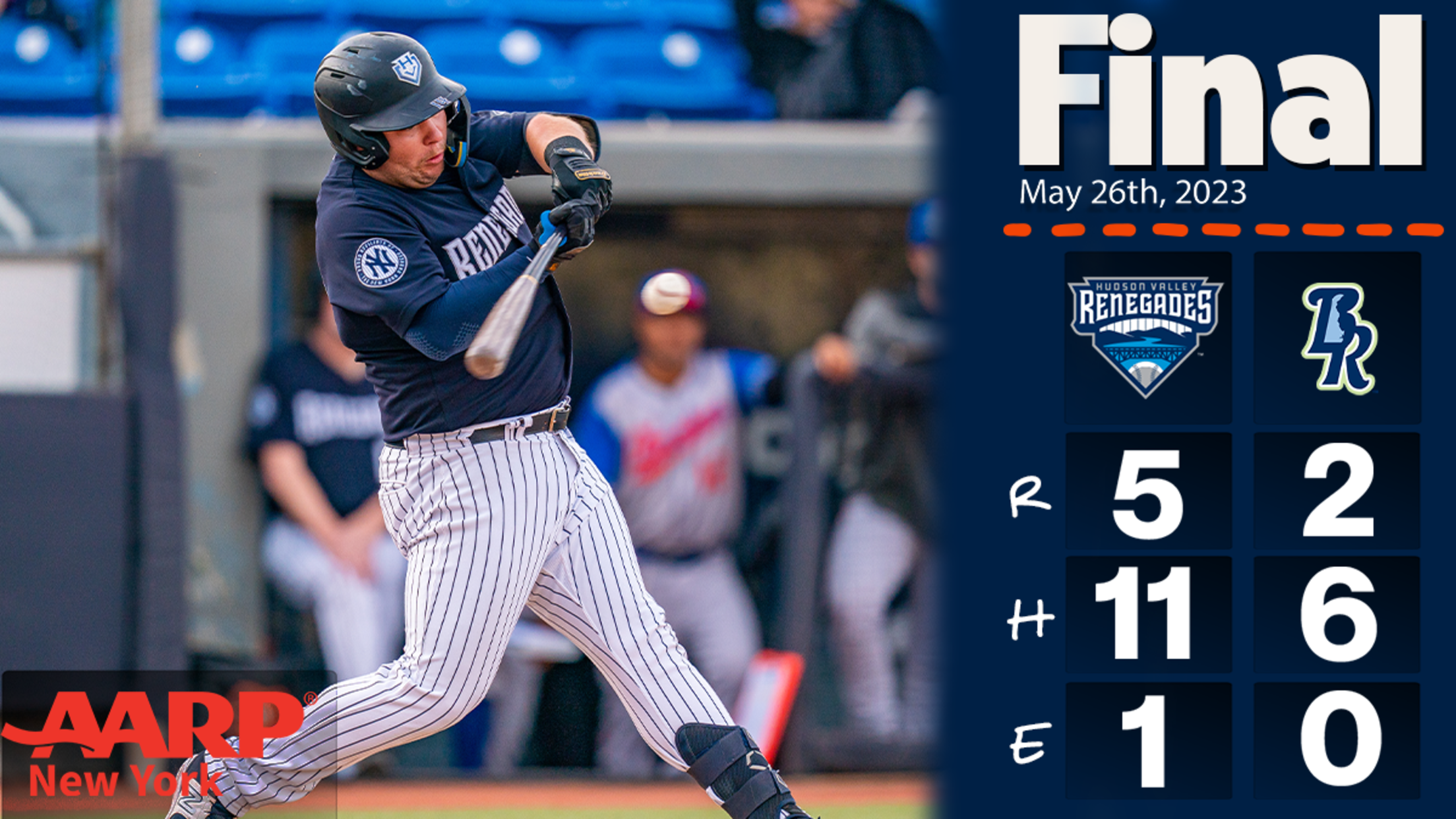 Spencer Henson went 3-for-5 with a home run in Friday's win over Wilmington. (Dave Janosz)
Wilmington, Del. (May 25, 2023) — A strong pitching performance and timely hitting led the Hudson Valley Renegades to a 5-2 victory over the Wilmington Blue Rocks on Friday night at Frawley Stadium. Juan Carela turned in the best start of his season, tying his career high by tossing 6.1
Wilmington, Del. (May 25, 2023) — A strong pitching performance and timely hitting led the Hudson Valley Renegades to a 5-2 victory over the Wilmington Blue Rocks on Friday night at Frawley Stadium.
Juan Carela turned in the best start of his season, tying his career high by tossing 6.1 innings, allowing one run (zero earned) on three hits while walking three and striking out three. Carela (2-2) has now allowed just one earned run in 11.2 innings across his last two starts.
The Renegades got on the board in the top of the second when Spencer Henson blasted a solo home run to left of minor league rehabber Cole Henry. Hudson Valley added another in the fifth when Ben Cowles doubled and scored on an Eduardo Torrealba RBI single to extend the lead to 2-0. Henson finished 3-for-5 with a home run, a run scored and an RBI, recording his third straight multi-hit game.
Wilmington got its run off Carela in the bottom of the fifth when Jacob Young scored on an Erick Mejia groundout to cut the lead to 2-1, but that was as close as the Blue Rocks would get.
Aaron Palensky drove in Torrealba with a double off Rodney Theophile in the top of the seventh, then Antonio Gomez brought him in with another double. Three batters later, Aldenis Sanchez hit another double to plate Gomez and extend the lead to 5-1. Palensky finished 2-for-4 with a double, a triple, an RBI and a walk.
The Blue Rocks scratched across a run in the bottom of the seventh off Ryan Anderson on an RBI single by Young, but he and Bailey Dees combined to seal the victory. Dees threw a 1-2-3 ninth with two strikeouts to earn his second save of the season.
Hudson Valley continues its series with Wilmington on Saturday night at Frawley Stadium. First pitch is scheduled for 6:35 p.m., with pregame coverage beginning at 5:45 on the Renegades Baseball Network. The Renegades send RHP Chase Hampton (1-1, 3.10) to the bump, while the Blue Rocks counter with LHP Andrew Alvarez (2-1, 3.31).