Q&A: Yankees Defensive Coordinator Aaron Gershenfeld
Thoughts on Wells, Sweeney, Peraza, and more Yankees prospects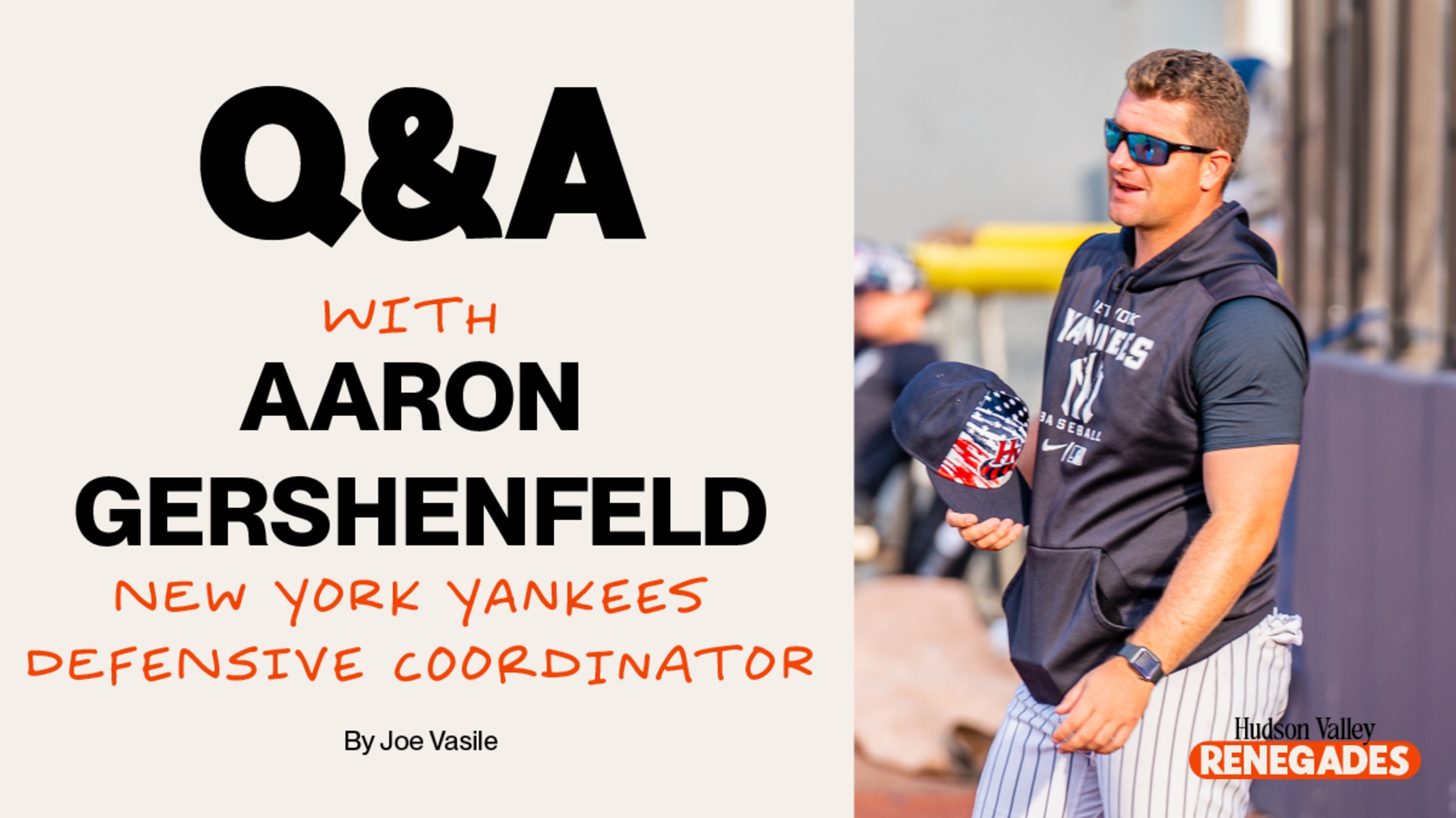 (Dave Janosz)
During the 2022 season, New York Yankees Defensive Coordinator Aaron Gershenfeld stopped by Dutchess Stadium to work with Renegades players for a few days. In his role with the Yankees, Gershenfeld works with players at all levels of the minor league season, and supervises their defensive development. He took some
During the 2022 season, New York Yankees Defensive Coordinator Aaron Gershenfeld stopped by Dutchess Stadium to work with Renegades players for a few days. In his role with the Yankees, Gershenfeld works with players at all levels of the minor league season, and supervises their defensive development. He took some time to chat with us about some members of this year's team as well as some alumni.
RENEGADES: One of the things we talked a lot about this year has been Tyler Hardman at third base and making the transition to a full time third baseman this year. How do you guys feel like he's kind of handled that? And what was it about him that kind of made the organization's say, he's played a lot of first base in college, but we think he can handle the other side of the diamond?
AARON GERSHENFELD: Ty, you know, he's an exciting player. First and foremost, there's certainly a "want to" level for him to play the position of third. So I think from a foundational standpoint, that's always good that internally, there's a lot of motivation for him to play the position and be very good at the position. I think there's some underlying traits just with his athleticism that stuck out to us that we really liked. with his continuous refinement to different skills, whether it's catching, throwing, getting to more balls, he's really impressed us so far. So certainly still more work to be done and more areas to improve. But we really liked the progression that he's shown and the direction that he's heading.
HVR: James Nelson is one of a lot of guys that play multiple different positions and move around the diamond. How important is that in the development process for so many of these guys to learn the nuances of multiple different positions on the way up?
AG: You know, we definitely like versatility. We also like guys, you know, really fine tuning crafts at one certain position. So I think with each guy, you know, there's unique circumstances and situations to where we either try to expand their versatility threshold, or we really try to have a singular focus on one position. But for a guy like James, you know, who's very athletic, who can do multiple different things on the field, we like the versatility that he provides. And I think that's just another strength that we can add to his skill set that makes him even that much more valuable as a player.
HVR: Talking about guys playing only one spot, Trey Sweeney played nothing but shortstop this year. What have you seen defensively from Trey, in progression from a year ago when he was drafted in the first round and coming into the organization, to where he's at now, on that side of the ball?
AG: I really like the progressions Trey has made and I'm really optimistic about the progress, he's gonna continue to make. You're looking at a guy with a really big arm, you're looking at a guy who has the capabilities to go left and right and make some really nice plays. Like we saw last night [against Brooklyn], he made a really nice play in the six hole, he made a really nice play going to his glove side over the bag at second. So you know, certainly shows a good level of, of range going both to his left and right, and we know the arms legit. And I think just continuing to get the most out of his athleticism because he's very athletic and getting him to play like an athlete, to play free, and to let his athleticism shine, I think will only continue to promote his abilities that short. Trey's, a guy that we're really high on.
HVR: Previously, you were the Yankees Catching Coordinator and still work a lot with catchers. On that note, Anthony Seigler has been here this year. What have you seen defensively in terms of his progression from the beginning of this season?
AG: Anthony has come a really long way. Last year, we saw some nice strides and his ability to receive right now he's currently having his best year in professional baseball from a blocking and throwing standpoint. So you know, from that end, it's certainly been impressive. And I think just continuing to fine tune the small nuances and mechanics within the position, but we're seeing a more mature version of Anthony in regards to pitch calling, game planning, things like that. So really like the progression that he's on and you just watch him play, you see he's very competitive, he's playing to win. And I think that's something that we like as well just in regards to the makeup. There's a lot to like about Anthony and it's really nice just to see him continue to flourish and evolve as a player.
HVR: A couple of former Renegades catchers who a lot has been made about their defense, especially this year, Josh Breaux, who went up to Triple-A and Austin Wells in Double-A, what have you seen from them? I know from watching Wells here for a couple of weeks at the beginning of this season, he looked really good defensively.
AG: For whatever reason, there was a narrative that Austin is not that good at catcher, and I think when he came into organization there were certainly things he had to improve. But for anybody that's really paid attention to him, his evolution as a catcher has been really impressive. Both visually and numerically, he's turned himself into a well above average defender at catcher so I think the more that he's visible to both scouts, fans, and the media, they'll realize that he's the real deal, both offensively and defensively. So Austin, somebody we're extremely excited about, just watching his maturation process from a skill set standpoint has been really neat to see. With Josh, he's another guy as well that's above average numerically. Visually he does a lot of things well and everybody sees the big time thump offensively with Josh, but there's a lot to like defensively. He's a well above average blocker, he's a well above average receiver. As a thrower, the arm is continuing to improve. And so there's just a lot we like about Josh and Austin and Anthony and, and Carlos Narvaez and Antonio Gomez [in Tampa]. Fortunately, we've got a lot of really, really talented catchers in this organization, and it's really competitive. And I think that gets the most out of them each individually as well, so the environment is good. We've got a group of really, really good coaches, Tyson Blaser here in Hudson Valley, he's doing a really good job with these guys, as well as all of our other coaches that other affiliates, so I'm pleased with the environment and pleased with the group players that we have.
HVR: A lot of catching talent but also a lot of shortstops as well – Anthony Volpe in Double-A, Oswald Peraza in Triple-A were two guys who played for the Renegades in 2021. What can you say about what those two have done to continue to improve their game since they've left Hudson Valley?
AG: With both Anthony and Peraza, you're looking at two guys that will play in the infield in the major leagues soon. They're both highly, highly talented, both unique in their own ways, I would say as well. Oswald is a very steady personality. He never gets too high or too low. He's very neutral, but he's very competitive. He expects a lot out of himself. There's just a lot to like. I was in Scranton last week actually and I saw him make a really nice play to six hole, showed off a well above average arm. The glove is legit. So there's just a lot to like about him defensively and offensively as well. And then with Anthony, I was actually previously a coach at Vanderbilt. So I've seen Anthony play since he was 16. And one thing that Anthony Volpe has always done is when he steps on between the lines he plays to win. He's an ultra-fierce competitor. He plays the game, he does the little things really well inside of the game that not a lot of other people his age do, and just maturity wise, he's really well put together. He's an intelligent kid. Obviously the ability speaks for itself both offensively and defensively. So both of those guys are really, really exciting prospects that we're certainly glad to have on our side.
A version of this article appeared in the August/September issue of the Renegades Digital Program.