Walk Off: Richardson's heroics sends HV to twin bill split
Chase Hampton and Drew Thorpe fire stellar starts on Sunday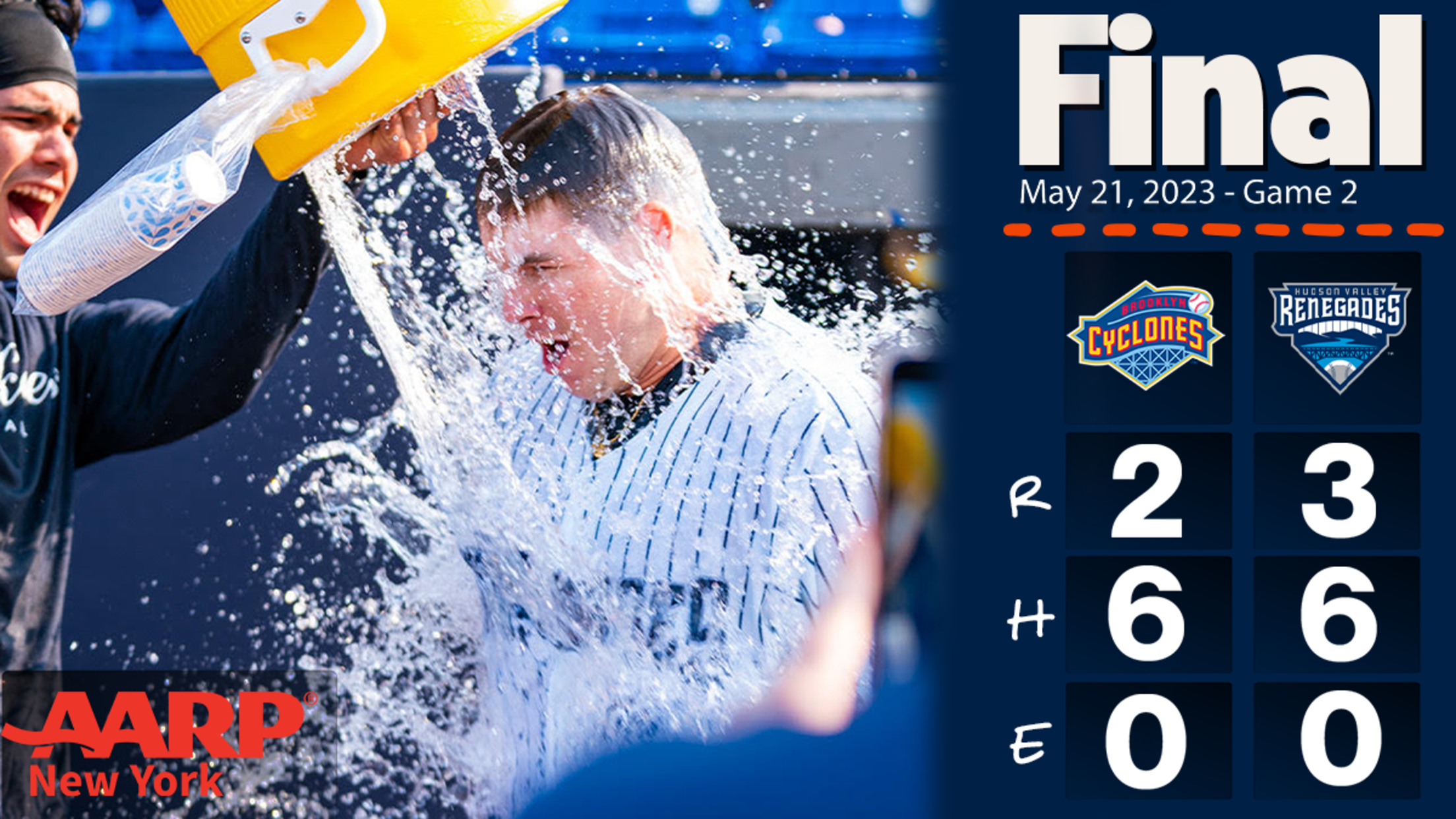 Grant Richardson and 'Gades walk off Brooklyn 3-2 in extra innings on Sunday. (Dave Janosz)
WAPPINGERS FALLS, N.Y. (May 21, 2023) — The Hudson Valley Renegades split a doubleheader with the Brooklyn Cyclones on Sunday afternoon at Heritage Financial Park. The Cyclones won the opener 6-0 before the 'Gades walked off Brooklyn 3-2, their second walk-off victory of the season. In game one, Brooklyn scored
WAPPINGERS FALLS, N.Y. (May 21, 2023) — The Hudson Valley Renegades split a doubleheader with the Brooklyn Cyclones on Sunday afternoon at Heritage Financial Park. The Cyclones won the opener 6-0 before the 'Gades walked off Brooklyn 3-2, their second walk-off victory of the season.
In game one, Brooklyn scored in four of the seven innings, beginning in the second on an RBI double by Chase Estep to take a 1-0 lead.
The Cyclones followed that up with another run in the third that scored on a fielding error. Kevin Kendall led off the frame with a double and advanced to third on a wild pitch thrown by Chase Hampton (1-1). With two outs, Stanley Consuegra hit a ball on the ground bobbled by Marcos Cabrera that allowed Kendall to score and double the Cyclones' advantage to 2-0. The first two runs allowed by Hampton were both unearned.
Hampton began the fourth by striking out the first two batters before he was issued a pitch clock violation to walk Joe Suozzi. On the next pitch, Mateo Gil blasted a home run to extend the Brooklyn advantage to 4-0. Hampton finished his outing allowing just two earned runs in 5.1 innings while striking out seven.
Brooklyn received a strong start from Tyler Stuart (1-0) who tossed 6.1 scoreless frames, allowing just four hits and striking out eight. They scored two more runs in the top of the seventh against Jack Neely and Harold Cortijo without a hit thanks to four walks and two hit batsmen to go up 6-0, while Stuart and Jace Beck finished off the shutout.
Game two was a fantastic pitcher's duel between Christian Scott and Drew Thorpe. Scott retired the first 12 Renegades before Rafael Flores singled to lead off the fifth. Thorpe scattered five hits across 6.1 innings while striking out eight.
Thorpe left a pair of runners on base in the sixth after Alex Ramirez led off with a single, that was followed up by a Kevin Parada double. The 2022 Yankees second round pick retired the next three to leave a pair of runners stranded in scoring position and keep the game scoreless.
Hudson Valley's best scoring chance came against Jeffrey Colón in the sixth after Luis Santos hit a double off the wall in left to begin the inning. Spencer Jones legged out an infield single on a diving stop at third by Jaylen Palmer, but Colón retired the next three batters to end the threat and help the game remain scoreless into extra innings.
In the eighth, Joe Suozzi hit a ground-rule double to scored the automatic runner César Berbesi to plate the game's first run, but Danny Watson was able to escape the jam without any further damage.
Hudson Valley evened the score at one on a Cowles sacrifice fly to right that scored Aldenis Sánchez to force a ninth inning. With Omar De Los Santos at third base and one out in the ninth, Carlos Gómez (2-1) balked to bring in the go-ahead run and hand Brooklyn a 2-1 lead.
Alexander Vargas began the ninth with a fielder's choice that advanced Jones to third when no out was recorded. Aaron Palensky ripped a line drive to third that Palmer knocked down and attempted to throw out Jones at home, who scored standing up to tie the game at 2-2.
Two batters later, Spencer Henson lined a single to center and Vargas attempted to score from second but was thrown out by Alex Ramirez in center field to keep the game tied. However, the next batter, Grant Richardson, lined a single to right field off Wilkin Ramos (2-1) to score Palensky and snap the 'Gades four-game losing streak with the walk-off 3-2 victory.
WALK OFF WINNER!!!!!! @Grantr_1 🍾

GRANT RICHARDSON! An RBI-Single to secure the W in an Extra-Innings Thriller over the @BKCyclones #RepBX #Yankees pic.twitter.com/LM2jcqOWQK

— Hudson Valley Renegades (@HVRenegades) May 21, 2023
After an off day on Monday, the Renegades will travel to Delaware to open up a six-game series against the Wilmington Blue Rocks. First pitch on Tuesday is scheduled for 6:05 p.m. with coverage on the Renegades Baseball Network beginning at 5:45 p.m.