New at Victory Field: LED Stadium Lights and Tasteful Concession Concepts 
New lights to enhance in-game moments; Hot Dog of the Homestand and Cocktail of the Month add flavor to concessions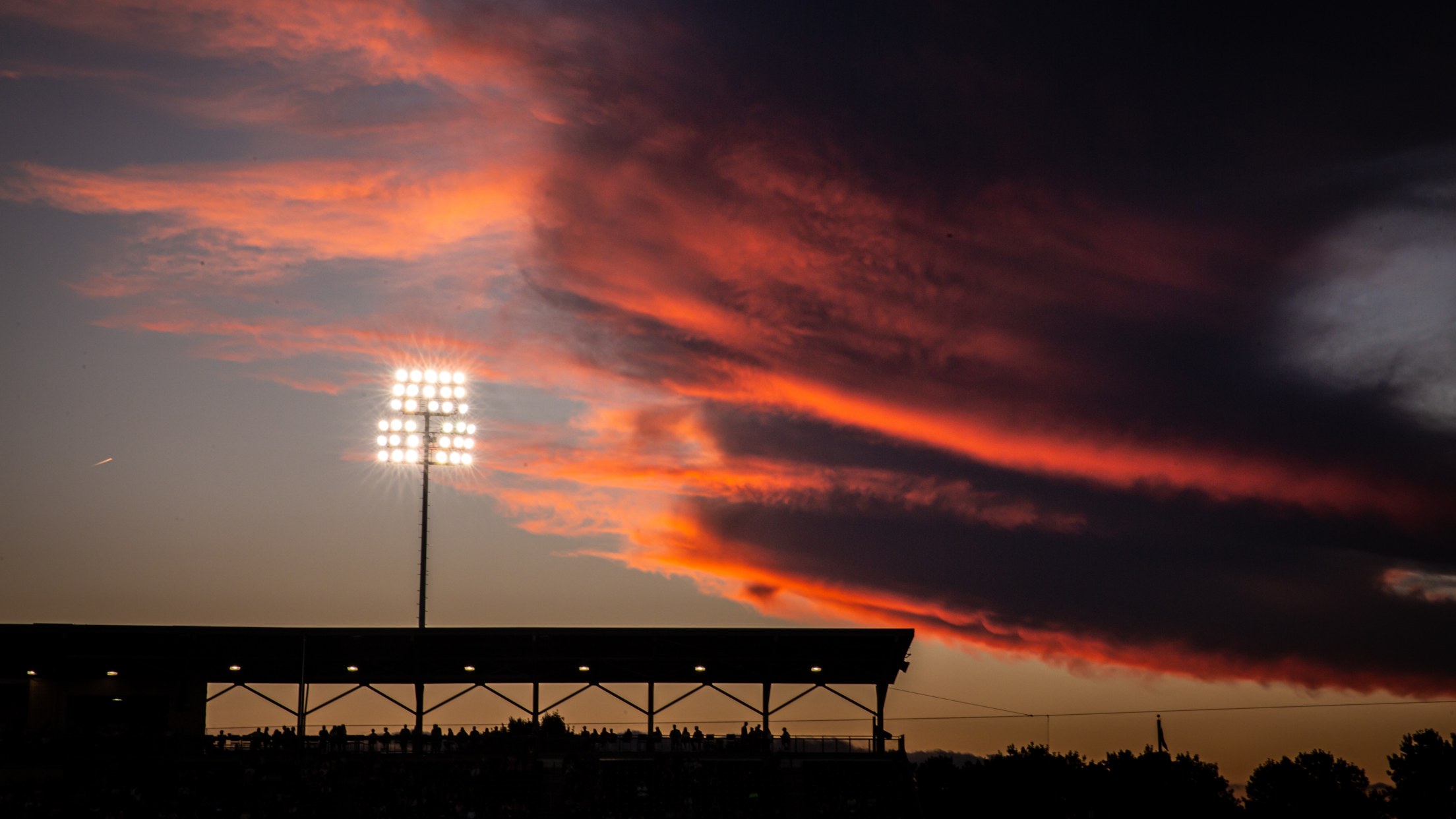 The Indians installed LED stadium lights at Victory Field this offseason, replacing the original metal-halide lighting system. (Photo by Adam Pintar)
INDIANAPOLIS – The Indianapolis Indians today announced stadium and concession upgrades that will enhance game day and the fan experience for the 2023 season at Victory Field. The Indians are set to debut new LED stadium lights and, along with ARAMARK, a variety of tasteful concessions at the Vic on
INDIANAPOLIS – The Indianapolis Indians today announced stadium and concession upgrades that will enhance game day and the fan experience for the 2023 season at Victory Field. The Indians are set to debut new LED stadium lights and, along with ARAMARK, a variety of tasteful concessions at the Vic on Opening Night, Friday, March 31.
The LED stadium lights have replaced the original metal-halide lighting system on eight light towers spaced around Victory Field. The LED lights provide enhanced brightness for the players and have multi-color capabilities that will enhance home run and walk-off celebrations along with community and private events held at the ballpark.
New ARAMARK concession items fans may enjoy at Victory Field include Hot Dog of the Homestand presented by Eisenberg. Hot Dog of the Homestand will take fans on a culinary journey with toppings tailored to the Indians' opponent. With the Omaha Storm Chasers in town for Opening Weekend, the Omaha Steakhouse Dog layered in blue cheese crumbles, sautéed mushrooms, fried onions and bacon bits is first on the menu. The entire Hot Dog of the Homestand menu may be viewed here with the specialty hot dogs available for purchase in-park at the Links and Drinks carts behind Section 105 and 120.
Top Taco, another fresh ARAMARK concept, will be stationed at a food cart behind Section 117. Fans will be able to choose from three different taco options including a vegetarian, all complemented with chips and salsa. The three taco options are Korean style with brisket kimchi, black cherry BBQ and scallions, pollo adobo with queso fresco cilantro lime crema, and vegetarian harissa cauliflower with toasted chickpeas, pickled red onion, pumpkin seed and spicy cilantro sauce.
New on the beverage side is Cocktail of the Month. Six specialty cocktails will be featured throughout the season and available for purchase exclusively at the Yuengling Landing. The March/April Cocktail of the Month is Maker's Mark Bourbon with hot cider.
"Our organization takes pride in providing memorable ballpark moments for all fans who walk through the Victory Field gates," said Randy Lewandowski, Indianapolis Indians president and general manager. "The LED lights installation will enhance on-field moments while the many new flavorful concession items on the ARAMARK menu have us and our great fans craving baseball season."
Single-game tickets to Opening Weekend and all 75 home games throughout the season are on sale. Group and premium reservations are also available along with full season, half season and mini plan packages. For more on the Indians, visit IndyIndians.com or contact the Victory Field Box Office at (317) 269-3545 or [email protected].