Grand River Country Club
Links Golf Course at Jackson® Field™

If you missed the opportunity to get out and enjoy Jackson Field as you've never seen before last year, here's a second chance! The Grand River Country Club, where we've paired golf and baseball together, is back! We've created a fun and unique 9-hole, 27 shot experience that spans the entire 360-degree concourse.
This special 4-day event is open to individuals and foursomes. Thursday Night Individual Tee Times are $40 for 9 holes and Thursday Night Foursomes are $140 total for 9 holes. ALL Thursday Night Tee Time Reservations also include 1 (one) free drink ticket! Friday thru Sunday Individual Tee Times are $35 for 9 holes and Friday thru Sunday foursomes are $120 total for 9 holes. Golfers of all ability levels are welcome!
Begin in Pepsi Porch and move your way counterclockwise around the concourse before ending in left-field under the video board. The point system is as follows: 25 pts for a Hole-in-One, 10 pts for a ball on the green, 2 pts for a ball on the field, and 0 pts for a ball in the stands. Your hole score is the total points earned from your three shots added up on each tee.
New for 2022! Receive Bonus Points for Attire and add up to 30 pts to your round point total!
5 bonus points for wearing a Hawaiian Shirt
10 bonus points for wearing any Lugnuts gear
15 bonus points for wearing Argyle Socks
The person with the highest point total from one completed 9-hole round after the event concludes on Sunday will be proclaimed champion! And if that's not enough, the champion will also receive a complimentary night in the Owner's Suite to enjoy a 2022 Lugnuts game (date TBD) AND presented the coveted Grand River Country Club Championship Red Blazer!
There will also be special prizes for Hole-in-Ones!
Just Added! ALL participants will receive (1) one GRCC logoed golf ball and (1) one logoed GRCC golf towel with their paid tee time reservation!
The estimated round time is 45-60 minutes. The Pepsi Porch plus new ballpark additions, the Ope! Alehouse and Red Cedar Spirits will be open and available to "quench your thirst" before and during your round. Then head out to Good Hops and enjoy great post-round good and drinks. Parking close to Jackson Field will be available as City Lots #52,53 and 55 will open to the public and be staffed by Lansing city parking officials. Parking fee is $5.00.
Grab your wedges and golfing buddies for an experience unlike any other! Questions? Contact us at lansinglugnuts.com or 517-485-4500.
Tee Time Reservations
Tee Times can be reserved every 10 minutes. Please arrive 15-20 minutes before your reservation to check-in. Tee Time reservations include the following:
27 shots (3 per tee location)
A scorecard and pencil
New for 2022 – a logoed GRCC golf ball
New for 2022 – a logoed GRCC golf towel
Access to Good Hops (post round)
Golf Balls will be provided. A limited number of clubs will be available for rent (at no charge), but all golfers, including lefties, youth, and seniors are strongly encouraged to bring their own clubs.
Only 9-irons and wedges are allowed. There will be a 3 club maximum per player and all drivers, hybrids, and low-numbered irons are prohibited.
---
Thursday, May 26th – GRCC at Night!
---
---
---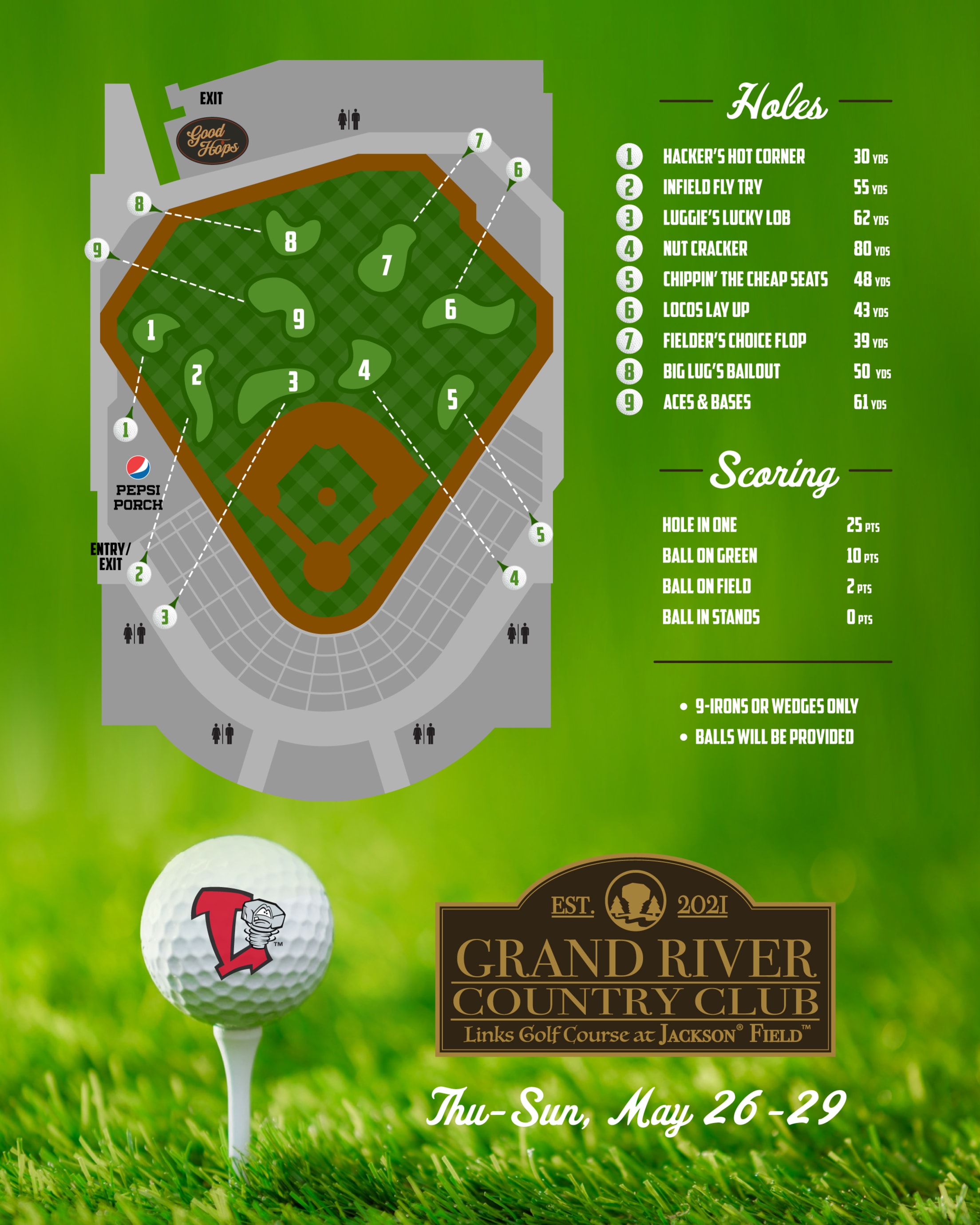 Course Layout
Nine tee boxes are spaced throughout Jackson Field, seven elevated, with all nine greens located on the playing field. Tee 1 is located in the Pepsi Porch, tees 2 and 3 are on the third base concourse, tees 4 and 5 are in the first base side concourse, tees 6 and 7 are in the Tailgate Terrace, and tees 8 and 9 are located under the video board.
Player Code of Conduct and FAQ
The following guidelines will be strictly enforced for the enjoyment and protection of all attendees. This is a family-friendly event and has been created to provide the Lansing area a safe and socially distanced enjoyable experience. Please use common sense to protect yourself and others.
All federal, state and local Covid-19 social distancing guidelines will be followed.
Overswinging and hitting golf balls to intentionally cause damage is strictly prohibited. Aim for each tees corresponding pin flag/green at all times.
Throwing golf balls is prohibited
Disorderly behavior, including verbal or physical abuse, threats, or profanity will not be tolerated.
When finished at one tee, please move onto the next tee in an orderly and timely fashion to prevent delays for the next group.
Each Tee will have a Lugnuts caddy available to assist with any questions and movement around the concourse.
Children under 12 must be accompanied by an adult
No outside food or beverage allowed.
This event IS rain or shine – unless the weather is deemed severe enough by Jackson Field staff to halt or suspend play.
Any player code of conduct rules violation will result in the immediate removal from Jackson Field without refund.
---