A trip to the Cactus League: visiting A's spring training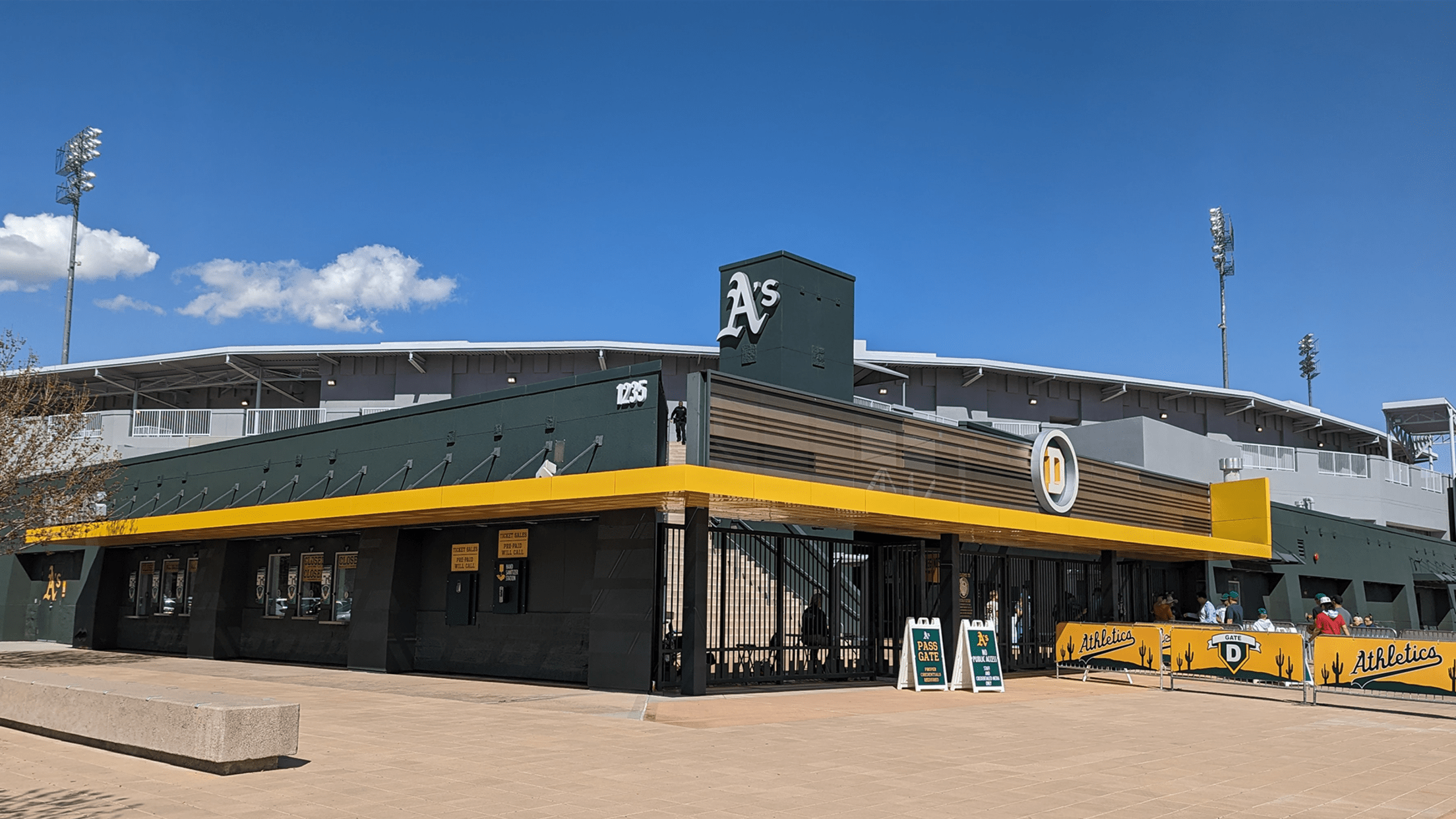 Hey, how's it going? When I write my usual articles for the Lansing Lugnuts, I opt not to use first person narration. This one is different. I took my first trip to A's spring training this weekend and figured I ought to write about it. Thank you for reading. An
Hey, how's it going?
When I write my usual articles for the Lansing Lugnuts, I opt not to use first person narration. This one is different. I took my first trip to A's spring training this weekend and figured I ought to write about it. Thank you for reading.
An introductory note: The NCAA men's and women's basketball tournaments are currently in progress, presenting indoor madness. Spring training baseball is the exact opposite of this. It is relaxed, it is outdoors, sunburns happen, the result of the game doesn't matter, and the most stressed people are the ones waiting in line for their mustache pretzels, which are shaped like a Rollie Fingers handlebar mustache. Slogan: "Great mustaches aren't born. They're bread." (I waited as long as I could, the line never moved, so I gave up.)
Spring training is split evenly between two states: Florida, where the spring training circuit is nicknamed the Grapefruit League, and Arizona, which hosts the Cactus League. During the 2020-21 winter, the Lansing Lugnuts became the new High-A affiliate for the Oakland Athletics, thereby returning the Nuts to the Cactus League for the first time since a six-year affiliation with the Chicago Cubs ended in 2004-05. The A's and Cubs, interestingly, are both based out of Mesa, Ariz, and the Cubbies used to play at the A's current ballpark before moving into Sloan Park, eight minutes driving distance away from the A's Hohokam Stadium. That's the same distance between the Lugnuts' Jackson Field and Michigan State University's campus.
This is one of the great attractions of the Cactus League, you never have to venture that far to bump into the next baseball field. Or golf course.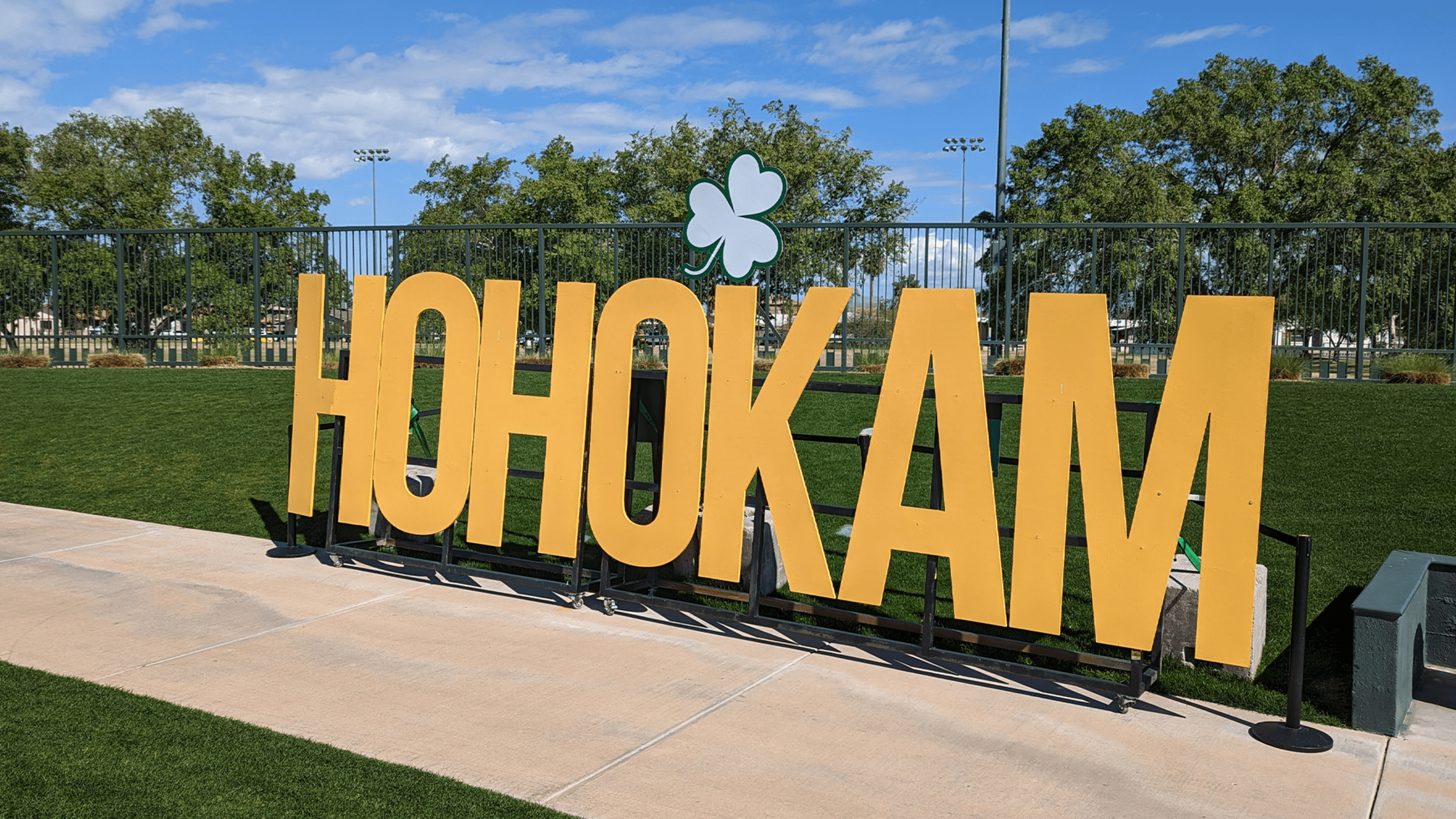 A Hohokam history note, thanks to the City of Mesa's website:
Hohokam Park (pronounced HO-HO-COM) takes its name from some of the earliest residents of the Valley of the Sun: the Hohokam Indians, who occupied this region from the year AD 1 until the mid-1400s. The name Hohokam is a derivative from a Pima Indian word for all used up or those who are gone.

The Hohokam were one of the worlds most advanced prehistoric civilizations, and were able to flourish in central Arizona's desert region for more than a thousand years by developing a sophisticated system of irrigation canals, totaling more than 125 miles. These canals were so effective that much of today's canal system follows along the same pattern engineered by the Hohokam centuries before.

Hohokam Park is located just a few blocks east of the Mesa Grande Ruin, at the corner of Date and 10th Street, believed to contain the remnants of one of the key Hohokam temples and gathering structures. This site was purchased by the City of Mesa in the late 1980s for future preservation and study.
Hohokam Stadium (originally HoHoKam Park) is located across the street from Mesa Cemetery, where Waylon Jennings is interred. (Also Ernesto Miranda, the Miranda for whom Miranda Rights were named.)
The City website also has an amazing timeline that connects AD 1, the recorded start of the Hohokam civilization, with the history of the Oakland Oaks, the Chicago Cubs, the Oakland A's, the Cubs again, and then the A's again calling Mesa home.
One of the clear best things about Hohokam Stadium is the view from above home plate. Field of Dreams may have romanticized baseball among the cornstalks, but baseball out west is special, where the mountains watch down upon the game like Wrigley Field roof-dwellers.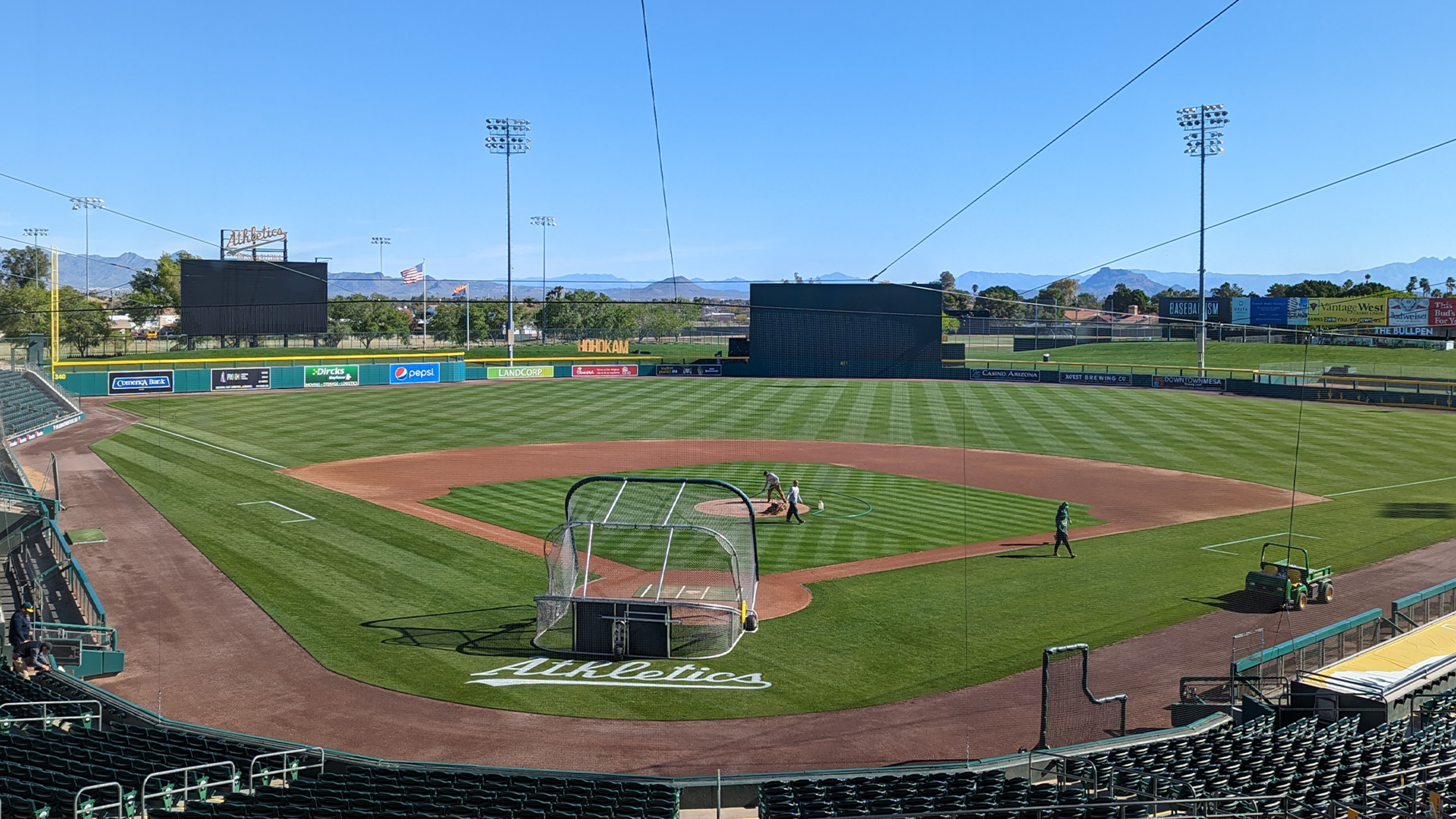 Johnny Doskow (rhymes with "Roscoe"), the newest member of the A's broadcast team and a shining example of humanity, gave me a ride to the ballpark on Friday morning, March 17. Johnny is famous for perpetually wearing a newsboy cap, and wearing it well; one of the first key pieces of information I learned in Mesa was that he had given one of his prides and joy to Max Muncy.
The current Athletics' 40-man roster features five former Lugnuts: pitchers Zach Jackson (2017), Dany Jiménez (2018) and Kirby Snead (2016-17) and infielders Ryan Noda (2018) and Kevin Smith (2018). In addition, non-roster invitees Jake Fishman (2017), Tyler Soderstrom (2022) and Denzel Clarke (2022) were still in Major League camp.
When we arrived at the A's clubhouse, there was Noda sitting at his locker, his Lugnuts single-season walk record (109!) still intact these five years later. We caught up quickly before getting to what truly mattered, Ryan's analysis of the NCAA men's basketball tournament. (There may be no wiser hoops expert in all of baseball than Ryan Noda.)
Tyler Soderstrom wandered by at this moment and was stunned to learn that Ryan and I were well acquainted.
This is really the joy and curiosity of the minors: For us in Lansing, we have no trouble at all in connecting, say, Noah Syndergaard with Vladimir Guerrero, Jr., with Tyler Soderstrom. They all came to the same ballpark, dressed in the same clubhouse, traveled to the same cities. Their Midwest League experiences, I would think, had a great deal in common. They would never find that same link within themselves, since Lansing was one stop along their ultimate journey which began before and after us. To us, however, they are one and the same. We saw them during important months of their baseball development, when they were young and learning, and who they are now is owed in part to how they met their challenges in the Midwest League. There is a part of them that we claim and take pride in. We knew them when, so now we know them always. Sometimes they know us, too.
Jake Fishman was only with the Nuts for four games in 2017, but he still remembered me when I caught up with him, asking about his time on Team Israel in the World Baseball Classic. I did not ask him about striking out seven batters in two innings in one of his Lugnuts appearances. Some things go without saying.
I spoke at greater length with Denzel Clarke, who was also in the WBC and was a Lugnut just a couple of months ago.
Interested in a Cactus League interview? Before returning to Michigan from Mesa, I caught up with #Athletics prospect OF Denzel Clarke.

On his Arizona Fall League experience, playing for Canada in the WBC, Tony Kemp's mentorship and advice, and more: https://t.co/dICSPIsTlI

— Jesse Goldberg-Strassler (@jgoldstrass) March 20, 2023
Friday's game happened to be on St. Patrick's Day. You would think this wouldn't affect the A's much, but you'd be wrong – Denzel nearly wore his usual green A's cap for stretch, only to realize they had a different green cap specifically for the occasion. He also wore tall green and yellow striped socks that looked splendid with his pants cuffs hiked up to his knees. Tony Kemp makes them look good, too.
A few hours before first pitch, A's vs. Giants, I departed Hohokam Stadium and walked 15 minutes south down Center St. to Fitch Park and the Lew Wolff Training Complex, home of the A's Minor League complex.
Should you follow in my footsteps and take this walk, you'll pass a lovely orange grove along the way.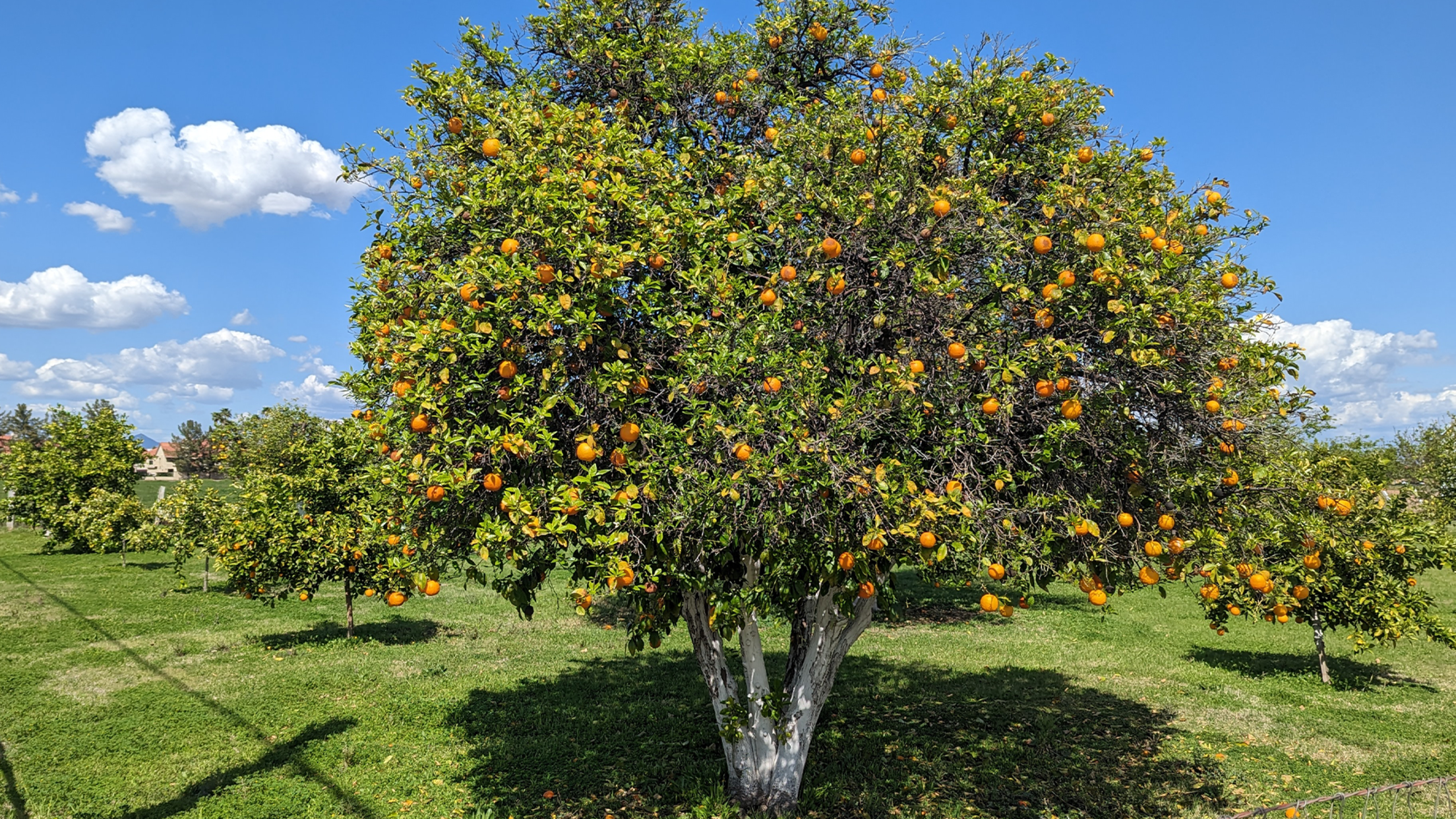 What you need to know most about Fitch Park is how welcoming it is. The gates are open for fans and family to take in A's MiLB games, which are held on one of four fields arranged in a clover leaf around a concrete concession stand / restroom. Walk right in, sit down in the covered bleachers for any of the fields, and watch morning work and/or afternoon games for the A's minor league system.
The concession stand was not open during my visit, but no worries there: I was welcomed in to enjoy food inside the Training Complex on Friday, then walked in to Cayomango restaurant on Saturday, a restaurant that I recommend to you without reservation. (You won't need a reservation. You might need to speak a little Spanish, though.)
The person who welcomed me in on Friday was Nancy Moriuchi, all-around Fixer and Athletics Manager of Minor League Operations, who toured me around the facility.
Down one hallway, there is a display case in which the Athletics' MiLB affiliates' uniforms are displayed, with the number on each uniform indicating which year that team joined the A's system.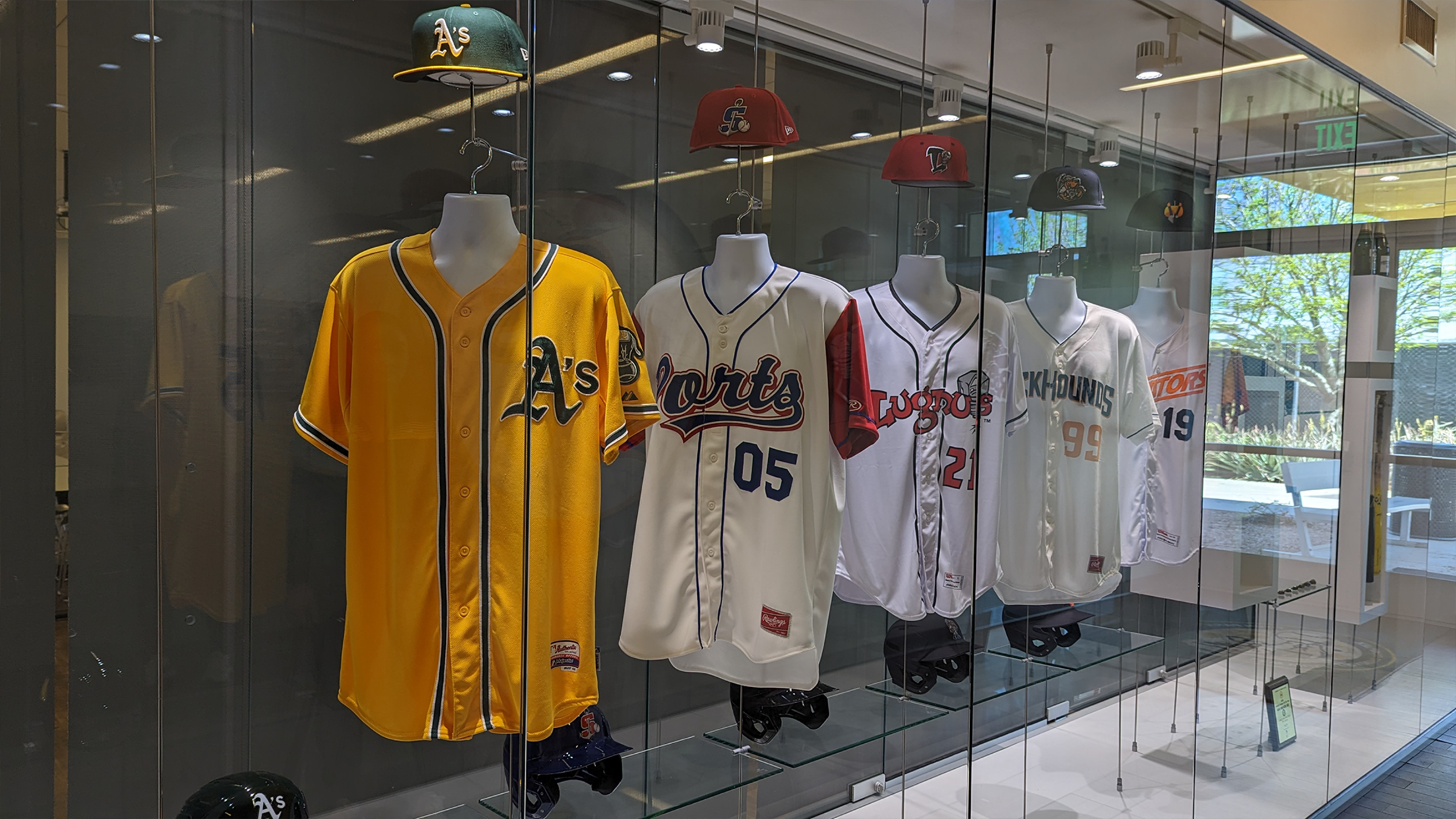 Alongside these uniforms, there's every championship ring won by an Athletics affiliate. Nancy proposed that we add a Lugnuts ring to the case this year. Nancy is a very powerful, efficient, and effective person, so I agreed that this was a good idea.
Spoiler alert for the coming season.
Across the hallway was a sign imported from the A's older complex at Papago Park, signed by every Major Leaguer the A's system had ever produced. Blue Moon Odom is on here. So is Rickey Henderson. Mark Mulder. Greg Cadaret. Ernie Young. Ben Grieve. Scott Spiezio. Matt Stairs. Blake Stein. A.J. Hinch.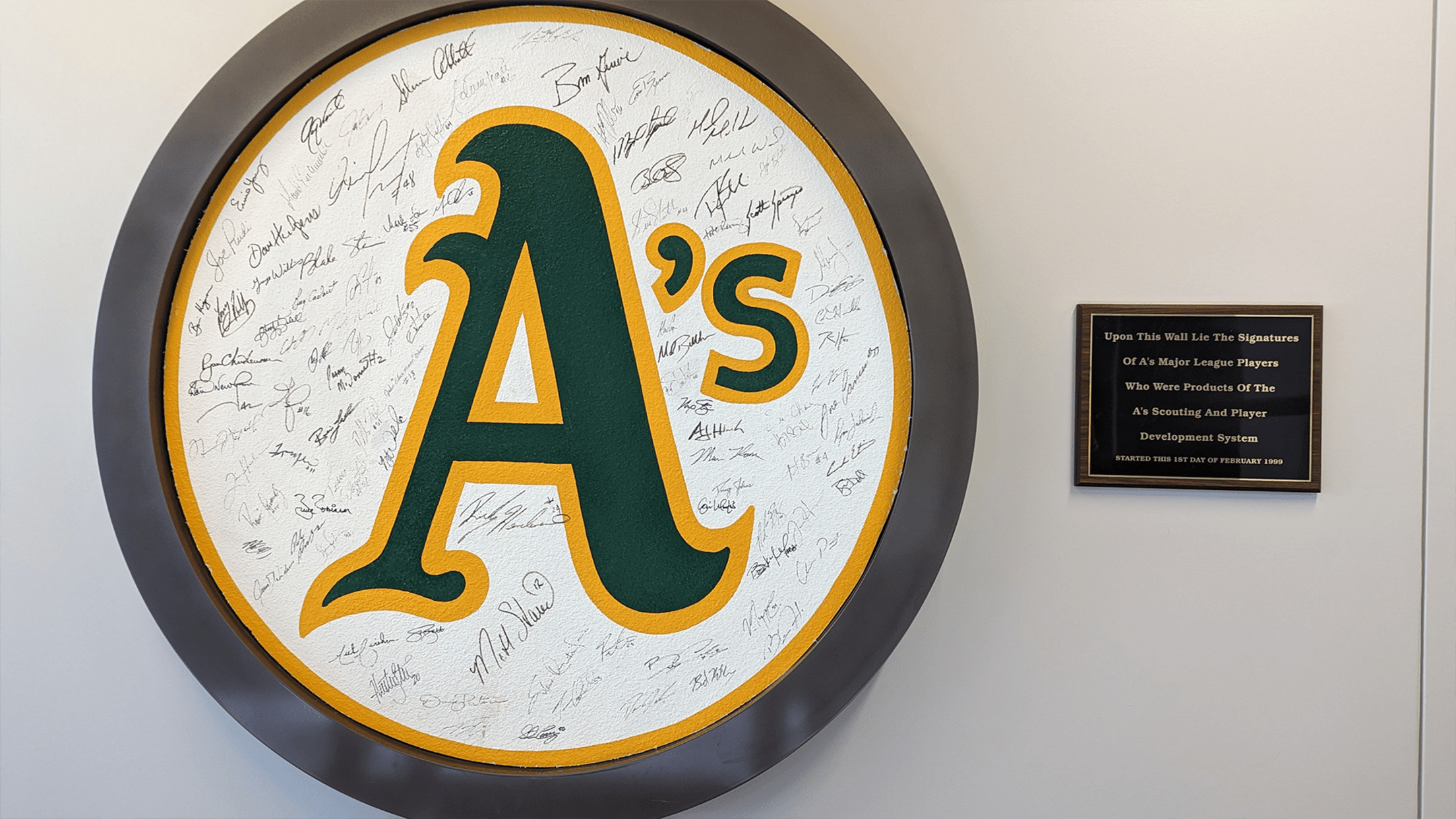 Inside this complex was everyone: all of the staff members, all of the players. The strength and conditioning facility was gigantic, as was the center for the athletic trainers. Everyone had space to work, which was good because take one Lugnuts roster (25 to 30 players, four coaches, one trainer, one strength and conditioning coach, one video assistant, one clubhouse manager), multiply it by four (Stockton, Lansing, Midland, Las Vegas), then add some more (Arizona Complex League, bosses for each staff member, injured players, etc., in order to get the full idea of how many people are on hand attending to development, meeting in the conference room, eating at the dining hall. It's quite an operation.
Outside the complex? Fans, autograph seekers, and family members. I met Mac Lardner's father; Brock Whittlesey's parents; Drew Swift's mother, grandmother, aunt and cousin; and Brett Harris's grandparents. We were all there for the same reason, to watch our guys play some ball before the real season began. The refrain I constantly heard: This is a big season.
It is, you know? For me, too, though I might not understand how or why yet. This is a big season.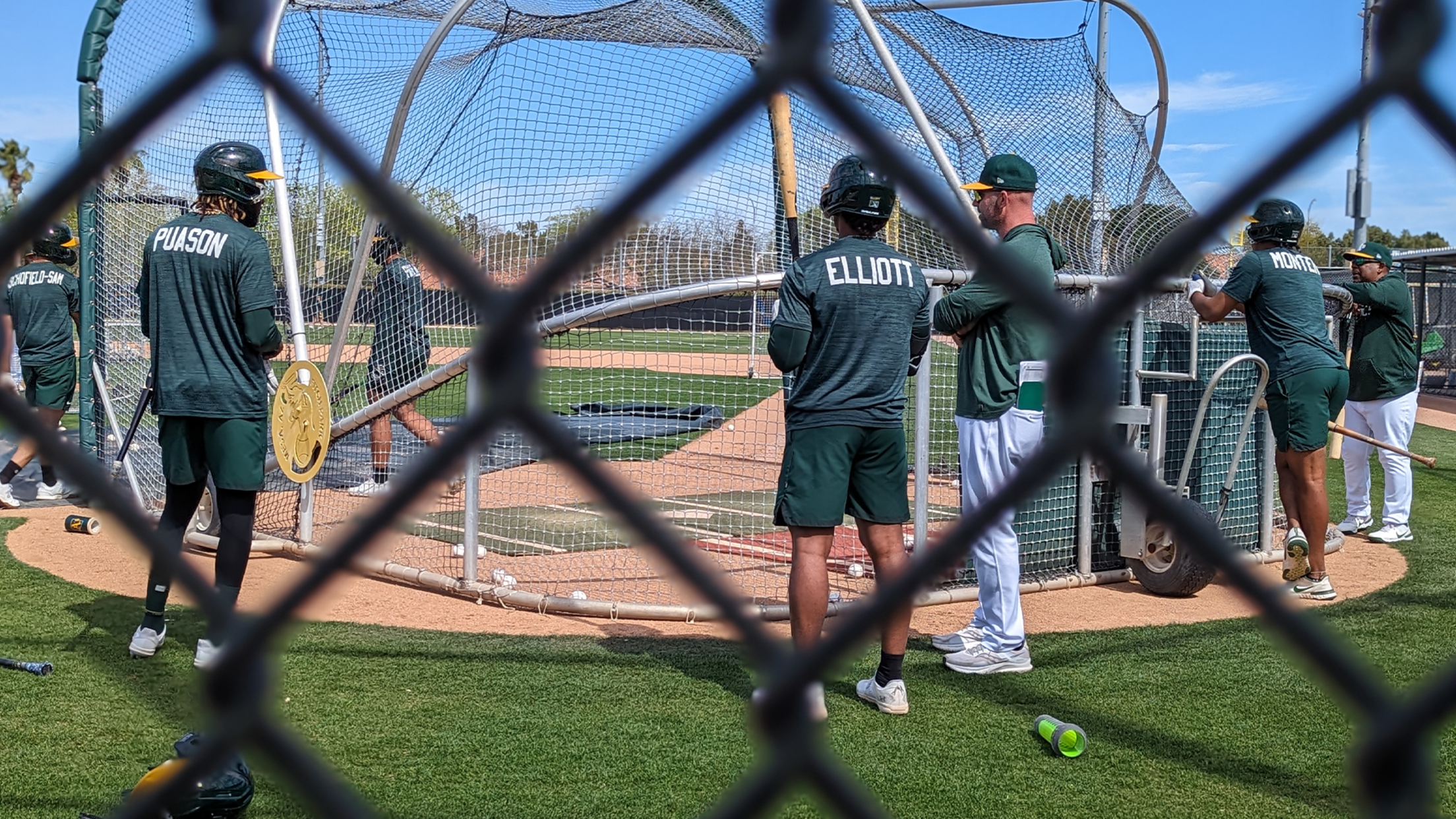 The players are divided into teams: Triple-A Las Vegas, Double-A Midland, High-A Lansing, Single-A Stockton.
New this spring: players' name on the backs of their BP green shirts.
In the above photo, that's Clark Elliott, Robert Puason, Darlyn Montero, and T.J. Schofield-Sam, taking part in the Single-A Stockton group. (I could not have told you this without their names.)
Among the spring training High-A Lugnuts were familiar faces like Brayan Buelvas and Drew Swift, Jack Winkler and Jonny Butler. It was good to catch up with them. It was also good to see Kim Contreras in her element; for over a decade Kim had been my source for everything A's whenever the Lugnuts played the Beloit Snappers, due to the relationships she formed in coming to watch her Baby A's, in her words, in Mesa. Then the Lugnuts joined the A's organization, thus making the players I cared about and the players she cared about one and the same.
Y E A R S ago:
I first hoped to have @jgoldstrass on the home 🎙️for an A's affiliate

2021: @LansingLugnuts joined the 💚💛, my💗for Jesse was validated by all who listen to/watch/are #BabyAs

Sat: Like Swifty & Buelvas, I spent quality time with him at Fitch #HeIsATreasure pic.twitter.com/VeDn8kxSXd

— Kim C (@Cu_As) March 19, 2023
The Major League game between the A's and Giants started at 1:05 p.m. local time at Hohokam Stadium, but I stayed for the 1:05 p.m. start for the spring training Lugnuts and Stockton Ports games against the Giants' High-A and Single-A affiliates.
Here's Max Muncy, playing for the Lugnuts, at bat against the Giants' High-A team. He is, disappointingly but understandably, not wearing his Johnny Doskow cap.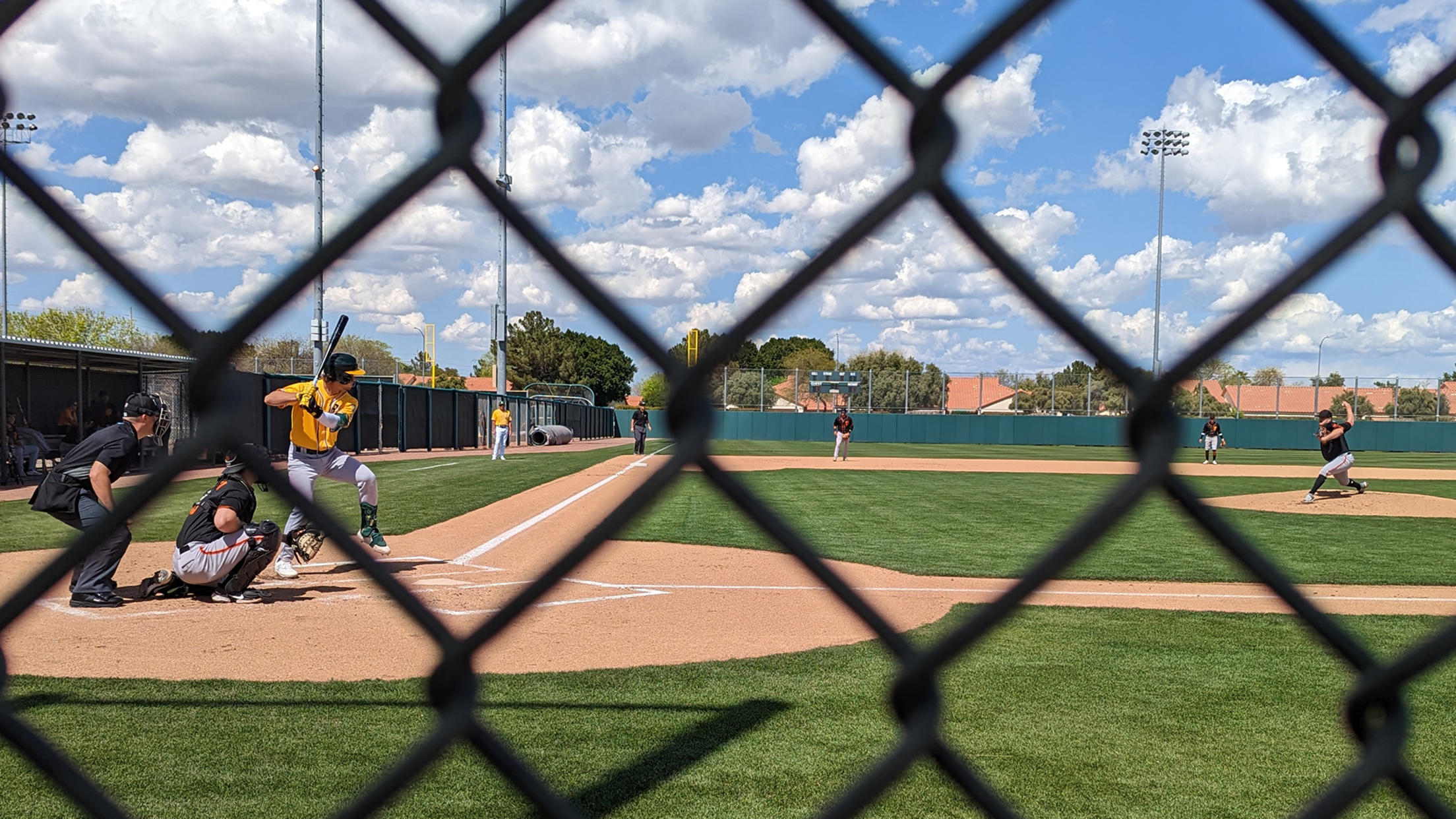 What does this mean that Swift and Winkler and Buelvas and Butler and Muncy are on the spring training Lugnuts? Perhaps something, perhaps nothing.
I saw catcher C.J. Rodriguez with the Double-A Midland team, but I have a suspicion that he'll be coming to Lansing for Opening Day. The rosters are not yet set – but they might give a hint as to who we could come to expect, helping these players grow accustomed to being teammates.
Another member of the spring training High-A Lugnuts: 2022 first-round selection Daniel Susac, the A's No. 8 prospect. (If he were to come to Lansing, he would be MLB Pipeline's highest ranked prospect on the club.)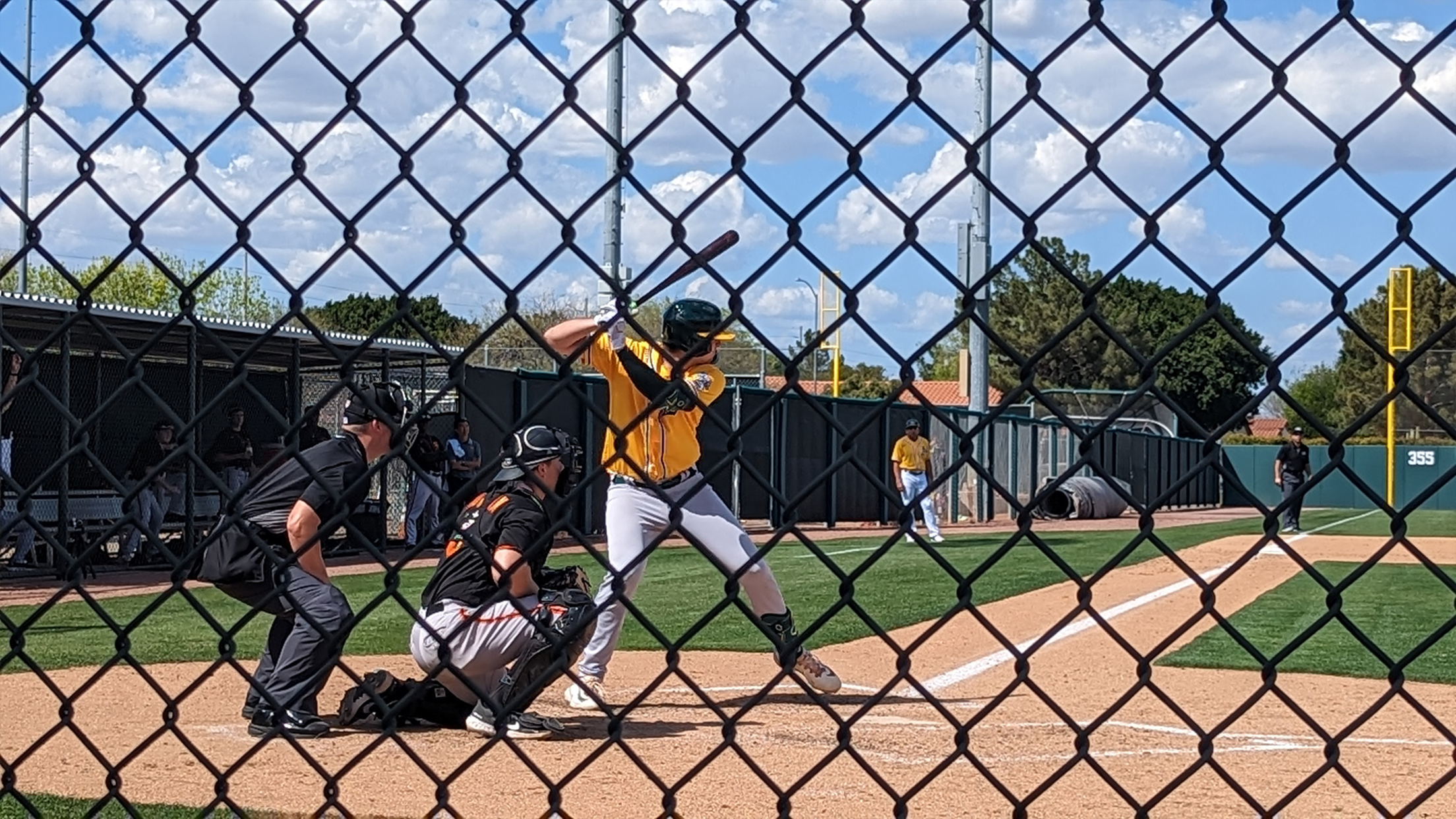 Back to the Single-A Stockton team: They played Friday against the Giants at the single most photogenic field, Field 3. Here it is without the chain-link fence in the foreground obscuring your view.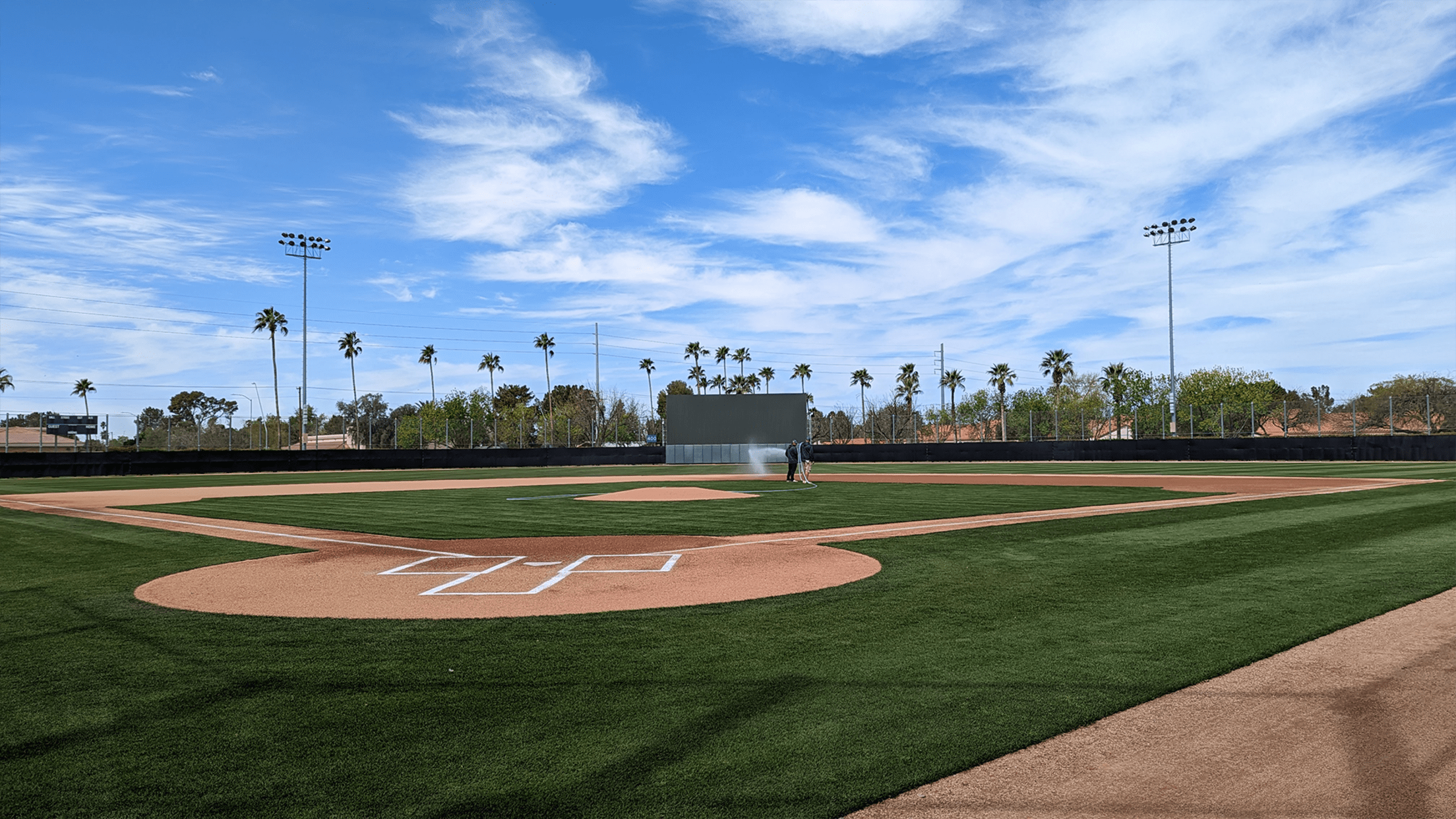 The spring training Single-A Stockton Ports included the aforementioned Elliott, Puason, Montero, and Schofield-Sam, plus Pedro Pineda, Colby Thomas, and the batter in the photo below, Henry Bolte.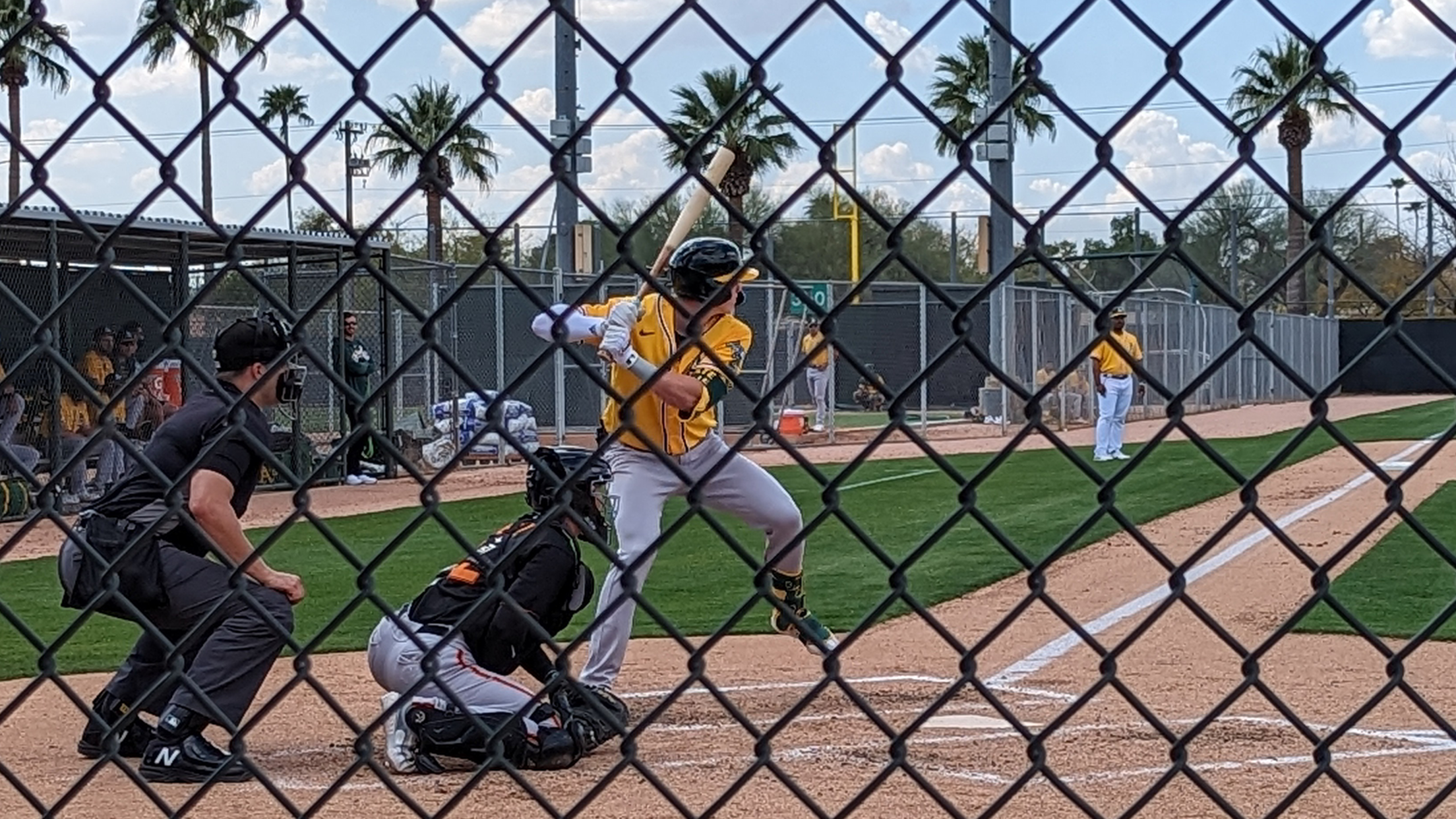 Let's put these players' names in context. Henry Bolte signed for $2 million, Pedro Pineda signed for $2.5 million, Robert Puason signed for $5.1 million.
19-year-old Bolte was the 56th overall pick last year, appearing in 11 games in the Arizona Complex League. 19-year-old Pineda played 42 games for Stockton last year. 20-year-old Puason played in 55 games for Stockton, his second season with the Ports, and then was reassigned to the Arizona Complex League. They are all young, they all received significant investments in their future from the A's, and yet they all feel so far away from the Majors – but while they are in Mesa, the Major Leagues is just a 15-minute walk away, past an orange grove.
It has been said many times that baseball is a game of failure. Baseball is also a game of patience, with instruction and growth requiring time and reps. This was in evidence at field beside field, players and coaches working away, trying to get it right for their own individual betterment and the betterment of the Oakland A's.
Next to me, watching this instruction and work and reps, was not just the players' family members, the autograph-seekers, the fans, and not just other players and A's MiLB development brass, but a handful of scouts, their hands on their radar guns and their stopwatches, constantly chatting with one another and walking between fields in the hopes of seeing/timing something worth knowing about. They know what each player did before. They want to see what he looks like now.
You know what the best thing is about baseball games played on neighboring fields? When a batter fouls a ball out of play on one field and on the other field someone shouts, "Second base!" alerting the second baseman to amble over and catch it. The Savannah Bananas would consider that an out.
I watched three-and-a-half innings of MiLB ball, and then went walking back to Hohokam Stadium.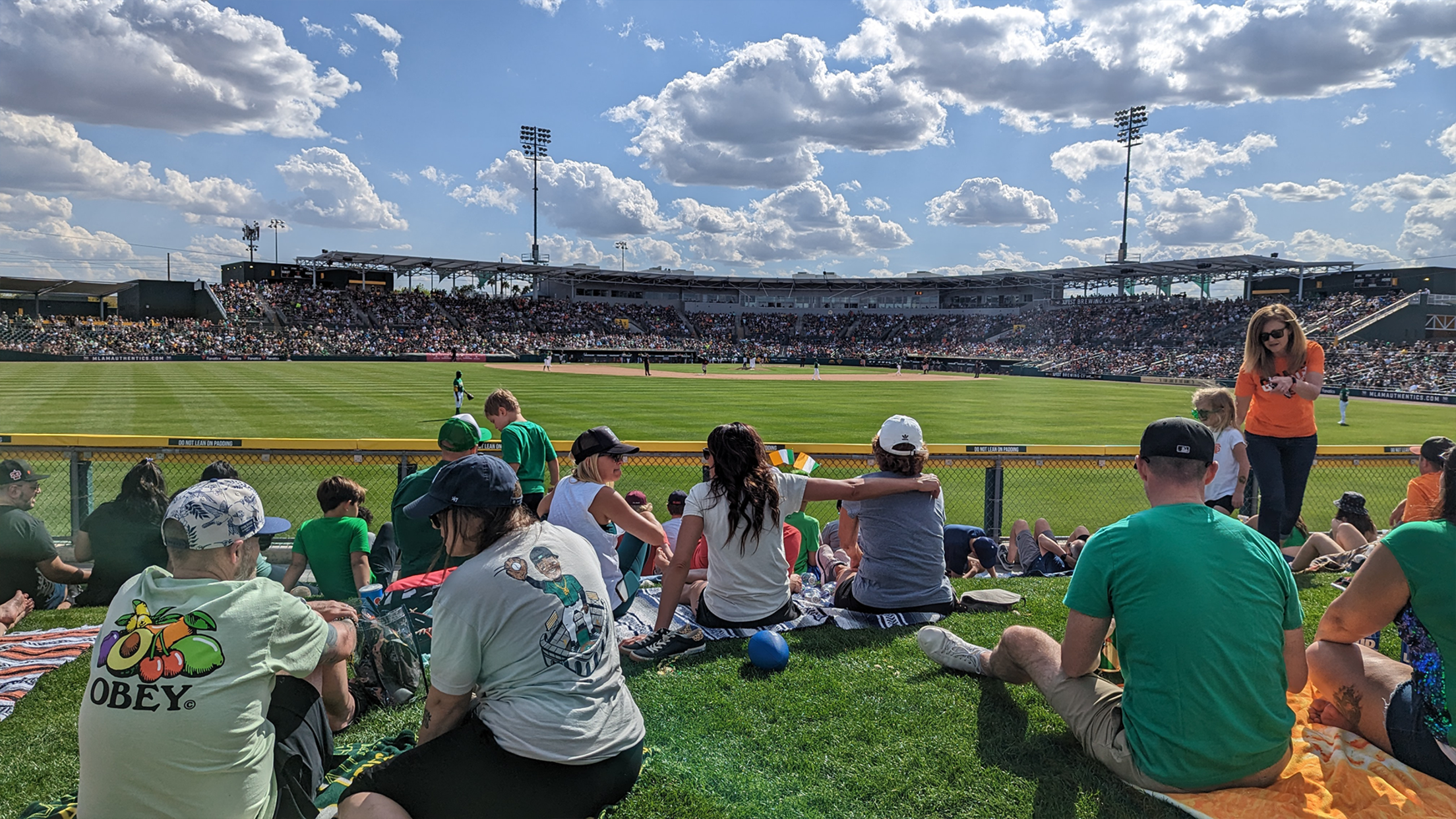 With the Giants in town for a Cactus League Battle of the Bay, Hohokam Stadium was packed. Attendance: 10,190. Note that Hohokam capacity is listed at 10,500, with 7,500 fixed seats plus lawn seating. A tremendous atmosphere.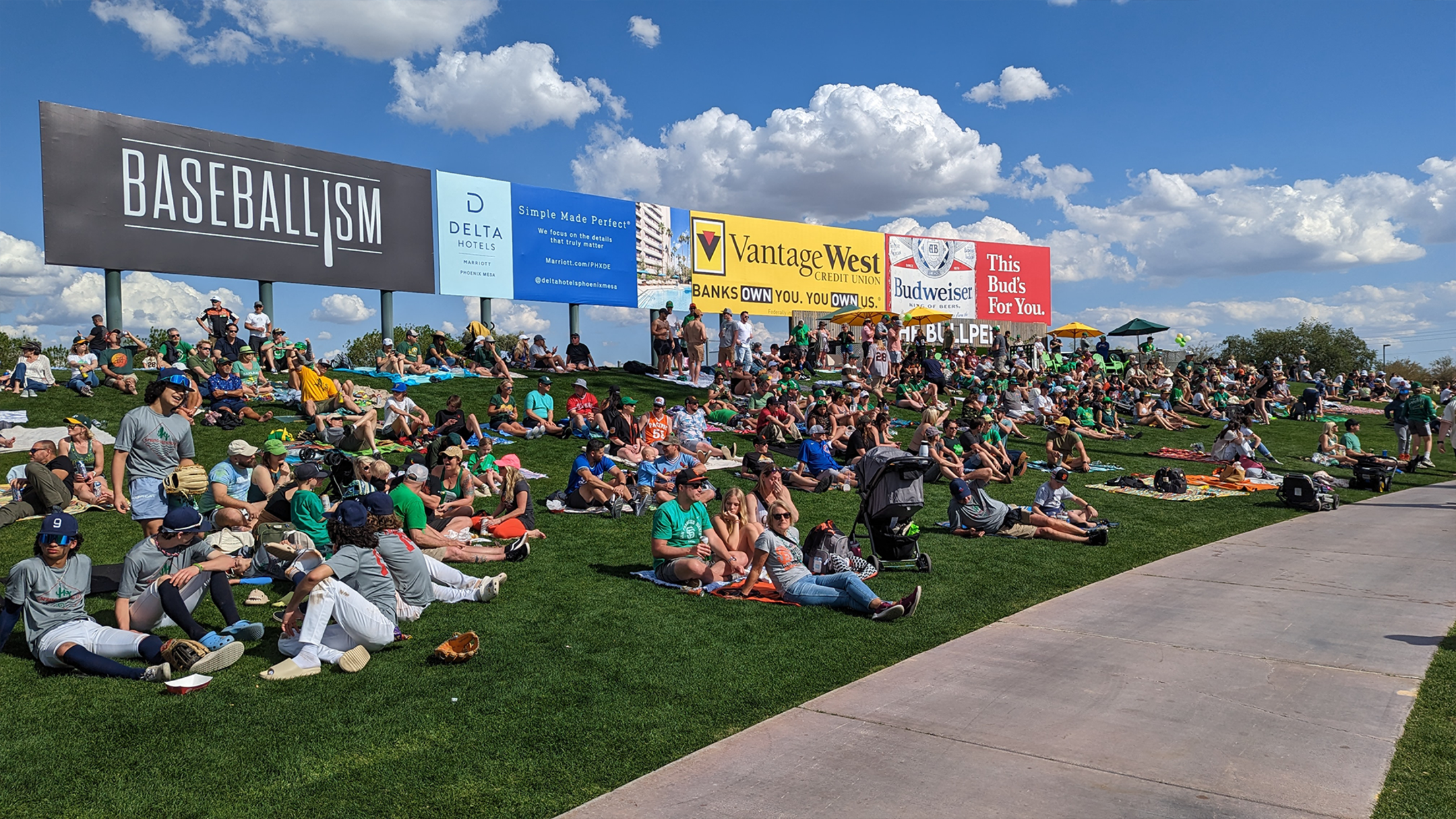 There were no former Lugnuts in the starting lineup, but our guys started coming in with the middle-inning substitutions. Kevin Smith dropped down a sacrifice bunt in the 6th and drew a walk in the 8th. Ryan Noda grounded out in the 7th and singled in Smith in the 8th. Denzel Clarke struck out in the 7th and grounded out in the 8th, plating a run. Tyler Soderstrom flied out in the 7th.
Though I did a few rounds, touring the park, I primarily watched from beside engineer Kevin Curran, sitting up above A's radio broadcasters Ken Korach and Vince Cotroneo. Ken worked off an old-school stick mic, the solid sort that sits on the desk looking like it could withstand an earthquake, but believe me when I tell you that he manipulated it like a stand-up comic, picking it up, rotating about, and playing to his audience, Vince. It was a stellar show and a fine call of a routine game, and I would've paid money for it had Kevin charged me.
Kevin Curran, by the way, is one of the best people I've ever seen at conquering the most difficult challenge of Cactus League ball: recognizing if and when there is a substitution. He surveys the field, spots the newcomers, and calls them out like a quarterback identifying the middle linebacker. It's an invaluable skill, particularly in March.
Charles Hall recorded the final three outs of the A's win, a half-inning in which I supplied the broadcast team a brief Hall background; they questioned my use of "sandwich artist" to describe his pre-baseball work experience.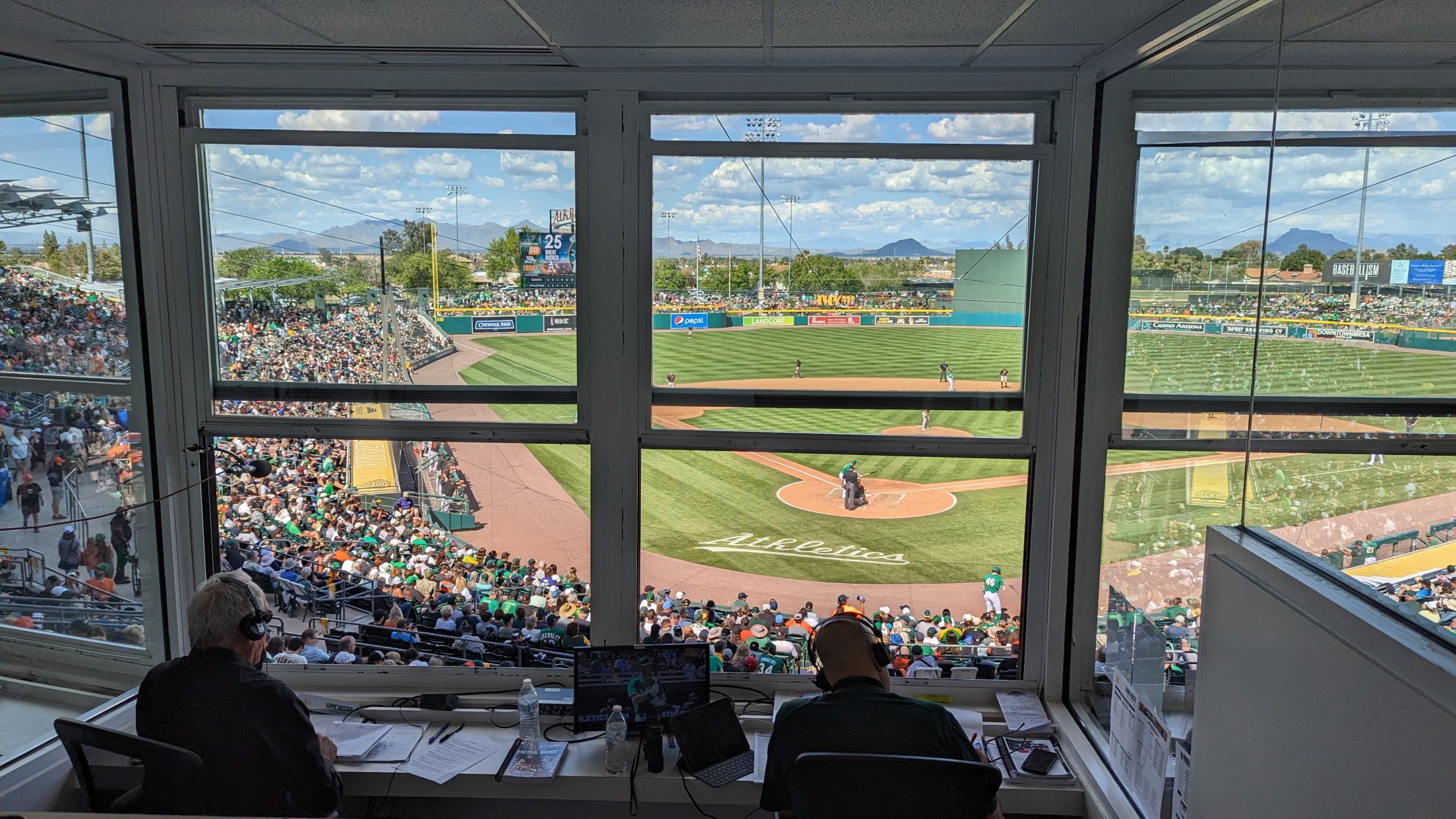 As for my second game in Mesa: I rode with Johnny to the park, chatted with a few players, walked to Fitch, watched the Double-A and Triple-A games, laughed with Charles Hall about his appearance the previous day (plus engaged in wishful thinking with a fellow Washington Commanders fan), saw Mason Miller throw 100 mph, watched a great Brett Harris plate appearance, moseyed back to Hohokam Stadium, and watched Johnny Doskow and Vince Cotroneo deliver the play-by-play for the A's vs. the Reds. It was a good time.
It wasn't as a good of a time for Zach Jackson, who struggled in relief with two hits, three walks and three runs allowed in 1/3 of an inning. But Dany Jiménez tossed a scoreless frame and Kevin Smith went 1-for-1 with a single, offsetting hitless days for Tyler Soderstrom, Denzel Clarke and Ryan Noda, though Soderstrom did draw a walk. On the other side, Daniel Norris fired a scoreless inning in a Reds' 7-1 victory.
After the game, I caught up with Reds broadcaster Tommy Thrall, who had been the voice of the Quad Cities River Bandits in 2011 when they beat the Lugnuts for the Midwest League championship, and then headed out. The time had come to fly home.
Public Service Announcement: The Phoenix airport has cactus kiosks, the better for you to purchase and keep on your lap during any turbulence you may encounter flying over the area's ballfields, golf courses, mesas, and mountains.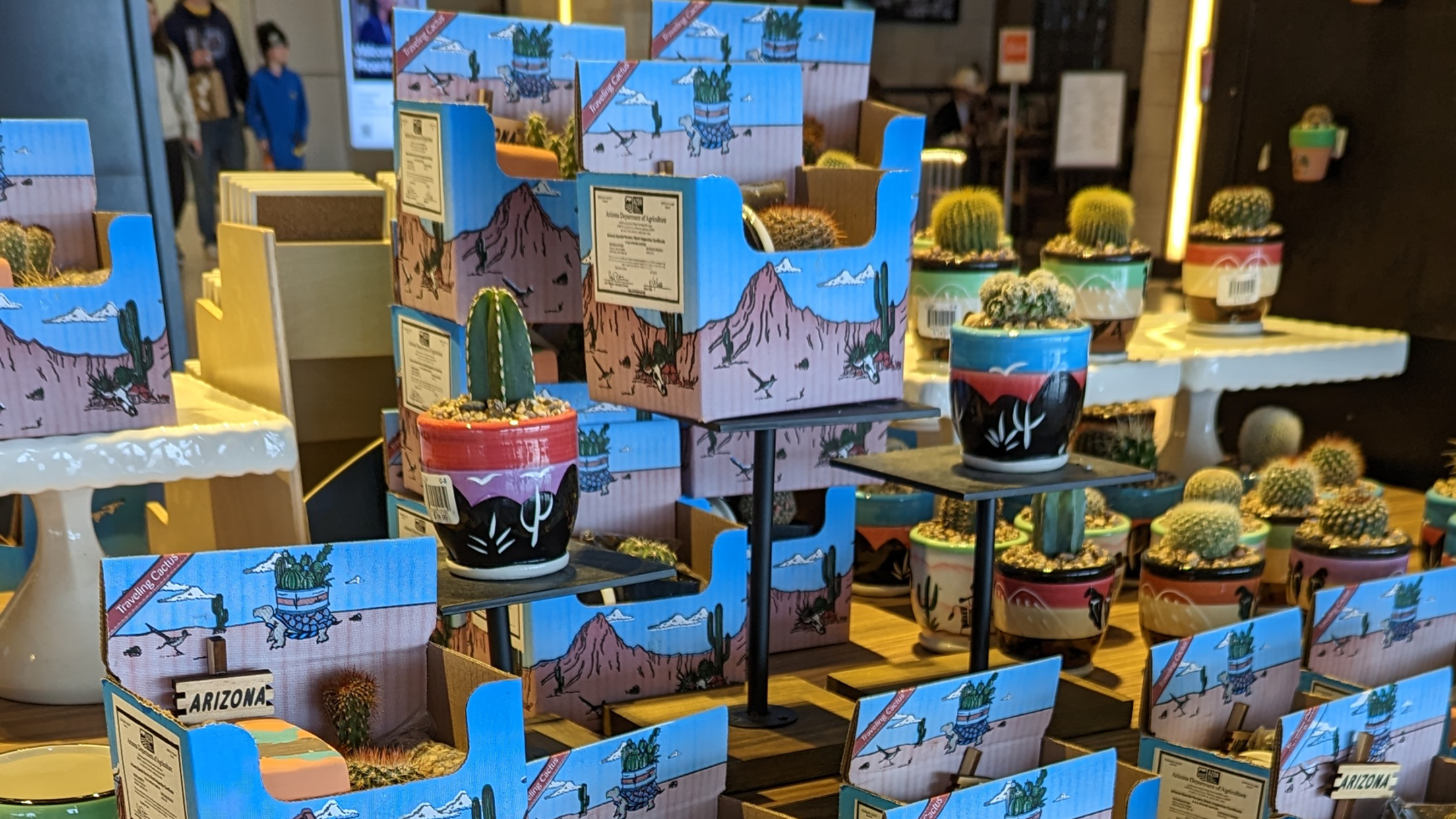 The Lugnuts arrive in town in two weeks, leading into the 15th Crosstown Showdown against Michigan State. Things are a touch colder in Michigan as compared to Arizona. Spring training in Mesa means practicing baseball; in Lansing, it means that the season might need a little nudging to get going.
We'll be ready.
# # #