Certified fresh: The RubberDucks of Akron
"All Out 90s" night celebrated in front of packed house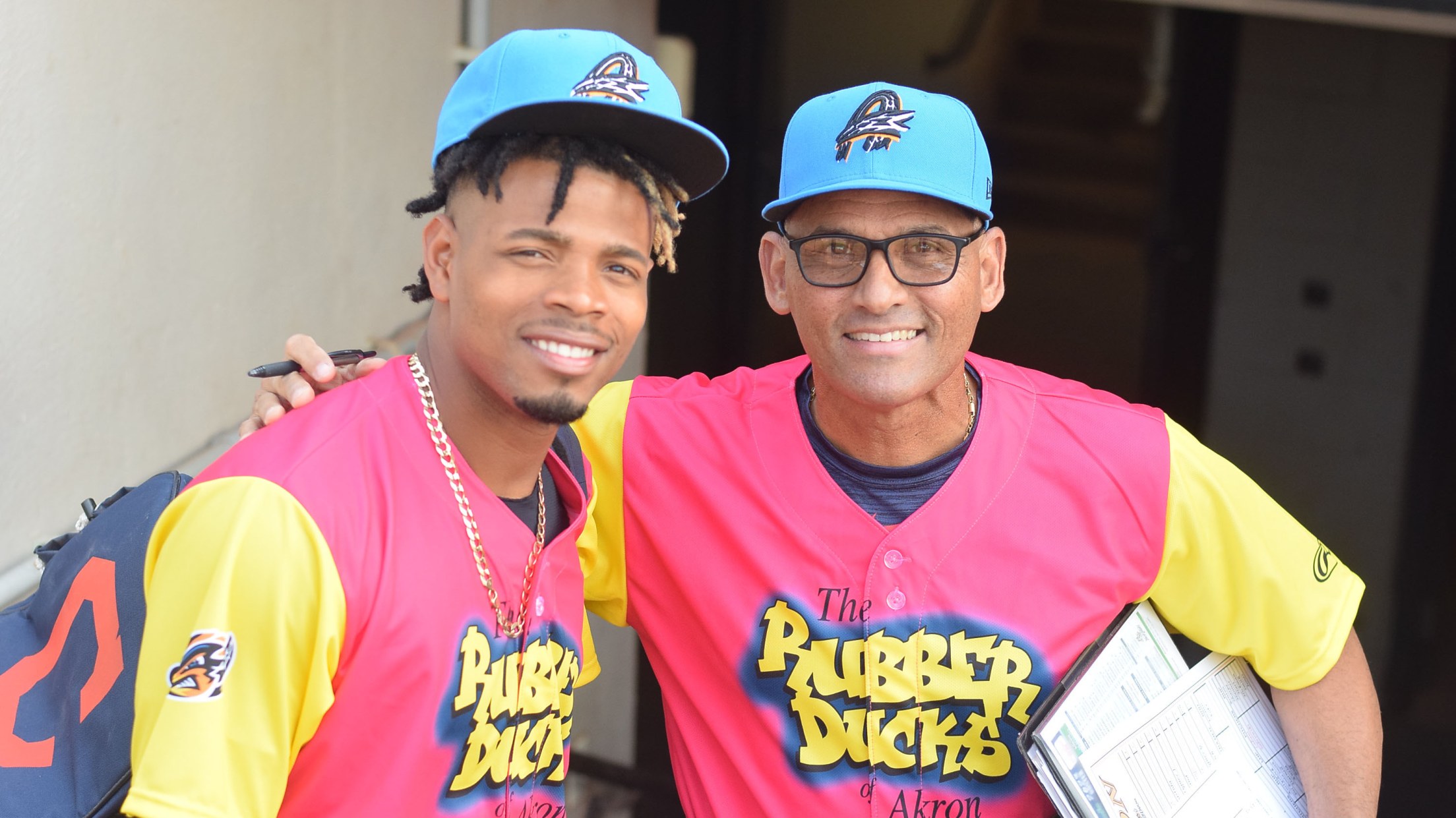 Akron RubberDucks manager Rouglas Odor (right) learned English through watching "The Fresh Prince of Bel-Air." (Kayla McMillen, Akron RubberDucks)
Now this is a story all about how the Akron RubberDucks were flipped-turned upside down, so please take a minute and sit right there and I'll tell you how Akron honored "The Fresh Prince of Bel-Air." On Saturday night, Double-A Akron hosted "All Out 90s" night with a special appearance
Now this is a story all about how the Akron RubberDucks were flipped-turned upside down, so please take a minute and sit right there and I'll tell you how Akron honored "The Fresh Prince of Bel-Air."
On Saturday night, Double-A Akron hosted "All Out 90s" night with a special appearance from Karyn Parsons, who starred as Hilary Banks on the hit TV show, the "Fresh Prince of Bel-Air."
Theme nights where Akron honors popular media have become an annual event. In years prior, the RubberDucks have invited actors from "Scrubs" and "Back to the Future" -- they've even brought a gold jacket winner to Canal Park in the form of Christopher McDonald, who played Shooter McGavin in "Happy Gilmore."
This year's edition threw it back to the 90s, paying homage to the flashy colors and fun music of the popular sitcom.
"It's going to be a big celebration of the 'Fresh Prince of Bel-Air.' Should be a lot of fun," said Jim Pfander, the president and general manager of the RubberDucks.
For the event, Akron pulled out all the stops. Parsons made the trek to the stadium and threw out the first pitch, the team wore special themed jerseys and the first 1,000 fans in the stadium received a special Hilary Banks bobblehead.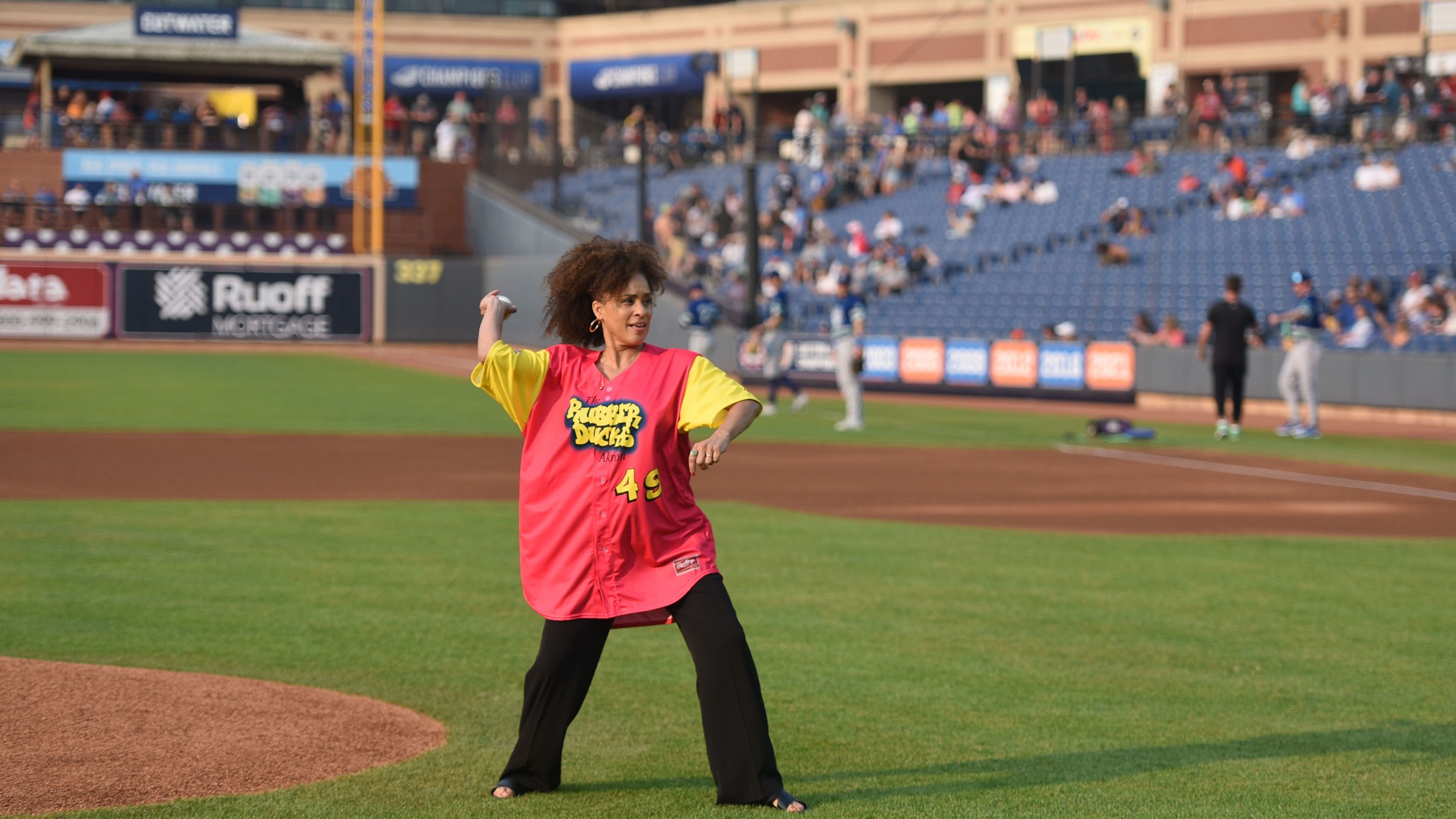 When Will Smith takes the court for Bel-Air Academy and proceeds to lead them to win after win, the phrase, "Where there's a Will, there's a way" is plastered all over the walls at the school. Well, the RubberDucks had plenty of will against the Yard Goats because they took a no-hitter into the seventh inning in an eventual 15-1 victory.
"Everybody's so excited, it's really cool," Pfander said. "When you see the response and you see the excitement and see the lines that are forming -- it's 3:00 p.m., gates don't open for a couple hours, we've got a line that's already outside and starting to wrap around the stadium."
Fans may have lined up outside the stadium in anticipation, but one of the people most excited for the event was actually already inside.
"Our manager Rouglas Odor was talking about how he used to watch 'Fresh Prince of Bel-Air,'" Pfander said. "He was learning English when he came to this country from Venezuela, and he was a player in the 90s when this was the stuff that was on TV, so he talked about [how cool it was]."
First pitch was at 7:05 p.m. but the festivities started well before. Fans were able to buy special VIP passes to participate in a meet-and-greet with Parsons pre-game, and she was floored by the turnout.
"I'm just so honored," Parsons said. "It's so crazy to me that people are lining up to get these bobbleheads, and then I'm going to get to meet so many people. It's just really an honor. Everybody's been so fantastic. I love being a part of it."
The coveted bobblehead features Parsons, or Hilary as she is on the show, donning one of her classic outfits, a purple blazer and purple hat. What makes it particularly unique is the face she's making -- something mirroring a snarl.
All out 90s Night! Karyn Parsons is in the house and a few VIPs are still available! We're going to have a lot of fun tonight with post game fireworks presented by Ohio Savings Bank. pic.twitter.com/UsCt4I4dKz

— Akron RubberDucks (@AkronRubberDuck) June 3, 2023
"It's hilarious," Parsons said. "They had asked, 'What picture do you want it from?' So I picked the picture that I thought would probably be rejected because it's a really silly thing I'm doing. I'm making a face almost like a Michael Jackson 'Thriller' kind of move, like a growl kind of thing."
Needless to say, the photo was not rejected; instead, it was duplicated into a bobblehead for fans. The jersey takes inspiration from the classic neon green and pink in the show's logo, but instead of "The Fresh Prince of Bel-Air" it says, "The RubberDucks of Akron."
Our threads tonight are dope #90s pic.twitter.com/KZ1IQIXjcZ

— Akron RubberDucks (@AkronRubberDuck) June 3, 2023
"I saw the guys in it, and I was like, 'I love those,' and so they gave me one and I have it on and I think they did a pretty good job," Parsons said. "I think this would be Will Smith-approved."
Will Smith-approved? That's when you know they nailed it. Potentially one of the most important aspects of the show was its fashion. Smith would rock the latest pair of Air Jordan sneakers, sometimes before they were even released, and Parsons always had an iconic outfit of her own.
"I remember me loving an outfit that I didn't wear for very long, and the cuffs were like baby blue feathers," Parsons said. "I just felt like a million bucks to have feathers all over like the collar, the hem and the cuffs. That was awesome."
Parsons said the Fresh Prince-inspired jerseys were perfect, but if she was tasked with designing a Hilary-inspired uniform, the answer is simple:
"Well, it would have to have the baby blue feathers incorporated into the jersey or something," Parsons said.
The night ended with special Smith-themed fireworks. They played all of his hits, giving the fans plenty of reason to get jiggy wit' it or if they felt so bold, to hit the Carlton.
Brendan Samson is a contributor to MiLB.com.