M-Braves Fall to Pensacola in Series Opener 7-1
Lugbauer cranks his eighth home run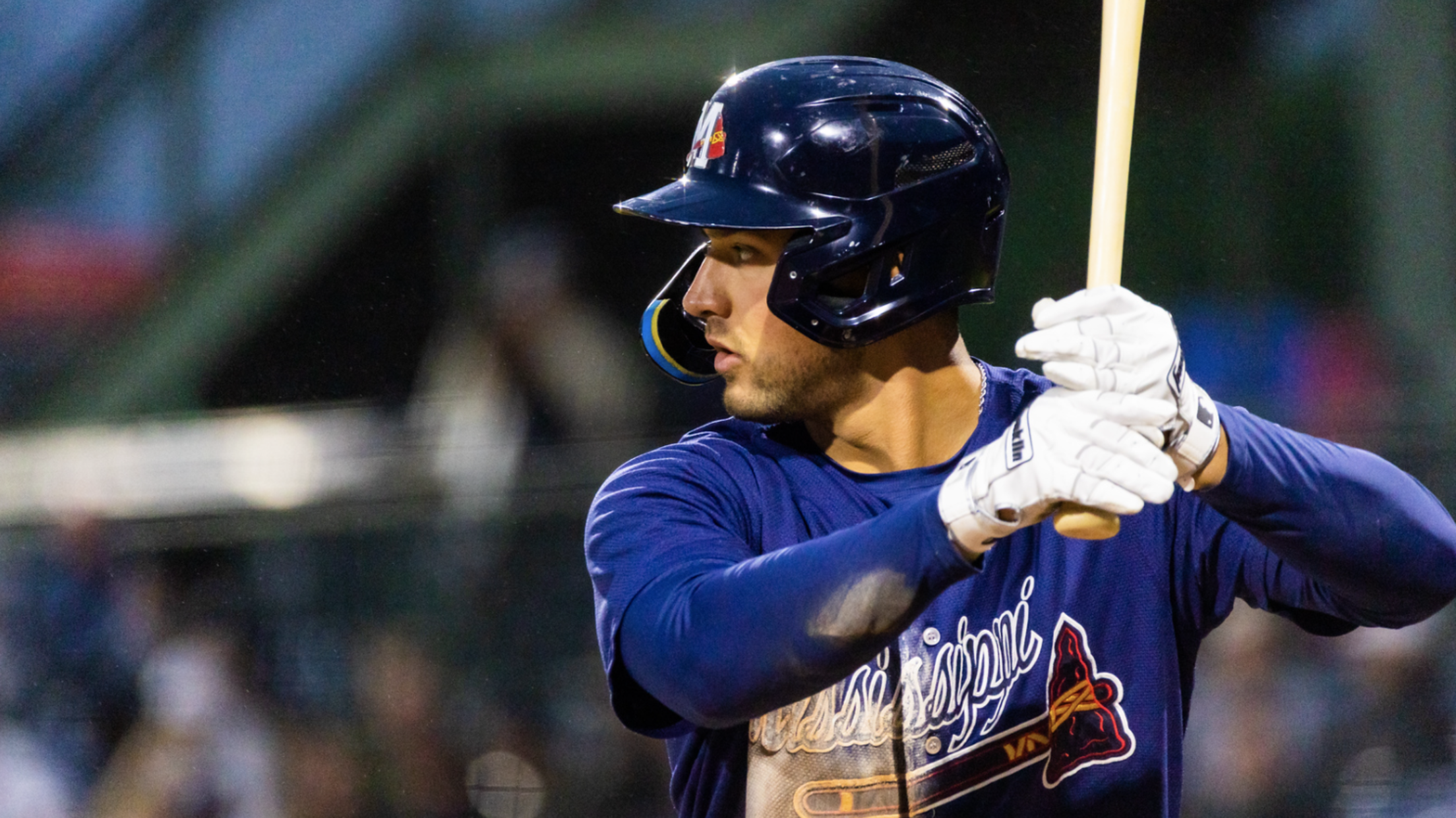 Photo by Tate Nations PEARL, MS – Drew Lugbauer rocketed a 117-mile-per-hour solo shot to right field, but the Mississippi Braves (17-22) dropped the series opener 7-1 to the Pensacola Blue Wahoos (26-14) on Tuesday night at Trustmark Park. The M-Braves had several chances early, racking up four hits and
Photo by Tate Nations
PEARL, MS – Drew Lugbauer rocketed a 117-mile-per-hour solo shot to right field, but the Mississippi Braves (17-22) dropped the series opener 7-1 to the Pensacola Blue Wahoos (26-14) on Tuesday night at Trustmark Park.
The M-Braves had several chances early, racking up four hits and three walks in the first three innings. However, a pair of double plays and four runners left on in the first three innings kept the M-Braves off the scoreboard. The M-Braves left a total of seven runners on base in the game.
Pensacola scored the first run of the game in the fourth on a steal of home by Cody Morrisette, who took advantage of a rundown with another baserunner to score.
LHP Luis De Avila took a tough luck loss. The left-hander pitched five innings of one-run ball, allowing four hits and two walks with three strikeouts.
In a bullpen day, four Pensacola pitchers combined to allow one run with RHP Dylan Bice picking up his first win of the season.
The Blue Wahoos broke the game open with three runs in the sixth, taking advantage of three walks and an error to lead 4-0.
In the seventh, Lugbauer cranked a solo homer just inside the right-field foul pole to make it 4-1. The homer left Lugbauer's bat at 117.4 miles per hour. That exit velocity would rank fifth among MLB players in hardest hit balls this season.
Lugbauer went 3-for-4 with a solo home run and two singles. The first baseman is batting .229 with eight home runs and 24 RBI. Lugbauer ranks top five in the Southern League with his eight homers and a .547 slugging percentage.
Cal Conley went 2-for-4 and has a five-game hit streak. Conley has reached base in 11 of the last 12 games.
The Blue Wahoos tacked on three more runs in the ninth to run away with the 7-1 win. The loss ended a run of seven straight home wins for the M-Braves.
The second game of the series is on Wednesday at Trustmark Park. A starter to be named will make the start for Mississippi while LHP Jonathan Bermudez (0-1, 6.00) makes the start for Pensacola. The first pitch is at 6:35 pm CT, with coverage starting 15 minutes before on 102.1 The Box, First Pitch App, and Bally Live.