2020 Draft recap: Washington Nationals
World Series champs land pair of college aces to lead class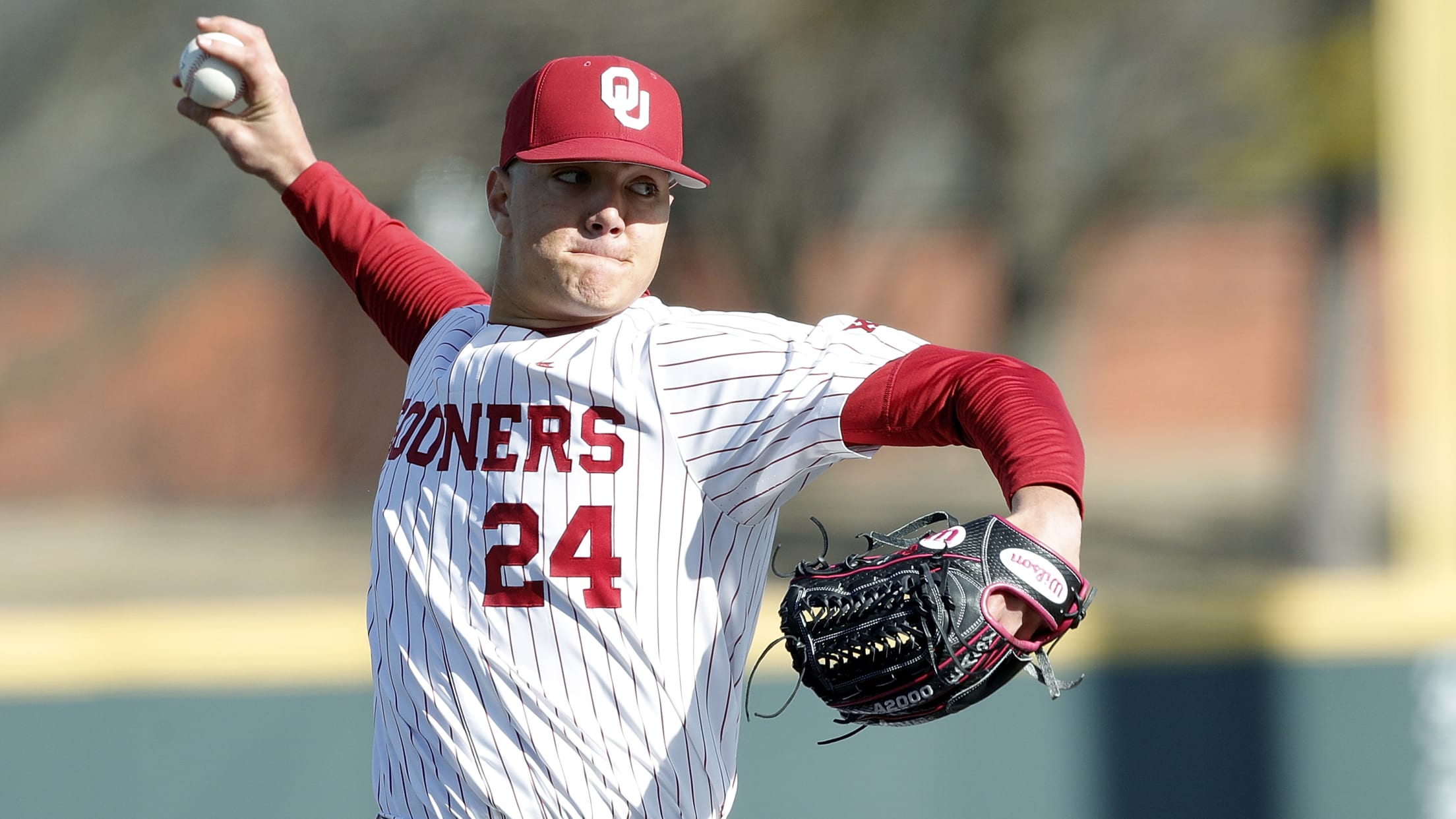 Cade Cavalli posted a 4.18 ERA with 37 strikeouts and five walks over 23 2/3 innings in his final season at Oklahoma.
Following the five-round 2020 MLB First-Year Player Draft, MiLB.com takes an organization-by-organization look at each pick with help from team scouting executives. Kris Kline likes to get started early. The Nationals assistant general manager and vice president of scouting operations set out to scout the spring season on Jan. 23.
Following the five-round 2020 MLB First-Year Player Draft, MiLB.com takes an organization-by-organization look at each pick with help from team scouting executives.
Kris Kline likes to get started early. The Nationals assistant general manager and vice president of scouting operations set out to scout the spring season on Jan. 23. He spent just a day or two at home before the sports world shut down on March 12. In the seven weeks in between, he saw more than 100 players Washington would consider. His staff of area scouts and cross checkers were out doing the same.
"It was kind of business as usual," Kline told reporters after the first night of the Draft.
So, by the time the COVID-19 pandemic grounded scouts and halted the game at all levels, the Nationals were in good shape for the Draft. They stayed consistent with their values, taking a pitcher with their first pick for the seventh time in the last eight years. They dipped into the pool of high school players just once in six selections. And they were thrilled with the results.
"I am so excited and fired up to have all these kids in the system," Kline said. "This is a jackpot for me. The guys did a tremendous job."
First round: RHP Cade Cavalli (No. 22 overall)
The Nationals had eight scouting reports on Cavalli before they made MLB.com's No. 22 Draft prospect their top choice, but the right-hander probably knows himself better than any evaluator. He did call his own games toward the end of his career at Oklahoma, after all. On a conference call with reporters on Draft night, Cavalli explained that he's a "power pitcher" blended with a lot of "pitchability." He possesses a five-pitch mix -- four-seamer, two-seamer, changeup, spike curveball and slider. He said he uses all five, in any count.
"It was absolutely electric," Kline said of the chance to see Cavalli at Minute Maid Park in February. "He's got a great pitcher's frame. Strong, defined, durable look. A very nice delivery. It's a clean arm action. It's fast. It's loose. It's a big fastball. On this particular day, he held 96 [mph] for five innings, touching 98, 99. I think he'll settle in at 94, 95 every fifth day when a pro load hits him."
That's why Cavalli, a two-way player his first two seasons with the Sooners, transitioned to being a full-time pitcher this year. The switch helped his numbers on the mound. He pitched to a 4.18 ERA with 37 strikeouts and only five walks over 23 2/3 innings before the season ended early. Washington saw enough and added Cavalli to an already crowded stable of pitching prospects. Infielders Carter Kieboom and Luis Garcia lead the team's Top 30 prospects list, but the rest of the top 10 are pitchers. Cavalli might not unseat top hurlers Jackson Rutledge and Wil Crowe, but he shouldn't slot much further behind.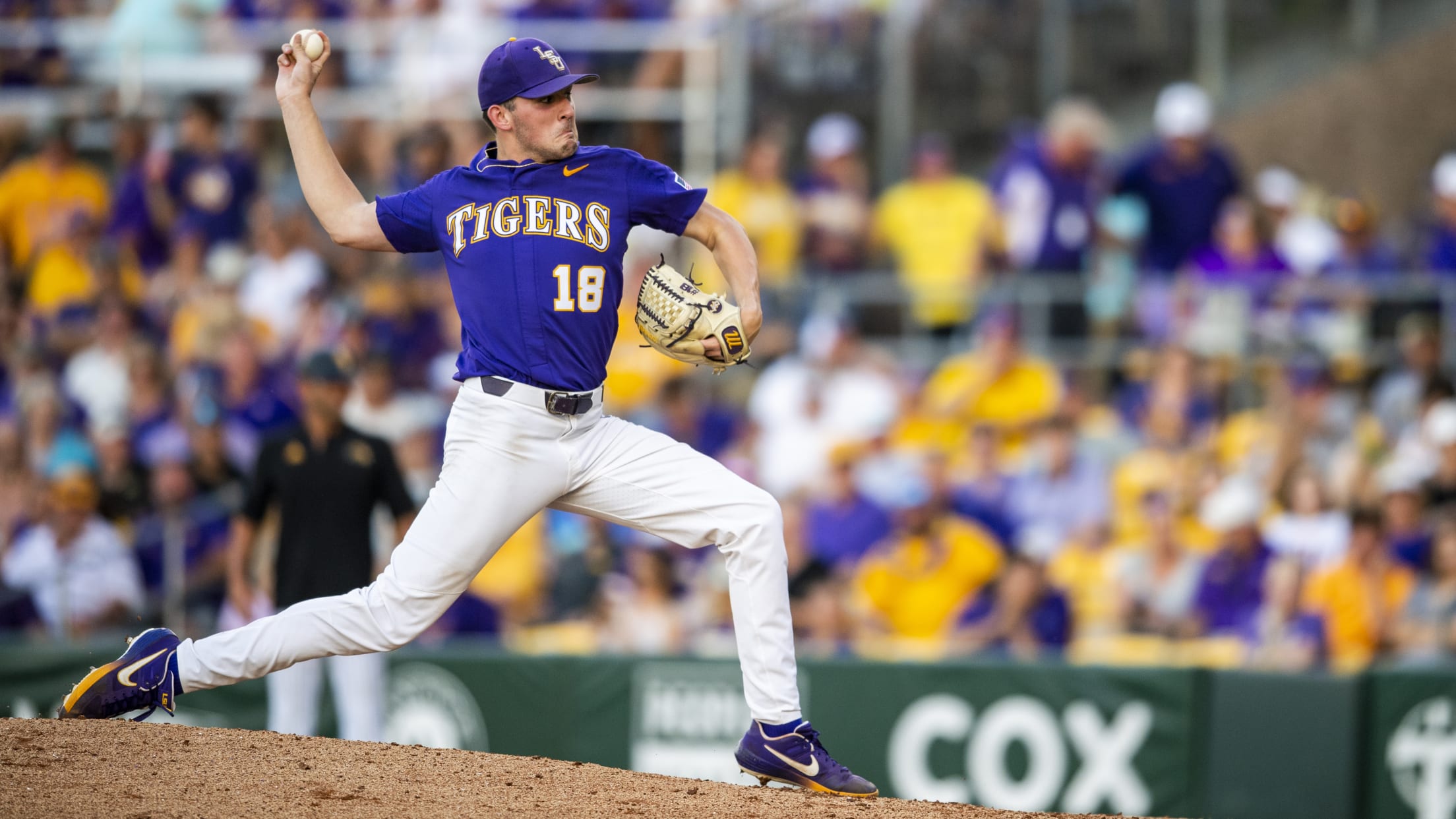 Second round: RHP Cole Henry (No. 55 overall)
If Washington's commitment to developing pitching wasn't obvious in its Draft history and first-round pick, the team doubled down with Henry, who entered the Draft ranked 45th overall. Over 58 1/3 innings as an LSU freshman in 2019, he went 4-2 with a 3.39 ERA, 72 strikeouts and 18 walks. His sophomore campaign began even better, with Henry posting a 1.89 ERA with 23 punchouts and six walks in 19 innings before the pandemic.
"Really good delivery. Command guy. Big fastball that touches 97," Kline said. "He's got life down in the zone. He shows the makings of a plus curveball. For Cole, I think he has the ability to spin it. He needs to learn how to commit to each one. The changeup is above average now. It's just a solid overall package. I see him as a quality No. 3 with the potential to be a 2."
Evaluators say Henry's delivery is a tad violent. There's time to try to adjust that. For now, the 20-year-old is another arm to watch in a system that has potential at every level. Rutledge, a 2019 first-rounder, rose to Class A in his first pro campaign. Crowe (No. 4) ascended to Triple-A. International signings Andry Lara (No. 5) and Eddy Yean (No. 6) are years away from the Majors but have high ceilings. The list goes on, and now it includes Henry.
Second round, compensation: SS Samuel Infante (No. 71 overall)
Infante hails from the same Miami high school as top Red Sox prospect Jeter Downs. He dreamed of living the college life at the University of Miami and was committed to the Hurricanes. So perhaps the Nationals moved this early on the No. 149 Draft prospect to lure him away from school. Both sides seem happy they did; Infante said the night he was picked that he'd sign.
Both Kline and director of scouting operations Eddie Longosz spoke glowingly of Infante. They praised his energy and athleticism. They touted the versatility that stems from both while suggesting he'll stick at shortstop for now. Kline said Infante is a solid runner with a good first step and very good hands. Longosz grouped Infante with Kieboom, Garcia and big league shortstop Trea Turner. The best-case scenario for the Nats and Infante involves him blossoming into that caliber of infielder.
"It's another phenomenal addition for our Minor League system to work with and to add to," Longosz said. "I mean, he's got strength in his swing. The body is amazing, but he's got raw power right now, too."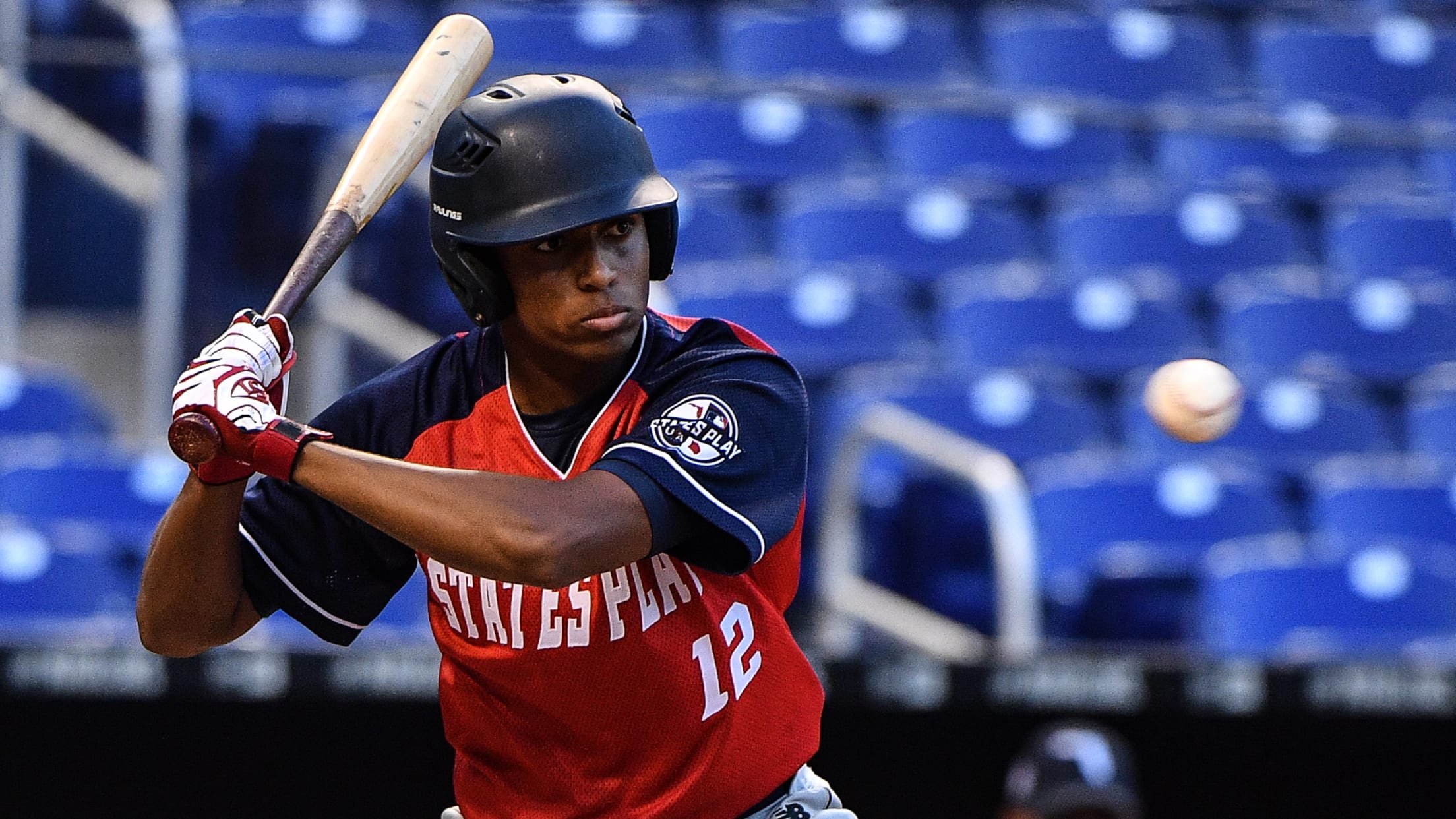 Third round: RHP Holden Powell (No. 94 overall)
Some say every reliever is a failed starter. Not Powell, the No. 134 Draft prospect. He became UCLA's closer as a freshman, won college baseball's award as top relief pitcher as a sophomore, then didn't allow an earned run and struck out 20 over 9 1/3 innings as a junior. He left the Bruins with 26 career saves, second-most in program history. His fastball sits in the mid 90s and he pairs it with a slider against righties and a curveball against lefties. He has a changeup but doesn't use it much.
Powell's journey through the Minors will differ from the pitching prospects mentioned above because the Nationals will not try to stretch him into a starter.
"He's in the role he's always going to be in," Kline said.
So, could he be an option on a possible taxi squad for whatever lies ahead for baseball in 2020? Not this year, Kline said. But ... "I do agree he has potential to move quickly through the system. This is what they look like in the seventh, eighth, ninth inning."
Fourth round: C Brady Lindsly (No. 123 overall)
Lindsly was an interesting pick because not even he expected to hear his name called on Draft night. He was not ranked among MLB Pipeline's Top 200 Draft prospects. He played in the same program as Cavalli, but it's hard to read much into that because Oklahoma's other backstop roomed with Cavalli and caught most of his outings. And he signed for $20,000, the going rate and maximum allowed for any undrafted free agent.
The money saved likely will help the Nats with other signings -- Henry and Infante, for example, may require hefty bonuses to turn down bright college futures -- but it's obvious Washington liked Lindsly. He was a .275/.360/.420 hitter in four seasons with the Sooners and said elevating the ball as a junior and using all three fields as a senior helped his game. He'll join Nationals No. 14 prospect Israel Pineda in the lower levels of the system, with other ranked receivers Tres Barrera (No. 19), Raudy Read (No. 25) and Jakson Reetz (No. 28) all slated to occupy spots at Double-A or higher when baseball resumes.
"He's an average receiver," Kline said. "He's got a solid, average arm. It's a loose, left-handed swing. Great makeup, character kid. Strong body. And we're glad to have him in the system as well."
Fifth round: LHP Mitchell Parker (No. 153 overall)
Already signed for $100,000 despite a slot value of $346,800, Parker found the right fit after being picked in the 28th round in 2018 and the 27th round last year. A product of San Jacinto College North, the same junior college that produced Rutledge, the southpaw put up a 1.19 ERA with 64 strikeouts over 30 1/3 innings this spring.
"It's a funky, unconventional delivery," Kline said. "Mechanics, it's deceptive. It's an overhand slot. It's 90-97 [mph], but he's going to pitch around 92-93. And he's got an above-average curveball. Right now, he commands the curveball better than the fastball. A little fine-tuning with the delivery. But, again, all these kids need work."
Overall outlook: The Nationals relied on a condensed collection of dominant arms on their way to last year's World Series title. They know the importance of reliable pitching and it's clear they're trying to augment a group that MiLB.com rated 24th out of 30 organizations in February.
That's not to say Cade Cavalli will become Stephen Strasburg or Holden Powell is the next Sean Doolittle. But in an abbreviated Draft and with a system depleted by the graduation of elite talents like Juan Soto, Washington clearly has leaned into a new identity for its Minor League talent pool: it's on the mound.
Joe Bloss is a contributor for MiLB.com. Follow him on Twitter @jtbloss.