Where it began: From the Minors to Cooperstown 
A look at the pro debuts of Brock, Seaver, Gibson, Ford and Morgan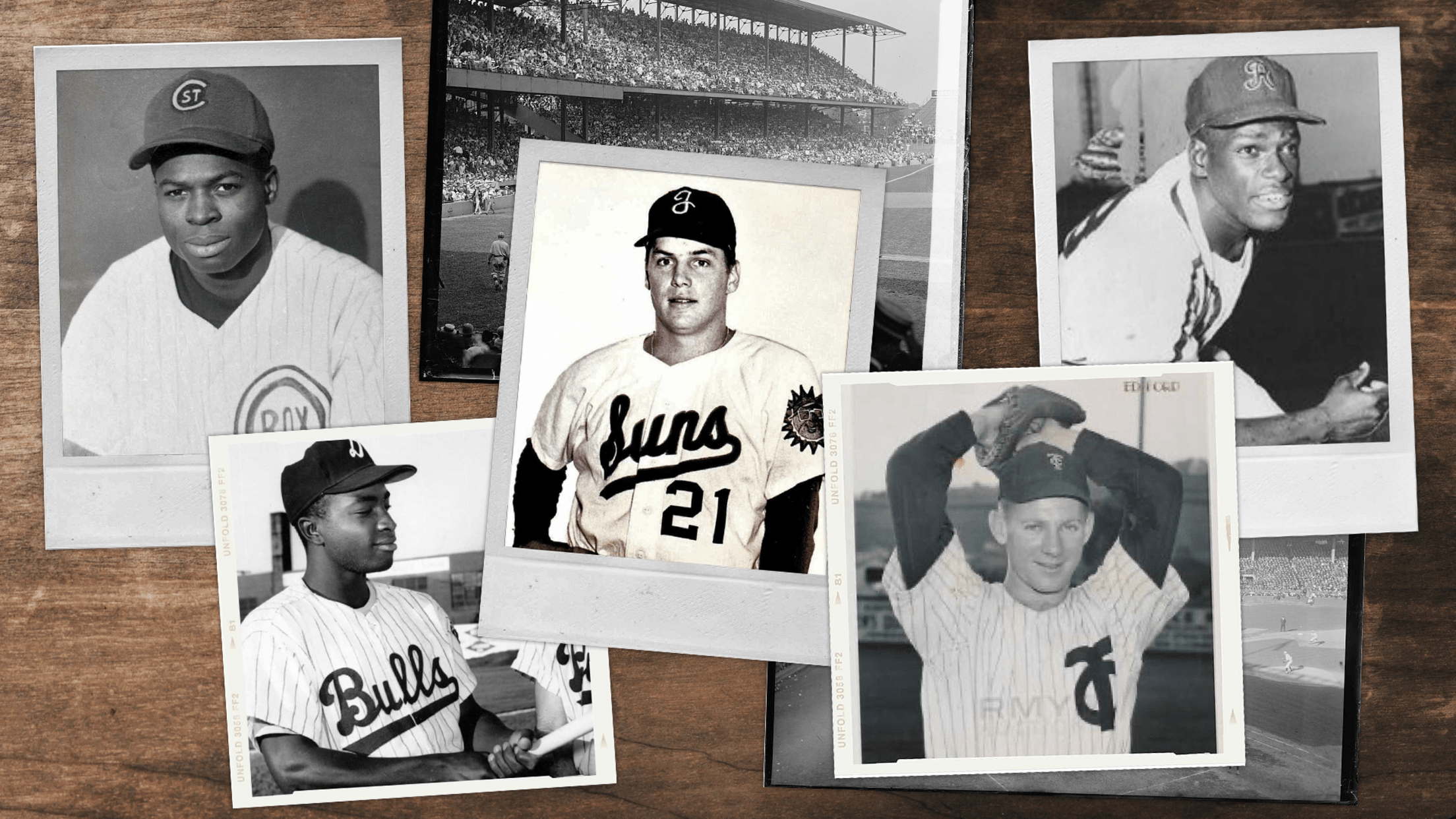 Lou Brock, Joe Morgan, Tom Seaver, Whitey Ford and Bob Gibson were Minor Leaguers before they were legends.
Over the past two-and-a-half months, five members of the National Baseball Hall of Fame passed away: Tom Seaver, Lou Brock, Bob Gibson, Whitey Ford and Joe Morgan. They will be forever missed, and never forgotten. The Major League careers of this Cooperstown quintet ended long ago. Tom Seaver, the last
Over the past two-and-a-half months, five members of the National Baseball Hall of Fame passed away: Tom Seaver, Lou Brock, Bob Gibson, Whitey Ford and Joe Morgan. They will be forever missed, and never forgotten.
The Major League careers of this Cooperstown quintet ended long ago. Tom Seaver, the last of the five to retire, hung up his spikes at the conclusion of the 1986 season. But rather than dwelling on the end, this article focuses on where it all began. What follows is a look at the Minor League careers of these recently departed baseball legends.
Tom Seaver (Jacksonville Suns, 1966)
RIP to Tom Seaver, member of the 1966 Jacksonville Suns. pic.twitter.com/t5PLfmQdoi

— Jacksonville Jumbo Shrimp (@JaxShrimp) September 3, 2020
From 1970-84 and again from 1991-2016, Jacksonville fielded a Southern League team named the Suns. That Double-A entity is now known as the Jumbo Shrimp. The first iteration of the Jacksonville Suns was a Triple-A International League team that existed from 1962-68. Tom Seaver spent his lone Minor League campaign with this version of the Suns, displaying the stamina and savvy that made him one of baseball's best starting pitchers over the subsequent two decades.
Seaver joined the New York Mets organization on April 3, 1966 after his contract with the Atlanta Braves was voided due to arcane college-athlete eligibility requirements. On April 25, the 21-year-old made his debut for the Suns -- the Mets' Triple-A affiliate -- against the Rochester Red Wings. The Red Wings were managed by Earl Weaver, who three years later piloted the Baltimore Orioles club that lost to Seaver's "Miracle Mets" in the 1969 World Series. Seaver earned the win in his debut outing, after which Weaver declared him to be "ready for the Majors." He spent the whole season in Jacksonville, however, compiling a 12-12 record over 34 games (32 starts) and 210 innings. He struck out 188 batters and walked 66, notching 10 complete games and four shutouts along the way. The Fresno native also enjoyed some success at the plate, hitting his first professional home run off of Buffalo Bisons right-hander John Tsitouris on June 17.
Lou Brock (1961 St. Cloud Rox)
Former St. Cloud Rox player and Hall of Famer Lou Brock passes away at 81.

Lou played in his first professional baseball game in St. Cloud. He started his HOF career by going 3 for 4 with a single, double, and a home run. Rest in Peace Lou. pic.twitter.com/3tLxUYp5RA

— St. Cloud Rox (@StCloudRox) September 7, 2020
Lou Brock, erstwhile all-time stolen base leader, was best known for the 16 seasons he spent in St. Louis. His career began in another beatific locale, the central Minnesota metropolis of St. Cloud. The Louisiana native signed with the Chicago Cubs in 1960 and spent part of that season playing instructional league ball. The official start to his professional career came the following year, when he was assigned to the St. Cloud Rox of the Class C Northern League. Brock made his Minor League debut on April 27, 1961, hitting a home run in his first at-bat. This was a sign of success to come, as the 22-year-old went on to lead the Northern League in average (.361), hits (181), runs scored (117) and doubles (33).
Brock, of course, went on to capture seven National League stolen-base titles. He wasn't able to accomplish that feat in the Northern League, however, as his 38 swipes were two fewer than those of José Martínez of the Grand Forks Chiefs. (Martínez stole only one base at the Major League level, as a member of the 1969 Pittsburgh Pirates). Brock was called up to the Cubs at the tail end of that 1961 season, and he never played in the Minor Leagues again. The St. Cloud Rox existed in the Northern League through the 1971 campaign, after which the circuit folded. The team name lives on today through the St. Cloud Rox of the summer-collegiate Northwoods League.
Bob Gibson (Columbus Foxes, 1957; Omaha Cardinals, 1957-'59; Rochester Red Wings, 1958, 1960)
Bob Gibson changed the game, and he will be missed.

♥️ pic.twitter.com/aW56iSJbLR

— Minor League Baseball (@MiLB) October 3, 2020
Unlike Brock and Seaver, Gibson spent a significant amount of time in the Minor Leagues. His was a raw talent, as Gibson was a multi-sport standout who did not commit exclusively to baseball until his second pro season. He also had to deal with racism, both subtle and outright, as he worked his way through the St. Louis Cardinals system. Gibson was an Omaha native, so it was fitting that he spent more time with the Triple-A Omaha Cardinals than any other Minor League team. He made his professional debut with that club in June 1957, playing under manager Johnny Keane. In Terry Sloope's detailed SABR biography of Gibson, the pitcher says Keane "had no prejudices concerning my color" and was "the closest thing to a saint I ever came across in baseball." Gibson was demoted to the Columbus (Georgia) Foxes in July 1957, which was a totally different story. There he had to deal with vicious racism as well as his first experiences with Jim Crow-era segregation.
In addition to Omaha, the Cardinals had another Triple-A affiliate in the Rochester Red Wings. Gibson split 1958 between the two clubs, going 8-9 with a 2.84 ERA over 190 innings. Gibson made his Major League debut in 1959 with St. Louis, but spent that season and the next bouncing between the big league Cardinals, Omaha (in 1959) and Rochester (in 1960). Gibson attributed his inability to gain a foothold, in part, to the incompetence and racism of St. Louis manager Solly Hemus (who incidentally spent his final season in baseball as manager of Seaver's 1966 Jacksonville Suns). After Hemus was replaced by Keane in 1961, Gibson's career finally took off. All told, over parts of four seasons in the Minors, he went 25-25 with a 3.13 ERA and 305 strikeouts over 451 innings.
Whitey Ford (Butler Yankees, 1947; Norfolk Tars, 1948; Binghamton Triplets, 1949; Kansas City Blues, 1950)
Our thoughts and prayers are with the Ford family and the @Yankees family mourning the loss of Whitey Ford today at the age of 91. Ford was inducted into the @IBM Binghamton Baseball Shrine in 1995. He will be missed to all that knew him. pic.twitter.com/GQtjF12N5w

— Binghamton Rumble Ponies (@RumblePoniesBB) October 9, 2020
Edward "Whitey" Ford, the winningest pitcher in New York Yankees history, has the highest winning percentage (.690) of any pitcher with at least 200 career victories. His winning percentage at the Minor League level was even higher. Ford went 50-21 over three seasons and parts of a fourth, winning 71.8 percent of his games as the Manhattan native worked his way back to the Big Apple.
Ford's career began in 1947 when he was 18. After picking up the nickname Whitey in Spring Training, the blonde-haired phenom was assigned to the Butler Yankees of the Middle Atlantic League. He went 13-4 with a 3.84 ERA in this Western Pennsylvania locale. In 1948, he advanced to the Norfolk Tars of the Piedmont League, where he went 16-8 with 16 complete games while leading the league with 171 strikeouts. After a bout with dysentery in 1949, he reported to the Binghamton Triplets in late May and played a key role in the Eastern League club's dramatic worst-to-first turnaround. At 21, Ford began the 1950 season with the American Association's Kansas City Blues. After pitching well for the club over the course of 12 starts, he was called up to the Yankees. He won his first nine decisions with the Bronx Bombers that season, but missed the 1951 and 1952 seasons while serving in the Korean War. From 1953-67, he was the linchpin of the Yankees rotation, winning an additional 227 games.
Joe Morgan (Modesto Colts, 1963; Durham Bulls, 1963; San Antonio Bullets, 1964)
"I was lucky because I got to play in Durham. I was one of the original Durham Bulls in reality."

Joe Morgan in his 1990 @baseballhall induction speech reflected on lessons learned as a Durham Bull from his manager Billy Goodman. pic.twitter.com/jKSP0x2kHj

— Durham Bulls (@DurhamBulls) October 13, 2020
Over the course of their illustrious multi-faceted history, the Durham Bulls have retired six numbers. The first was No. 18, worn by Joe Morgan in 1963. Durham was the second of three Minor League stops for Morgan; his Minor League career, like the man himself, was short and spectacular. He signed with the Houston Colt .45s in November 1962 at age 19. The following season, he made his pro debut with the California League's Modesto Colts. After compiling an .883 OPS over the course of 45 games, he received a promotion to Durham. Despite facing myriad racially motivated hostilities, Morgan excelled as a member of the Bulls. He hit .332 over 95 games, but more impressive was his .482 on-base percentage. (In his Minor League career, Morgan drew 248 walks while striking out 128 times.)
Morgan ended 1963 with the proverbial cup of coffee in the Majors, appearing in four games with the Colt .45s. The next year he was assigned to the San Antonio Bullets in the Texas League, where he enjoyed one of the greatest seasons that venerable Minor League city has ever seen. Morgan batted .323, scored 113 times, hit 12 homers, knocked in 90 runs and stole 47 bases while leading the Bullets to a championship. After that triumph, he was called back up to the Colt .45s. He remained in the Major Leagues through 1984 and was elected to the Hall of Fame in 1990.