Adams pulled off rare double duty with Braves
Former Atlanta farmhand played in Minors, Majors on same day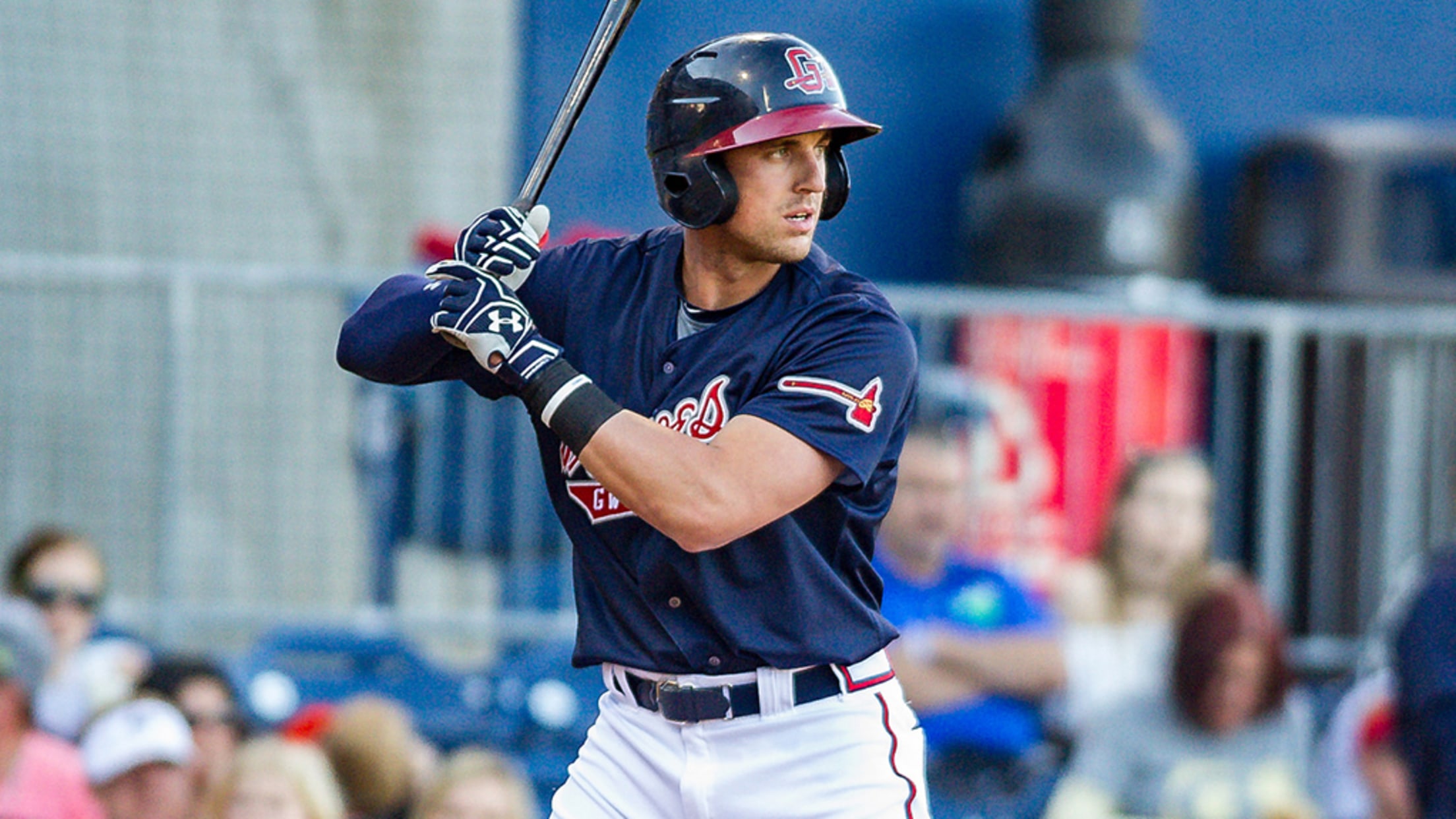 Lane Adams posted a .264/.320/.461 slash line in 48 games with Triple-A Gwinnett in 2017. (Will Fagan/Gwinnett Stripers)
It's been a strange year in baseball. A season traditionally viewed as a marathon became a 60-game sprint. Previously unfamiliar terms like player pools, alternate training sites and taxi squads have become daily nomenclature. With each passing day, the game's future stars make their big league debuts inside ballparks filled
It's been a strange year in baseball.
A season traditionally viewed as a marathon became a 60-game sprint. Previously unfamiliar terms like player pools, alternate training sites and taxi squads have become daily nomenclature. With each passing day, the game's future stars make their big league debuts inside ballparks filled with cardboard cutouts and video game sounds.
It started on Opening Day, when then-Dodgers No. 2 prospect Dustin May found out just hours before Los Angeles took the field against the Giants that he was being recalled from the club's alternate site to become the first Dodgers rookie in 39 years to make an Opening Day start.
Every day, the transaction wire is filled with names being shuffled between taxi squads, alternate sites, injured lists and 40-man rosters.
But even in this unusual season cluttered with firsts, nothing will compare to the double duty Lane Adams pulled off on June 7, 2017.
"I just remember it being a relaxed day to a sporadic and crazy day in a moment," Adams recalled. "I was just rushing. From the time I picked up my phone around 5:20 p.m. to the time I went to bed that night, I just felt a big rush."
Adams was in his first season in the Braves system. Signed to a Minor League contract with an invitation to big league camp, the speedy outfielder opened the year with the then-Triple-A Gwinnett Braves.
The 30-year-old remembered waking up early on that Wednesday morning to get a head start on the day. He had been mired in a 1-for-18 slump that spanned six games and, with an off day scheduled for Thursday, Adams was determined to get back on track. He arrived early at Coolray Field for the 12:05 p.m. matinee.
"I was just like, 'OK, let's get in here and get some good at-bats and go into the off day and enjoy it,'" he said.
Mission accomplished.
Batting cleanup, Adams went 2-for-4 with a pair of knocks and scored a run in a 6-0 victory over Norfolk. He played all nine innings in center field and recorded five putouts in a game that lasted just two hours and 15 minutes.
"I was ecstatic," he said. "That's exactly what we wanted to do -- come in, put together good at-bats, end the skid and then just mellow out."
With the monkey off his back, Adams could think of only one way to enjoy the clear, 74-degree Georgia day.
"I was really craving one of those frozen lemonade cups," he said. "So I drove to the grocery store to get some, and my plan was just to sit by my pool for the rest of the day, have some lemonade cups and just relax."
After picking up a few groceries and heading to the checkout line at the neighborhood Kroger in Dunwoody, Adams got a call from Gwinnett manager Damon Berryhill. The Braves had just placed Adonis Garcia on the 10-day disabled list and Adams was being promoted to Atlanta.
Oh, and he had to be at SunTrust Park for a 7:35 p.m. game against the Phillies.
"I just started freaking out," Adams said. "I had just told my wife, not even five minutes earlier, that I was going to head home and just stay there. Now I'm thinking about everything I have to do, and I've got this cart full of groceries at the checkout line.
"I knew I had to go, but there was frozen stuff, so I didn't want to just leave it there. So I apologized to the cashier and I said, 'Look, I'm really sorry, but I really have to go, it's an emergency.' I remember she laughed at me and said not to worry about it and she would take care of it. She really helped me out. I felt terrible for that, but I had to be on my way. I had to get back home to get my bag, then to the park to get my baseball stuff, which was the opposite direction and it was rush hour."
Adams hurried back to his apartment to get his backpack before racing to Coolray Field in Lawrenceville, where Gwinnett clubhouse manager Nick Dixon had already collected his things for him so he could just grab his bag and be on his way.
"I live closer to [SunTrust Park], so I had to drive about 25 minutes in the opposite direction to Gwinnett to get my baseball stuff -- luckily, Nick really helped me out there with that -- and then head about 40 miles back in the other direction to join the Braves," he said. "The traffic was so bad I just jumped in the Peach Pass lane after about 30 minutes. I didn't care at that point. I thought to myself, 'I'll wear the ticket. I just need to get there.'"
Adams did not have the Peach Pass required by the state to drive in the pay express lane. He also turned on his hazards to notify other drivers that he was in a rush to pass.
"It all worked," he said. "I remember pulling in right after the anthem had played and I met the team during the first inning."
It wasn't his first time meeting the team. The Oklahoma native joined Atlanta for a brief stint from April 27-May 7 that year and went 3-for-9 with an RBI and a pair of stolen bases in nine games.
"Fortunately, I had been up there already, so this wasn't a whole flopping in and joining new teammates," he said. "Having the familiar territory going into that situation definitely helped a lot."
Adams entered the game as a pinch-hitter with the bases loaded and two outs in the seventh inning. After popping out to third, he stayed in the game in left field and grounded out in his final at-bat in the eighth. The Braves crushed the Phillies, 14-1.
"When I got in the game, it was fine," he said. "At the time, I was just mentally tired. I was up early and I had just played a full game. It was really just mentally and not physically where I felt it. You get the adrenaline physically and that carries you, but mentally, I was definitely a little exhausted."
Adams said the coaches could sense some fatigue and told him to go home and get some rest.
"[Braves skipper Brian Snitker] told me afterwards, 'I would have only given you one at-bat if I knew you played a full game this morning.' And I just looked at him and said, 'Don't ever hesitate to get me in there.' And we laughed about that."
"I told him, it's like a split doubleheader except the pay's a little better in this one," Snitker told The Atlanta Journal-Constitution. "I didn't know what time he'd get here with the traffic at that time of day."
Adams stuck with Atlanta until July 19, when he was optioned back to Gwinnett, but returned to the Braves 10 days later and finished the season in the Majors.
"It's one of those things that I don't really think about too often until someone else brings it up," Adams said. "But it's definitely pretty cool to have done something so rare. It was such a weird ordeal."
Kyle Parker
Adams was the first player to appear in Minor League and Major League games on the same day since Kyle Parker did it on June 16, 2014 with Triple-A Colorado Springs and the Rockies.
Parker took the field at first base for the Sky Sox and, with two outs in the top of the first inning, he was pulled from the game, congratulated by teammates and quickly exited the clubhouse. The 2010 first-round pick was taken to the local airport, where he boarded a flight to Los Angeles to join the Rockies for a game against the Dodgers.
The then fifth-ranked Rockies prospect entered the game for his Major League debut in the eighth inning as a pinch hitter for Ryan Wheeler. Parker struck out on four pitches against southpaw J.P. Howell and was removed from the game.
"I didn't imagine it that way, getting there in the fifth inning, but you can't ask for anything more," He told MiLB.com. "It was a great experience."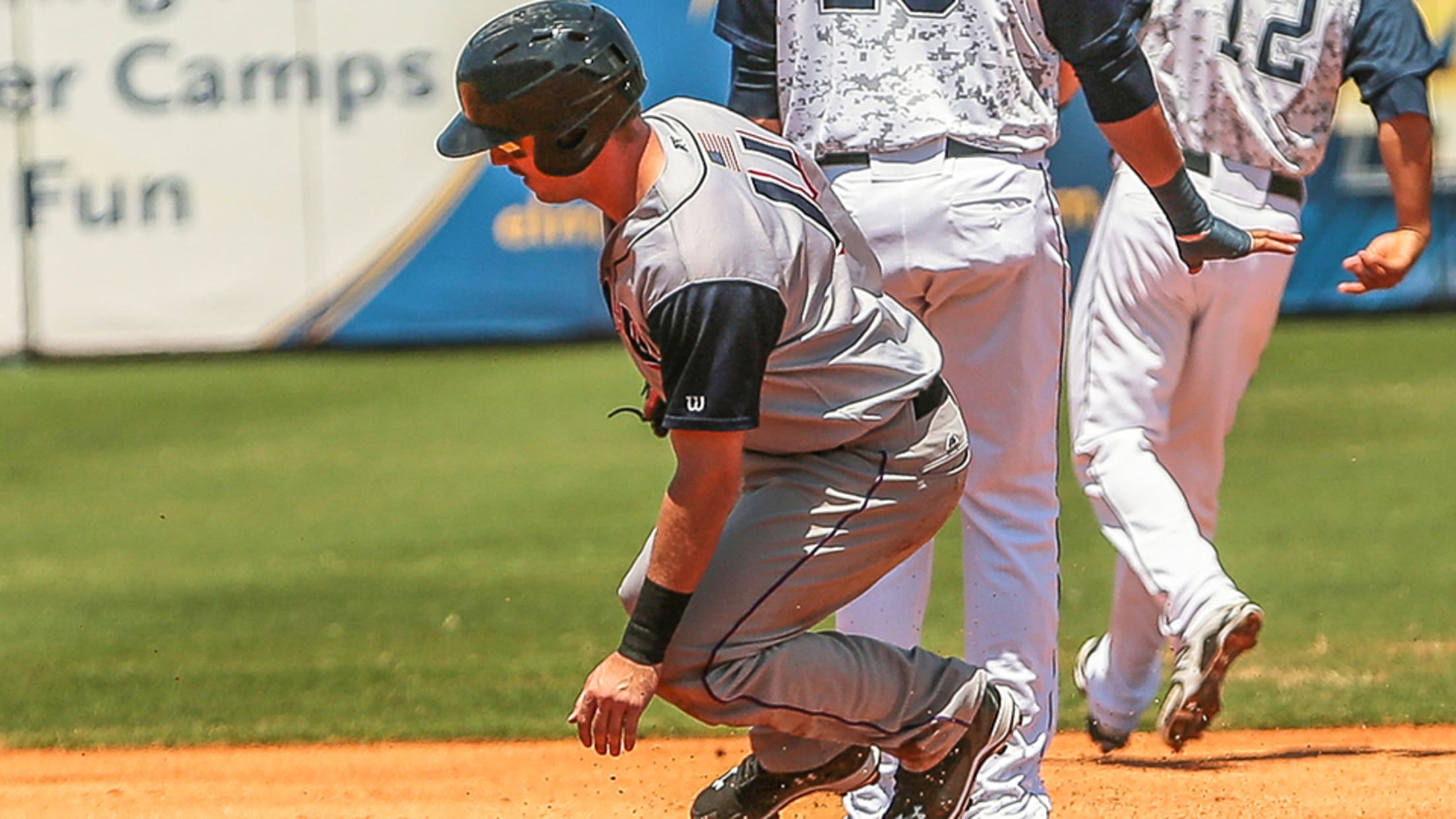 Carlos Quintana
There's some confusion as to whether Carlos Quintana also accomplished the feat on June 2, 1989 with Triple-A Pawtucket and Boston.
It's known that on June 1, in an exhibition game between the PawSox and Red Sox at McCoy Stadium, Quintana mashed a pair of homers, just missed a third and drove in five runs for Pawtucket. The following day, he started a 6 p.m. game against Iowa at first base. After the top of the first inning was over, he was pulled to a thunderous ovation from the crowd and summoned to Boston to take the place of Jim Rice, who had just been placed on the DL.
At the time, Boston and Pawtucket wore identical uniforms, so Quintana was hurried into a station wagon and driven 40 miles north to Fenway Park. Needing only to change hats, he made it to the clubhouse for the 7:30 p.m. start against the Blue Jays and took his spot on the bench.
According to The Boston Globe and The Providence Journal, Quintana remained there in his Pawtucket uniform for the entirety of the 7-2 loss that night.
Quintana did not make his big league debut until the following day, June 3, when he pinch-hit for Sam Horn in the sixth inning and lined a single to center field off left-hander David Wells.
Rob Terranova is a contributor to MiLB.com. Follow him on Twitter @RobTnova24.