Rutschman, Rodriguez soaring toward Baltimore
Orioles get much-needed production from system's biggest names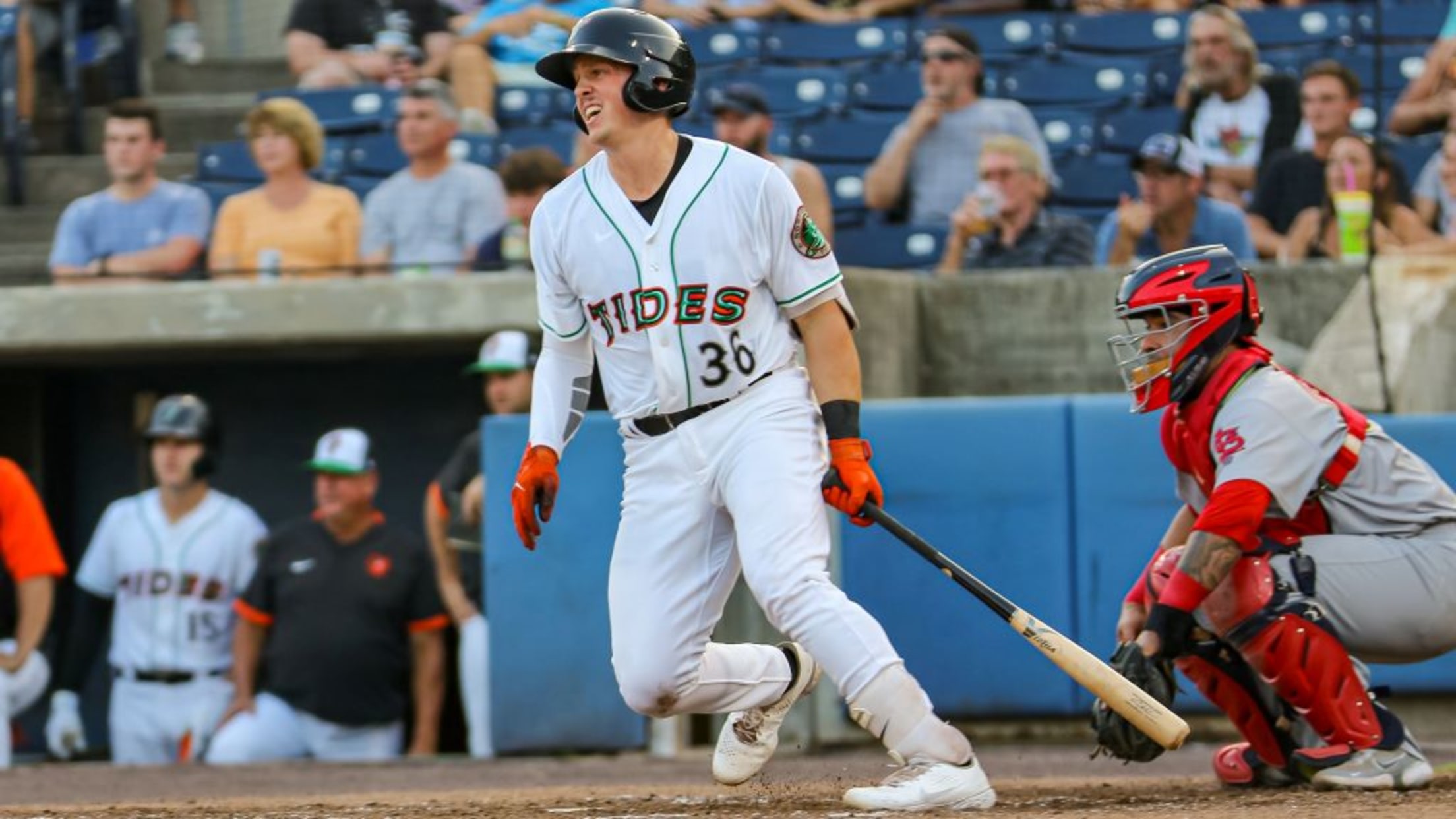 Top overall prospect Adley Rutschman batted .350 with a 1.060 OPS and seven homers from the right side. (Steven Goldburg/MiLB.com)
Each offseason, MiLB.com goes position by position across each system and honors the players -- regardless of age or prospect status -- who had the best seasons in their system. Click here to locate your favorite club. There are some years that clearly confirm a player development staff's ability to
Each offseason, MiLB.com goes position by position across each system and honors the players -- regardless of age or prospect status -- who had the best seasons in their system. Click here to locate your favorite club.
There are some years that clearly confirm a player development staff's ability to identify talent, and the Orioles might have experienced that in 2021.
The club continues to wade through the middle of a complete rebuild, but the organization also got big performances from some Minor Leaguers who will presumably be counted on for very important roles in the not-so-distant future.
All but three of the prospects honored here as Organization All-Stars are among the club's top 30, including three ranked in MLB Pipeline's Top 100, as well as both the top prospect and the top pitching prospect in the sport. They'll also be able to add another big name to the mix when they pick first overall in next year's Draft. And they'll get to see what another year of pro ball will do for their international signees -- an area of focus since Mike Elias was hired as general manager in 2018.
Nine of these Organization All-Stars played for Double-A Bowie at some point this season as the Baysox led the organization with 73 wins but lost to Akron in their championship series. All but one of Baltimore's full-season affiliates finished with a winning record, and the four clubs had a .559 overall winning percentage. The Rookie-level clubs didn't fare as well, ending at .338 overall, but a lot of that was due to the fledgling nature of their Dominican Summer League talent.
The cream of the crop is in the upper levels of the system, which bodes well for an organization that hopes to halt a streak of five consecutive losing seasons.
Orioles Organization All-Stars
Catcher -- Adley Rutschman, Bowie (80 games), Triple-A Norfolk (43 games): Even before he was the No. 1 overall pick in 2019, there have been few flaws noted in Rutschman's game.
Baseball's top prospect put together a terrific first full season in the Minors as he continued to excel in almost all areas. He batted .285/.397/.502 with 23 homers, 25 doubles, 75 RBIs and 86 runs scored. The 23-year-old's OBP and OPS led the system, as did his 129 hits. And even after reaching the Minors' highest level for the first time, his 16.6 percent strikeout rate was the lowest among qualified Orioles prospects in full-season ball.
"We saw a guy play day in and day out, a consistent, high-level brand of baseball," said Matt Blood, Baltimore's director of player development. "He's an elite on-base guy and he has significant power and just overall feel for playing the game."
The switch-hitting Rutschman mashed from the right side, batting .350 with a 1.060 OPS and seven homers in 165 plate appearances against southpaws.
Defensively, Rutschman threw out 20 of 72 would-be base stealers (27.7 percent) and committed five errors behind the plate. He also got in 28 games at first base, a move that Blood described as a way to keep Rutschman's bat in the lineup.
"He is a well-above-average catcher -- receiving, blocking, throwing and just overall game management. He's a very steady presence for the pitching staff and for the rest of the team," Blood said. "He's got great aptitude and baseball awareness and he picked [first base] up very quickly. He can be a Gold Glove first baseman, too, if that's what he needs to be."
First baseman -- J.D. Mundy, High-A Aberdeen (52 games), Low-A Delmarva (20 games): Although his campaign was cut short by a fractured right thumb, Mundy over-delivered for an undrafted player in his first professional season.
The 23-year-old batted .291 with a .926 OPS, 15 homers and 77 RBIs before going down at the end of August. Mundy, who was signed to a Minor League contract in June 2020 after playing his college ball at Radford, never got to play with Bowie after a mid-August promotion, but he was available for the instructional league.
Second baseman -- Terrin Vavra, Bowie (40 games), Aberdeen (five games), FCL Orioles (three games): The 24-year-old seemed ready to pick up right where he left off from his excellent 2019 season in the Rockies organization. But he missed almost two months in the middle of the summer with a back strain and then was shut down in early September due hip soreness.
When he was on the field, the Orioles' 13th-ranked prospect fit the profile of a versatile middle infielder with an all-around feel for the game. He batted .275/.406/.449 with 49 hits and 34 walks.
Vavra had one of the best seasons among any players in the Colorado system in 2019. He was dealt to the Orioles as part of the Mychal Givens trade at last year's deadline.
Third baseman -- Gunnar Henderson, Aberdeen (65 games), Delmarva (35 games), Bowie (five games): The Orioles challenged their fourth-ranked prospect with a promotion to High-A just before his 20th birthday after an excellent start at Delmarva. He had one hit in his first 31 at-bats with the Shorebirds but went 26-for-80 (.325) over the next 20 games to get back on track.
"It was a great experience for him to have to navigate those struggles and once he came out of them, he took off," Blood said.
The No. 74 overall prospect finished the year batting .258 with an .826 OPS, 17 homers and 74 RBIs. His 28 doubles ranked second in the system.
"He's got well-above-average power. He's just really young and just learning how to play," Blood said.
Henderson struck out 143 times, but he's young enough for that to not be much of a cause for concern.
Shortstop -- Jordan Westburg, Aberdeen (62 games), Bowie (30 games), Delmarva (20 games): The club's sixth-ranked prospect had one of the best all-around seasons in the Minors. Westburg batted .285 and was second in the system with a .380 OBP and 74 runs scored, while his 79 RBIs, 121 hits, 27 doubles and five triples ranked third and his .479 slugging percentage and .868 OPS ranked fourth.
"He's just a five-tool guy, and he's a really hard worker, steady demeanor," Blood said. "Just showed a really mature approach to his work and the game."
Westburg and Henderson crossed paths a lot between Aberdeen and Bowie, alternating positions on the left side of the infield. Westburg's future is likely at second base while Henderson profiles better at the hot corner.
The 22-year-old Mississippi State product committed seven total errors in nearly 250 total chances in the field this season.
Outfielders
Kyle Stowers, Bowie (66 games), Aberdeen (36 games), Norfolk (22 games): The Orioles encouraged some free-swinging tendencies, and Stowers was no exception. Fortunately for Baltimore's No. 11 prospect, he's got the power to back it up.
Stowers led the system with 27 homers and 85 RBIs, but he also struck out 171 times, which was 27 more than anyone else in the organization. Despite those lofty punchout totals, Stowers ranked in the top five among qualified hitters in the organization with a .278 average, .383 OBP, .514 SLG and .898 OPS.
"He showed that he has great swing decisions and gets on base," Blood said. "He's a real Major League offensive threat and he plays a solid-average corner outfield as well."
Stowers spent most of the season in right field and collected four assists while committing two errors. He's finishing his season with Mesa in the Arizona Fall League.
Zach Watson, Aberdeen (56 games), Bowie (49 games): The 24-year-old was one of only 16 players in the Minors with at least 20 homers and 20 stolen bases this season. Watson batted .248/.294/.468 with 21 long balls, 24 steals and 66 RBIs in 105 games.
The power may be above average, but according to Blood, Watson's most impressive tool might be his outfield defense, with most of his playing time coming in center this season. He committed two errors and had four assists.
Hudson Haskin, Delmarva (57 games), Aberdeen (26 games): The Orioles' 16th-ranked prospect also proved to have a handle on all five tools, especially an advanced ability to get on base. Haskin was fourth among qualified Orioles prospects with a .381 OBP and edged out Robert Neustrom, the organization's doubles leader, with a .276 average and 120 wRC+.
The 22-year-old had 27 total extra-base hits, including five homers this season while playing an above-average center field.
Honorable mention -- Coby Mayo, Delmarva (27 games), FCL (26 games): It was a late start to the season for the Orioles' 17th-ranked prospect, but Mayo's incredible raw power eventually presented itself.
"He's got huge power. Big, big power, and he's only 19 years old," Blood said. "So, he projects to be a well-above-average power hitter, and he's showing the feel for the strike zone and getting on base. So, that's a really good combination."
The 6-foot-5, 215-pound third baseman batted .319 with a .981 OPS, nine homers and 41 RBIs in 182 at-bats after beginning the season in late June. He finished the year at Delmarva after tearing up the Florida Complex League.
Also earning consideration is 17-year-old second baseman Angel Tejada, who batted .326 in 33 DSL games. Tejada was one of 17 players signed by the Orioles at the start of the international signing period in January. Infielders Moises Ramirez and Frederick Benscome were international signings from previous years that had excellent performances in short-season ball.
Right-handed starting pitcher -- Grayson Rodriguez, Bowie (18 starts), Aberdeen (five starts): The game's top pitching prospect also had one of the best seasons in the Minors.
"He just put together a full season of dominant performances," Blood said. "He's got overwhelming and overpowering stuff and he's a fierce competitor. Hard worker. A very mature kid for his age, and he's determined."
Rodriguez, the No. 8 overall prospect, was the only pitcher in the Minors to complete 100 innings with 14 K/9 this season. He finished with a 2.36 overall ERA and 161 strikeouts in 103 frames in 23 starts across both levels.
The 21-year-old allowed two runs or fewer in all but three starts, including eight scoreless outings. He punched out a career-high 12 batters on July 18 against Erie and had 10 starts with at least eight strikeouts.
Throughout the season, Rodriguez's changeup emerged as his best secondary pitch behind a 65-grade fastball and plus slider.
Left-handed starting pitcher -- Drew Rom, Aberdeen (14 games), Bowie (nine games): With No. 72 overall prospect DL Hall limited to just seven starts by an elbow injury this season, Rom stepped up and had the best season by any pitcher in the organization not named Grayson Rodriguez.
The club's No. 25 prospect completed more innings than anyone else in the system with 107 2/3, and he was second in full-season ball only to Rodriguez among qualified O's pitchers with 120 strikeouts and a 3.18 ERA.
"He throws a lot of strikes," Blood said. "He's deceptive, he's an uncomfortable at-bat for hitters and he's still pretty young, so we're excited about that."
Relief pitcher -- Felix Bautista, Norfolk (17 games), Bowie (12 games), Aberdeen (11 games): The 6-foot-5, 190-pound right-hander had an ERA that was almost a full run better than any other Orioles prospect to complete at least 40 innings this season.
Bautista compiled a 1.54 ERA with 77 punchouts in 46 2/3 innings this season. He converted 11 of 14 saves and his 14.85 K/9 topped the system.
"He's huge, just throws really hard," Blood said. "He's very, very uncomfortable to face. Just a very overpowering arm. ... He just did a better job of throwing strikes. He's got the stuff, and if the strikes continue on that trajectory, he's going to be pretty good."
The 26-year-old Bautista was signed by the Marlins out of the Dominican Republic in 2012.
Honorable mentions -- Cesar Alvarez, Kyle Bradish, Kyle Brnovich: Alvarez, a 19-year-old signed out of Venezuela in 2019, was second to Rodriguez among qualified pitchers in the system with a 2.49 ERA in the DSL. The 6-foot-1 right-hander struck out 63 batters over 47 innings in 12 starts. Right-handed starters Bradish, the O's eighth-ranked prospect, and Brnovich were second and third on the system's strikeout leaderboard with 131 and 123, respectively. Both hurlers were acquired from the Angels in the Dylan Bundy trade in December 2019.