Adon Earns League-Leading 11th Win in WV
Suns Take Game 6-3 Behind Three-Run Eighth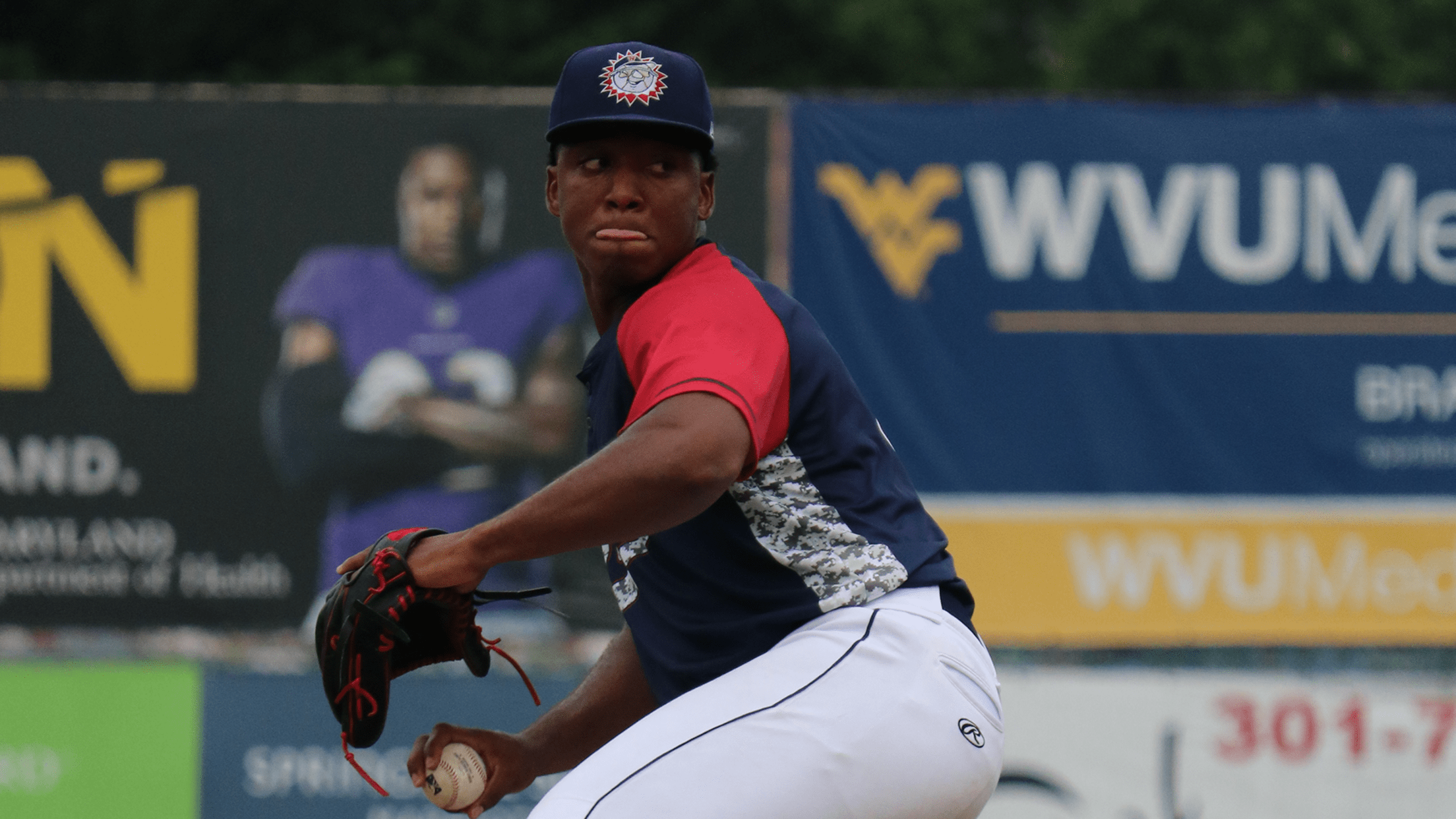 Joan Adon won his league-leading 11th game after coming in relief for the first time this season. (Abby Choi/Hagerstown Suns Staff)
CHARLESTON, WV (August 15, 2019) - Joan Adon pushed four, one-run innings of relief as the Suns charged ahead behind three runs in the eighth to win 6-3 versus the West Virginia Power at Appalachian Power Park Thursday night.Adon (W, 11-3) earned his league-leading 11th win after allowing a solo shot from Matt
CHARLESTON, WV (August 15, 2019) - Joan Adon pushed four, one-run innings of relief as the Suns charged ahead behind three runs in the eighth to win 6-3 versus the West Virginia Power at Appalachian Power Park Thursday night.
Adon (W, 11-3) earned his league-leading 11th win after allowing a solo shot from Matt Sanders in the sixth before locking down and allowing just two hits in the next three innings. The Dominican-native finished the night with six strikeouts in his first relief outing of the season.
The bats charged in front of West Virginia (62-61, 25-27) in a wonky eighth inning. Armond Upshaw was hit by a pitch to start off the inning before stealing second. Jackson Cluff drove him home with a base knock up the gut to give Hagerstown a 4-3 lead.
After that, Justin Connell hit a single to move Cluff to third and was caught in an extended run down, that eventually allowed Cluff to score and Connell to move all the way to third. Sal Biasi (L, 6-4) then launched a wild pitch to plate Connell and push Hagerstown's lead to 6-3.
Hagerstown (55-68, 25-28) started early too, scoring a pair in the first. Cluff drew a lead-off walk before scoring on a Jacob Rhinesmith groundout that resulted in Rhinesmith's 60th RBI of the season. Rhinesmith would eventually score when Nic Perkins laced a double to center to put the Suns in front 2-0.
Jackson Rutledge mowed his way through the first two innings of the game, striking out four batters, but allowed two runs before getting pulled in the fourth. He ended the night with six strikeouts of his own before he gave the ball to Matt Cronin who worked through a 1-2-3 fifth frame.
These two teams collide again tomorrow at 7:05 p.m. at Appalachian Power Park. LHP Jackson Stoeckinger (1-2, 3.60 ERA) gets the ball for Hagerstown and RHP Josias De Los Santos (4-6, 4.67 ERA) toes the rubber for the Power.
The Suns return home for a six-game homestand August 20. During the stretch they'll face the Greenville Drive and the Delmarva Shorebirds and will host the final Fireworks night of the season Friday, August 23. The following day, Hagerstown will give away a Mike Mussina bobblehead to the first 1,000 fans in the gates. Gates open at 5:00 p.m. The homestand will also feature Thirsty Thursday and Sunday Funday.