Thomas at top of the class for D-backs
Arizona standouts make immediate impact at system's upper levels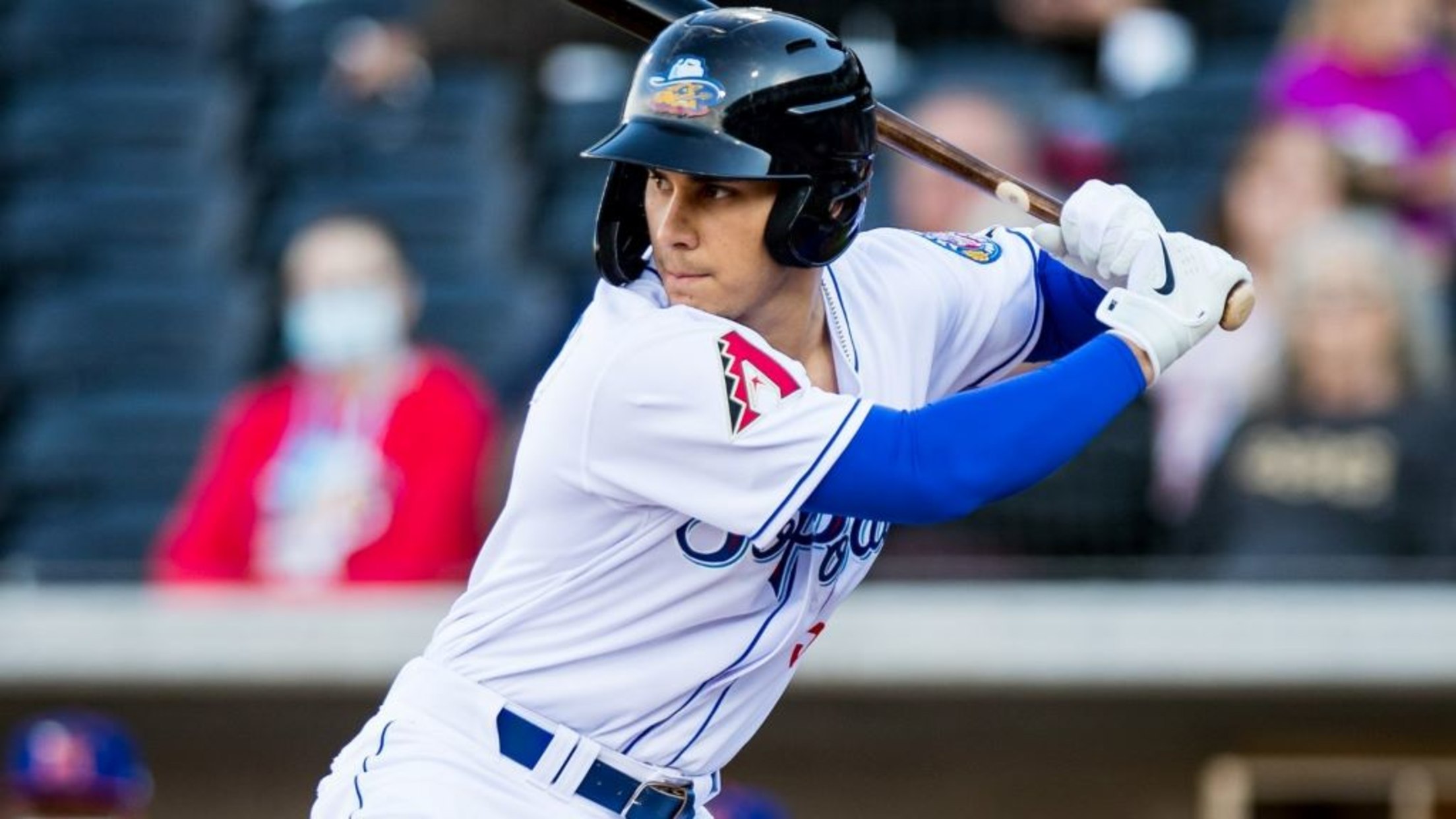 Alek Thomas, who got his first taste of Double-A and Triple-A in 2021, led all D-backs' Minor Leaguers with 163 hits this season. (John Moore/Amarillo Sod Poodles)
Each offseason, MiLB.com goes position by position across each system and honors the players -- regardless of age or prospect status -- who had the best seasons in their system. We start our 2021 Organization All-Stars series with the Arizona Diamondbacks. Though the D-backs are just two years removed from
Each offseason, MiLB.com goes position by position across each system and honors the players -- regardless of age or prospect status -- who had the best seasons in their system. We start our 2021 Organization All-Stars series with the Arizona Diamondbacks.
Though the D-backs are just two years removed from their most recent above-.500 finish, there's been a steady rebuild percolating within the system that's gaining momentum toward the Major Leagues.
Rather than building on that 2019 campaign and challenging for the division -- a mission that seemed to be aborted with the Zack Greinke trade -- Arizona finished last for the second year in a row after posting the worst record in the National League. On the plus side, not only will the club pick second in the 2022 Draft, there's plenty of promise among the team's early selections from the past few years.
The club's top prospect, Jordan Lawlar, who was a potential No. 1 overall pick in this year's Draft, fell to Arizona at No. 6 while No. 16 prospect Adrian Del Castillo, a potential first-rounder before his final season at the University of Miami, slid to the D-backs at No. 67. Both signed above-slot deals and dipped a toe in professional baseball this summer.
Bryce Jarvis and Slade Cecconi, the D-backs' first two picks in 2020 and Nos. 6 and 7 prospects, respectively, combined to pitch 134 total innings in their first professional season. And second-ranked Corbin Carroll, their top Draft selection in 2019, suffered a posterior capsular avulsion and a labrum tear in his right shoulder while hitting a home run in just his 23rd at-bat of the season.
Lawlar suffered an identical injury while making a diving play during his second professional game in the Arizona Complex League in August. Both he and Carroll have undergone surgery and should be ready for the start of next season.
The limited success of the D-backs' individual affiliates suggests there is as much work left to be done below the surface as well. It should be noted that the organization was not shy about giving deserving players a quick promotion, but Triple-A Reno (69-49) was the only affiliate to finish with a winning record, and all seven clubs combined for a .446 winning percentage.
D-backs Organization All-Stars
Catcher -- Jamie Ritchie, Reno (79 games): Although he played in an environment that tends to inflate offensive power numbers, the 28-year-old backstop displayed a level of plate discipline that would play anywhere.
"Offensively, he controls the zone about as well as anybody we have," D-backs player development director Josh Barfield said. "Every at-bat he just discovered his pitch. He was a walk machine, an on-base machine."
Ritchie sported a career-best .317 average with Triple-A Reno while posting a .417 on-base percentage. It was the second time he posted an OBP better than .400, and he's yet to produce a mark lower than .375 at any level in his seven professional seasons.
He worked 33 games behind the plate -- along with 16 in the outfield -- and threw out seven of 35 would-be base stealers.
First baseman -- Seth Beer, Reno (100 games), Arizona (five games): Beer's season ended with his first promotion to the Majors, but it was cut short by a dislocated left shoulder while attempting to make a diving play in just his fifth game with the D-backs.
The 25-year-old's power numbers took a step back despite spending the year in Reno. The 2018 first-rounder swatted 16 homers and drove in 59 runs but reduced his strikeout rate from 21.2 percent in 2019 to 17.5 percent this year. He also tallied 33 doubles, which was 12th-most among all Minor Leaguers.
"He's done what he's done since, probably, he was born," Barfield said. "If you look at it, it was -- the power is still there. Like, the quality of contact, exit velo is still there. That's not something we're worried about in the least bit."
Although there were improvements in some areas offensively, there was a negligible difference in average, OBP and slugging percentage from 2019. Fortunately, Barfield said Beer is "right on schedule" in his recovery and currently rehabbing at the club's facilities.
Beer shifted to the infield full time after being dealt from Houston in the 2019 Greinke trade. He committed seven errors in more than 780 innings at first for Reno this year.
Second baseman -- Ronny Simon, Visalia (77 games), Hillsboro (20 games): There's a lot of room to fill out for the 21-year-old Simon, who is listed at 5-foot-9 and 150 pounds. But he showed some pop in his first year stateside between Low-A Visalia and High-A Hillsboro. The switch-hitter bashed 17 long balls -- 15 from the left side -- and drove in 63 runs across two levels. He also showed that he could be a power-speed threat, swiping 19 bases in 23 tries.
Simon was signed by the Cubs out of the Dominican Republic in 2018 and dealt to Arizona as the player to be named later in the Andrew Chafin deal at the 2020 deadline. Like many D-backs Minor League infielders, Simon didn't spend too much time at one position. He played the majority of his time at second but committed nine errors in 38 games there.
Third baseman -- Buddy Kennedy, Hillsboro (30 games), Amarillo (66 games): Prior to the season, the latest installment of the Buddy Kennedy Adventures showed him swimming into second base after doubling in his only Cactus League at-bat in 2020. That level of entertainment is to be expected from a player that grew up so close to Atlantic City and came out of the same high school as Mike Trout.
Turns out, Kennedy knows how to have a good time during the season as well. The 23-year-old batted .290 with a .907 OPS, 22 homers, 60 RBIs and 16 stolen bases between Hillsboro and Double-A Amarillo. The homers, RBIs, runs (61), slugging (.523) and OPS numbers each represented career highs, and he finished second among all D-backs' Minor Leaguers in homers.
Kennedy is currently playing with Salt River in the Arizona Fall League.
Shortstop -- Geraldo Perdomo, Amarillo (82 games), Reno (two games), Arizona (11 games): Count Perdomo among the list of hitters who did not find it right away coming out of the pandemic year. The 22-year-old had a dreadful start after breaking camp with the big league club, and the organization brought him back to Talking Stick to work out a few kinks in his swing. Turns out, it was exactly what he needed.
Perdomo hit .348 with a .986 OPS over his final 36 Minor League games and finished out the season in Arizona with seven hits in his final 21 at-bats (.333), including a triple and three doubles.
"He's had an advanced approach since we saw him at 16 years old," Barfield said. "To his credit, he made some incredible changes. We saw the exit velocity increase. We saw the quality of contact increase. He ended up coming back and really swinging the bat well."
Arizona's ninth-ranked prospect more than held his own in 31 at-bats with the big-league club at the end of the season, collecting eight hits (.258) with a triple, three doubles and six walks.
Outfielders
Alek Thomas, Amarillo (72 games), Reno (34 games): Surely, Reno can create a comfortable environment for hitters. But then again, so can Chase Field. And if Thomas' debut in Triple-A ball is any indication, he'll be in Phoenix before too long.
The 21-year-old crushed just about everything he saw in his 149 at-bats with the Aces and was named Player of the Year by the organization. He batted .369/.434/.658 with eight homers, four triples, 11 doubles, 18 RBIs and 32 runs scored.
"Nothing with him really surprises me. He's just a mature kid. He's a really talented hitter. He's got a gifted hand-eye coordination, ability to drive the ball to all fields, good balance," Barfield said. "He did a really good job of improving his approach from previously to this year. So, he's just a really talented kid that is not at all phased by level, competition, the moment."
Overall, the D-backs' third-ranked prospect batted .313 with a .953 OPS, set career highs with 18 homers and 59 RBIs and tallied 86 runs scored, which were more than all but 20 other players in the Minors.
The No. 40 overall prospect played left field and led off for the National League squad in the Futures Game at Coors Field in Denver. He mostly played center field throughout the regular season and only committed one error the entire year.
Stone Garrett, Amarillo (103 games), Reno (two games): The 25-year-old landed with the D-backs on a Minor League deal in March, then proceeded to hit more homers than anyone else in the system.
"Man, we didn't know a lot about Stone when he got here. And this guy came in and absolutely raked," Barfield said. "He's a physical specimen. Hits the ball extremely hard. Another guy that's consistent and confident. I think that's another thing that stood out with him."
Garret bested his previous career high of 14 long balls with 25 homers and 81 RBIs while batting .277/.315/.510 overall.
His Amarillo curtain call made for one of the most exciting moments in the Minors this year. The 6-foot-2, 195-pound slugger belted a three-run, walk-off homer in the Sod Poodles' regular season finale.
Dominic Canzone, Hillsboro (44 games), Amarillo (35 games): Among qualified D-backs' Minor Leaguers, only Ritchie and Thomas hit for a higher average than Canzone.
The 24-year-old battled a near month-long stay on the injured list toward the start of the season and found some consistency after his promotion to Double-A ball at the end of July. Canzone batted .354/.425/.592 with Amarillo and nearly matched his extra-base hit totals from Hillsboro. Overall, Canzone tallied 14 homers, 16 doubles, 52 RBIs and 47 runs scored. He's also finishing his season in the AFL.
Honorable mentions -- Juniel Querecuto, Drew Ellis, Jorge Barrosa: This trio had as good a year as any in the system. The 29-year-old Querecuto was very glove-first throughout his first seven years in professional ball but has rounded out to be a complete hitter since 2018. This year, he batted .301/.354/.489 with 13 homers and 79 RBIs in 96 games with Reno. Ellis set career highs with 20 homers and 73 RBIs while posting the highest slugging percentage in the system at .615. And Barrosa batted .285/.353/.422 across two levels with Visalia and Hillsboro in his first full season. His 111 hits were the third-most in the system trailing only Thomas (136) and Garrett (114). Querecuto was next on that list with 109 total knocks.
Right-handed starting pitcher -- Ryne Nelson, Hillsboro (eight starts), Amarillo (14 starts): In just his first full season, the D-backs' 2019 second-round pick showed exactly what it takes to be named the organization's Minor League Pitcher of the Year.
Although there wasn't much to go off of, professionally, Barfield noted a drastic improvement in his command of his lethal fastball-curveball combination and a more than serviceable changeup. Overall, the 23-year-old University of Oregon product produced a 3.17 ERA with 163 strikeouts in 116 ⅓ innings.
"We knew he had good stuff, but he wouldn't consistently command the baseball in college. Since he got into pro ball, he made tremendous strides and that continued this year," Barfield said. "The strike-throwing ability and the ability to just overpower hitters. He had a good fastball that actually plays up, breaking ball is really good and then the changeup has emerged. So, he was a standout pitcher on a really, really talented staff. So far, he's dominated everywhere he's been."
Nelson led the D-backs system in total strikeouts and his 12.61 K/9 also topped the organizational leaderboard.
Left-handed starting pitcher -- Blake Walston, Visalia (eight starts), Hillsboro (11 starts): Much like Nelson, there was much anticipation leading into Walston's first full season, and the 20-year-old got off to a strong start in his professional career.
The No. 26 overall pick in the 2019 Draft posted a 3.76 overall ERA with 117 punchouts over 95 2/3 innings. Walston reaches the upper 90s with his fastball that pairs with a devastating curveball. He can also mix in a serviceable slider and changeup.
Walston's strikeout totals were the sixth-most in the system, and he issued 33 walks throughout the year. At 6-foot-5, 175-pounds, there's plenty of room for him to fill out and add more to an already terrific arsenal.
Relief pitcher -- Mitchell Stumpo, Visalia (seven games), Hillsboro (five games), Amarillo (18 games), Reno (six games): Barfield was quick to point out that the AFL is the fifth different level for the 25-year-old right-hander this year.
"He's probably as good a story as anybody in our organization coming from really nowhere," Barfield said. "I don't think anybody -- we knew he was talented, but I don't think anybody saw this coming from this season."
Unsigned and undrafted out of Guilford College, the same school to produce D-backs' World Series-champion shortstop Tony Womack, Stumpo got a deal with Arizona after a bullpen session during an independent league showcase in Florida in 2019.
In his first full season, he produced a 2.63 overall ERA, which ranked second in the system among pitchers with at least 50 innings this season, while his 11.57 K/9 was fourth best.
Stumpo works well within the zone and can reach the upper 90s with his fastball, but his out-pitch is a hard-breaking slider that produces a lot of swing and miss.
Honorable mentions -- Brandon Pfaadt, Drey Jameson, Joiner Vicent: Pfaadt, 23, pitched to a 3.21 ERA across three different levels while striking out 160 in 131 2/3 innings. The right-hander finished the year with Amarillo and ranked second in the system in total strikeouts and fifth in qualified ERA. Jameson was second to Nelson with an 11.79 K/9 while compiling a 3.98 ERA across 21 games at two levels, also joining the Sod Poodles at the end of the year. And Vicent led qualified D-backs prospects with a 1.97 ERA in the Dominican Summer League. The 19-year-old struck out 52 in 50 1/3 innings and outpaced his DSL teammates, Arturo Roque (2.65 ERA) and Peniel Otano (3.05) at the top of the organization's ERA leaderboard.