Amador and Fernandez propel Grizzlies to 7-6 comeback win over Giants  
Adael Amador and Yanquiel Fernandez both go deep and pick up key walks in 3-run 8th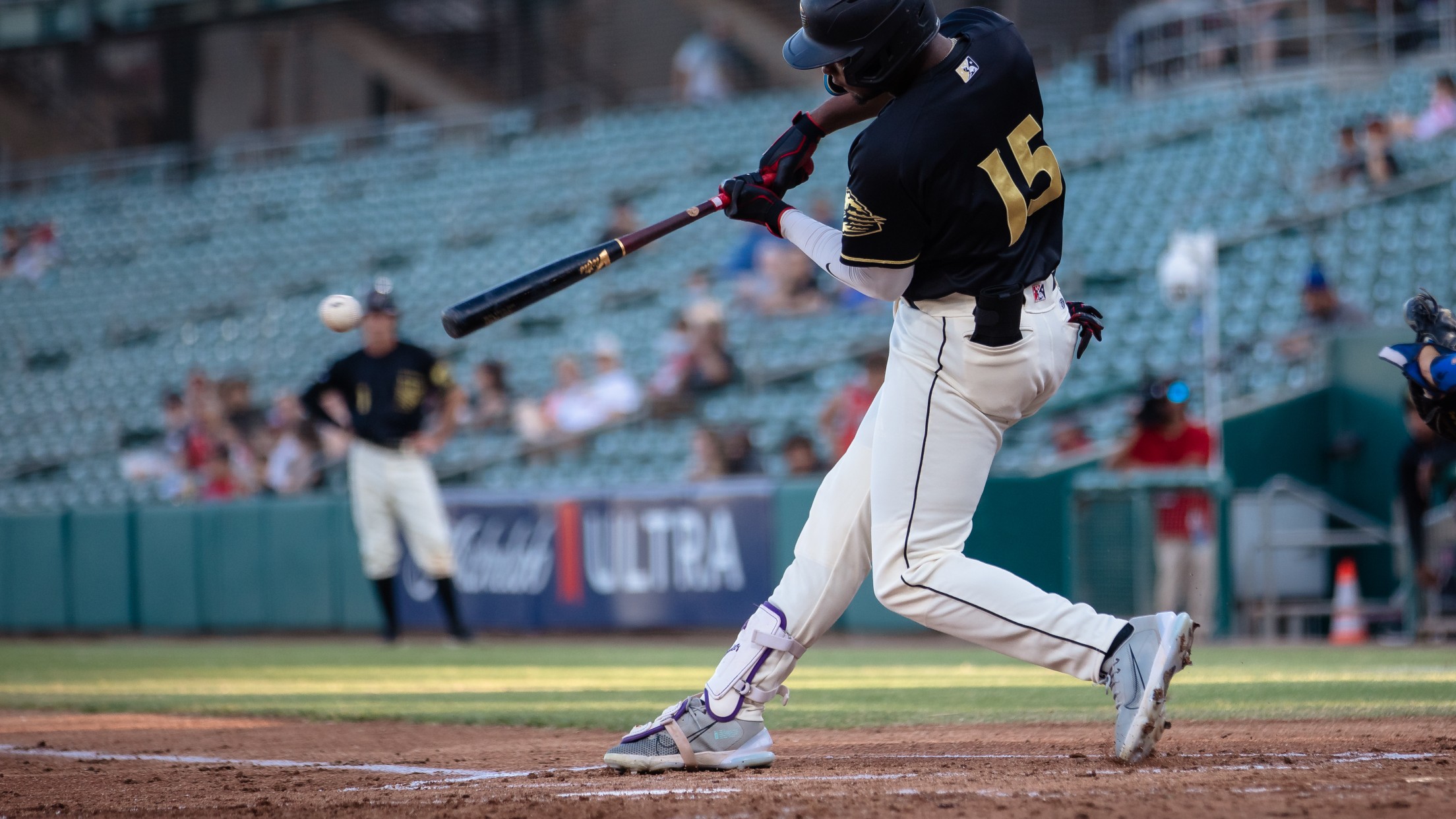 Fresno, CA (Saturday, August 6) – The Fresno Grizzlies (59-42, 18-17) snuck past the San Jose Giants (58-43, 18-17) 7-6 Saturday night from Chukchansi Park. The Grizzlies comeback claws were on full display as the squad scored three runs on a trio of bases-loaded walks in the bottom of the
Fresno, CA (Saturday, August 6) – The Fresno Grizzlies (59-42, 18-17) snuck past the San Jose Giants (58-43, 18-17) 7-6 Saturday night from Chukchansi Park. The Grizzlies comeback claws were on full display as the squad scored three runs on a trio of bases-loaded walks in the bottom of the eighth. This was Fresno's 12th comeback win in the seventh inning or later and fifth against San Jose in 2022. The Grizzlies improved at home to 15-4 in one-run games and 7-3 on Saturdays.
Fresno's offense tallied 10 hits with six of them landing for extra-bases. Four starters claimed multi-hit evenings with Adael Amador and Yanquiel Fernandez going deep. Amador clobbered his clout in the third, a solo bomb to right. It was Amador's 11th solo shot and 13th overall homer of the season. Fernandez pummeled a two-run tater in the fifth, his 13th big fly of the year. The lefty lengthened his hit streak to seven games in the process. Besides the longball, the Grizzlies smacked four doubles. Juan Brito whacked half of them while AJ Lewis (RBI) and Zach Kokoska collected one apiece. Amador, Brito and Fernandez all drew bases-loaded walks in the eighth, helping Fresno complete the comeback triumph. Both Brito (tied game) and Fernandez's (go-ahead run) walks were on 3-2 counts.
San Jose's lineup was highlighted by Grant McCray. The leadoff hitter reached base four times with three of them going for hits. McCray roped a triple, plated one run and scored three times. He also swiped two bases in the setback. Aeverson Arteaga provided a pair of RBI while Jared Dupere and Victor Bericoto secured one RBI each. The Giants only walked twice and struck out 11 times.
Grizzlies' righty McCade Brown and Giants starter Nick Sinacola received no-decisions for their efforts. Brown allowed five runs over five innings of work. He scattered seven hits and fanned six. Sinacola also lasted five frames, permitting four runs. He punched out three batters while issuing two walks. Fresno relievers Sergio Sanchez, Francis Rivera and Luis Amoroso were electric out of the bullpen. Sanchez hurled two scoreless innings while striking out three. Rivera (1-0) relished the win after one frame of action while Amoroso fanned two in a scoreless ninth. Amoroso was awarded his second save of the season. San Jose's Hunter Dula (2-4) was tagged with the loss after blowing the save. He gave up two hits and three walks, allowing the three eighth-inning runs. Jose Cruz was responsible for the Fernandez walk, but the run was marked to Dula. The clubs conclude the series tomorrow night from Chukchansi Park.
Top Performers: Fresno Grizzlies (Colorado Rockies)
• SS Adael Amador (2-3, HR, 2 RBI, 2 R, 2 BB, CS)
• RF Yanquiel Fernandez (1-4, HR, 3 RBI, R, BB)
• 2B Juan Brito (2-3, 2 2B, RBI, 2 BB)
• RHP Luis Amoroso (1.0 IP, 0 H, 0 R, 0 ER, 0 BB, 2 K; save)
Top Performers: San Jose Giants (San Francisco Giants)
• CF Grant McCray (3-4, 3B, RBI, 3 R, BB, 2 SB)
• SS Aeverson Arteaga (1-5, 2 RBI, SB)
• 1B Victor Bericoto (1-5, RBI)
On Deck:
Sunday, August 7 vs. San Jose Giants, San Jose LHP Matt Mikulski (4-3, 5.85) vs. Fresno RHP Jarrod Cande (4-3, 4.27) , 5:05 pm PT
ON THAT FRES-NOTE:
In the sixth inning, Giants lefty JJ Santa Cruz and Grizzlies outfielder EJ Andrews Jr. squared off in a matchup of former Fresno State Bulldogs. Santa Cruz won the first battle as Andrews Jr. popped up. This is the first ever pitcher-batter matchup of Fresno State players at Chukchansi Park in the Grizzlies existence.