An Erie Preview: Somerset At Erie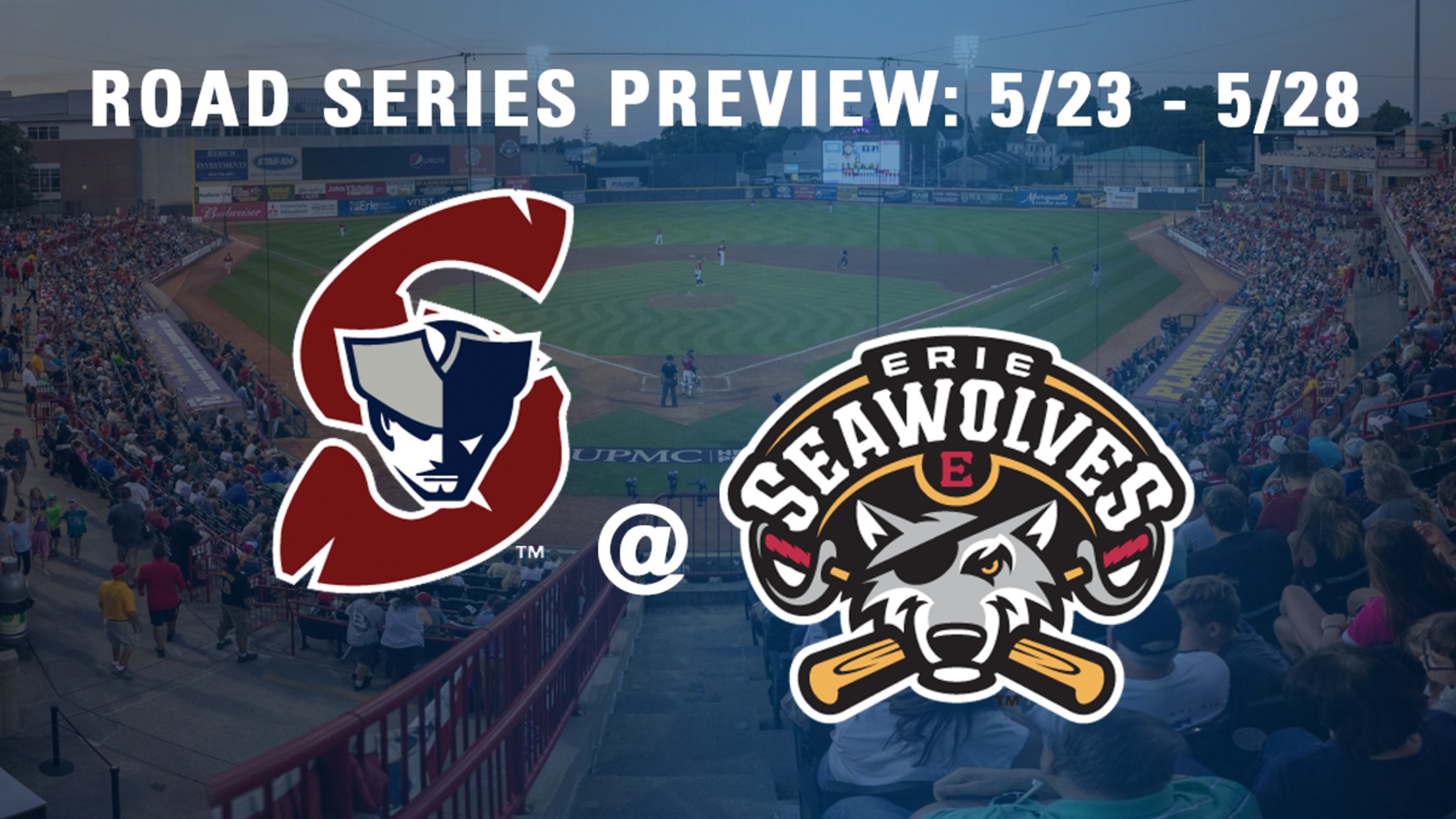 On the heels of settling for a series split with the Reading Fightin' Phils in Bridgewater last week, the second place Patriots (23-15) will pack their bags and head west to open a six-game set with Erie SeaWolves (20-19), who also find themselves sitting in second place in the Southwest
On the heels of settling for a series split with the Reading Fightin' Phils in Bridgewater last week, the second place Patriots (23-15) will pack their bags and head west to open a six-game set with Erie SeaWolves (20-19), who also find themselves sitting in second place in the Southwest Division. This will mark the first time that both clubs have squared off since Somerset defeated Erie to hoist the Eastern League championship last September.
Before diving into the Patriots championship rematch this week, we'll take a look back at some of the key happenings and performances surrounding the Patriots in the week that was.
LOCKED IN🔒

OF Brandon Lockridge enters this week's series in Erie sporting a 15 game on-base streak, over which he's slashing .404/.517/.702 with 9 RBI, 10 SB, and 11 R.

Additionally, Lockridge carries a seven game hit-streak into this week. Both streaks are the longest of any… pic.twitter.com/c5MtdsRH6E

— Somerset Patriots (@SOMPatriots) May 22, 2023
Un-locked: Patriots outfielder Brandon Lockridge is sporting an impressive slash line of .318/.408/.506 thanks to a month of May that has seen him hit .350 with a .481 OBP. The 26-year-old Lockridge is riding a 15 game on-base streak and a seven-game hitting streak heading into the series with Erie this week. The Yankees 2017 fifth round draft selection has also swiped a team-high 17 bases in 19 attempts after stealing just 18 in each of his last two full seasons. The Patriots are averaging nearly six runs per game (5.7) during Lockridge's on-base streak.
Everson Scorching: While Lockridge has been on fire, so has his outfield mate Everson Pereira. The 22-year-old Venezuelan product carries a six-game hitting streak into this week with multi-hit efforts in four of those contests. The Yankees fourth ranked prospect on the MLB Pipeline rankings has raised his average all the way up to .282 after ending April at the .246 mark. Pereira is hitting .313 with and .365 on-base mark to go with five homers and 12 RBI over his last 17 games.
Well, Well, Wells: It feels like we include a highlight blurb here almost every week about Austin Wells, but that's because he just has not stopped hitting since coming off the IL on May 2. The newly minted second ranked Yankees prospect on MLB Pipeline has now tied Tyler Hardman for the team lead in homers with seven, but has done so in just 15 games. The 23-year-old backstop homered three times and drove home seven runs against Reading last week to raise his OPS to a staggering 1.009 mark.
Riding the Rails to Scranton: The Yankees promoted right-hander Will Warren from Somerset to Triple-A Scranton last week after a strong six week stay with the Patriots to open the 2023 campaign. In six starts, the organization's seventh ranked prospect went 3-0 with a team best 2.45 ERA to go with 39 punch outs over 29.1 innings of work. At the time of his promotion, Warren was fourth in the EL in strikeouts and his ERA was good for fifth overall amongst qualified pitchers. He didn't allow a run over his final two starts with the team.
Knowing the opponent: Somerset now heads to Erie after the Tigers affiliate split a six-game slate with Harrisburg last week, but the SeaWolves have surged into second place after winning eight of their last 12 ball games.
Offensively the SeaWolves have scored the most runs (210) and recorded the most hits (324) in the EL and are highlighted by third baseman Colt Keith. The 21-year-old Keith is Detroit's second ranked prospect, and he has looked every bit of the part thus far. Keith has clubbed nine homers, good for
fourth best in the EL and driven home 31, which is second best in the league. The 2020 fifth-round draft selection has hit .309 with a .379 on-base mark, both are top-five marks amongst qualified Eastern League hitters.
The right-handed tandem of Wilmer Flores and Ty Madden are the Tigers fourth and fifth ranked prospects, respectively. Flores, the brother of San Francisco Giants infielder Wilmer Flores, has pitched to a 5.74 ERA and that certainly doesn't look pretty, but after pitching to a near nine-ERA in April, Flores has allowed just five earned runs in three May starts and seems to be finding his groove as the weather warms up. Eastern League opposition is hitting just .237 against him in May after teeing off to a .313 mark in April. The 23-year-old Madden was the 32nd overall pick in the 2021 draft and he is off to a fast start for Erie after getting a taste of the upper-levels at the conclusion of last season. Madden has posted a 3.23 ERA and has punched out 38 batters in an impressive 30 innings on the mound.
Southpaw Brant Hurter has also been somewhat of an under the radar revelation for Erie in the early going thus far. The organization's 21st ranked prospect on MLB Pipeline is third amongst qualified EL pitchers with a robust 2.02 ERA while his 1.07 WHIP and 40 strikeouts are also good for top-10 marks in the league.
Series Probable Pitchers:
TUE: RHP Sawyer Gipson-Long (3-3, 4.05 ERA)vs. RHP Blas Castano (3-1, 2.83 ERA)
WED: RHP Wilmer Flores (2-2, 7.74 ERA)vs. RHP Richard Fitts (1-3, 6.21 ERA)
THU: LHP Brant Hurter (2-1, 2.02 ERA)vs. RHP Clayton Beeter (2-2, 3.48 ERA)
FRI: RHP Keider Montero (2-2, 4.50 ERA)vs. RHP Gray Fenter (2-1, 3.96 ERA)
SAT: RHP Ty Madden (0-1, 3.23 ERA)vs. RHP Blane Abeyta (2-2, 5.79 ERA)
SUN: RHP Sawyer Gipson-Long (3-3, 4.05 ERA)vs. RHP Blas Castano (3-1, 2.83 ERA)
Matt Kardos | SomersetPatriots.com Beat Writer
Matt Kardos has covered the Yankees minor league system for over a decade and will spend his 11th season on the beat covering the Patriots for SomersetPatriots.com. Throughout his career, Matt has contributed to MLB.com, YES Network and Pinstriped Prospects. When he's not at the ballpark, Matt enjoys traveling with his wife Kimberly, watching Jets football and collecting sports cards.