Andrews Jr. and Perez swat solo shots as Fresno drops 5-2 contest to Modesto
EJ Andrews Jr.: 1st leadoff homer for Fresno this year; Jean Perez: 1st homer for him in a Grizzlies uniform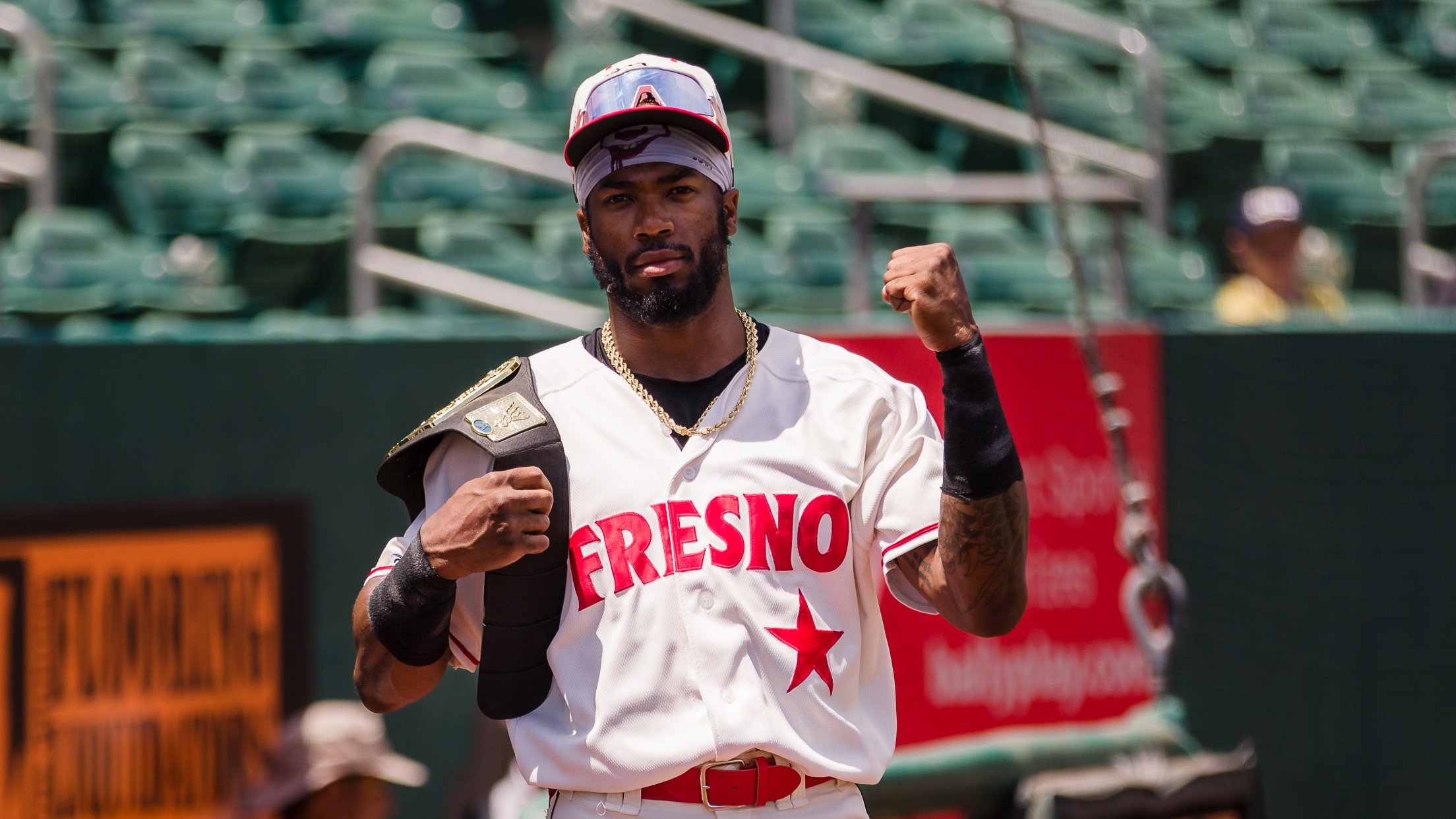 Modesto, CA (Thursday, May 18) – The Fresno Grizzlies (19-17) faltered to the Modesto Nuts (19-17) 5-2 Thursday evening from John Thurman Field. Fresno has allowed exactly five runs in four straight contests (2-2), including the first three games of this series (1-2). The Grizzlies and Nuts have split their
Modesto, CA (Thursday, May 18) – The Fresno Grizzlies (19-17) faltered to the Modesto Nuts (19-17) 5-2 Thursday evening from John Thurman Field. Fresno has allowed exactly five runs in four straight contests (2-2), including the first three games of this series (1-2). The Grizzlies and Nuts have split their first 52 matchups since the teams joined the same league back in 2021.
In the top of the first, EJ Andrews Jr. led off the game with a deep solo shot to left field. It was the first leadoff homer for Fresno this year and Andrews Jr.'s fifth longball of the season. In the third, Jean Perez extended the Grizzlies lead to 2-0 with a solo clout of his own. It was Perez's first tater and second hit since joining the club. Parker Kelly supplied two hits for the second straight game and has powered three doubles of those four hits.
In the fourth, the Nuts brought nine batters to the plate, scoring four runs to take the lead. Miguel Perez roped a single to left, netting Andrew Miller. Then Freuddy Batista waltzed home on an Edryn Rodriguez sacrifice fly. Finally, Gabriel Gonzalez whacked a two-run single, recording both Milkar and Miguel Perez. In the seventh, Gonzalez put the game out of reach with a solo dinger to left-center field. Gonzalez ended his night a triple shy of the cycle and three RBI.
Modesto starter Tyler Gough did not factor in the decision after four innings of work. He gave way to three relievers, who were lights out. Allan Saathoff (2-2, win), Holden Laws (hold, 1) and Juan Burgos (save, 1) combined on five scoreless frames, allowing four hits and striking out seven. Fresno lefty Michael Prosecky (2-2) was dealt the loss after five innings of four-run ball. Austin Becker had a clean frame in his Grizzlies debut and Tyler Hoffman struck out one in a shutout eighth. The clubs are back to battle tomorrow evening from John Thurman Field.
Tonight's article was written by ChatGPT
Top Performers: Fresno Grizzlies (Colorado Rockies)
2B Jean Perez (1-3, HR, RBI, R)
CF EJ Andrews Jr. (1-4, HR, RBI, R)
LF Parker Kelly (2-4, 2B, SB)
Top Performers: Modesto Nuts (Seattle Mariners)
RF Gabriel Gonzalez (3-4, HR, 2B, 3 RBI, R)
Nuts bullpen (5.0 IP, 4 H, 0 R, 0 ER, 0 BB, 7 K)
CF Miguel Perez (1-4, RBI, R)
On Deck:
Friday, May 19 @ Modesto Nuts, Fresno RHP Jordy Vargas (3-1, 4.65) vs. Modesto LHP Brandon Schaeffer (2-2, 3.38), 7:05 pm PT
ON THAT FRES-NOTE:
The Grizzlies dropped to 14-2 when scoring first this season.