Banda's extra work pays off for Bulls
Rays No. 16 prospect scatters four hits in 6 2/3 scoreless innings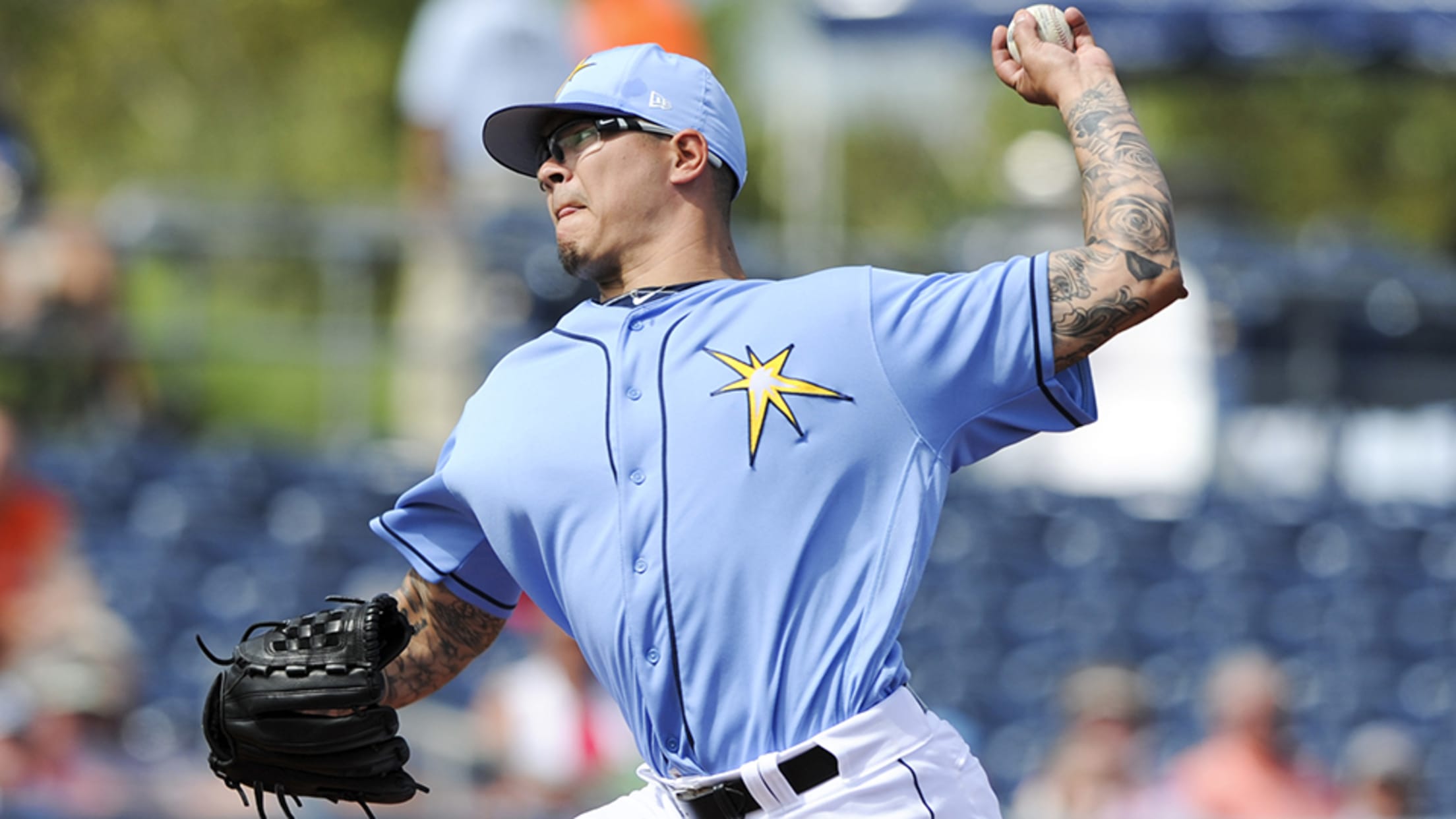 Anthony Banda was traded to the Rays on Feb. 20 in a three-team deal involving the D-backs and Yankees. (Chris Urso/AP)
A string of starts which were unacceptable in the eyes of Anthony Banda led him back to basics Monday night. It also propelled the 24-year-old to his best outing of the season.Tampa Bay's No. 16 prospect scattered four hits over a season-high 6 2/3 scoreless innings as Triple-A Durham won
A string of starts which were unacceptable in the eyes of Anthony Banda led him back to basics Monday night. It also propelled the 24-year-old to his best outing of the season.
Tampa Bay's No. 16 prospect scattered four hits over a season-high 6 2/3 scoreless innings as Triple-A Durham won for the eighth time in 10 games, topping Norfolk, 4-1, at Durham Bulls Athletic Park. Banda (4-2) fanned four, walked three and tossed 60 of his 92 pitches for strikes.
The left-hander entered his start second in the International League with 40 strikeouts, but that was exactly what he was trying to avoid doing too much of against the Tides.
"Pitching to contact was key," Banda said. "I was a little too fine in my last start, and that was something we worked on in my bullpen [session]. Another thing that stuck out for me was my tempo. In the past, I've always moved quickly on the mound. When I've hit some of my rough patches, I tend to slow down and think too much. I focused on attacking the hitters and filling up the strike zone. I trust my stuff and made an effort to pitch to contact."
Gameday box score
The Corpus Christi, Texas native worked around a single by Alex Presley and a walk to Joey Rickard in the top of the first inning, then was rewarded with a quick four-run lead on a grand slam by Rays No. 6 prospect Christian Arroyo in the bottom half, his first long ball of the year. Banda walked Garabez Rosa and gave up a single to Drew Dosch in the second, but escaped with an inning-ending double play off the bat of Sharlon Schoop. He induced another double play to end the sixth and was removed after getting Audry Pérez and Orioles No. 13 prospect DJ Stewart to ground out in the seventh.
It marked Banda's first scoreless outing since he tossed five shutout frames in his season debut against Charlotte on April 6. He followed that by surrendering one earned run in 5 1/3 innings vs. Gwinnett. He gave up at least two runs in each of his previous four starts coming into Monday, allowing 13 runs over his last 19 innings. Monday's scoreless effort slashed his ERA from 4.30 to 3.50.
A 10th-round Draft pick in 2012, Banda made his Major League debut last season with the D-backs, going 2-3 with a 5.96 ERA in eight appearances, including four starts. He was dealt to the Rays in a three-team trade on Feb. 20 that also involved the Yankees. The deal came as Spring Training was getting underway, but it wasn't a hindrance to the San Jacinto College product, who loves his new organization.
"The trade wasn't much of a disruption for me, but it was a shock," Banda said. "Getting over here [to Tampa Bay] quickly and jumping right in made it feel pretty much like any other Spring Training. I was just with a different team. If it had been in the middle of camp or towards the end, that would have been a different story. But because it was so early, it really wasn't a big deal.
"We really have a great group of guys. I've done a lot of learning and different kinds of learning since I've been here. This organization has some really great people in it who genuinely care about us. The respect between players, coaches and the front office is terrific. I'm not saying it's not like that elsewhere, but it was one of the first things I noticed when I got here. You never really know how new teammates or coaches will react to new guys, but it's a family vibe for sure."
Durham's Adam Kolarek struck out one over 1 1/3 perfect innings in relief of Banda and Ian Gibaut closed out the win after allowing two hits, including Presley's homer to lead off the ninth.
Arroyo has collected at least one RBI in four straight games, driving in seven overall. He's has hit safely in all five contests since returning from the disabled list.
Norfolk starter Jimmy Yacabonis (0-1) was charged with four runs on three hits and two walks with one strikeout in 2 2/3 innings.