Banda shines in first start in Rays system
No. 16 prospect strikes out eight, tosses five scoreless innings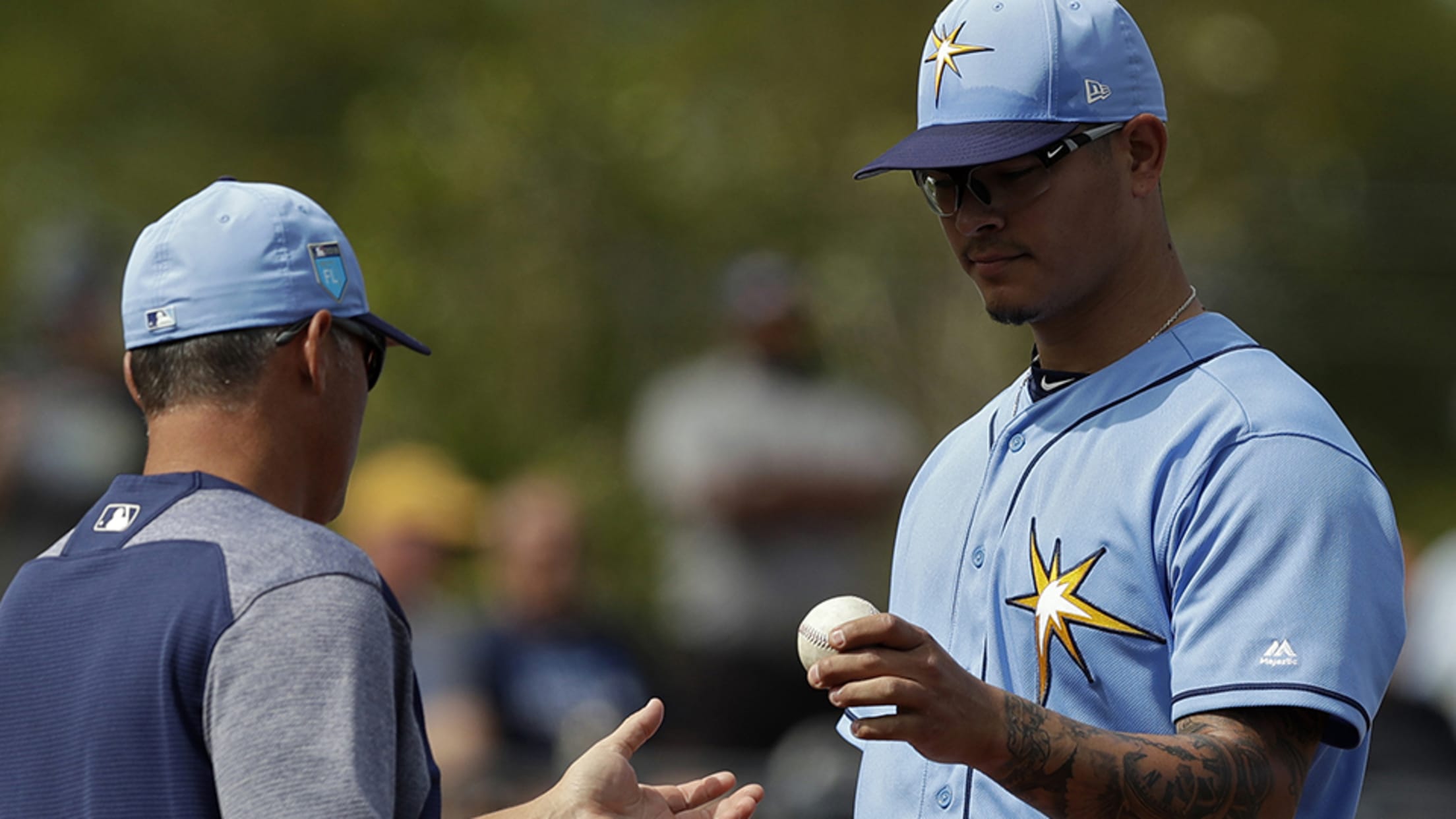 Anthony Banda was 0-1 with a 6.00 ERA in four Grapefruit League relief appearances. (Chris O'Meara/AP)
Anthony Banda made a strong impression in his first game with the Rays organization. The 16th-ranked Tampa Bay prospect struck out eight over five scoreless innings Friday as Triple-A Durham cruised past Charlotte, 11-1, at Durham Bulls Athletic Park.Acquired from the D-backs as part of a three-team trade at the
Anthony Banda made a strong impression in his first game with the Rays organization. The 16th-ranked Tampa Bay prospect struck out eight over five scoreless innings Friday as Triple-A Durham cruised past Charlotte, 11-1, at Durham Bulls Athletic Park.
Acquired from the D-backs as part of a three-team trade at the end of February, Banda didn't get much work in Spring Training. But he made his mark in the Bulls' season opener.
Gameday box score
The left-hander scattered four hits and did not issue a walk in his first Triple-A contest on the East Coast. The Knights didn't get a runner to second base against Banda (1-0), who threw 48 of 74 pitches for strikes and allowed just one fly-ball out.
"It was exciting," Banda said. "I don't think you can beat that stadium and that environment for a Minor League baseball game."
Formerly the D-backs' No. 2 prospect, Banda is with his third pro organization. The 24-year-old was drafted in 2012 by the Brewers, who sent him to Arizona at the 2014 Trade Deadline in a deal involving Gerardo Parra. He began developing a slider in the offseason and, in his first opportunity to use it in live game action, mixed it in with his other three pitches and got results.
"The slider was really good," he said. "I just started throwing it, so it was really nice to have consistency of that. What really got me to get ahead and being able to throw other pitches to an effect was fastball location."
Known for being able to touch the upper 90s, Banda reached 95 mph with his fastball. He also worked in a curveball and changeup to shut down the Knights.
Banda made his Major League debut last July and went 2-3 with a 5.96 ERA in eight games, including six starts. He spent most of the season with Triple-A Reno, where he was 8-7 with a 5.39 ERA in 22 starts.
While he saw plenty of Triple-A hitters in the Pacific Coast League last season, switching coasts allowed for some adjustments. Along with radically different weather, Banda cited the learning curve in the PCL to keep the ball down in the strike zone as vital for his development.
"The humidty," he said. "There's a little more tackiness on the ball compared with both leagues. You know your stuff moves. It's great to have that, but at the end of the day you still have to throw strikes and continue to pitch."
The Texas native was pulled after the fifth inning, when the Bulls scored eight runs to build a 9-0 cushion, and he was sitting on the bench for upwards of 20 minutes.
"Just being the first game, the first start of the season," he said. "At that point, I threw enough pitches. Being able to continue to get stretched out with pitch count will come, but the manager and pitching coach decided to do that, and I agree with them."
Leading the hitting barrage was second-ranked Rays prospect Willy Adames, who went 2-for-4 with an RBI double. Adam Moore drove in three runs, while Micah Johnson and Johnny Field chipped in two RBIs apiece.
Marisa Ingemi is a contributor to MiLB.com. Follow her on Twitter @Marisa_Ingemi.