Hindsight 2020: Reviewing 'season' like no other
April through September, Minors tapped into the gameday spirit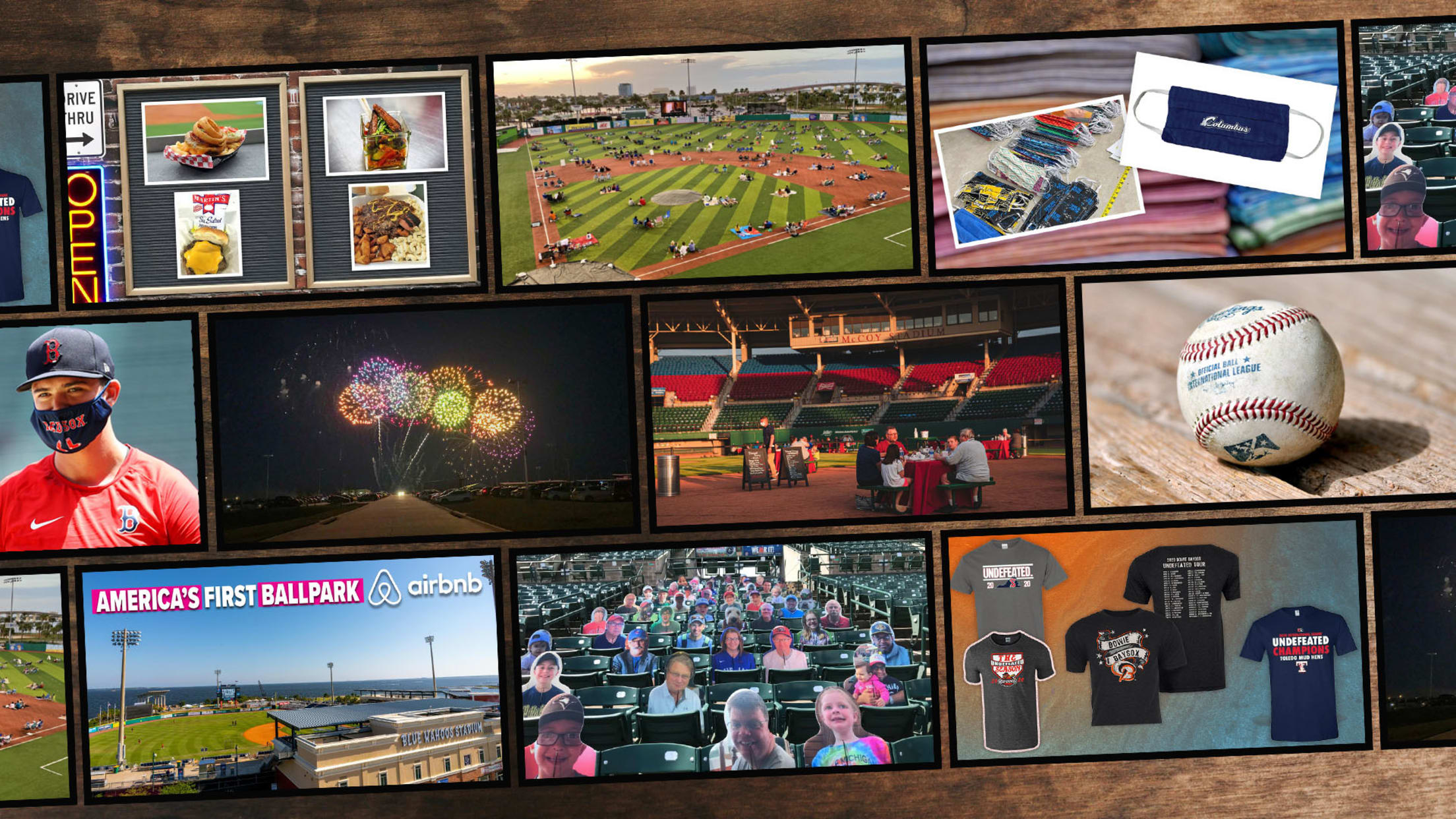 Ready to have your mind blown? If the 2020 Minor League Baseball season had happened, it would have already happened. The regular season would have ended on Labor Day. Today, then, would have marked the first day of the offseason. Of course, like so many other taken-for-granted entertainments, the 2020
Ready to have your mind blown? If the 2020 Minor League Baseball season had happened, it would have already happened. The regular season would have ended on Labor Day. Today, then, would have marked the first day of the offseason.
Of course, like so many other taken-for-granted entertainments, the 2020 Minor League Baseball season did not happen. This presented a huge challenge to each and every team, especially because the timing couldn't have been worse. COVID-19 didn't wreak widescale havoc in the United States until mid-March, so it was much too late for teams to pump the brakes on the coming season's expenditures. Everything had been accounted for, and, suddenly, there was nothing to account for.
But not all was lost. Minor League teams, as they always do, adjusted on the fly and did their best to provide something -- anything! -- that entertained the fans and, of course, generated revenue. This article takes a look at the "season" that was, as teams across the country conducted business as unusual.
Sim City
Minor League Baseball's Opening Night was scheduled for April 9. And on that night, Minor League Baseball was played. Kind of. Though they petered out as the "season" continued, virtual games were a big trend in the early going. The latest edition of MLB The Show featured Minor League rosters for the first time, allowing teams to play (and stream) their regularly scheduled games. The Double-A Binghamton Rumble Ponies were proponents of this approach, as they played out their remaining Spring Training schedule before broadcasting their MLB: The Show home opener on local television.
Another memorable example was when the Triple-A Lehigh Valley IronPigs and El Paso Chihuahuas live-streamed a three-game MLB The Show series via Twitch. The IronPigs, buoyed by the support of their actual players, swept the ill-fated Chihuahuas in convincing fashion. .
The virtual Pigs outscored the virtual @epchihuahuas 40-7 in their three-game sweep.@MLBTheShow pic.twitter.com/nzvTIBQMLR

— Lehigh Valley IronPigs (@IronPigs) March 22, 2020
Hit the books
The early part of a normal season often features several "Education Day" games, played in the late morning and early afternoon to a crowd consisting primarily of field-tripping school students. Teams therefore adopted their Education Day approach to an era of remote learning. The Double-A Richmond Flying Squirrels, for example, provided an Education Day curriculum online. Meanwhile, in Columbia, South Carolina, the Class A Fireflies launched a four-week at-home reading program that included a variety of ballpark-based prizes for those who completed it.
Mask up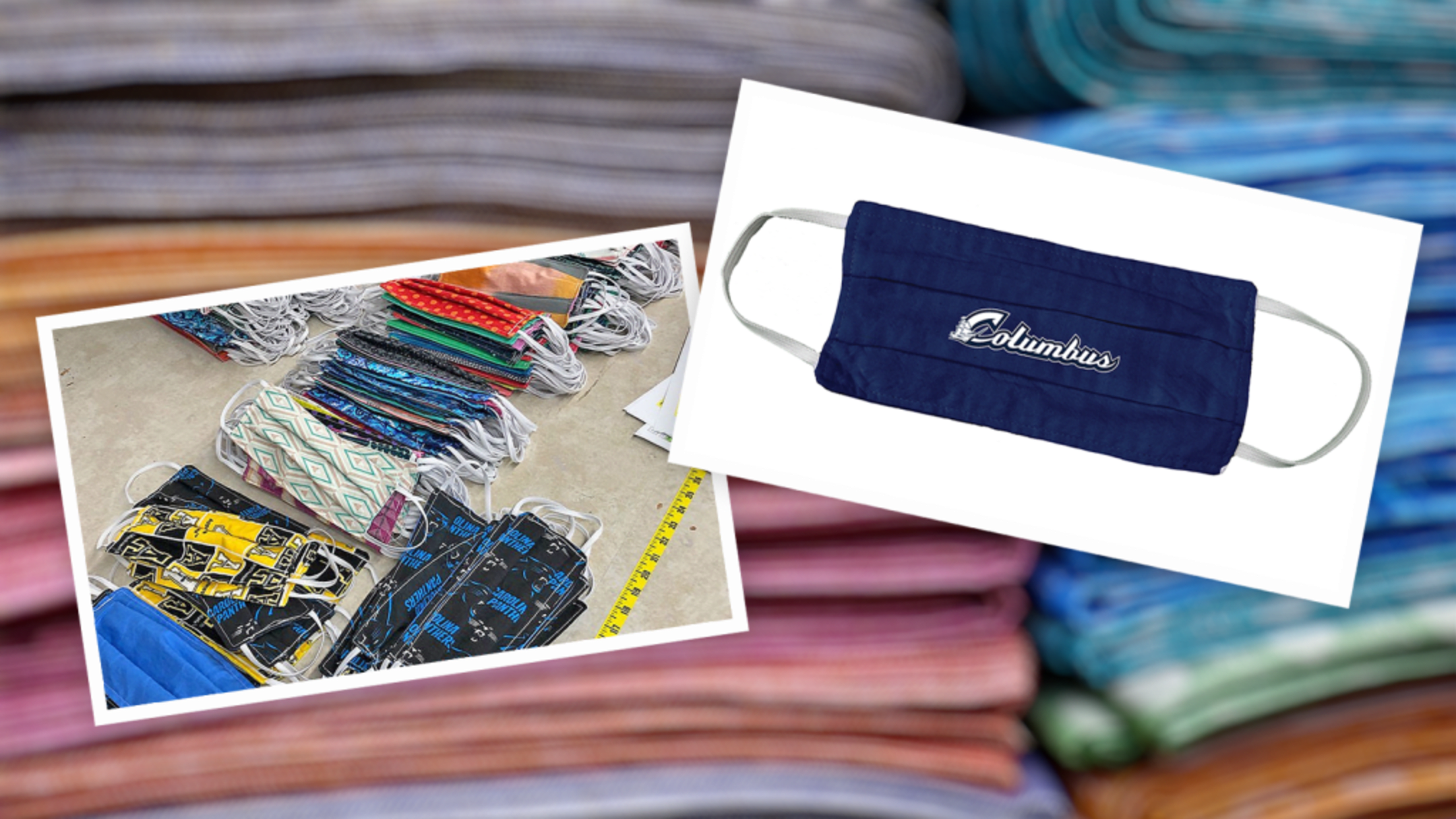 OT Sports, based in Burlington, North Carolina, has long been a leading jersey manufacturer for Minor League teams. But when COVID-19 hit, they pivoted quickly from jerseys to masks. Heretofore an unthinkable piece of merchandise, team logo masks quickly became de rigueur. At least six dozen teams have sold them, many of them partnering with OT.
"It's a spiderweb, this industry. We rely on the existence of so many others for our success," said Scott Gollnick, OT Sports vice president of sales and marketing. "The vendors need the teams, the teams need the vendors, the team needs the fans, the fan needs the team. These relationships, these friendships, are what makes the baseball community so great."
The preeminent source for Minor League Baseball mask information has been blogger Steven Ericson, who has written a sprawling, constantly updated post containing virtually every option available.
"Lots" of fireworks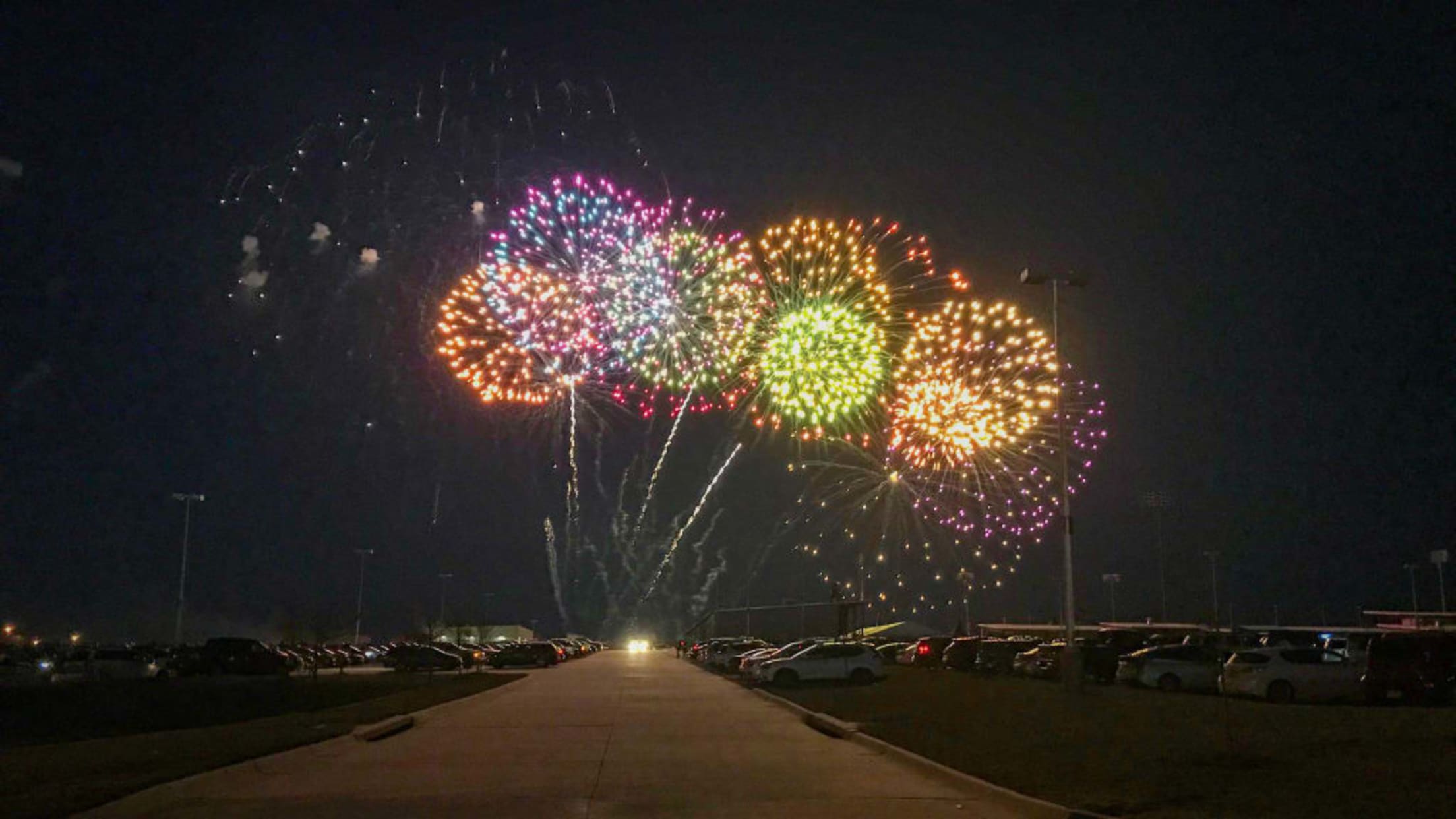 Year after year, fireworks have proven to be the Minor League Baseball's most popular promotion. The industry's penchant for pyromania continued in 2020, albeit under significantly modified circumstances. The first team to stage a parking lot fireworks show was the Omaha Storm Chasers, who did so on April 18. The Triple-A Kansas City affiliate used bigger shells than normal in order to create a display that could be enjoyed throughout the community. Audio accompaniment was provided by a local FM station, one of the team's corporate partners. It all added up to a show that was three times as long and three times as large, provided free of cost.
Gettin' it 'to go'
Ballpark food, by its very nature, is rooted in a sense of place. It is to be enjoyed at the stadium, serving as a key sensory aspect of the overall Minor League Baseball experience. But in 2020, the primary way to obtain ballpark food -- if it was available at all -- was to get it to go. Dozens of teams provided "Curbside Concessions," with offerings ranging from the elemental (Double-A Altoona's Curve Burger) to the elevated (Class A Charleston's Brisket Ramen Bowl) to the eccentric (Class A Clinton's Garbage Pail), giving fans a taste of the ballpark and teams a taste of much-needed revenue.
As the season progressed, Curbside Concessions evolved into "Dining on the Diamond." A particularly successful (and bittersweet) version of this concept came courtesy of the Triple-A Pawtucket Red Sox, who transformed their playing field into an open air restaurant during their final season at venerable McCoy Stadium.
Doing it all in Pensacola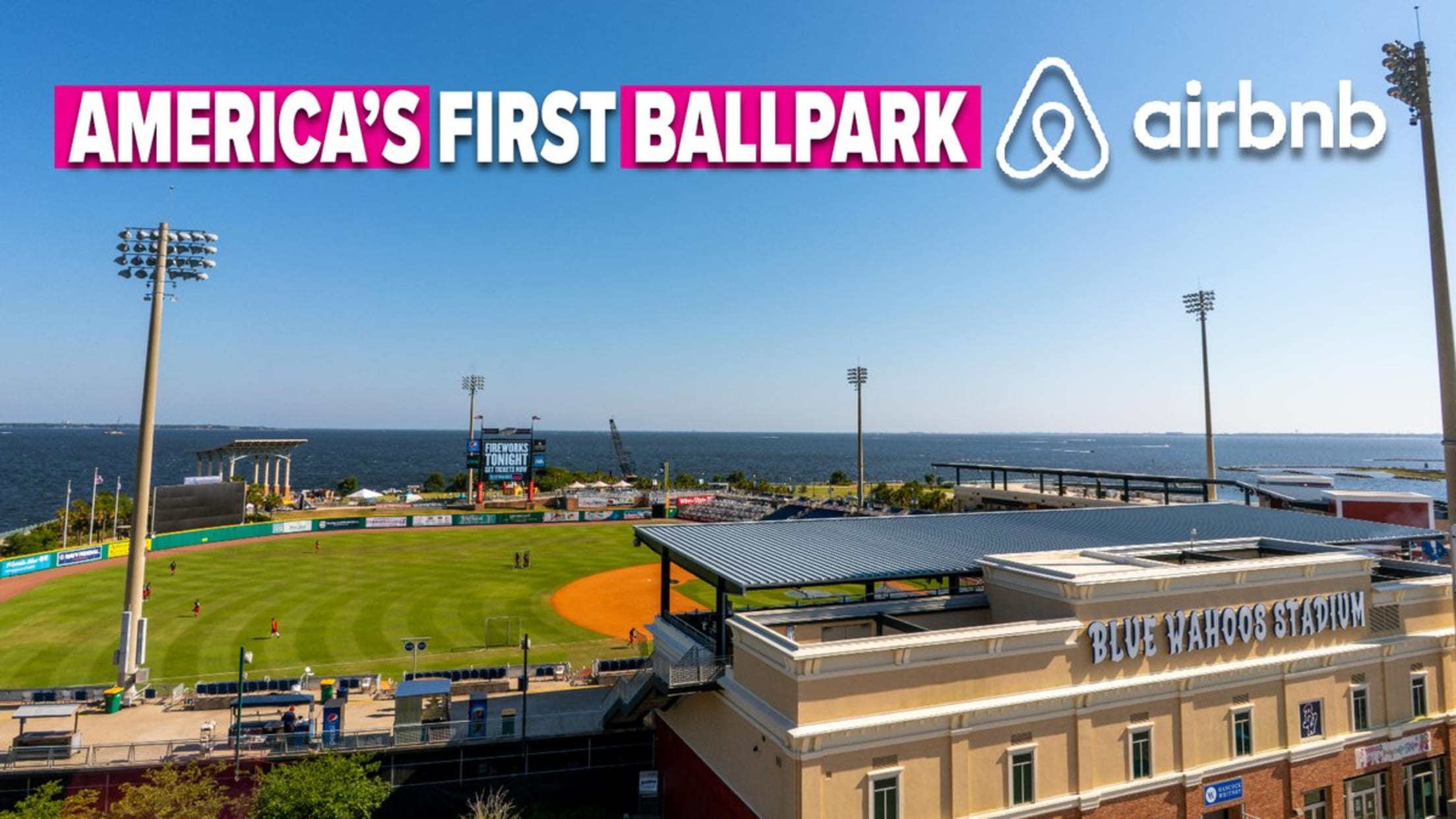 The Double-A Pensacola Blue Wahoos were perhaps Minor League Baseball's most active team in 2020. If it's written about in this article, they almost certainly did it at one point. One of their most unique endeavors was drafting co-owner Bubba Watson to design a nine-hole ballpark disc golf course. But even more unique was their conversion of Blue Wahoos Stadium into a $1,500-a-night Airbnb rental. This ongoing initiative was a viral success, resulting in international media coverage and a fully booked calendar.
Action!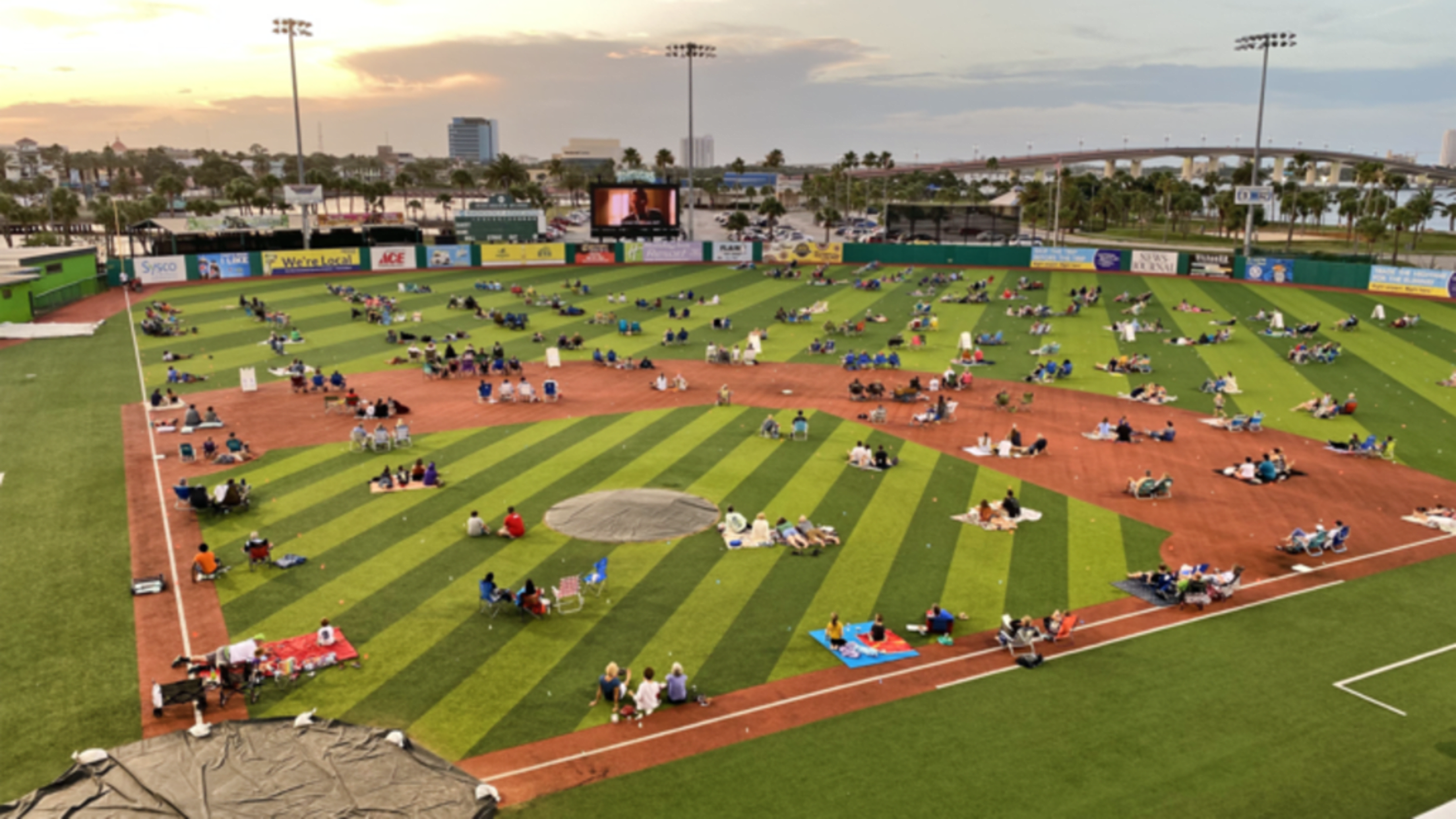 The specifics varied by state and even municipality, but most teams were able to host ballpark events as the "season" progressed. Many of these events were movie nights, with fans seated in socially distant spaces positioned across the playing field. The first team to stage a movie night was the Class A Advanced Daytona Tortugas, who play at Jackie Robinson Ballpark. The movie they showed on May 28 was Robinson biopic 42.
The Tortugas' movie nights were able to happen because of Florida's relatively relaxed COVID-19 restrictions. Other teams had to improvise to an even greater degree in order to get fans into the ballpark. Teams like the Rookie Advanced Rocky Mountain Vibes, who turned their outfield into a drive-in movie theater. Necessity is the mother of invention.
Look on the bright side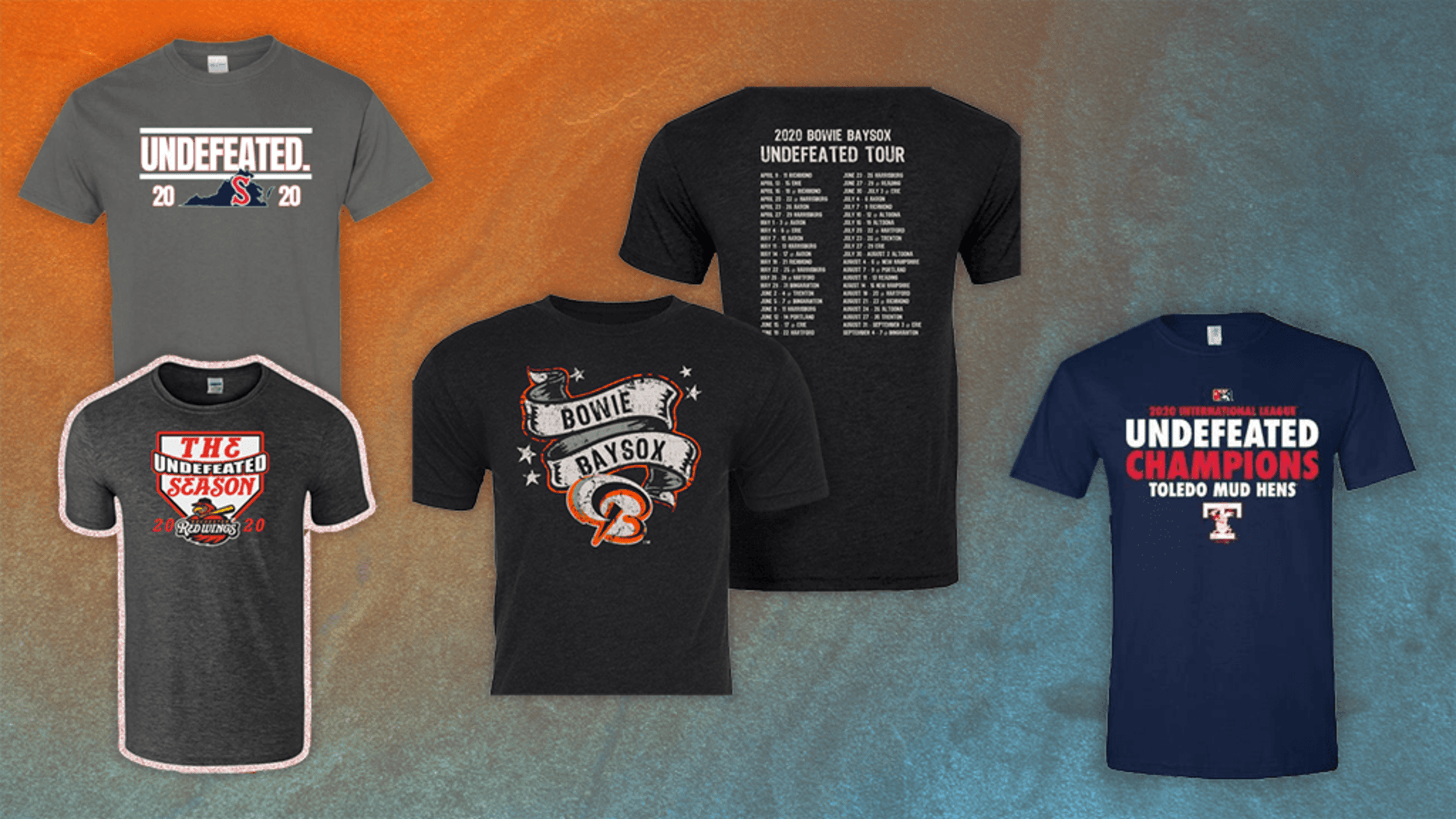 It may have seemed like a foregone conclusion, but the Minor League Baseball season wasn't officially canceled until June 30. Less than half an hour later, the Double-A Bowie Baysox announced they would be selling t-shirts commemorating their "Undefeated" season. And thus, a trend was born. Minor League Baseball's legion of "Undefeated" shirts soon gave way to a snarkier breed of 2020 sartorial commentary. "This is Bullshirt," declared the Triple-A Durham Bulls. "Shuck this," said the Class A Cedar Rapids Kernels. "Unflockingbelievable" cawed the Class A Advanced Myrtle Beach Pelicans. And so on and so forth. Shirts such as these continue to be released, right up to the present day. Take it away, Class A Advanced Visalia Rawhide:
In honor of the 2020 season that never was, we are offering a commemorative 2020 shirt for $23. This sums up how we feel about 2020. Pre-order yours today! Available in men's S-3XL, women's S-2XL, and youth S-XL. #RawhideFamily #CommunityofChampionshttps://t.co/rcQvLUDrmm pic.twitter.com/qbXkHXGvLu

— Visalia Rawhide (@VisaliaRawhide) September 7, 2020
Do it yourself: While there wasn't any Minor League Baseball in 2020, there has been a good amount of baseball played on Minor League Baseball fields. Two notable examples were the Bourbon Trail League and the Lemonade League. The former is an ongoing four-team independent league, the result of a partnership between the Class A Lexington Legends and the Florence Y'Alls of the independent Frontier League. The former was a two-team collegiate wood bat league created by the Class A Lansing Lugnuts, because when life gives you lemons, you make lemonade.
And, of course, Minor League ballparks all over the country currently serve as alternate training sites for Major League teams. In some cases, such as Triple-A Rochester's Frontier Field, the cardboard fans have turned out in force.