Around the Minors: The week of May 23-29
Sights and sounds from action across Minor League Baseball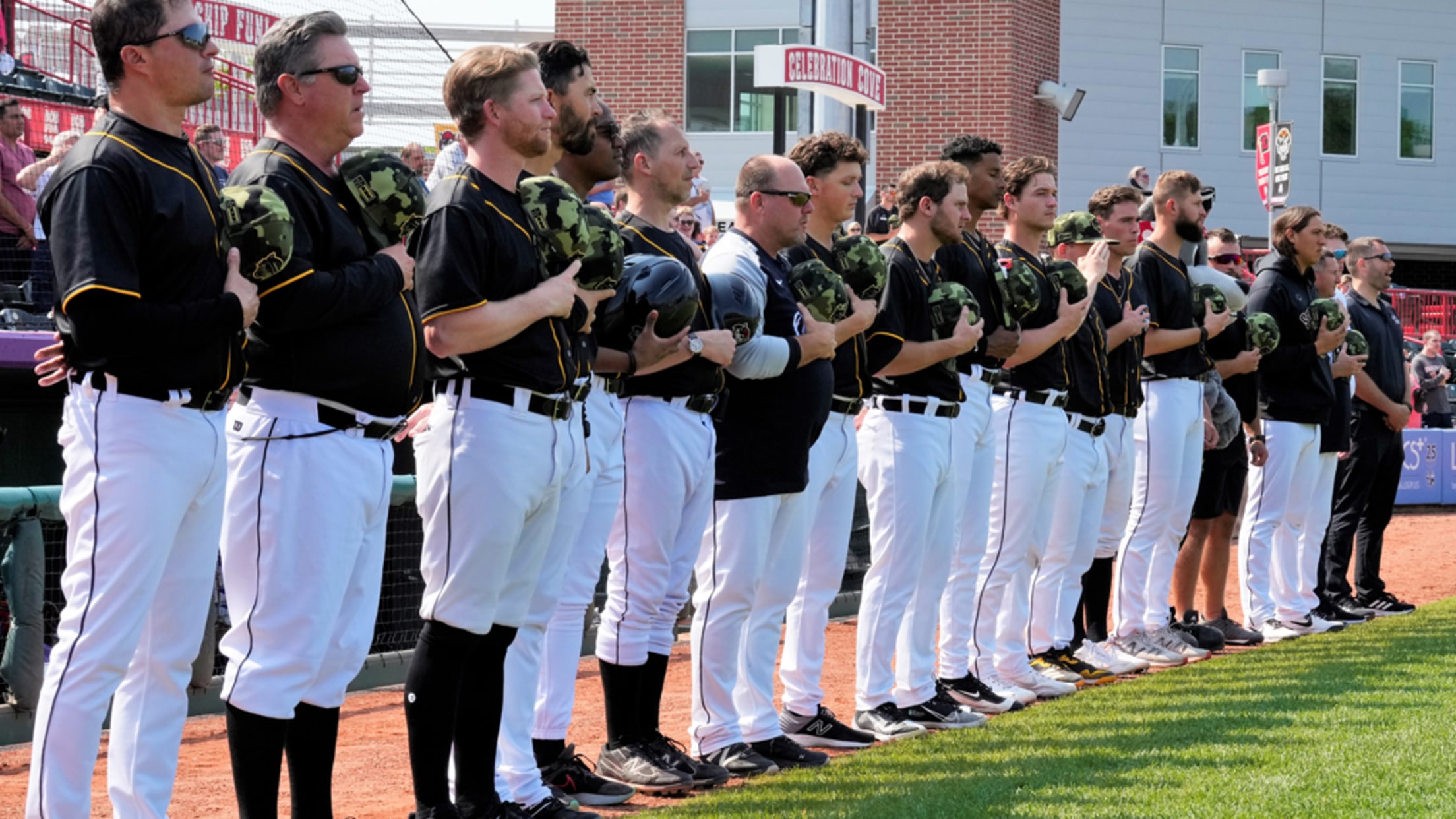 Part of the game experience includes watching teams like the Erie SeaWolves line up prior to first pitch. (Mike Godlewski Photography/MiLB.com)
May 29
Look at me ... I can be ... center field
The Padres insist CJ Abrams is athletic and skilled enough to play just about anywhere. But here's a curious development: In his latest appearance, Abrams played his first professional game as a center fielder.
There are, of course, plenty of question marks surrounding Abrams' long-term positional fit in San Diego. The Padres have All-Stars at second base and shortstop in Jake Cronenworth and Fernando Tatis Jr., respectively.
Abrams has always said he'd be open to playing wherever the Padres ask him to. But he hasn't played center field in a competitive game since he won gold with Team USA U-18s in 2018 -- on a team where he was blocked at shortstop and second base by Bobby Witt Jr. and Anthony Volpe.
Royal decree
It feels like Vinnie Pasquantino is the hottest hitter on the planet right now.
Kansas City's No. 4 prospect collected two more hits -- a homer and a triple -- and drove in four in Triple-A Omaha's 11-1 win over Louisville. On a 3-2 pitch in the first frame, Pasquantino launched a two-run homer to right, his 14th on the year and his sixth in 10 games, to get the Storm Chasers on the board. Three frames later, the 24-year-old put the capper on a five-run inning with a two-run triple to right to push Omaha's lead to 7-0.
It's been an amazing past 10 games for the 2019 11th-round Draft pick, posting a .450/.477/1.075 slash line with 12 extra-base hits, 21 RBIs, three walks and 43 total bases over that span.
Second-ranked Nick Pratto had a good game in his own right, launching a moonshot to center for his ninth homer of the year and singling as part of a two-RBI day.
Act naturally
Isaac Bellony punched a single back up the middle in his first at-bat. He instantly knew it would be a good day. The Baltimore outfield prospect amassed a natural cycle in his first four at-bats, adding a walk and another single late to lead Single-A Delmarva's big offensive day in a 14-6 win at Charleston.
"It's awesome," Bellony said with a laugh after his big day. "I can't even explain it. It's my first time this has happened, and it's kind of crazy."
The 20-year-old started his first career five-hit day with a rope to center field to drive in Delmarva's first run in the top of the first inning. He knew something special could be coming after that. Full story »
Newcomer historical for storied St. Lucie
Playing in just his 14th game in Single-A, Junior Tilien made some history.
The Mets infield prospect set a club record with three roundtrippers and drove in five runs to fuel St. Lucie's offense in an 11-9 win over Dunedin at TD Ballpark. The five RBIs marked a personal best for Tilien, who entered the game with two career long balls, both since May 14.
In a game that featured eight home runs, including a club-record six by the Mets -- Tilien was the star. After joining St. Lucie on May 3, the 19-year-old put himself in the club's record books. Full story »
Junior Tilien! Not once. Not twice. But 3️⃣x! He launches a team record 3 homers in today's win over Dunedin. pic.twitter.com/4OwET42eIE

— St. Lucie Mets (@stluciemets) May 29, 2022
Giving yourself the gift of offense
What's better than a four-hit game? A four-hit game on your birthday.
Elijah Dunham, the Yankees' No. 26 prospect, did just that in a big day at the dish in Double-A Somerset's 12-4 win over Portland. The now-24-year-old homered, doubled, singled twice, walked and stole a base as part of a three-RBI effort.
"It felt really nice to have a good game. I'm not huge into birthdays, but it always feels nice to play well and get a win," Dunham said via text message. "My family couldn't make it out, but they were most likely watching [the game]!" Full story »
May 28
Getting Squirrely
For seven and a half minutes, fans at Huntington Park got a unique type of delay when a squirrel interrupted the game between Triple-A Buffalo and Columbus. In Game 2 of a doubleheader, the furry creature wandered onto the field just before the start of the Clippers' half of the fifth with the home team up one. Bisons hurler Brandon Eisert threw one pitch to Trenton Brooks before the squirrel returned for a longer stroll around the park.
Players and coaches on both squads joined the Columbus grounds crew in trying to corral the rodent. After multiple failed attempts with hats, gloves, gum buckets and a net, one member of the grounds crew grabbed the squirrel with his barehand. He seemed to have received a bite for his valiance, though. As Carrie Bradshaw once said, "Squirrels are just rats with a cuter outfit."
The visit was a boost for both teams. In the fifth, the Clippers got homers from Gavin Collins and Tyler Freeman. The Bisons took the lead the following frame with RBIs from Samad Taylor, Otto Lopez and Mallex Smith. Columbus got the final say when Bobby Bradley knocked a walk-off single to cap a 4-3 win.
Amazing Abrams
C.J. Abrams is having quite the series against Triple-A Sugar Land. In his latest showing, MLB Pipeline's No. 6 overall prospect worked a walk in the first and a two-run single to center in the third before leading off the sixth with a dinger to right. It marked Abrams' fourth Pacific Coast League homer and first since his first two games with the Chihuahuas earlier in the month. The shortstop added an RBI single to right in the eighth to cap the big game. El Paso took home the 'W' by a score of 14-5.
In four games against the Space Cowboys, Abrams is 9-for-16 with seven RBIs and a pair of walks. The Padres' No. 1 prospect now has a .265/.333/.456 slash line in 15 games with the Chihuahuas. Full story »
M(-Braves) darling Clementina
Is there anyone hotter in baseball right now than Braves catching prospect Hendrik Clementina? One night after going 5-for-5 with a homer and a walk, the 24-year-old went 4-for-4 with another dinger, a walk and extended his on-base streak to 13 straight plate appearances.
After lining an RBI single back up the middle in the opening frame, Clementina worked a six-pitch walk and scored in the third. The Curacao native led off the fifth with a mammoth 444-foot homer to left-center, then legged out an infield single on a soft roller to third. In his final trip to the plate, Clementina went back up the middle again with a ball that deflected off the diving try of the shortstop. In a streak that spans his past three games, Clementina is 10-for-10 with a pair of homers, a double and five RBIs.
May 27
Grayson is grrrrrrreat
Grayson Rodriguez turned in arguably the best outing of his career thus far on Friday. MLB Pipeline's No. 1 pitching prospect tossed seven two-hit frames with 10 strikeouts and no walks for Triple-A Norfolk. It marked Rodriguez's longest start in exactly three years.
"I felt really good out there, I was able to throw all of my off-speed pitches and fastball early in the count and for strikes and that's been the big key for me lately," Rodriguez told MLB.com. "Just getting ahead of hitters and being able to throw everything I've got for strikes early is the biggest thing for me. Being able to command all of my off-speed pitches has been a difference-maker."
Although Gwinnett had undefinedundefined -- the Braves' No. 3 prospect -- in the other halves of the frames, the Tides came away with a 5-2 victory. Rodriguez is now 5-2 with a 2.32 ERA in 10 Triple-A starts.
They scored how many runs???
The runs just kept on coming for Single-A Brooklyn. The Mets affiliate put up a franchise-record 20 runs in its 20-6 win at Bowling Green, with 10 of them coming in the sixth frame alone. It was already a 10-6 game, but the Cyclones broke out in a big way when the first five batters reached base via four singles and a hit by pitch to start the sixth inning.
By that point, Brooklyn owned a commanding 12-6 lead, but the sluggers weren't done yet. Brandon McIlwain delivered a big dent with a three-run homer, and the Cyclones drew three two-out walks to load the bases for a Jose Peroza two-run double to drive in the ninth and 10th runs of the frame. Everyone in the Brooklyn lineup collected at least one hit, and the team finished with 19 hits and six walks in total.
Immaculate MinorMike Minor has yet to make his Cincinnati debut since being acquired by the organization on March 28, but he's certainly setting the tone for once he gets there. The 6-foot-4 southpaw was working his way back from left shoulder impingement syndrome that he suffered in September when the Royals traded him (and cash) to the Reds for Amir Garrett.
In his fifth rehab start, Minor spun an immaculate inning for Triple-A Louisville. The Vanderbilt product faced the minimum through the first two frames before striking out the side on nine pitches in the third. Minor went on to notch nine total punchouts as he held Omaha to one run on three hits and no walks in six frames. The Bats held on for a 4-2 victory.
The Tennessee native had one tough rehab outing for Double-A Chattanooga before getting bumped up to Triple-A. Overall, Minor is 1-3 with a 6.11 ERA, 21 strikeouts and two walks in 17 2/3 innings.
May 26
The hot corner gets a little hotter
Royce Lewis looked like a natural at third base.
Baseball's No. 41 overall prospect did a little bit of everything in Triple-A St. Paul's 8-1 win over visiting Indianapolis. The 22-year-old singled twice, scored two runs, drove in one and swiped a base while starting at the hot corner instead of his usual spot at shortstop.
Making his third career appearance at the hot corner, Lewis fielded both of his chances cleanly and kept up his production with the stick. Since returning from an 11-game stint in the Majors, the first overall pick in the 2017 Draft is batting .352 with three extra-base hits, two homers and three RBIs in eight games.
Here's what Brown can do for you
Hunter Brown allowed five hits, but it was what he didn't give up that was most impressive. Baseball's 100th overall prospect struck out a season-high 10 and did not issue a walk over seven scoreless innings as Triple-A Sugar Land blanked El Paso, 7-0.
Brown, who has been virtually unhittable in May with a 1.21 ERA, completed seven innings for the first time as a professional. The 23-year-old fanned eight in his final four frames, including the last four batters during his 88-pitch outing.
Brown has tossed 11 consecutive scoreless innings and improved his record to 3-3 with a 2.01 ERA and 56 strikeouts in 40 1/3 innings across nine appearances (six starts) for the Space Cowboys. The Wayne State product went 6-5 with a 4.04 ERA and 131 whiffs across 100 1/3 innings across two Minor League levels in 2021.
May the force be with him
George Valera will not be happy to see May come to a close.
Baseball's No. 43 overall prospect slugged a go-ahead homer in the eighth inning and drove in three runs to rally Double-A Akron past visiting New Hampshire, 4-2. The tater was Valera's fifth in his last seven games and seventh overall. The 21-year-old had previously singled home a run earlier in the game and his three RBIs gave him nine in his previous three contests.
After batting .226 with a .772 OPS in April, Valera has gotten hot this month. The Queens, N.Y., native is batting .309/.385/.556 with 20 RBIs in 20 games in May to improve his overall numbers to .273/.385/.483 with 15 extra-base hits and 27 RBIs in 39 contests for the RubberDucks.
From unbeatable to unhittable
Connor Jones hasn't been scored upon for 22 innings spanning his last three starts for Double-A Arkansas. On Thursday, he added unhittable to the mix.
The reigning Texas League Pitcher of the Week made history by delivering a seven-inning no-hitter in the Travelers' 6-0 victory in a doubleheader opener with the visiting Sod Poodles.
Jones matched his career high with eight strikeouts while walking three. He's racked up eight whiffs in a game three times, most recently in his previous start for Arkansas against the Naturals.
Jones (2-2) has been lights-out since Seattle picked him up on April 2 following his March 28 release by St. Louis. The Cardinals drafted him in the second round (70th overall) in 2016. Full story »
Found: One sweet swing ... twice
The home run drought for Francisco Álvarez had reached 29 games.
Baseball's No. 7 overall prospect is known for his raw power; with a grade of 65, it's his best tool. But after clubbing four dingers in his first six games of the season, the 20-year-old didn't go deep for over a month.
That changed emphatically when the top Mets prospect launched two long balls in consecutive at-bats while adding a double, a single and a walk in Double-A Binghamton's 6-4 win at Reading. He finished the day with 11 total bases, a new career high. Full story »
May 25
Give him style points, at least
The ball ended up in the center fielder's glove. It was ruled a home run. Wait, what?
Tampa Bay prospect Diego Infante notched one of the strangest home runs of the Minor League season when he belted his fourth of the year off a camera stand in center field and back onto the playing field as High-A Bowling Green split a doubleheader with Brooklyn with an 8-0 win in the finale.
Infante strode to the plate in the bottom of the fourth inning of the second game with a man on and his team already in front, 6-0. On the first pitch he saw from Cyclones reliever Garrison Bryant, the outfielder crushed a drive to center. No. 14 Mets prospect Jaylen Palmer pursued it from his spot in center field and appeared, briefly, to have snagged the fly at the wall. Palmer held the ball aloft in triumph before putting his hands on his head in disbelief.
Upon further review, it wasn't so. At the last second before the ball settled in Palmer's mitt, its path changed direction, ricocheting off something beyond the fence. Full story »
Make some noise!
Keoni Cavaco launched the first grand slam of his professional career on a career-high six-RBI night.
Minnesota's No. 21 prospect was a triple shy of the cycle in his three-hit performance, which was also a professional best for Cavaco.
The third baseman's night began with a two-RBI double to left field in the first inning. The second hit was the quietest, a single in the third, but it was followed by the loudest, a fifth-inning grand slam that was the decisive blow in Single-A Fort Myers' 10-2 win over Bradenton.
A debut for the history books
As Tampa's Yorlin Calderon faced Lakeland's Roberto Campos with two outs in the seventh inning of Game 2 of a doubleheader, the right-hander had an opportunity to seal a milestone. And it was the only chance he was going to get to go the distance and finish the feat himself.
When the right-handed batter foul-tipped a 3-2 offering into the mitt of catcher Ben Rice for the final out of the game, it not only sealed a 4-0 blanking for Tampa and a sweep of the twinbill at George M. Steinbrenner Field -- but it put Calderon in the history books for a complete-game no-hitter in his season debut. Calderon worked around a pair of walks and fanned seven while accomplishing the feat.
"I don't know if he knew, but that was his last batter of the game. One way or the other," Tarpons pitching coach Grayson Crawford said. "He was right there with his pitch count, and we had somebody loose and ready to go in the bullpen, so yeah, that was it for him. I'm just really relieved and happy for him that was he was able to get it done right then and there. I'm excited for him that he was able to finish it." Full story »
🚨NO NO ALERT🚨

RHP Yorlin Calderon gets called up to Tampa and makes quite the first impression in his first start of the season!

Calderon blanked the Lakeland Flying Tigers with a complete game no-hitter.

His final line: 7.0IP, 7K, 2BB, 0H pic.twitter.com/nVD8C9Ixvj

— Tampa Tarpons (@TampaTarpons) May 26, 2022
Enjoying his time at the Beach
Kevin Alcantara had a career night for Single-A Myrtle Beach.
The Cubs' No. 7 prospect drove in a career-best six runs while collecting three hits in the Pelicans' 8-0 win over Augusta. Alcantara started the game off with a three-run double in the top of the third before blasting his fifth homer of the year, a two-run jack to left-center in the fifth. He added an RBI groundout in the seventh and a single in the ninth to round out his day.
The 19-year-old is batting .267 with an .892 OPS, 11 extra-base hits and 20 RBIs in 19 games in May.
Reaching all the same heights
Three days after matching his career-best five RBIs, Vinnie Pasquantino did it again, this time also matching a career high in hits. The Royals' No. 4 prospect belted two homers -- including a grand slam -- and doubled twice while going 5-for-7 and scoring four runs to do the heavy lifting in Triple-A Omaha's 19-0 blowout of Louisville.
Pasquantino moved into second place in all of the Minor Leagues with 45 RBIs and is tied (with Triple-A Lehigh Valley's Darick Hall) for the Minors lead in extra-base hits, with 27. His 11th and 12th home runs put him third in the International League (behind Hall, with 14, and Nolan Gorman, who was promoted from Memphis to St. Louis on May 20 with 15 roundtrippers).
The 6-foot-4, 245-pound first baseman went yard in the Storm Chasers' opening frame, doubled off the wall in the third and broke the game open with a slam in the fifth. Pasquantino pulled each of those knocks into right, then went to the opposite field for a seventh-inning double and a ninth-inning single.
May 24
Catching up on his defense
Did you see that play? Watch it again!
Outfielder Juan Guerrero covers a lot of ground and then goes tumbling over the wall in right to take a home run away from A's No. 5 prospect Max Muncy to help Single-A Fresno secure a 4-2 victory over Stockton at Chukchansi Park.
Hanging onto a two-run lead in the ninth, the Grizzlies recorded the first out of the frame before Muncy put a charge into a 2-2 offering and sent it to the short porch in right. The ball appeared headed to leave the park and cut Fresno's lead to a single run, however, Guerrero had other ideas. The 24th-ranked Rockies prospect flashed a tick above his 50-grade speed and charged toward the 335 marker just inside the foul pole. Without breaking stride, the 20-year-old stuck his glove over the short wall and made the catch before tumbling over it. He held on for the second out of the inning. Full story »
Some added incentive?
Perhaps sliding into the updated Top 100 Prospects list spurred Drew Romo.
Baseball's No. 95 overall prospect homered and tripled en route to a career-high five RBIs to power High-A Spokane past Everett, 9-3, at Avista Stadium. Romo added a walk, scored twice and reached safely in three of his four plate appearances, improving his OPS to .855.
After scorching through April with a .342/.384/.500 slash line, the 20-year-old had leveled off this month, carrying a .264 average and a .681 OPS into the contest. Homerless in his previous 18 games dating back to April 26, Romo put a charge into a 1-1 offering in the third inning that carried over the right-field fence for a three-run jack.
It was the switch-hitting backstop's third long ball of the season and first in 70 at-bats. Full story »
Bye, bye, baseball! @drewromo23 clobbers a three-run shot off the Coors Light Caboose and the Indians now lead 4-0! 👋⚾️ #GoSpo pic.twitter.com/IV3xldcKbp

— Spokane Indians (@spokaneindians) May 25, 2022
Just call him the Postman because all he does is deliver! @drewromo23 adds a two-run triple and now has 5 RBIs on the night. Indians up 8-0 in the 5th. #GoSpo pic.twitter.com/IpzrYhK8BR

— Spokane Indians (@spokaneindians) May 25, 2022
Out of this world
It's taken some time, but it appears The Martian has arrived.
After a slow start, Jasson Dominguez has found a groove lately, keeping his recent torrid play up when he collected a pair of knocks -- including his fifth dinger of the year -- walked and scored a career-high four runs to help lift Single-A Tampa over Lakeland, 7-5, at George M. Steinbrenner Field.
The third-ranked Yankees prospect extended his hitting streak to four straight, with hits in six of his last seven games. He's amassed four multihit performances over that stretch, including three straight -- and has left the yard in consecutive games for the first time in his career. Full story »
Dominguez slaps a base hit to right for his second hit of the game!

Dominguez is 2-for-2 (HR, 1R, 2RBI, 1BB) tonight! pic.twitter.com/EOMTlnbEc6

— Tampa Tarpons (@TampaTarpons) May 25, 2022
Small ball ... and one big fly
Michael Busch may have only collected one hit in Triple-A Oklahoma City's 14-7 win -- his 13th homer of the year -- but the No. 3 prospect was on base three times and tied his career high with four runs scored.
The 24-year-old walked twice and was hit by a pitch, and he came around to score every time he reached base. In between all that, he laced his second Triple-A dinger, a two-run jack to right.
MLB's No. 61 prospect has collected five extra-base hits and six RBIs in his first seven Triple-A games, giving him a .299 average and a 1.088 OPS in 38 games across two levels.
The unhittable Mr. Boyle
Joe Boyle has been masterful, not to mention unhittable, in his second professional season.
Cincinnati's No. 27 prospect didn't allow a hit for the fourth outing this year. He also didn't allow a run for the fifth time in 2022 in High-A Dayton's 10-1 win over West Michigan.
The 22-year-old matched his career high with six shutout innings, fanning eight while issuing three walks. He struck out eight for the third time, the second-highest total of his career.
It was the 11th scoreless performance as a pro for the 143rd pick in the 2021 Draft.
Only double-digit K's in Triple-A
Brayan Bello has made two starts for Triple-A Worcester this year. He has struck out 10 batters in both of them.
The top Red Sox pitching prospect fanned 10 over six innings en route to a 13-2 win for the WooSox, allowing two runs on three hits and three walks. It was Bello's third start of the year in which he racked up 10 strikeouts. The 23-year-old tossed 58 of his 97 pitches for strikes and generated 20 swings-and-misses. He sports a 1.97 ERA and 62 K's in 45 2/3 innings across two levels this season.
In the same game, Ronaldo Hernández collected four hits and four runs scored. The club's No. 23 prospect cranked his second homer of the year to left field, doubled and singled twice.
When Rob met Rachel
TAMPA, Fla. -- After the Tarpons had gone through fielding drills and finished batting practice on a sweltering 92-degree afternoon, MLB Commissioner Rob Manfred walked into the home dugout and shook hands with Tampa manager Rachel Balkovec.
It was the Commissioner's first time meeting Balkovec, who broke a major barrier last month by becoming the first full-time female manager in affiliated baseball history, and his first chance to see some of this year's Minor League rule changes in action as the Yankees' Low-A Tampa affiliate hosted the Lakeland Flying Tigers at George M. Steinbrenner Field.
Manfred and Balkovec spent more than 10 minutes talking in the Tarpons' dugout, with the Commissioner asking questions about Balkovec's background, her early experiences as a Minor League manager and rule changes like the pitch clock and the Single-A Southeast's automated ball-strike (ABS) "challenge" system. He came away fascinated by everything he heard. Full story »
Making history across the Minors
It was yet another jam-packed week in the Minor Leagues last week with promotions for top prospects, milestone performances and much more. Talents like Baltimore's Adley Rutschman along with St. Louis' Nolan Gorman and Matthew Liberatore went up to the Majors while others like Dodgers prospect Michael Busch climbed to Triple-A. On the pitcher's mound, Double-A San Antonio made history with two no-hitters in three games -- each thrown by four different pitchers -- accomplishing the feat on May 15 against Arkansas and again on the 18th vs. Midland. Joey Wiemer continued to rake for Double-A Biloxi, and Daniel Ponce de Leon made history in a dominant start for Triple-A Tacoma. Look back at the week that was.