Asheville pitchers hold Hoppers in check
Ernny Ordoñez hits solo home run in loss for Greensboro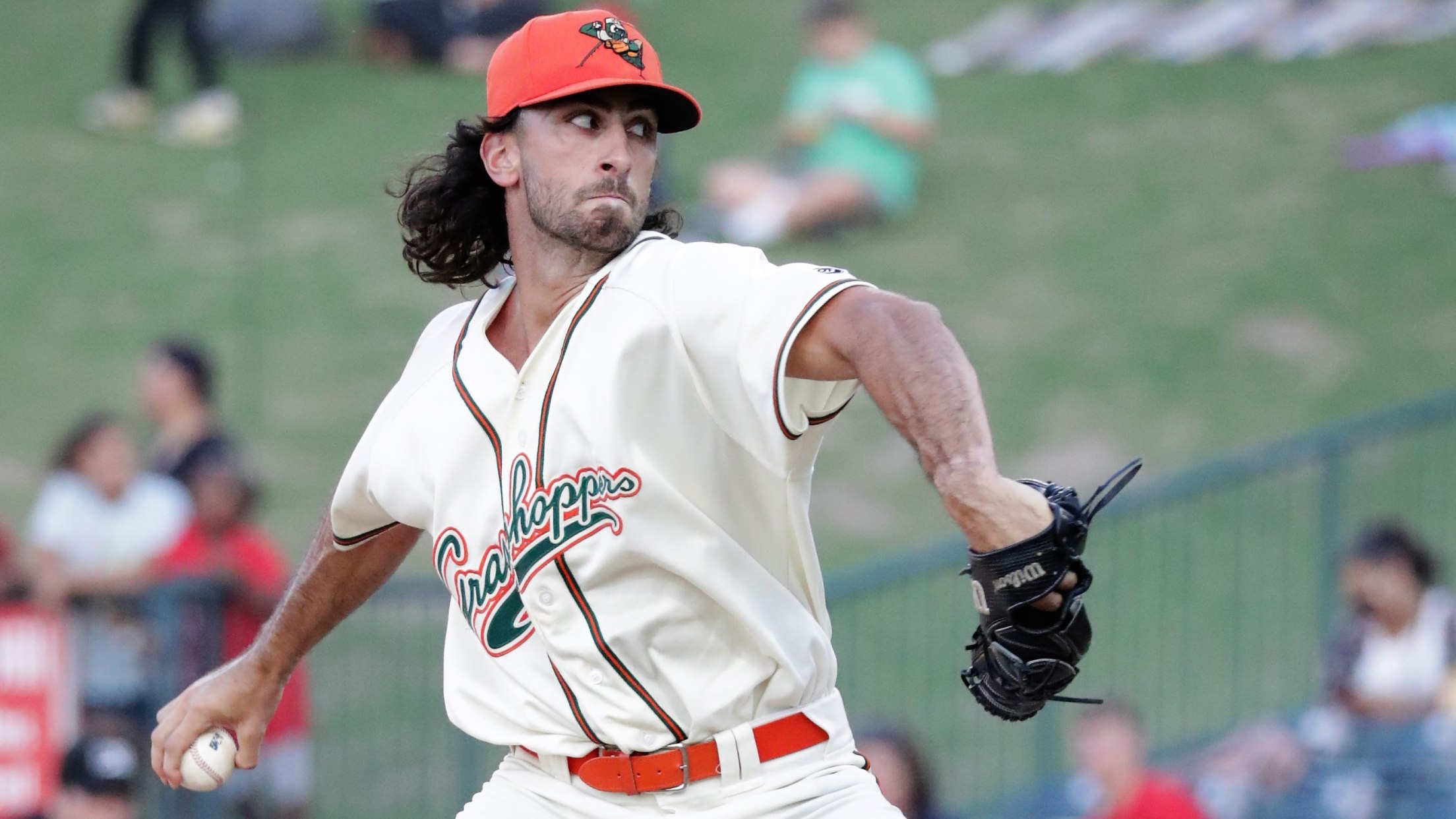 Greensboro Grasshoppers relief pitcher Ricky DeVito. (Derrick Brady/bcookmedia)
GREENSBORO ― A.J. Lee drove in the tie-breaking run with a sacrifice fly, and Asheville's pitchers shut down the Greensboro Grasshoppers 3-1 on a Thirsty Thursday at First National Bank Field. Lee drove in an insurance run with an RBI single in the ninth inning, and Kenedy Corona went 2-for-2
GREENSBORO ― A.J. Lee drove in the tie-breaking run with a sacrifice fly, and Asheville's pitchers shut down the Greensboro Grasshoppers 3-1 on a Thirsty Thursday at First National Bank Field.
Lee drove in an insurance run with an RBI single in the ninth inning, and Kenedy Corona went 2-for-2 with two walks and a run scored for the Tourists.
But Asheville's pitchers were the difference.
Rhett Kouba (2-1, 3.86 ERA) picked up the win in relief, allowing one hit in four scoreless innings. Kouba faced just one batter over the minimum, and he retired the last nine in a row after Greensboro's Dariel Lopez led off the seventh inning with an infield hit.
Asheville starter Cesar Gomez struck out seven in five innings, allowing only one run on Ernny Ordonez's solo homer over the left-field fence.
Greensboro starter Nick Garcia deserved better. Coming off a seven-inning shutout in his last outing, Garcia took a no-decision despite allowing just one run in six innings to lower his ERA to 3.12, sixth-best in the South Atlantic League among statistical qualifiers.
Garcia has struck out 53 in 57 ⅔ innings, and he has held opponents to a .206 batting average.
Right-hander Ricky DeVito (2-2) took the loss, allowing a run in ⅔ inning. DeVito gave up a Luis Guerrero single to start the seventh inning, and Lee broke the tie with a sacrifice fly to right field.
DeVito struck out the next hitter, but the damage was done.
NOTES
Since June 1, utility player Ernny Ordoñez has hit safely in eight of 11 games, with five home runs, two doubles and 14 RBIs in that span.
Infielder Dariel Lopez has hit safely in nine of his last 10 games, going 17-for-43 (.405) with three home runs, three doubles, seven RBIs and 12 runs scored. He has six multi-hit games in that span.
Endy Rodriguez has hit safely in eight of his last 11 games, going 11-for-37 (.297) with five doubles, a home run and eight RBIs. Rodriguez started at catcher Thursday. The versatile 22-year-old is rated by MLB Pipeline as Pittsburgh's No. 7 prospect, and he has played four positions ― catcher, first base, second base and left field ― this season.
In his career at the News & Record, journalist Jeff Mills won 10 national and 12 state writing awards from the Associated Press Sports Editors, the Society for Features Journalism, and the N.C. Press Association.