JetHawks' Springer has Hamilton-esque night
Astros No. 3 prospect homers in four consecutive at-bats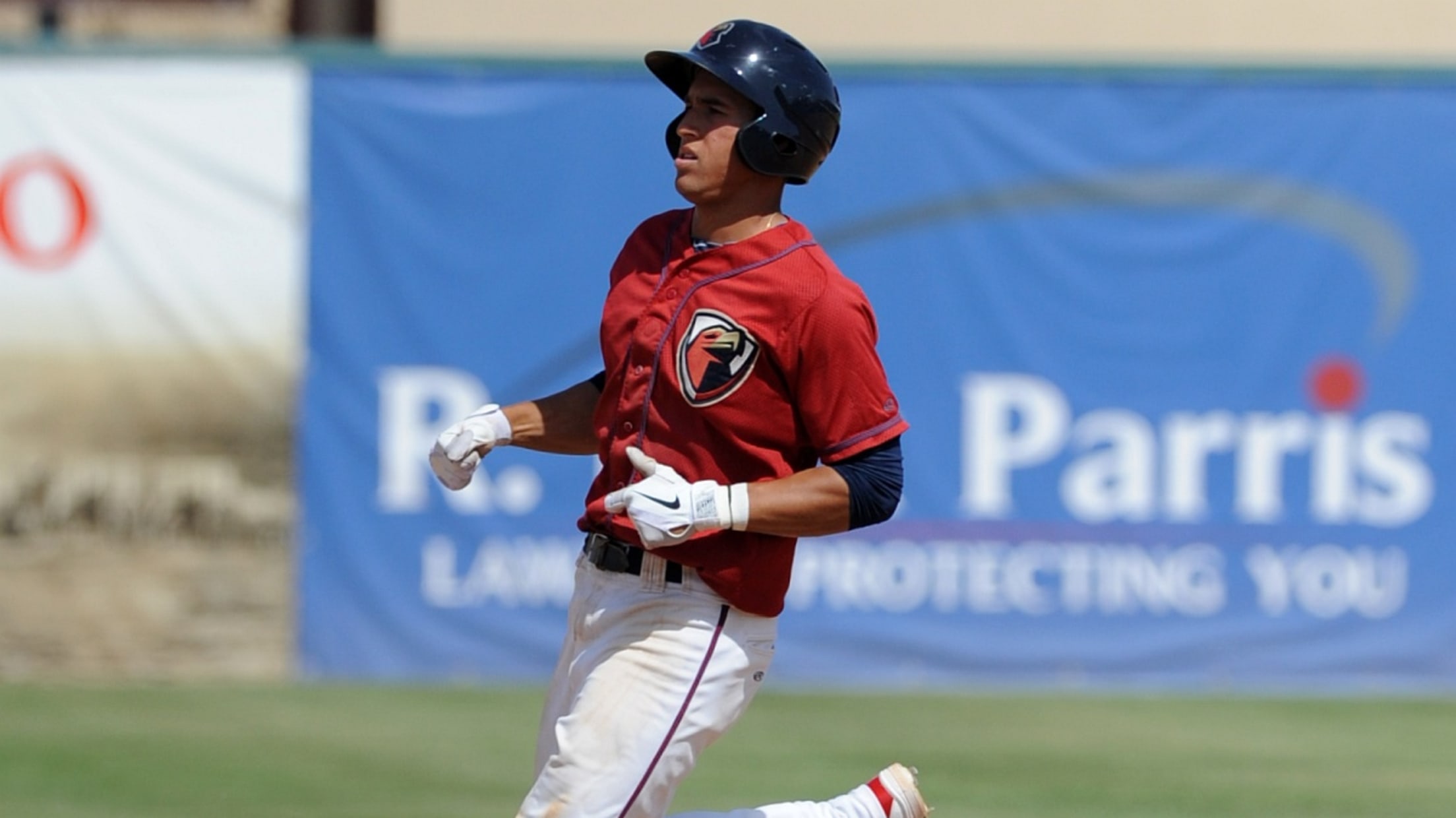 George Springer entered Friday's doubleheader with four homers on the season. (Lancaster JetHawks)
George Springer had a nice game. And than he had the game of his life hours later. The Astros' No. 3 prospect homered in his final at-bat of Lancaster's Game 1 win over Lake Elsinore, then went yard in his first three plate appearances of Friday's nightcap as the JetHawks
George Springer had a nice game. And than he had the game of his life hours later.
The Astros' No. 3 prospect homered in his final at-bat of Lancaster's Game 1 win over Lake Elsinore, then went yard in his first three plate appearances of Friday's nightcap as the JetHawks swept Lake Elsinore.
Springer's first homer of the evening was a three-run blast that capped a 7-2 victory in the opener. He hit solo blasts in the first and third innings of the second game before slugging a two-run shot in the fourth, wrapping up a seven-RBI night.
"I was just looking for something to drive and I ended up just getting some pitches up in the zone and I was able to hit them," Springer said. "To be completely honest, I was trying to hit the ball hard and get on base for the 3-4-5 guys. I just ended up hitting home runs."
It's the first time a player in the Class A Advanced California League has gone yard in four consecutive at-bats since 1977. Springer's feat came three nights after Texas Rangers All-Star Josh Hamilton homered four times in a game at Baltimore.
"This is the first time something like this has ever happened to me," the Connecticut native said. "It's something special. I'm happy about it, but I'm also happy that we could take the doubleheader."
After a solid April in which he batted .278 with two homers and 18 RBIs, Springer is on pace to obliterate those numbers in May. The 11th overall pick in last year's Draft is batting .375 with six homers and 14 RBIs in 12 games this month.
"I'm just working with hitting coach Daryl Robinson every day before the game and batting practice," Springer said. "I'm making small adjustments on how I'm being pitched and pitches I'm swinging at. I'm trying to slow it all down and put good swings on pitches. I'm not too concerned with the results, I just want to have quality at-bats."
Overall, the 22-year-old center fielder is batting .310 with eight homers and a league-leading 32 RBIs.
Telvin Nash, the Astros' No. 10 prospect, slugged his league-leading 11th homer in the nightcap.
Cory Spangenberg, the Padres' No. 5 prospect, had five hits across the doubleheader to raise his average to .303 for the Storm.
Robert Emrich is a contributor to MLB.com.