Barbosa, Fresno bewilder San Jose 7-2 for 5th straight Sunday win
Gabriel Barbosa: 5.0 IP, 5 H, 0 R, 0 BB, 6 K; Grizzlies score 4 in 2nd inning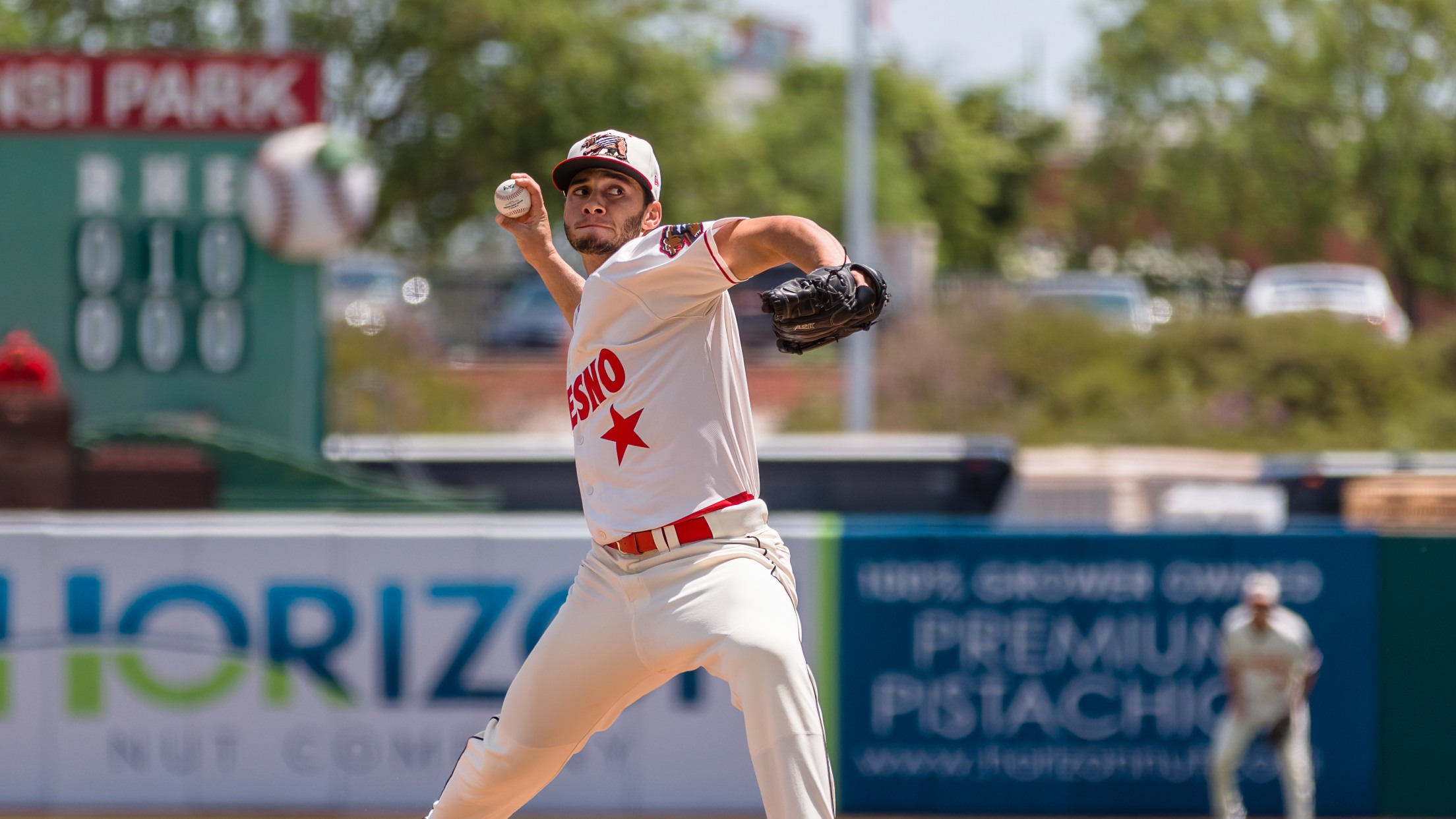 San Jose, CA (Sunday, June 4) – The Fresno Grizzlies (25-26) stymied the San Jose Giants (32-19) 7-2 Sunday evening from Excite Ballpark. Fresno won their fifth straight Sunday game and took the final two contests of the series from San Jose. The Grizzlies improved to 7-8 against the Giants
San Jose, CA (Sunday, June 4) – The Fresno Grizzlies (25-26) stymied the San Jose Giants (32-19) 7-2 Sunday evening from Excite Ballpark. Fresno won their fifth straight Sunday game and took the final two contests of the series from San Jose. The Grizzlies improved to 7-8 against the Giants and trail them by seven games in the standings with 15 contests left to play in the first half.
For the second consecutive night, the Fresno bullpen was unbelievable. Gabriel Barbosa (3-3) dazzled for a career-high five scoreless innings of relief. The righty allowed five hits and did not issue a walk while fanning six. Barbosa's five frames and six strikeouts were the most by a Grizzlies reliever this season. The Brazilian threw 59 pitches with 45 landing for strikes. Since making the move to the bullpen, Barbosa is 3-0 with one save and a 2.84 ERA over five outings. Sergio Sanchez added a clean fourth inning, giving the Fresno arm barn nine and two-thirds shutout innings in their past two games. Starter Jackson Cox provided three frames of work, punching out a trio of batters, including San Francisco Giants 2022 1st round pick Reggie Crawford.
The Grizzlies offense matched the stellar pitching with an efficient performance at the dish. Fresno took a 5-0 lead after four runs in the second and another run in the third. A fielder's choice error, RBI single by Robby Martin, two sacrifice flies and a passed ball were the scoring plays. The Grizzlies notched another run in the seventh on a Parker Kelly RBI double and their last run in the eighth on a Ryan Ritter solo shot. It was Ritter's 12th homer of the year. Skyler Messinger finished with two hits, yielding him seven singles over his last three games (all multi-hit). Martin swatted two singles and scored twice while Kelly drove in a pair of runs.
The Giants mustered both of their runs in the third on an error and groundout. Turner Hill reached base three times with two singles and a walk. Crawford laced a double and Matt Higgins tallied a run. San Jose committed five errors, the most by a Fresno opponent this year. Hayden Wynja (3-1) was tagged with the setback despite four unearned runs. The clubs are both off on Monday.
Tonight's article was written by ChatGPT
Top Performers: Fresno Grizzlies (Colorado Rockies)
RHP Gabriel Barbosa (5.0 IP, 5 H, 0 R, 0 ER, 0 BB, 6 K)
RF Robby Martin (2-3, RBI, 2 R, BB, SB)
1B Parker Kelly (1-3, 2B, 2 RBI)
3B Skyler Messinger (2-3, RBI, R)
2B Ryan Ritter (1-4, HR, RBI, R)
Top Performers: San Jose Giants (San Francisco Giants)
RF Turner Hill (2-4, R, BB, SB)
DH Reggie Crawford (1-4, 2B)
LF Matt Higgins (1-4, R, SB)
On Deck:
Tuesday, June 6 vs. Lake Elsinore Storm, Lake Elsinore TBD vs. Fresno LHP Caleb Franzen (1-1, 4.76), 6:50 pm PT
ON THAT FRES-NOTE:
Jesus Bugarin swiped two bases in the triumph, tied for the most by a Fresno batter in 2023.