Barnum Bashes Barons To Wild 11-10 Win
Birmingham takes series with 11-inning win in Tennessee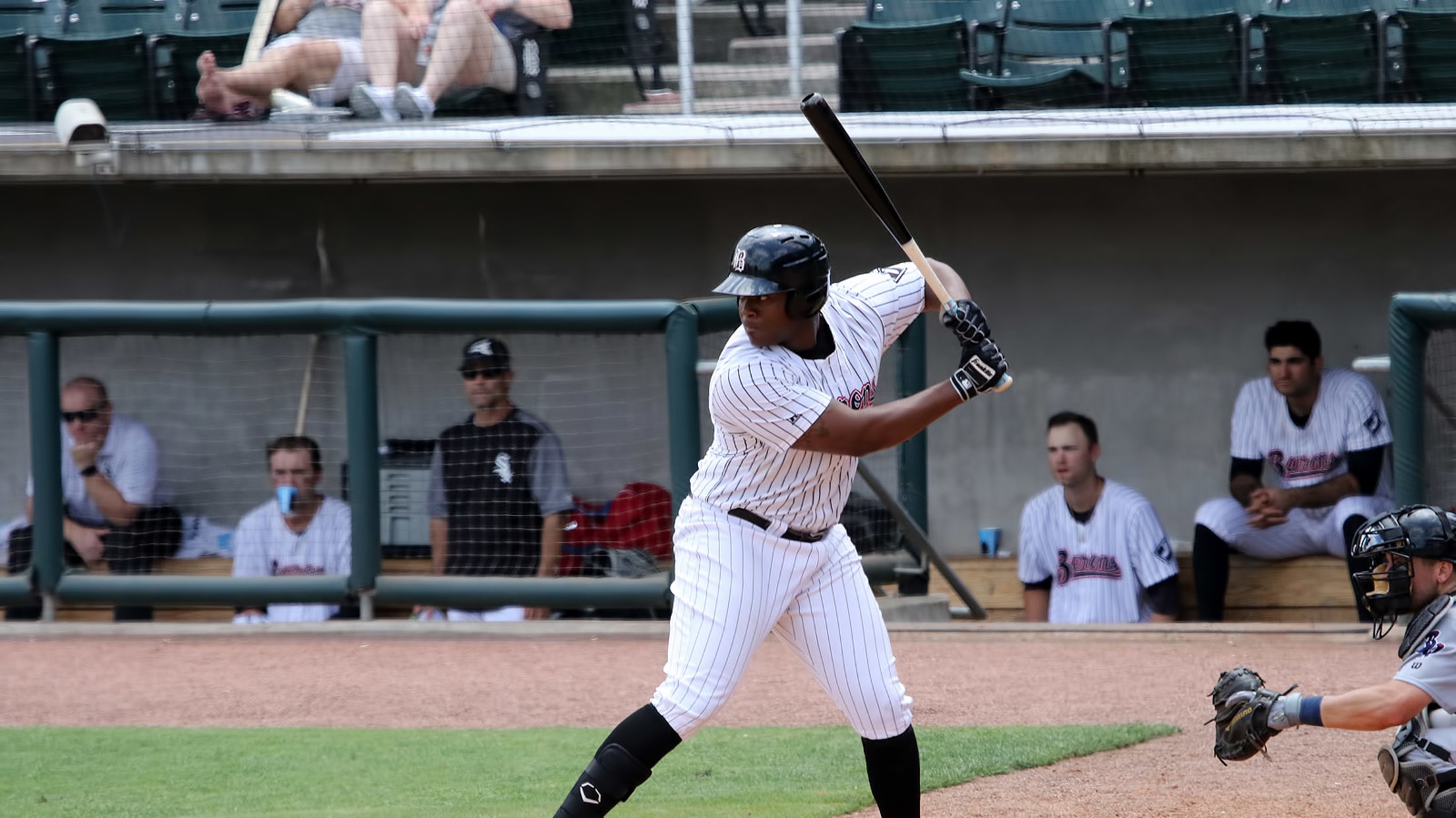 Keon Barnum's two homers led the Birmingham offense to a win on Tuesday night. (Michael Wade)
BIRMINGHAM, Ala. - Behind clutch performances at the plate and on the mound, the Birmingham Barons (30-34) erased multiple big deficits and survived to win an extra-inning thriller 11-10 in 11 innings over the Tennessee Smokies (33-32) on Tuesday night at Smokies Stadium. The win gives the Barons a series win
BIRMINGHAM, Ala. - Behind clutch performances at the plate and on the mound, the Birmingham Barons (30-34) erased multiple big deficits and survived to win an extra-inning thriller 11-10 in 11 innings over the Tennessee Smokies (33-32) on Tuesday night at Smokies Stadium. The win gives the Barons a series win over their North Division foes.

Turning Point: In the top of the 11th, the Barons scratched out a run on a Bryant Flete RBI single to score Trey Michalczewski, who began the inning on second base. But the decisive blow came two batters later, as Keon Barnum crushed a long three-run homer to right, his seventh of the season and second of the night, to give the Barons an 11-7 lead.
Moments That Mattered: On for his third inning of relief, José Ruiz (W, 2-0) struggled in the 11th as the Smokies quickly scored twice to cut the deficit to 11-9. With two runners on base and nobody out, the Barons turned to All-Star Ian Hamilton to try and finish off the game. The closer got into a jam as Tennessee plated another run and loaded the bases with two outs. But Hamilton (S, 11) rebounded to end the game with the tying runs on base by inducing a groundout from Jason Vosler to preserve the win and get the save.
By The Numbers: The Barons proved to be resilient on Tuesday as three runs in the third gave the Smokies an early 4-0 lead. After evening the score in the sixth, the Barons again fell behind 7-4 an inning later. But Flete's double in the eighth scored a pair to even the score at 7-7, setting the stage for the extra-inning thriller. Against his former organization, Flete finished 4-for-5 with two doubles, three RBI, and two runs scored.
Facts and Figures: At the plate, Barnum had his best night of the season, going 3-for-5 with two home runs and a double for 10 total bases to go along with a season-high five RBIs. On the mound, the Barons used six relief pitchers in a bullpen day, with only Hamilton and Ryan Burr posting scoreless outings. Including a rain delay of an hour and 29 minutes in the third inning, the game lasted five hours and 36 minutes, the longest game of Birmingham's season.
Up Next: The Barons end the first half with a five-game home series against the Chattanooga Lookouts. Matt Tomshaw (1-3, 4.56) is set to start for Birmingham against Chattanooga's Lewis Thorpe (2-4, 4.95). First pitch is scheduled for 7:05 p.m. on Wednesday. Curt Bloom will have the call on 960 WERC News Radio and the iHeart Radio app.