Barons Edge BayBears, 5-3
Birmingham's two-run ninth broke a late tie for the series-opening win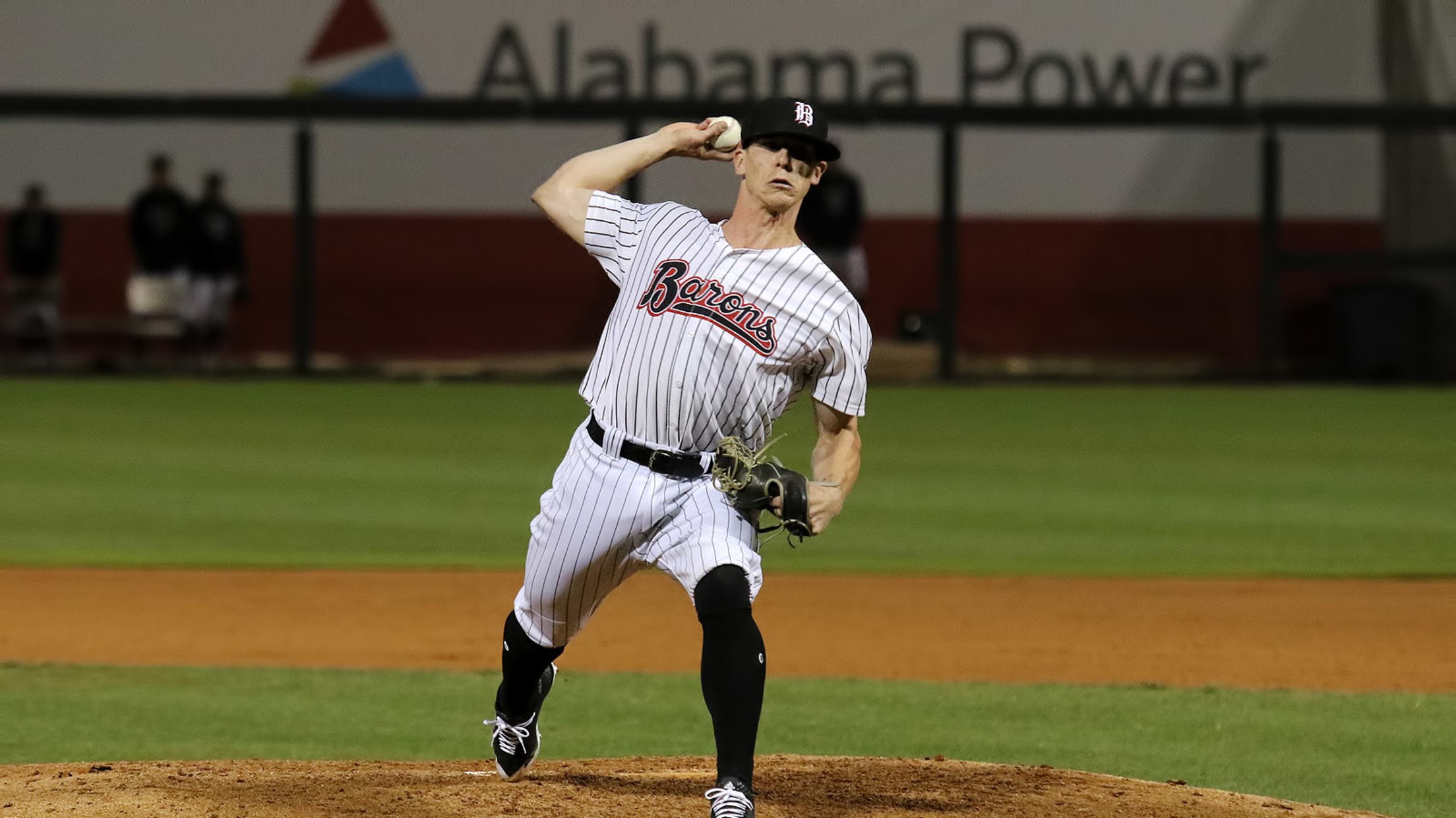 Ian Hamilton struck out three-of-four batters faced to shut the door on the BayBears for his seventh save of the season in Saturday's 5-3 win. (Michael Wade)
Ninth inning heroics lifted the Birmingham Barons (18-18) to a 5-3 win over the Mobile BayBears (16-19) at Hank Aaron Stadium on Saturday night. The Barons are now seven-for-eight in series openers. Moments That Mattered: Matt Rose annihilated a 2-1 pitch from Luis Pena, propelling the Barons to an early 1-0 lead
Ninth inning heroics lifted the Birmingham Barons (18-18) to a 5-3 win over the Mobile BayBears (16-19) at Hank Aaron Stadium on Saturday night. The Barons are now seven-for-eight in series openers.

Moments That Mattered:

Matt Rose

annihilated a 2-1 pitch from Luis Pena, propelling the Barons to an early 1-0 lead over the BayBears in the top of the second inning. Two batters later, Keon Barnum extended his hitting streak to five straight games and the Birmingham lead to 3-0 with a two-run, opposite field blast.

Turning Points

:

After Mobile erased the Birmingham lead by scattering runs in the fifth and seventh innings,Bryant Flete drove Jameson Fisher and Barnum around to score on a double to centerfield in the ninth to give the Barons the go-ahead.

Facts and Figures:

The Birmingham bullpen picked up its sixth win of the year as Ryan Burr (W, 1-0) dished out a clean eighth frame after an error in the seventh let an inherited runner slip by to tie the game. Ian Hamilton(S, 7) closed the door for the seventh time in as many opportunities, striking out three-of-four batters faced.

By the Numbers:

Already leading the Southern League as a team with 44 home runs on the season, the Barons' now boast the league's top three home runs leaders after Rose's solo shot in the second. Seby Zavalaleads with nine, while Eloy Jimenez and Rose are tied for second, tallying seven each.

Up Next:

The Barons face off against the BayBears in the second game of the five-day road swing in Mobile on Sunday. Right-hander Spencer Adams (2-3, 6.68 ERA) will toe the rubber against righty Jose Rodriguez (1-4, 5.13 ERA) with first pitch set for 2:05 p.m. Curt Bloom will have the call on 960 WERC News Radio and the iHeart Radio app.