Barons' Hawkins homers off passing train
White Sox No. 9 prospect sends fifth long ball of season for a ride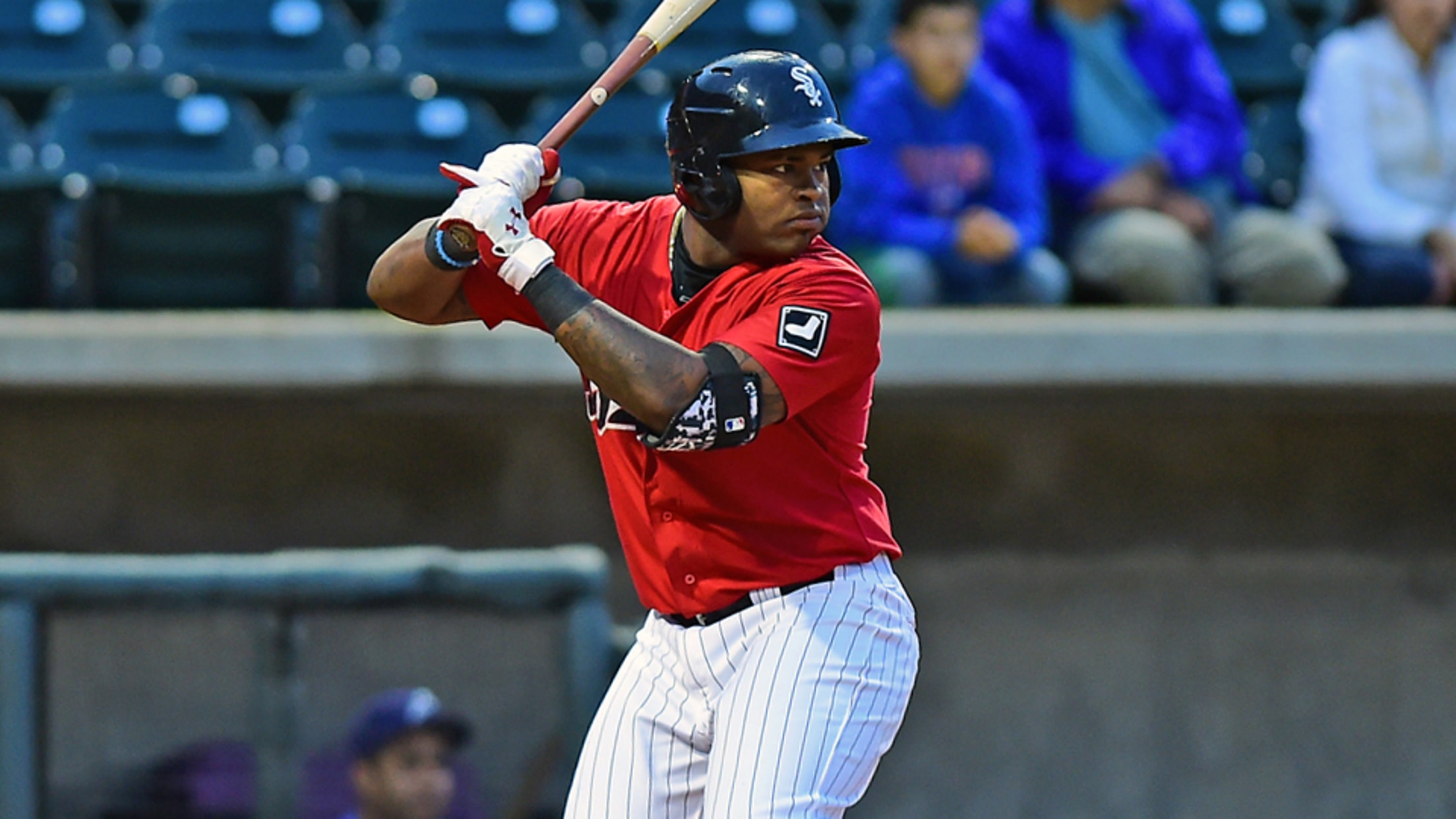 Courtney Hawkins has driven in 21 runs in 26 Southern League games this season. (Brian McLeod/MiLB.com)
Nobody knows where the mammoth fly ball hit out of Montgomery Riverwalk Stadium by Courtney Hawkins ended up, but there's a chance it could be anywhere from Virginia to Montreal. The ninth-ranked White Sox prospect hit a home run that smacked off the roof a passing freight train in Double-A
Nobody knows where the mammoth fly ball hit out of Montgomery Riverwalk Stadium by Courtney Hawkins ended up, but there's a chance it could be anywhere from Virginia to Montreal.
The ninth-ranked White Sox prospect hit a home run that smacked off the roof a passing freight train in Double-A Birmingham's 10-4 road win over the Biscuits.
Hawkins doubled home the game's first run with a line drive to center field in the first inning and walked with two outs in the second. After striking out in the fourth, he blasted a two-run homer to left-center field in the sixth off an eastbound train.
"You can actually hear it," Hawkins said of the train. "People let me know real quick. I wasn't actually trying to hit it, but when it left the bat, you can hear everybody say, 'Hit the train! hit the train!' It was pretty cool. It was one of those feelings, you know when you make hard contact. The last time I hit anything was maybe [at Mary Carroll] High School at Cabaniss Field [in Corpus Christi, Texas]."
The homer was Hawkins' fifth of the season and the 51st of his Minor League career but the first that has struck a moving mode of transportation.
Selected 13th overall in the 2012 Draft, Hawkins thought he'd get a pitch to pull, based on the way the Biscuits had pitched him all series.
"Just definitely looking off-speed," said Hawkins, who also homered against Montgomery on Friday and is hitting .243 with 21 RBIs and 13 runs scored in 26 Southern League games. "That was it. I was able to get the barrel to it and do some damage.
"We play these guys five games in a row in the Southern League and, after the first couple games, you see how they are trying to get you out. Honestly, they've been trying to go changeup to me the whole series. I look off-speed and just react to the fastball, and I've not been beaten yet, so I'll just sit off-speed because that has been paying off for me."
Montgomery Riverwalk Stadium is located a stone's throw east of the Gun Island Chute of the Alabama River alongside a single-line railroad track that runs to the north of the stadium, almost parallel to the ballpark from the left-field foul pole to center field.
Most of the freight trains that run through Montgomery are operated by CSX Transportation, one of four main railroads that operate in the state of Alabama. It's the largest railroad in the eastern United States with a 21,000-mile network connecting 23 states and two Canadian provinces. If the ball slugged by Hawkins had remained on one of CSX's 70,000 freight cars, it could be headed for one of thousands of locales from Detroit to Boston.
"Hopefully, Chicago, man," the 21-year-old outfielder said when asked where he hopes the ball ends up.
What helps weave Hawkins' story deeper into the fabric of Montgomery baseball history is that the stadium incorporates a converted train shed more than 100 years old. Part of the abandoned shed makes up a section of the building down the first base line, and six of the park's 20 luxury seats are built into the train terminal, which served as a prison camp during the Civil War.
Biscuits official scorer Brian Wilson has been attending games at the ballpark for about eight years, first as a fan. He added a further element to the tale.
"I'm gonna tell you everything I know about baseballs hitting freight trains in Montgomery, Alabama," Wilson said. "When Montgomery first got a team, the mayor at that point, Bobby Bright, offered $1,000 to any Montgomery Biscuits player that hit a train. There was one in the first year and one in the second year, and that was the last time I'd heard of that.
"I've come to a lot of Biscuits games over the last seven or eight years and this is the first one I've ever seen hit a train. And it was a long train, it had been going a while. I wish I could tell you that it took a mammoth 600-foot shot to hit it, but really, it was just good timing."
Bright served as Montgomery mayor from 1999-2009 and made the offer in 2004 when the franchise relocated from Orlando, Florida. It's not known whether current Mayor Todd Strange has a similar deal for Biscuits or visiting players.
"Right after it happened, people in the dugout started telling me about the [contest]," said Hawkins, adding his family was watching the game live back home in Texas. "Then their first base coach mentioned it to me. If that happened, it would be pretty nice to get that, but I would probably donate it to charity."
Hawkins' also was not the first noteworthy homer at the ballpark. In 2010, future Marlins All-Star Giancarlo Stanton cleared the top of the scoreboard that traveled an estimated 500 feet.
On Sunday, Birmingham's Christian Marrero was 4-for-5 with a double, an RBI and a run scored, Danny Hayes homered and reached base four times and Brian Fletcher was 2-for-5 with two RBIs and a run scored. Barons starter Tyler Danish (4-0) -- Chicago's No. 7 prospect -- allowed two runs on seven hits and a walk while striking out six over 5 1/3 innings.
"This team is going to be something special when everybody's bats come around," Hawkins said. "Marrero has been hitting the ball hard right at people, so for him to have a breakout game is good. Every time up, he got a hit or an RBI or helped move runners over.
"Every time [Danish] walks on the mound, you know you have a shot to win, and that's what you want. He has that demeanor that he'll compete to the best of his abilities and he won't stop until it's over. He has that quiet bulldog mentality."
Montgomery's Bradin Hagens (1-3) surrendered seven runs on 12 hits and a walk while recording two punchouts in five frames.
Ashley Marshall is a contributor to MiLB.com. Follow him on Twitter @AshMarshallMLB.