Barons Win Extra-Inning Dogfight
Birmingham claws its way to 9-8 victory in first extra-inning clash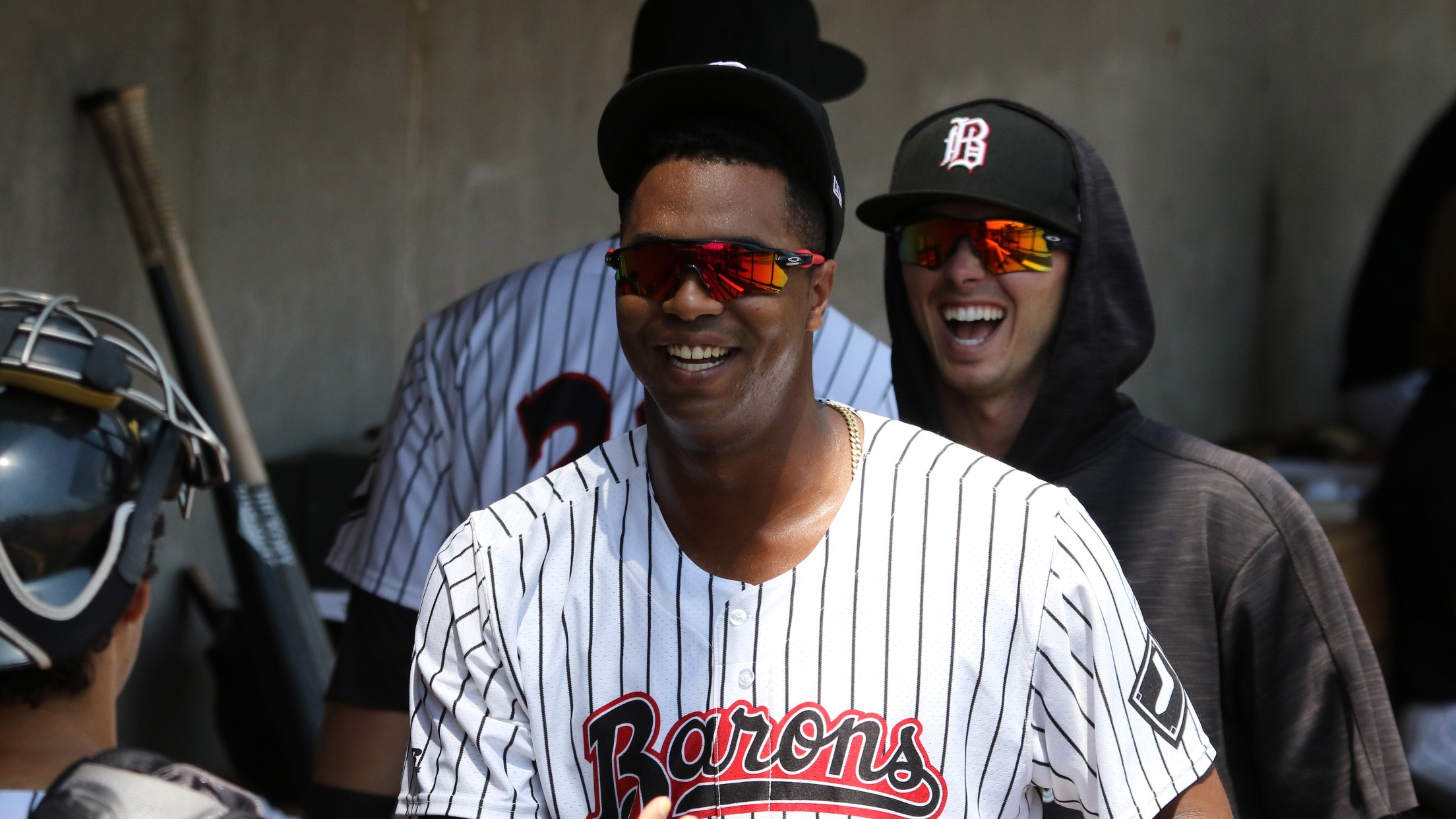 Eloy Jimenez's two, tenth-inning RBI proved the difference in Thursday night's 9-8 win at Jackson (Michael Wade)
The Birmingham Barons (20-26) overcame a string of miscues, fighting through four lead changes to snap a six-game skid with a 9-8, extra-inning victory over the Jackson Generals (27-19) Thursday night at the Ballpark at Jackson. The win also ends a six-game losing streak to the Generals. Turning Point: After compounding
The Birmingham Barons (20-26) overcame a string of miscues, fighting through four lead changes to snap a six-game skid with a 9-8, extra-inning victory over the Jackson Generals (27-19) Thursday night at the Ballpark at Jackson. The win also ends a six-game losing streak to the Generals.

Turning Point:

After compounding mistakes erased two different Birmingham leads throughout the night, Eloy Jimenez picked up the go-ahead hit in the Baron's first bid for an extra-inning win, driving Casey Schroeder and Danny Mendick around to score in the top of the tenth.

Moments That Mattered: Ian Hamilton

(W, 2-0) earned his second win in relief, extending the game after stranding the go-ahead run on second in the ninth before closing the door in a tense tenth frame with the game-winning run one hit away.

By the Numbers:

The Barons continued to execute in the offensive phase of the game, adding to their league-leading home run total (53) behind the bats of Mendick and Matt Rose . Mendick led-off the night's action with his seventh long ball of the season, while Rose followed him two batters later with a two-run blast, moving him into a tie with Jimenez for second place in the league with eight. Trey Michalczewski 's two-run double in the seventh is his third, two-RBI hit in as many games.

Facts and Figures:

On the defensive side of the ball, Birmingham hasn't fared as well. With three errors in Thursday's loss, the Barons have now committed a league-worst 54 errors. In games with an error, Birmingham is 12-20 overall, 6-7 at home, and 6-13 on the road.
Up Next:

The Barons and Generals will fight for the series lead on Friday at 6:05 p.m. Right-hander Spencer Adams (2-5, 6.48 ERA) will toe the rubber against right Taylor Widener (2-2, 2.86 ERA). Curt Bloom will have the call on 960 WERC News Radio and the iHeart Radio app.