Wahoos' Hamilton breaks steals record
Top Reds prospect swipes four, eclipses Coleman's 1983 mark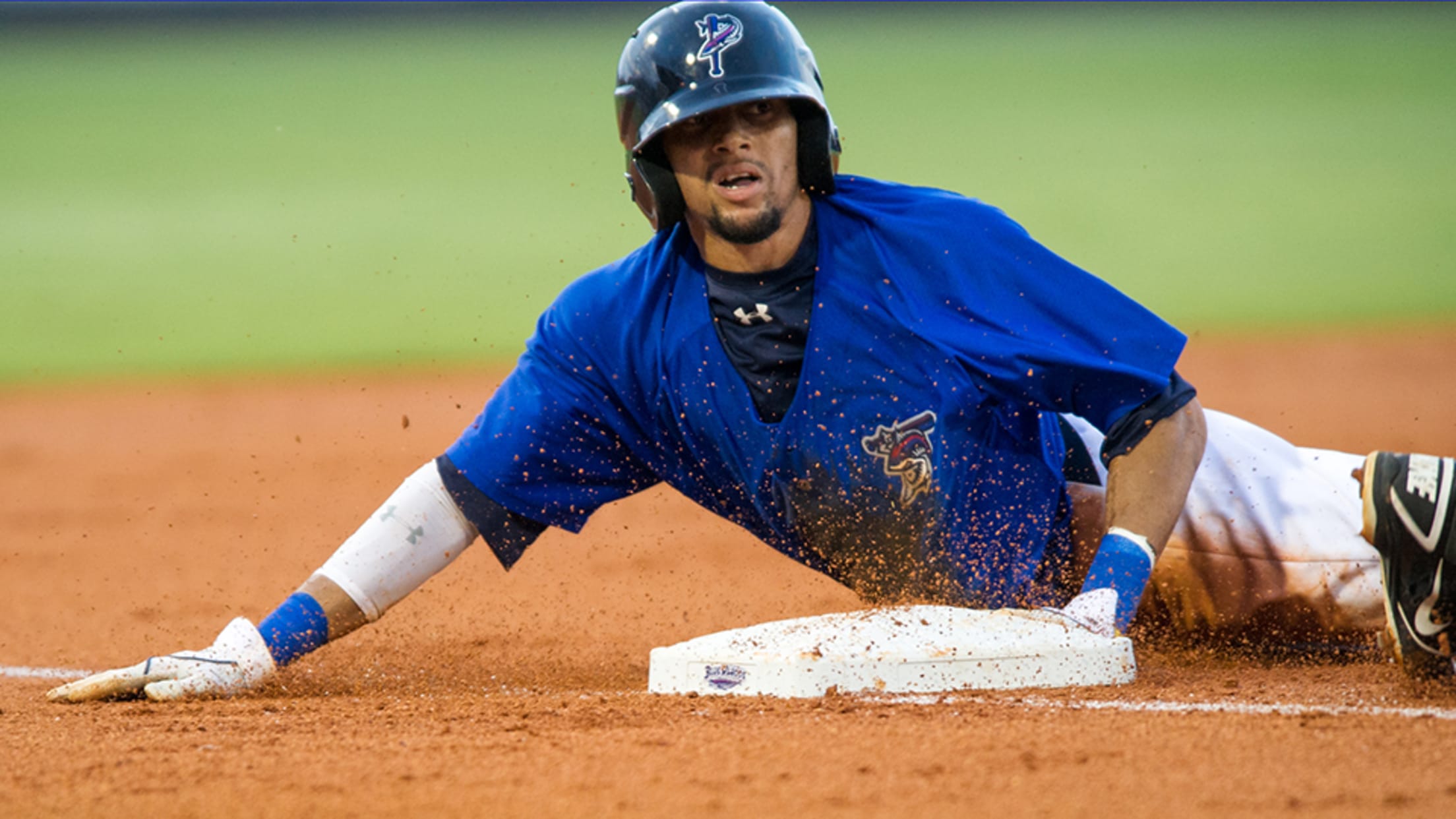 Billy Hamilton slides into third base as he records his 146th stolen base of the season. (Michael Chang/AP)
For weeks, fans have followed Billy Hamilton's exploits on the basepaths in awe, wondering when -- not if -- he would become the Minor Leagues' all-time single-season stolen base leader. On Tuesday evening at Pensacola's Bayfront Stadium, they were left to wonder no more. The top Reds prospect stole three
For weeks, fans have followed Billy Hamilton's exploits on the basepaths in awe, wondering when -- not if -- he would become the Minor Leagues' all-time single-season stolen base leader.
On Tuesday evening at Pensacola's Bayfront Stadium, they were left to wonder no more.
The top Reds prospect stole three bases in the first three innings of the Blue Wahoos' contest against Double-A Montgomery to break Vince Coleman's mark of 145 that had stood since 1983.
The record fell 30 years to the day that Coleman and Donell Nixon broke Rickey Henderson's single-season record with their 131st stolen bases.
Hamilton added yet another in the eighth and stands at 147. But the Blue Wahoos fell, 4-2, in the opener of the doubleheader. He was caught stealing in his lone opportunity in the nightcap, a 3-1 loss.
"It felt good. ... I knew there was going to be pressure on me ... to steal it at home, I wasn't stealing it in Mississippi, so I knew I just had to get it done," Hamilton told the Pensacola News Journal.
"Today was the day that the family decided like, 'Hey, you got to get it today, I'm tired of traveling back and forth here.'"
Hamilton swiped 104 bases in 82 California League games with Class A Advanced Bakersfield and has 42 steals in 38 contests in the Double-A Southern League. He leads both circuits in that category.
Lancaster's Delino DeShields ranks second in the Minors with 90 stolen bases.
Hamilton drew a leadoff walk in the bottom of the first inning, took second on first baseman Greg Sexton's throwing error and stole third base as Kyle Lobstein's pitch in the dirt bounced away from catcher Mark Thomas.
Two innings later, Hamilton -- MLB.com's No. 26 overall prospect -- slapped a 2-2 offering from Lobstein to right field for a single before swiping second base to tie Coleman's record.
The Pensacola grounds crew replaced second base as fans acknowledged Hamilton, but that was only a preview of things quickly to come.
After Ryan LaMarre fouled the next two pitches to the backstop with Hamilton running, the 21-year-old switch-hitter stole third with a head-first slide.
The crowd rose to its feet and the Blue Wahoos came out to the top step of the dugout to acknowledge the milestone. Manager Jim Riggleman hugged Hamilton, who switched batting helmets as workers removed the bag.
"It's a great performance by Billy -- what he did in Bakersfield and what he's done here," Riggleman told USA Today. "It's been great for our fans, great for the organization. He's just a dynamic player.
"I can't put the history of this into words. It's been almost 30 years since Vince Coleman did it, and now Billy's done it. Anything that goes 30 years is a pretty huge achievement."
When Pensacola took the field for the top of the fourth, Hamilton's teammates decided to make the new record-holder run some more. They took his glove into the outfield and hid his hat behind third base.
Hamilton flied to center field to end the fifth, but Pensacola scored two runs in the seventh to force extra innings.
Montgomery scored twice in the top of the eighth. But in the bottom of the inning, Hamilton drew a leadoff walk and proceeded to steal second, sending the 4,154 fans into a frenzy once again. The Blue Wahoos loaded the bases with one out, but Kirby Yates struck out David Vidal and induced a broken-bat groundout from Donald Lutz to seal the victory.
One of the first people to congratulate Hamilton was his mother, Polly, who embraced the new "King of Steal."
"It was emotional, man. I had to hold my tears in," Hamilton told the News Journal. "But she loves me and I love her. So I mean, it's a big deal."
Hamilton has stolen at least one base in 86 of 120 games across two levels. He's recorded 41 multi-steal games, including nine three-steal performances and four four-steal outings. He set a career high with five stolen bases in Bakersfield's 7-6 win over Lake Elsinore on June 16.
"I didn't expect to break the record like that, just so soon. I figured once I got out here and started playing with D Shields [Delino DeShields, Hamilton's manager in Dayton in 2011] and he got me at it," Hamilton told the News Journal. "I knew right then that I was a base stealer when he told me I was. ... Thinking back when I was a little young guy, I didn't expect to be right here at this moment, but it feels good.
"It's a bunch of reliefs, man. I can just get on with my game and finish the season out strong."
To put Hamilton's feat another way, if he were his own team, he would have more steals than 171 of the 190 teams in pro baseball between the Major and Minor Leagues.
"If I talked to Billy, I would let him know the game doesn't change, no matter what level you are at," Vince Coleman told News Journal last week.
"Ever since I was 8 years old, I thought I was Willie Mays, so you couldn't tell me there was something I couldn't do. He is in Double-A now and I expect to see the same kind of progression, day in and day out. It will be a game-changing performance when he breaks my record and will be exciting to watch."
Over the past two years, Hamilton has amassed 249 steals in 255 games with Class A Dayton, Bakersfield and Pensacola. Since turning pro in 2009, when he was selected in the second round of the Draft out of Taylorsville High School in Mississippi, Hamilton has stolen 311 bases in 376 tries.
Ashley Marshall is a contributor to MiLB.com.