Bradenton clinches Low-A Southeast title
Pirates prospect Gutierrez homers twice as Marauders sweep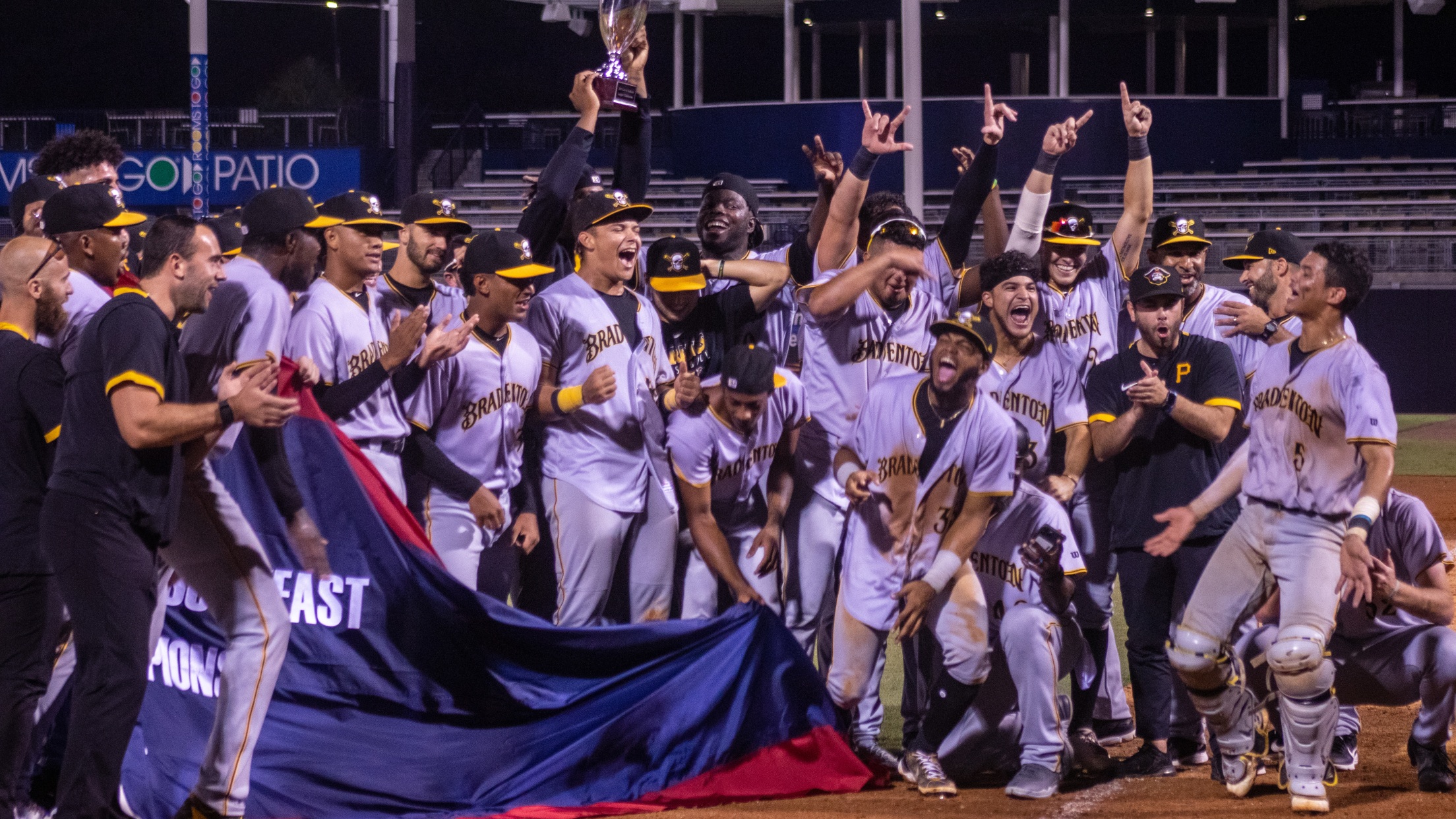 Bradenton won its first championship since 2016. (Logan Butler/Bradenton Marauders)
Break out the bottles, Bradenton, it's time to celebrate. The Marauders completed their three-game sweep of Tampa with an 11-3 victory powered by four home runs, two by designated hitter Abrahan Gutierrez, to clinch the Low-A Southeast title, the second league title in the franchise's 12-year history, with the first
Break out the bottles, Bradenton, it's time to celebrate.
The Marauders completed their three-game sweep of Tampa with an 11-3 victory powered by four home runs, two by designated hitter Abrahan Gutierrez, to clinch the Low-A Southeast title, the second league title in the franchise's 12-year history, with the first coming in 2016.
Champions 🤩 https://t.co/CSnKsH3PhF pic.twitter.com/0aa3wKtuxu

— Bradenton Marauders (@The_Marauders) September 25, 2021
"I'm just proud of these guys. They worked all year for the opportunity to do this and they came out and performed at a high level, it's really impressive to watch," said manager Jonathan Johnston. "It was pretty much hands off, they took care of business."
The beginning of Game 3 saw four lead changes in the first four innings. The Marauders trailed the Tarpons after the first inning due to a leadoff home run from Yankees No. 7 prospect Trey Sweeney, but quickly regained the lead with two runs on two errors from Tampa in the top of the second.
Tarpons first baseman Tyler Hardman snatched the lead back with a two-run shot in the bottom of the second, but that would cap Tampa's scoring for the night, and it was all Bradenton from there on out.
"We've had some tough battles with Tampa. We played two series with them and the last one we played, we split. They swing the bats, and they got some thump in the lineup," said Johnston. "We evaluated what happened in the series we split, we came up with a plan just to execute on the pitching side, and it was really special to watch those guys go out and have the focus to execute."
Third baseman Dariel Lopez launched a two-run homer to put Bradenton up 4-3 in the top of the third and was followed by Gutierrez's first dinger of the game to give the Marauders back-to-back home runs and a 5-3 lead.
The game slowed down in the middle innings as pitching took over. Pittsburgh's No. 30 prospect Eddy Yean relieved starter Logan Hoffman after he allowed three runs in 1 1/3 innings and tossed 3 2/3 scoreless innings, yielding two hits and fanning one. Yean also earned the win in the title-clinching game.
"Our bullpen was phenomenal throughout the entire stretch. Eddy Yean comes in there and he does a heck of a job. He had been up and down all year but then comes in in a big spot to pick us up and give us some innings to retake the lead in this game," said Johnston. "Credit to [pitching coach] Fernando Nieve and the pitching staff for the way they executed their plan."
After being held scoreless for three innings, Bradenton's bats put a bow on their championship season with a five-run seventh inning. A walk from No. 20 Pirates prospect Maikol Escotto and a double from center fielder Jase Bowen set up a three-run blast from leadoff hitter Jackson Glenn to put the Marauders up 8-3. A single from No. 19 prospect Endy Rodriguez was followed by Gutierrez's second homer of the game to put Bradenton up by seven.
In the top of the ninth, the Marauders tacked on another run with a bases loaded walk by Ernny Ordonez and clinched their second title after reliever Oliver Mateo closed the out the game with two strikeouts.
"We've been pretty confident all year in our ability to create offense and [hitting coaches] Jim Horner, Brady Conlan, and Al Berroa did a phenomenal job preparing these guys all year."
Bradenton finished the regular season with a record of 71-48, trailing Tampa by 3.5 games when the season ended. They dispatched the Tarpons in three games, scoring 21 runs and allowing seven over the sweep.
"The majority of our team had never been through a full season before, so it was an experience that they've never had and it was difficult, but the desire to win and playing a lot of meaningful games in the middle of the season and down the stretch really kept them going and it all paid off in the end and they get to reap the rewards of success," said Johnston. "A lot of them will remember this and the way they played for the rest of their careers."
Nick Trujillo is a reporter for MLB.com. Follow him on Twitter: <a href="https://twitter.com/TrujilloReports" target="blank" >@TrujilloReports_