Breakout candidate: Pirates' Jones
Bucs' No. 15 prospect can go far with 'filthy' repertoire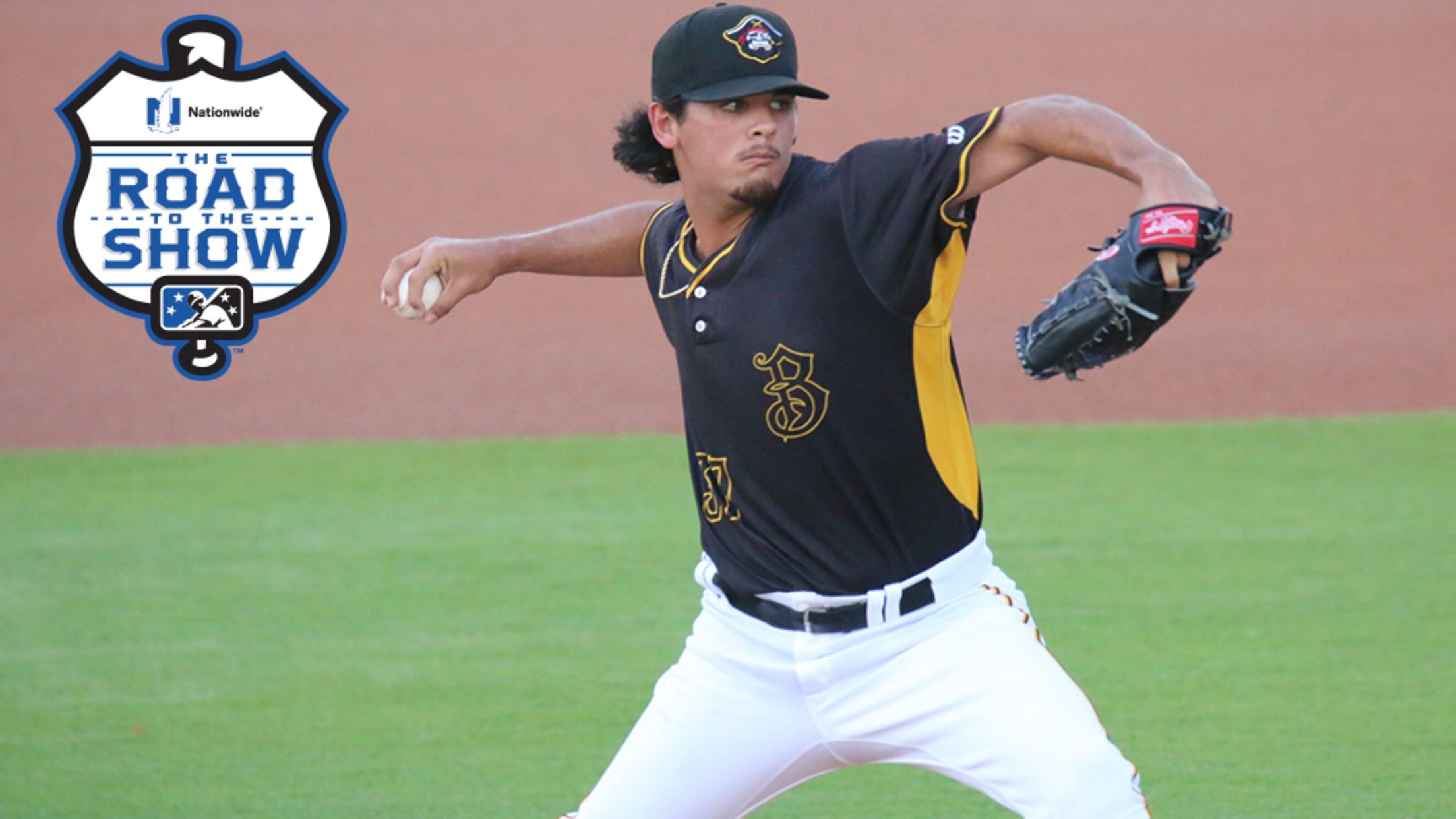 Jared Jones compiled 14.05 strikeouts per nine innings over 66 frames for Low-A Bradenton in 2021. (Joshua Tjiong/MiLB.com)
MiLB.com's Breakout Candidate series spotlights players who could garner some serious attention in 2022. Here's a look at Pirates' No. 15 prospect Jared Jones. While the final numbers in his first professional season don't paint such a rosy picture, each of Jared Jones' starts in 2022 might come with a
MiLB.com's Breakout Candidate series spotlights players who could garner some serious attention in 2022. Here's a look at Pirates' No. 15 prospect Jared Jones.
While the final numbers in his first professional season don't paint such a rosy picture, each of Jared Jones' starts in 2022 might come with a high degree of anticipation.
The Pirates' 15th-ranked prospect finished with a 3-6 record, 4.64 ERA and .245 opponents' batting average over 18 appearances for Low-A Bradenton last year. While those results were doomed by a late stumble in August and September, the right-hander remained consistent in his ability to strike people out all season.
He collected 103 punchouts in 66 total innings for the Marauders. His 14.05 strikeouts per nine innings were the 16th most by all pitchers who completed at least 60 frames last year. Among hurlers with 60 innings and an ERA north of 4.00, Jones' stat was second to Brewers No. 8 prospect Aaron Ashby (14.21).
"The strikeouts have probably been one of my strengths," Jones told the Pittsburgh Post-Gazette in August. "I've been a lot better pounding the zone and just developing in general."
The Pirates were cautious with the 2020 second-rounder at the start of the year. Jones did not join Bradenton until three weeks into the season. He also didn't pitch more than four frames in any of his first nine appearances -- three of which were piggyback starts.
That plan worked well at the start of the season. He sported a 2.41 ERA with 33 whiffs over 18 2/3 innings in his first six appearances. During the final start of that stretch, Jones allowed two hits and a walk, recording all but one out via the K over four innings against Jupiter on June 27.
11 Ks
4 IP@jared_jones_17 was dominating. pic.twitter.com/Qpl2tqokcb

— Young Bucs (@YoungBucsPIT) June 28, 2021
The 6-foot-1, 180-pound righty eventually completed at least five innings on four occasions throughout the season, including three consecutive appearances from July 25 to Aug. 8. But he really hit the skids over his last five starts.
Even without allowing an earned run over five innings against Tampa on Sept. 3, Jones posted a 9.00 ERA with 27 strikeouts over his final 17 innings -- he did not pitch during Bradenton's sweep of the Tarpons in the Low-A Southeast championship.
But Jones' strikeout numbers are indicative of a premium arsenal. The 20-year-old possesses a fastball that reaches the upper 90s and a sweeping power slider that can best be described through an expression of disgust. He's also working to develop a changeup, which could be a little firm, and a slower, distinct curveball.
"I'm trying to perfect the curveball," Jones told the newspaper. "It's been in the works for a little under a year now. I want to be as comfortable throwing my curveball and changeup as I am with my fastball and slider."
Even throughout his struggles during his first professional season, his fastball and slider proved to be one of the most impressive combinations in the Minors.
Jones always had a quick arm and his fastball velocity climbed after the Draft as he got stronger during the pandemic year. His slider has been dubbed "filthy" since his prep school days at La Mirada High School in Whittier, California. MLB Pipeline currently grades the pitch at a 55 on the 20-80 scale, and he can get under it sometimes, causing the pitch to move like a slurve.
But if Jones can harness the pitch as he matures beyond his teen years, he could break out similarly to Matt Brash. The Mariners' No. 10 prospect, who pitched his way onto Seattle's 40-man roster this season while posting a 2.31 ERA and 13.13 K/9 across two levels with a power slider, draws similar reviews.
Absolutely filthy stuff from @jared_jones_17 in his pro debut. pic.twitter.com/qZTrhfM1sI

— Young Bucs (@YoungBucsPIT) May 26, 2021
Jones pitched into some difficult luck in 2021. His average-against and .385 opponents' BABIP suggest he needs to figure out ways to get outs earlier in counts and soft contact.
This type of issue can also be attributed to struggles with command, which was largely his undoing in his first pro season. He was one of the younger players in the league, but he issued 34 free passes (4.64 per nine innings) and hit 11 batters for the Marauders.
Jones got to focus on improving his command during the Pirates' "Get Better at Pitching Camp" in Bradenton in December. At this camp, Jones took part in a drill in which he picked up either a baseball, a softball, a lacrosse ball or a CleanFuego ball and threw it at a target.
"The philosophy behind that is if you can throw any four of these different things where you want to throw it, it should be no problem with a baseball, which makes a lot of sense," Jones told MLB.com. "I really like those type of drills."
The club's rebuild has generated a wealth of high-ceiling pitching prospects. With the Major League team not expected to compete for at least a couple years, Pittsburgh will likely take a deliberate approach with that talented group, giving the younger, less experienced pitchers like Jones or 2021 Draft picks Anthony Solometo and Bubba Chandler more time to develop.
Jones is talented enough to stand out among a group that includes Quinn Priester, Roansy Contreras, Carmen Mlodzinski and Tahnaj Thomas. But with an improvement in command, especially of his incredible slider, and an ability to better pitch to contact, he can stand out among all the game's best pitching prospects as soon as 2022.