Brito provides Fresno's offense in 5-2 setback to San Jose
Grizzlies nine-game home winning streak comes to an end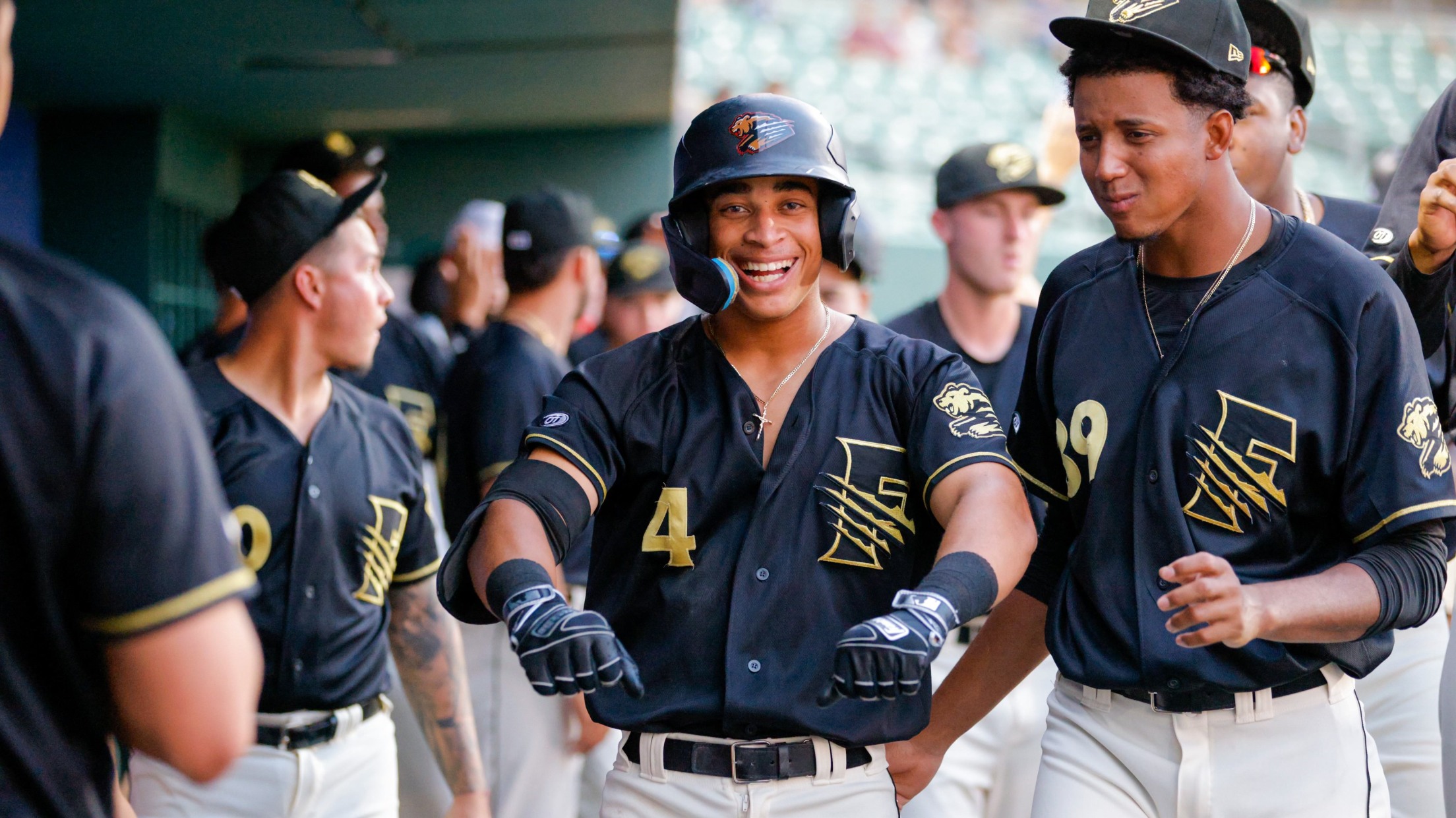 Fresno, CA (Wednesday, August 3) – The Fresno Grizzlies (57-41, 16-16) fell to the San Jose Giants (57-41, 17-15) 5-2 Wednesday night from Chukchansi Park. Fresno saw their nine-game home winning streak come to an end, their first loss at Chukchansi Park since July 4. The Grizzlies and Giants have
Fresno, CA (Wednesday, August 3) – The Fresno Grizzlies (57-41, 16-16) fell to the San Jose Giants (57-41, 17-15) 5-2 Wednesday night from Chukchansi Park. Fresno saw their nine-game home winning streak come to an end, their first loss at Chukchansi Park since July 4. The Grizzlies and Giants have split their 20 meetings this season with 10 contests remaining between the two clubs.
In the top of the third, Victor Bericoto pushed San Jose ahead 2-0 with a double to left field. Two innings later, Juan Brito and Fresno tied the game at two with a rocket to right. It was Brito's eighth clout of the year. The Giants grabbed the advantage again in the sixth when Jared Dupere whacked a two-run wallop to dead center. It was his second consecutive game going deep and fifth homer since joining San Jose. In the eighth, Yorlis Rodriguez extended the Giants lead and finished the scoring with a single to left-center. The three-run advantage was enough for San Jose to close out the victory.
The Grizzlies managed only four hits with Brito picking up three of them. He lengthened his hit streak to six games, the current team-long. Yanquiel Fernandez supplied the other hit, a double in the fourth. He waltzed home on the Brito longball. The Giants lineup mustered five hits with the majority of them going for extra-bases. Carter Williams and Aeverson Arteaga were the other hit recipients besides the players listed above.
Fresno starter Brayan Castillo did not factor in the final line after five strong frames of work. He allowed two runs on one hit and three walks while fanning four. Luis Amoroso (0-4) agonized the defeat after allowing the go-ahead blast. Sergio Sanchez and Angel Chivilli tossed an inning each with the latter recording a shutout appearance. San Jose righty Trevor McDonald (4-3) relished the win after five and two-thirds frames of two-run ball. He permitted four hits and struck out five. Hunter Dula (hold, 3) and Jose Cruz (save, 5) wrapped up the triumph with three and one-third innings of hitless and scoreless ball. The squads return to battle tomorrow evening from downtown Fresno.
Top Performers: Fresno Grizzlies (Colorado Rockies)
• 2B Juan Brito (3-4, HR, 2 RBI, R)
• RHP Brayan Castillo (5.0 IP, 1 H, 2 R, 2 ER, 3 BB, 4 K)
• RF Yanquiel Fernandez (1-4, 2B, R)
Top Performers: San Jose Giants (San Francisco Giants)
• RF Jared Dupere (1-3, HR, 2 RBI, 2 R, BB)
• DH Victor Bericoto (1-4, 2B, 2 RBI)
• Giants bullpen (3.1 IP, 0 H, 0 R, 0 ER, 1 BB, 3 K)
On Deck:
Thursday, August 4 vs. San Jose Giants, San Jose RHP Manuel Mercedes (1-3, 6.00) vs. Fresno RHP Victor Juarez (4-4, 5.00), 6:50 pm PT
ON THAT FRES-NOTE:
In the seventh, Benny Montgomery made an outstanding two-out, diving play in center, saving a run.