Brown, Grizzlies bring Giants down to size with 8-1 victory
McCade Brown backs up Pitcher of the Month Award with six dazzling innings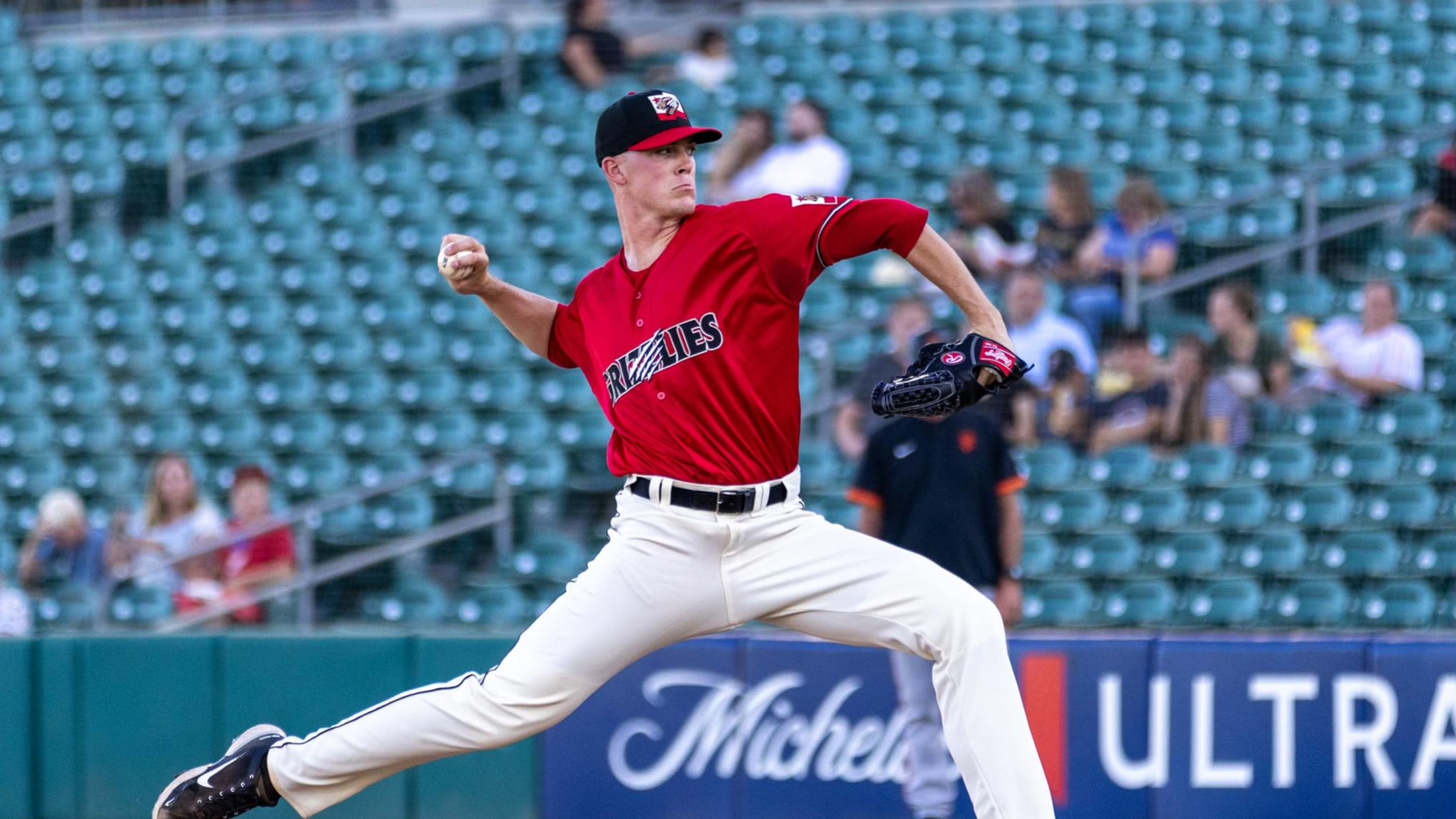 Fresno, CA (Thursday, July 7) – The Fresno Grizzlies (48-30, 7-5) beat the San Jose Giants (46-32, 6-6) 8-1 Thursday night from Chukchansi Park. Fresno improved to 27-5 when allowing three runs or fewer and 36-12 when scoring first. The Grizzlies also moved to 39-13 when homering at least once
Fresno, CA (Thursday, July 7) – The Fresno Grizzlies (48-30, 7-5) beat the San Jose Giants (46-32, 6-6) 8-1 Thursday night from Chukchansi Park. Fresno improved to 27-5 when allowing three runs or fewer and 36-12 when scoring first. The Grizzlies also moved to 39-13 when homering at least once and pulled within one game of the second half division leading Modesto Nuts (8-4).
Coming off his first Pitcher of the Month honors, Grizzlies righty McCade Brown (2-3, win) dazzled for a career-high six innings, permitting one run on four hits and one walk while striking out six. After Brown departed, a trio of relievers kept up the success, hurling three scoreless frames. Sergio Sanchez, Ever Moya and Juan Mejia tossed one inning apiece with the latter wrapping up the contest.
On the other side of the ball, the Fresno offense tallied 14 hits with five of them going for extra-bases. The top third of the Grizzlies lineup smacked eight of the 14 hits and ripped three of them for two or more bases. Leadoff batter Juan Brito supplied three hits, one for a double and scored two times. Benny Montgomery mashed a pair of hits, including a first frame RBI double. Yanquiel Fernandez notched a trio of hits in the three-hole. One of those hits left the yard, his 10th longball of the season. Fernandez finished his evening with two RBI and runs.
Besides the top part of the order, five of the other six Fresno batters had at least one hit. Juan Guerrero extended his hit streak to 11 games after a single. Ben Sems belted a double and scored once. Bryant Quijada whacked a single and double, securing one RBI. Aiverson Rodriguez had a key RBI single and also raced home once. Finally, Yorvis Torrealba drove in a pair of runs with a single in the seventh.
Three San Jose batters provided their six hits. Carter Williams mustered two hits and the lone RBI. Anyesber Sivira roped a double among his two hits. Rayner Santana grabbed a pair of hits as well for the Giants. Trevor McDonald (2-3) took the loss after five innings of work. Tyler Myrick chucked a clean eighth inning for San Jose. The squads are back to battle tomorrow night from Chukchansi Park.
Top Performers: Fresno Grizzlies (Colorado Rockies)
• RHP McCade Brown (6.0 IP, 4 H, 1 R, 1 ER, 1 BB, 6 K)
• RF Yanquiel Fernandez (3-5, HR, 2 RBI, 2 R)
• CF Benny Montgomery (2-5, 2B, RBI, R)
• 2B Juan Brito (3-5, 2B, 2 R)
Top Performers: San Jose Giants (San Francisco Giants)
• LF Carter Williams (2-3, RBI, HBP)
• 2B Anyesber Sivira (2-4, 2B)
• C Rayner Santana (2-4)
On Deck:
Friday, July 8 vs. San Jose Giants, San Jose LHP Joe Kemlage (0-0, 2.70) vs. Fresno RHP Brayan Castillo (1-4, 5.19), 6:50 pm PT
ON THAT FRES-NOTE:
Two Fresno Grizzlies were awarded by Minor League Baseball for their outstanding performances in the month of June. First baseman/catcher and Colorado Rockies #20 prospect Hunter Goodman received California League Player of the Month, while right-handed pitcher and Rockies #29 prospect McCade Brown was named Pitcher of the Month. This is the first time the Grizzlies have swept monthly awards since becoming a Rockies affiliate. In the month of June, Hunter Goodman batted .330/.439/.660 and led the league in homers (eight), total bases (62), slugging percentage (.660) and OPS (1.099) while finishing fifth in runs (22). Goodman was recently promoted to High-A Spokane after winning Player of the Week for his efforts at Stockton. He went 10-for-24 (.417) with four homers, two doubles, eight RBI, seven runs, five walks and two hit-by-pitches over the series against the Ports. Goodman, 22 was selected by Colorado in the fourth round of the 2021 MLB Draft out of the University of Memphis. On the other side, McCade Brown went 1-1 with a 2.39 ERA in five starts as he scattered 19 hits over 26.1 innings. He led the league with 39 strikeouts and held opponents to a league-best .194 average. Brown fanned eight or more batters in his last three June starts, including a season-high 10 on June 23 versus Modesto. On June 30 at Stockton, Brown allowed one hit over six shutout innings, earning his first win in a Grizzlies uniform. Brown, 21, was selected by Colorado in the third round of the 2021 MLB Draft out of Indiana University.