Full circle: Bud Fowler set for Hall enshrinement
19th-century Black baseball trailblazer grew up in Cooperstown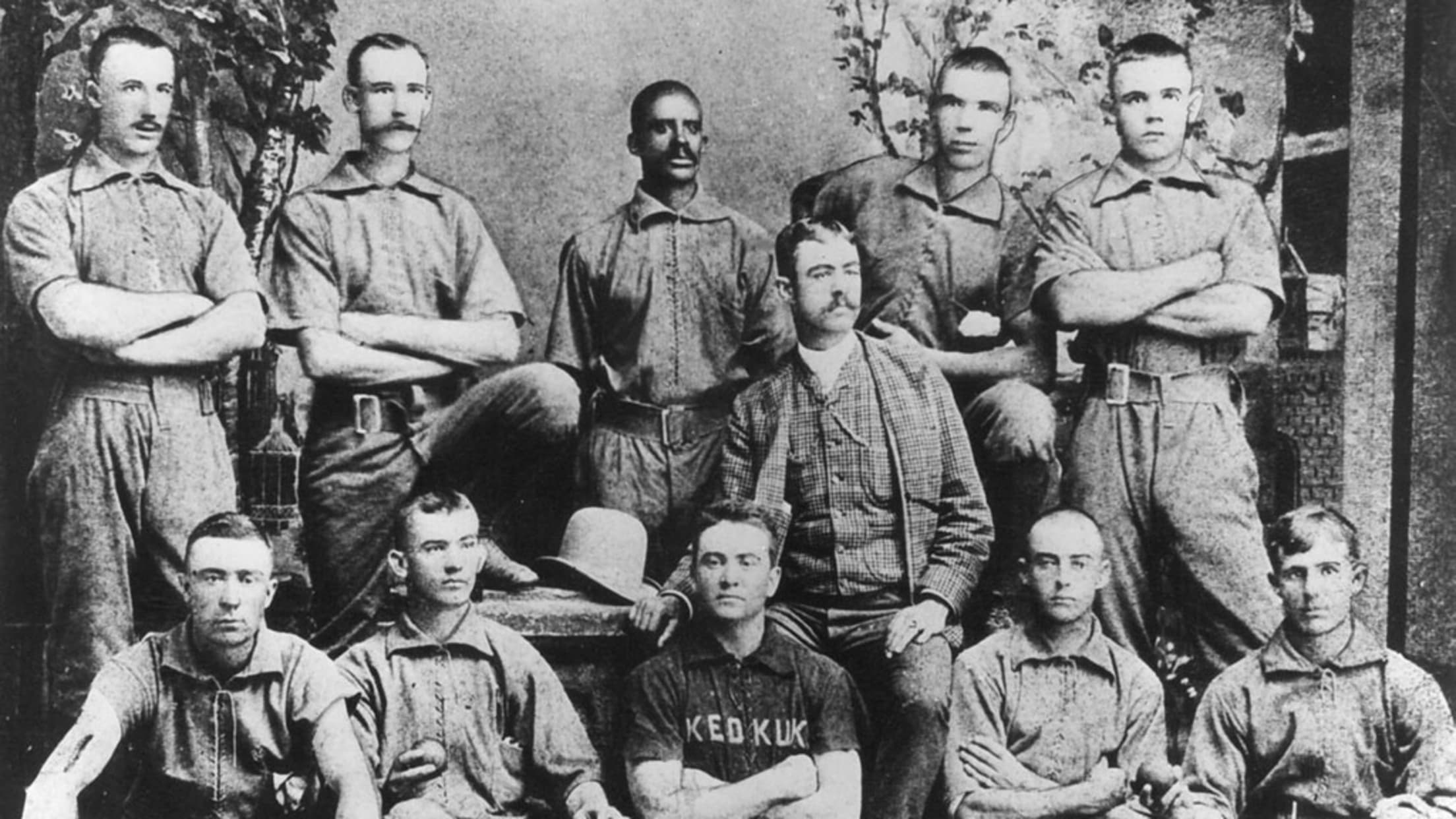 John "Bud" Fowler (top, center) was the first of at least 30 black players to crack the white pro leagues during the 19th century. (National Baseball Hall of Fame and Museum)
Bud Fowler, the first Black player in professional baseball history, grew up in Cooperstown, N.Y. He'll return there on July 22, 2022 -- 109 years after his death -- when he receives his long-overdue induction into the Baseball Hall of Fame. Fowler's career, improbable and wholly unique, began in the
Bud Fowler, the first Black player in professional baseball history, grew up in Cooperstown, N.Y. He'll return there on July 22, 2022 -- 109 years after his death -- when he receives his long-overdue induction into the Baseball Hall of Fame.
Fowler's career, improbable and wholly unique, began in the 1870's and stretched into the 20th century. The bulk of it was spent within the confines of white organized baseball, at a time when the sport's color line was less impermeable than it would soon become. By his own account, Fowler played on teams in 22 states and Canada. He was also a savvy promoter and businessman, as evidenced by the September 1894 creation of the Page Fence Giants, a formidable and influential Black barnstorming team. Fowler's election to the Hall of Fame comes via the Early Baseball Era Committee, dedicated to honoring those who "whose greatest contributions to the game were realized prior to 1950."
Long before Jackie Robinson, there was Class of 2022 electee Bud Fowler.

The color of his skin forced him into a nomadic career, during which he said he played on teams "based in twenty-two different states and in Canada." #BlackHistoryMonthhttps://t.co/84lMhmSWgI pic.twitter.com/cuiZdKTbQ7

— National Baseball Hall of Fame and Museum ⚾ (@baseballhall) February 5, 2022
Fowler, whose given name was John Jackson, Jr., acquired the nickname "Bud" because of his tendency to call others by that name. As for why he changed his surname to Fowler, that, like so much else about the man, is unknown. What isn't subject to debate is his baseball talent, as he was a polished hitter, blazingly swift runner and slick fielder. In 1885 Sporting Life magazine declared that "those in the know say that there is no better second baseman in the country." The keystone sack was indeed his primary position, but Fowler broke into the game as a pitcher and, over the course of his career, played all over the diamond.
Fowler's peripatetic career can be attributed, in part, to the uncertain state of late 19th-century professional baseball. New teams and leagues -- many on unsound financial footing -- were popping up all over as the sport attempted to strengthen its grip on the country's imagination. But, sadly and inevitably, the primary reason Fowler had such a hard time gaining security and widespread recognition in the world of baseball was the color of his skin.
Fowler was the first of at least 30 Black players to crack the "white" professional leagues between 1878 and 1899 (including one, Moses "Fleetwood" Walker, who appeared in the Major Leagues a full 63 years before Jackie Robinson). Professional Black players in the 19th century faced the scorn and derision of fans, opposing players and often their own teammates, but they were not barred from competing altogether.
It was this context in which Fowler made his professional debut, on May 17, 1878. The Lynn Live Oaks of the International Association lost their ace hurler to an illness and Fowler, who had been pitching for an amateur team in nearby Chelsea, Mass., was brought in as a replacement. He pitched the team to a 3-0 victory over the Tecumsehs of London, Ontario, and so it began.
In 1884, after stints in locations such as Malden, Mass., and Guelph, Ontario, Fowler moved on to Stillwater, Minn., to play for a new Northwest League franchise in Stillwater. The 1884 season was Stillwater's first, and the fledgling team had to compete with more established franchises in large cities such as Milwaukee and Minneapolis. Stillwater's board of directors was desperate for talented players and situations like these allowed Black players to gain entry into leagues that might have otherwise turned a blind eye. The Stillwater ballclub dropped its first 16 games before Fowler, who had been logging time as a catcher, infielder and outfielder, came through with a complete-game victory in his first pitching appearance of the year.
Fowler spent time in multiple cities over the course of 1885, beginning in Keokuk, Iowa, and heading west from there until he finally hit Denver. There he made his living not with baseball, but by giving running exhibitions. Fowler logged a 4:56 mile in the high altitude, at a time when the world record was still more than four minutes.
In 1887 Fowler signed on with the Binghamton Bingos of the International League, a circuit that was home to seven other Black players at the time. In mid-July, Fowler was hitting .350 and had emerged as one of the club's star players. Nonetheless, he was forced out of the league by his teammates, nine of whom sent a telegram to the team's management threatening to quit if Fowler and pitcher William Renfro remained on the squad.
For Fowler, the increasingly hostile environment toward Blacks in professional baseball translated to an even greater level of job instability. Over the next five seasons he appeared with 10 teams, pinballing from Indiana to New Mexico to Michigan to Nebraska to Ohio while supporting himself as a barber in the offseason. While on the playing field he was often subject to cheap shots from racist opponents, leading him to tape protective pieces of wood to his legs. Fowler is now recognized as the inventor of shin guards.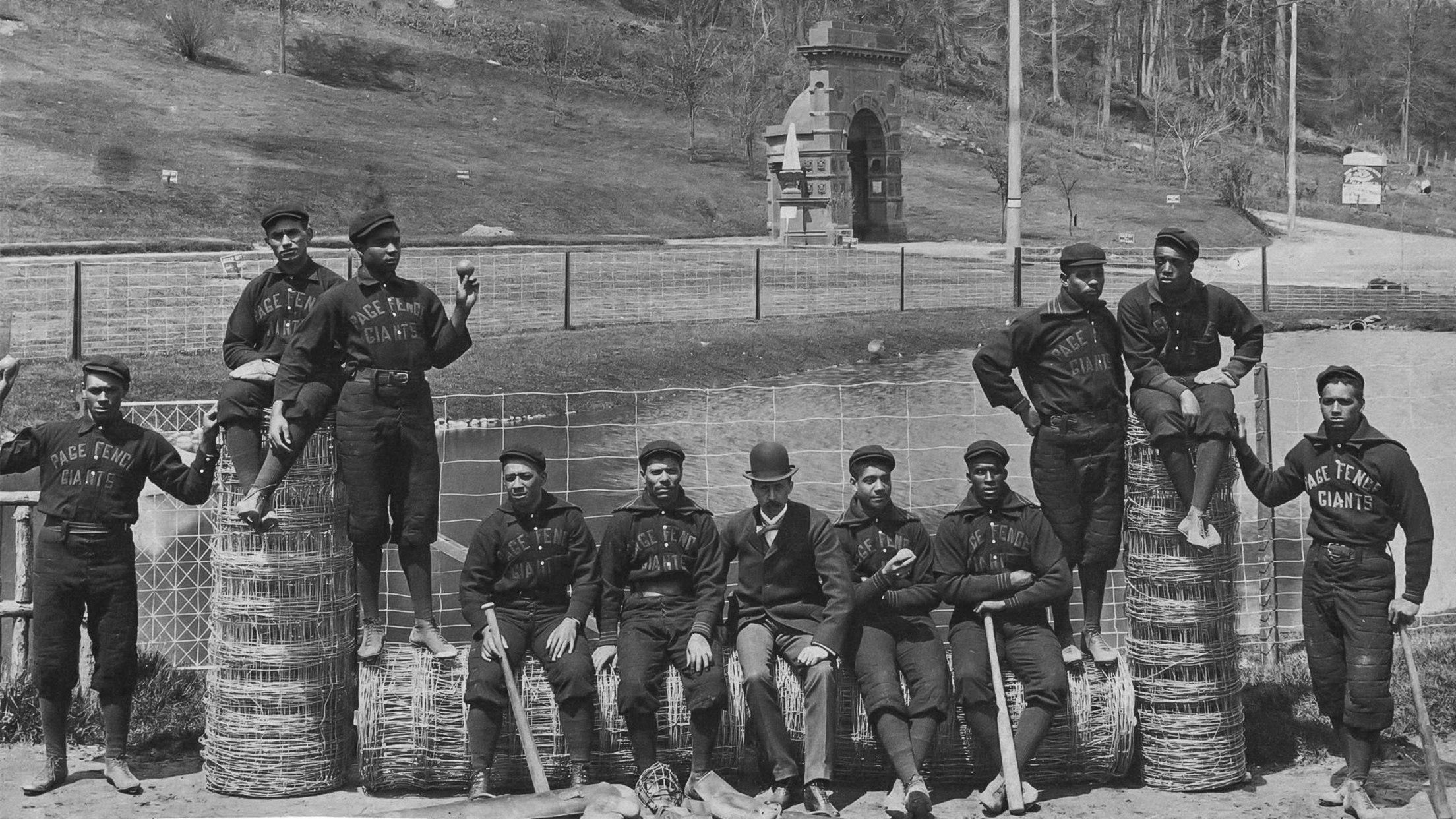 1895 saw the debut of Fowler's brainchild: the all-Black Page Fence Giants, bankrolled by Page Woven Wire Fence Company president J. Wallace Page. The Page Fence Giants were athletes and showmen, traveling via a private railroad car which featured a sleeping area and a private chef. After arriving at their destination, team members would bicycle in uniform through the town to generate interest in the game. Most of the team's opponents were inferior local white clubs, but not all. On April 13 and 14, Page Fence played the Cincinnati Reds in a two-game exhibition set. The Reds won both contests, with the Cincinnati Enquirer later reporting that the 37-year-old Fowler was "as spry and fast as any man on the field." This was the only recorded instance in which Fowler faced Major League competition.
Fowler played for Findlay, Ohio's semi-pro club in 1896 and remained there until July 1899, when his teammates insisted he be removed from the squad. Following that 1899 season, no Black players appeared in Major or Minor League Baseball until Jackie Robinson debuted with the International League's Montreal Royals in 1946. Fowler soldiered on into the 20th century, playing with semi-pro teams in Pennsylvania and serving as player-manager for traveling teams such as the All-American Black Tourists.
Bud Fowler is headed to Cooperstown.https://t.co/2iYzUX9jBa pic.twitter.com/l4TOeu3cml

— National Baseball Hall of Fame and Museum ⚾ (@baseballhall) December 5, 2021
Most of what is known about Fowler's life came through newspaper accounts of his playing career. Details are scant regarding his life after baseball, particularly because he did not marry, have children or leave behind any of his own written accounts. He died at age 54 on Feb. 26, 1913, succumbing to pernicious anemia (a disorder in which the body produces an inadequate amount of red blood cells). Upon his death, Fowler was buried in an unmarked grave in Frankfort, N.Y. In 1987 his final resting place received an upgrade, when the Society for American Baseball Research (SABR) unveiled an engraved headstone at a ceremony attended by 200 people.
SABR's act of kindness was a step in the right direction, as was the 2013 decision to name a Cooperstown street (Bud Fowler Way) in his honor. It all culminates on July 22, when Fowler is formally inducted into the Baseball Hall of Fame. Cooperstown's native son will have finally returned home.