Bullpen bears down as Grizzlies beat Giants 5-4 to snap skid
Fresno bullpen: 3.2 IP, 1 H, 0 R, 0 BB, 4 K; Grizzlies score 4 unanswered runs late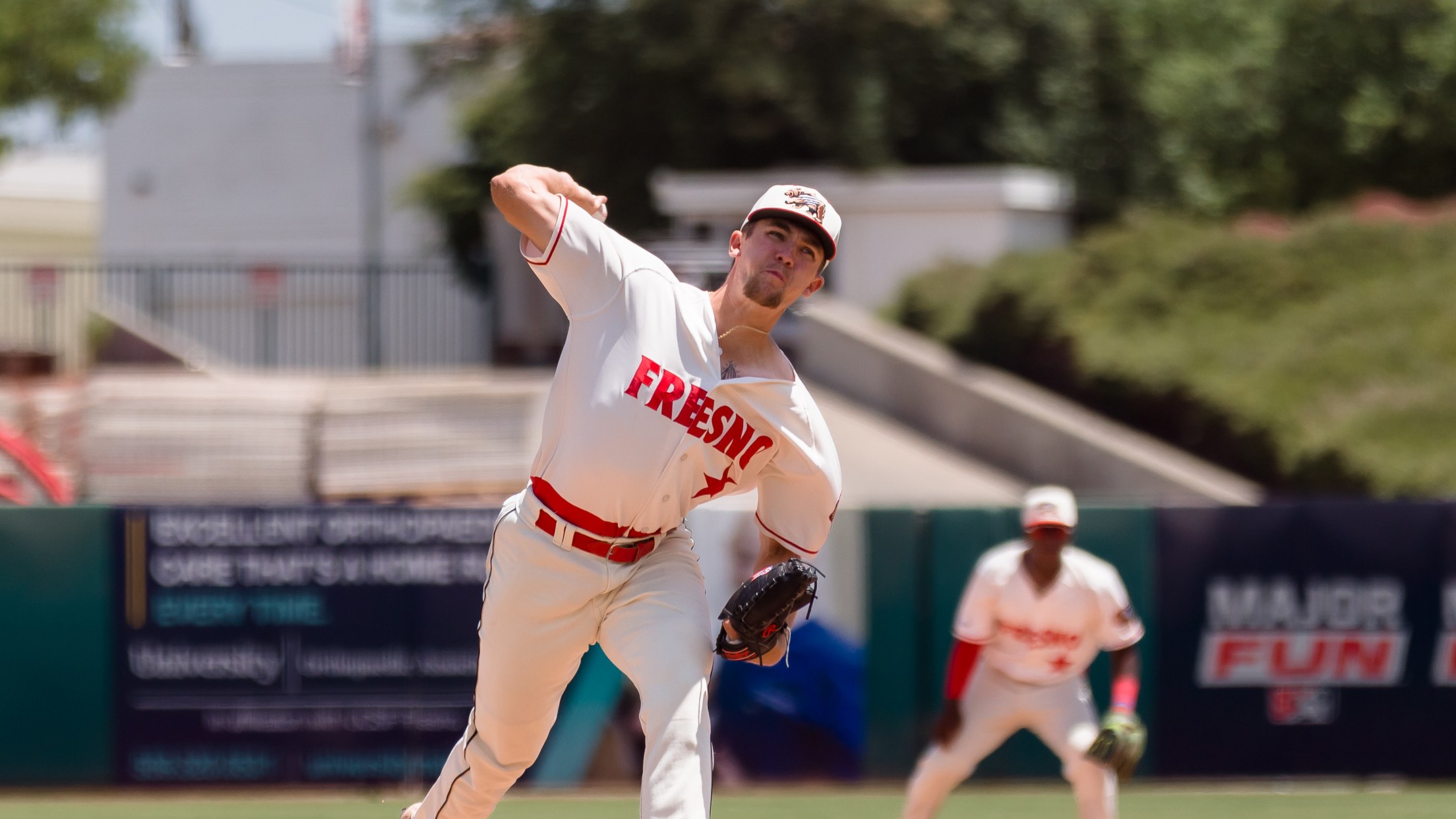 San Jose, CA (Saturday, June 3) – The Fresno Grizzlies (24-26) clawed past the San Jose Giants (32-18) 5-4 Saturday night from Excite Ballpark. Fresno snapped their seven-game losing streak to San Jose, which included the first four contests of the current series. The Grizzlies improved to 6-8 against the
San Jose, CA (Saturday, June 3) – The Fresno Grizzlies (24-26) clawed past the San Jose Giants (32-18) 5-4 Saturday night from Excite Ballpark. Fresno snapped their seven-game losing streak to San Jose, which included the first four contests of the current series. The Grizzlies improved to 6-8 against the Giants and trail them by eight games in the standings with 16 contests left to play in the first half. Fresno enjoyed their eighth comeback win in the seventh inning or later and moved to 7-8 in one-run affairs.
The clubs traded runs in the first inning. Grizzlies' Skyler Messinger poked a single to left, scoring Jake Snider. Messinger finished with two hits, giving him five over the past two evenings. San Francisco Giants rehabber Joc Pederson knotted the contest at one with a sacrifice fly double play. Pederson concluded his night 0-for-3 as he looks to return from a hand contusion.
San Jose grabbed a 4-1 lead in the bottom of the fifth thanks to a pair of RBI singles. Alexander Suarez roped a liner to right, adding Jose Ramos. Then, Diego Velasquez brought home two with a single to left. Both Ramos and Velasquez reached base safely three times. Velasquez has reached base safely 11 times over his last three games.
Despite the disadvantage, the Grizzlies comeback claws were ready to glisten. In the sixth, EJ Andrews Jr. laced a two-RBI single to center, cutting the deficit to 4-3. Fresno took a 5-4 lead in the seventh thanks to a couple of San Jose miscues. Ryan Ritter reached on a sacrifice bunt and throwing error, plating Snider again. Then, birthday boy Andy Perez waltzed home on a Jesus Bugarin sharp single to left.
The late-innings rally was matched by a sensational Grizzlies bullpen. Brady Hill inherited two runners in the sixth and got out of the jam without any damage. Hill (2-0) earned the decision, his second triumph at his old stomping grounds (pitched at San Jose State/Excite Ballpark). Both of Hill's wins came in relief of Connor Staine (April 7). Felix Ramires followed Hill with two scoreless frames. Ramires allowed one hit, his first to a lefty this season and struck out three. He generated his fifth hold and lowered his ERA to 0.82. Austin Becker locked up the victory with a 1-2-3 ninth inning, fanning one. It was Becker's first professional save.
The Giants pitching staff struck out 12 for the second straight night. Sam Delaplane (0-1) suffered the loss, even though both of his runs were unearned. Tyler Vogel was nasty, striking out three over two clean frames. The clubs conclude their series tomorrow evening from the South Bay.
Tonight's article was written by ChatGPT
Top Performers: Fresno Grizzlies (Colorado Rockies)
Grizzlies bullpen (3.2 IP, 1 H, 0 R, 0 ER, 0 BB, 4 K)
LF Jake Snider (2-5, 2 R, 2 SB; reached base 4 times, 2 errors)
DH Skyler Messinger (2-5, RBI, R)
Top Performers: San Jose Giants (San Francisco Giants)
SS Jose Ramos (1-2, R, 2 BB, SB)
2B Diego Velasquez (2-3, 2B, 2 RBI, BB)
RF Alexander Suarez (1-4, RBI, R)
On Deck:
Sunday, June 4 @ San Jose Giants, Fresno RHP Jackson Cox (1-0, 10.32) vs. San Jose LHP Hayden Wynja (3-0, 4.50), 5:00 pm PT
ON THAT FRES-NOTES:
The clubs combined for one extra-base hit in the game. Over the past two nights, the squads have only mustered one extra-base hit.
The Grizzlies faced two rehabbing Giants' pitchers as well (starter Miguel Yajure and reliever Sam Delaplane).
Jake Snider swiped two bases, tied for the most by a Grizzlies batter this season. Snider and Andy Perez have each recorded this feat twice.
Athletic trainer Justin Wilson and infielder Andy Perez celebrated birthdays Saturday.
Connor Staine threw 93 pitches, which are tied for the most by a Grizzlies starter this season. Staine lasted 5.1 innings for Fresno.
Luis Mendez was the first beer batter to not strike out in the series.