Beauchamp, Withrow in league of their own
Women not only head groundskeepers, but ground breakers as well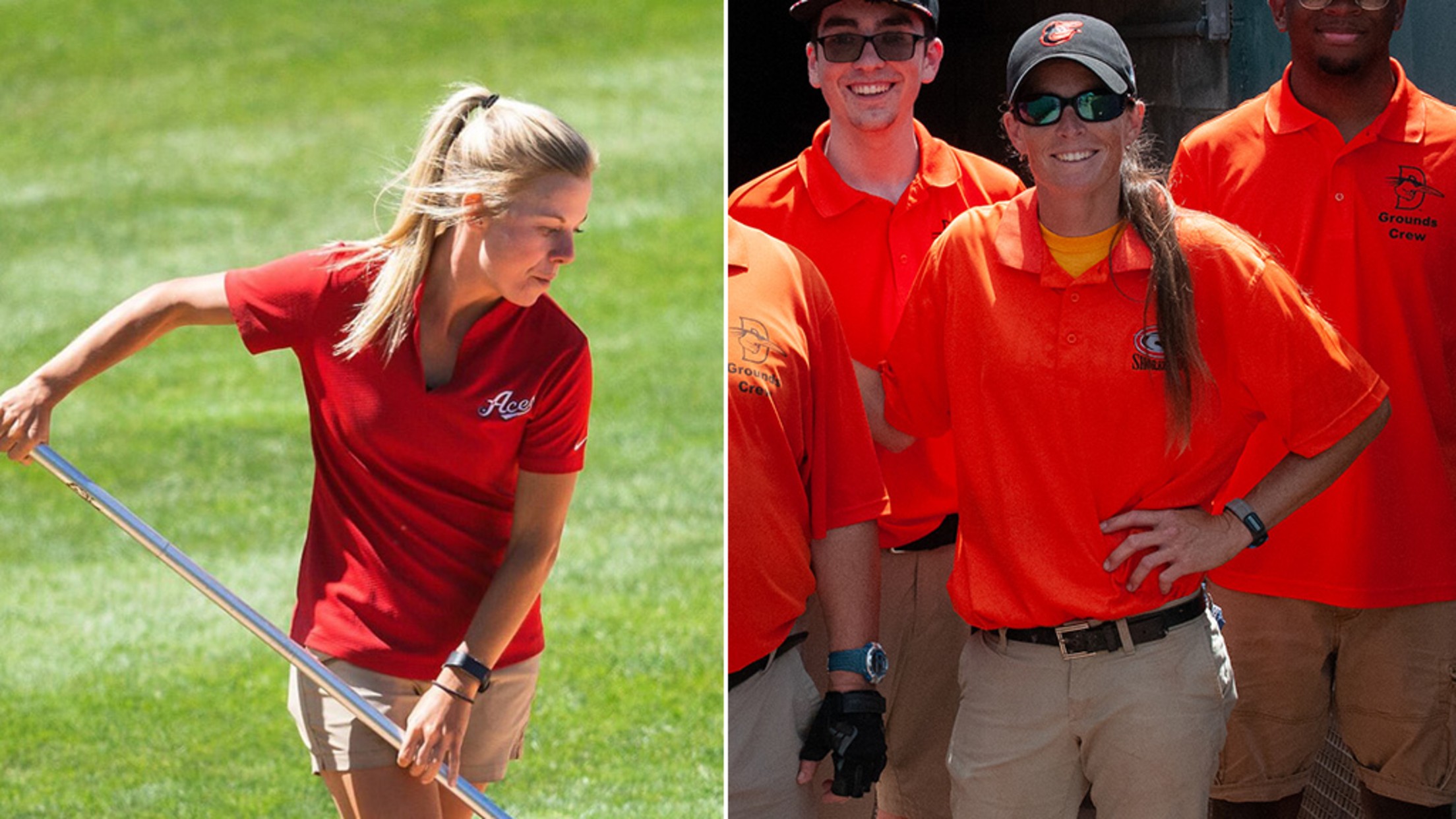 Leah Withrow and Caroline Beauchamp are the only two women serving as head groundskeepers in Minor League Baseball. (Reno Aces, Jeffery Burrell/Delmarva Shorebirds)
It's one of the game's lesser-known exclusive clubs, and Caroline Beauchamp and Leah Withrow are honored to be a part of it. But they hope it expands -- and soon. Out of 120 teams in Minor League Baseball, the pair are the only women serving as head groundskeepers. To expand
It's one of the game's lesser-known exclusive clubs, and Caroline Beauchamp and Leah Withrow are honored to be a part of it. But they hope it expands -- and soon.
Out of 120 teams in Minor League Baseball, the pair are the only women serving as head groundskeepers. To expand further, across all 150 teams in baseball -- including the Majors -- there are only four in that role -- Heather Nabozny of the Tigers and Nicole Sherry of the Orioles are the other two.
"I'm not gonna lie, there's only two of us. And if you look at the big picture, it's like, 'Wow, there's only two of us (in all of the Minors),'" said Beauchamp, the only woman in the role after Low-A Delmarva hired her in June 2019 until Triple-A Reno promoted Withrow at the start of this season. "But it's pretty cool to be a woman in this industry and at the level that I'm in right now. I think it's important that everyone believes if you work hard enough, you should be able to be at whatever level you want to be. Actually, when I found out Leah got the position, I sent her an e-mail to congratulate her and wished her success on her first season."
"I try not to think too much about it. If I was a dude, I'd be doing the same thing," Withrow said. "I do understand the weight of it, though. When I see the little girls in the stands wave at me and get excited, what I'm doing matters -- representation matters. People sitting in the stands see me lead an entire crew of men and knowing that that's the normal. If you come to an Aces game, you expect that and that's the normal around here, and that's just how it should be viewed. Me getting this job is one step closer to that."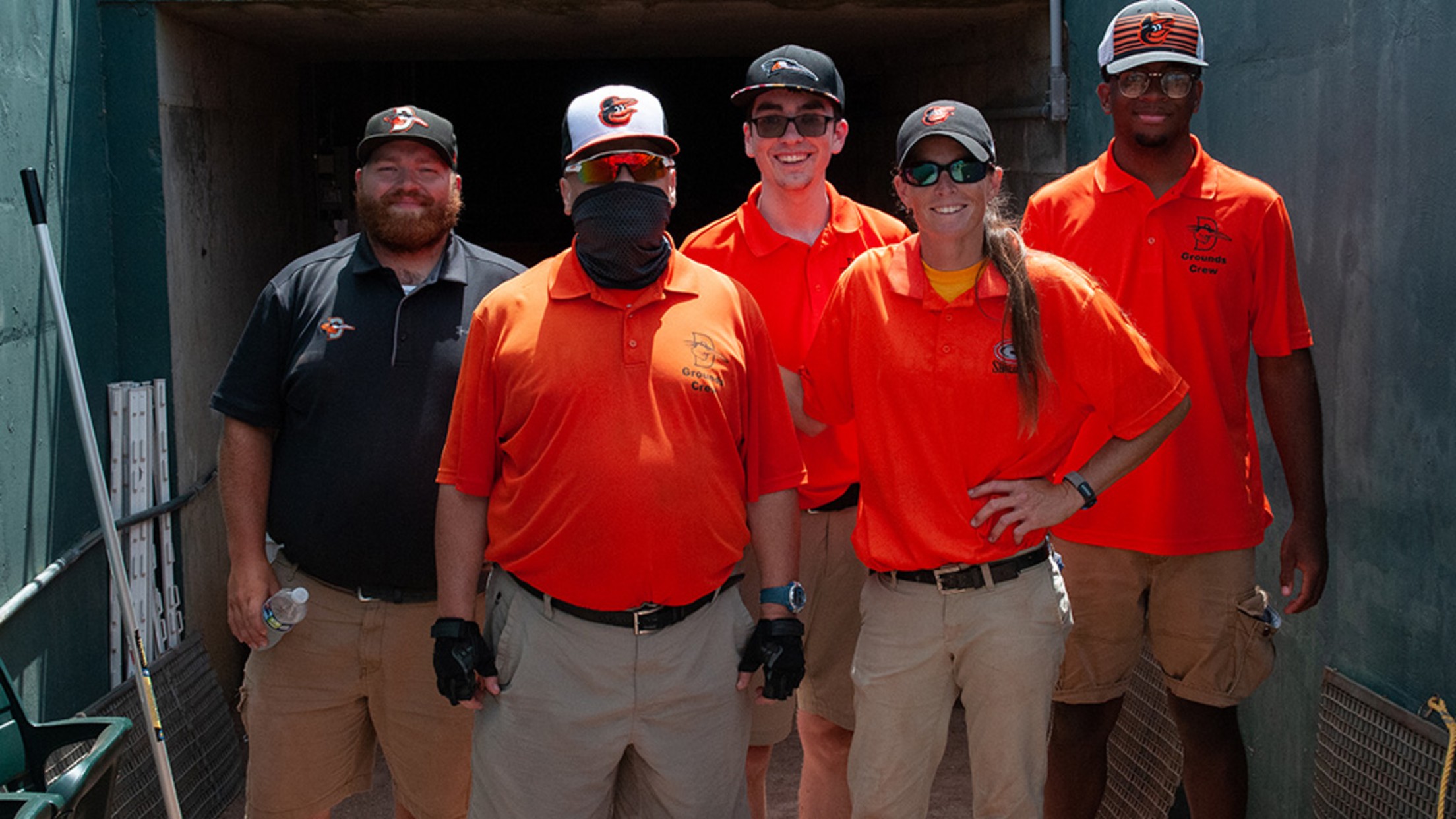 Born for this
Beauchamp is exactly where she wants to be. The native of Princess Anne, Maryland, was born and raised on a chicken farm. She earned a degree in turf management from Delaware Tech Community College in 2006 and was hired as an intern with the Shorebirds before working her way up to assistant groundskeeper.
"Any life of being raised on a farm is just the best way to do it. I just loved being outside and being around people, running around, you name it. Most of the time, it was cutting grass or helping my parents with other chores around the farm, but it never felt like work to me," she said. "And I always loved baseball. So when the Shorebirds called me after I got my degree, I thought, 'Well, I can't play baseball professionally, so why not work in it.'"
As her role was seasonal, Beauchamp had to pivot to another job elsewhere. She became a facilities maintenance technician at the Wicomico County Recreation, Parks and Tourism Department and a sports turf technician at Salisbury University. The pull to baseball never subsided, though, so when Delmarva called again to discuss its head groundskeeper opening, she couldn't accept quickly enough.
"I never wanted to leave, but I had to make some changes. I had to move and better myself in a more stable position," Beauchamp said. "But I didn't want to leave. The Minor League field was magical to me. I got to grow up as a kid watching the games here at the Arthur W. Perdue Stadium. That had a pull to it.
"When I was here as an assistant, it never felt like work. We would have long hours and it really dragged on some days, in the heat or the elements, but it didn't feel like work."
As a baseball purist, Beauchamp tries to factor her love for the game into her work on the field every day:
"I try to keep it looking as classic as possible – how I grew up with it," she said. "I always wanted to do the chalk line just behind home plate that goes around it – like in the Major Leagues – and it's extra maintenance, but I love the classic feel it provides. So I really just try to make it as perfect and professional level as possible."
Beauchamp understands the value of her role expands far beyond the grass and the dirt on the field, and she is grateful to the Orioles organization for providing her with an environment to flourish.
"Yes, I had some walls to climb as far as being a female in a male-dominated industry, but I'm thankful that I never felt that extra pressure here," she said. "Here, if you work your (butt) off, you can get anywhere you want. And I made sure that upper management and the team always knew how hard I worked here and it showed out on the field. So I'm grateful to the real trailblazers who came before me and gave me my opportunity to be able to do this today, and I just hope we can get to a point where a woman getting a high-ranking job isn't national news anymore."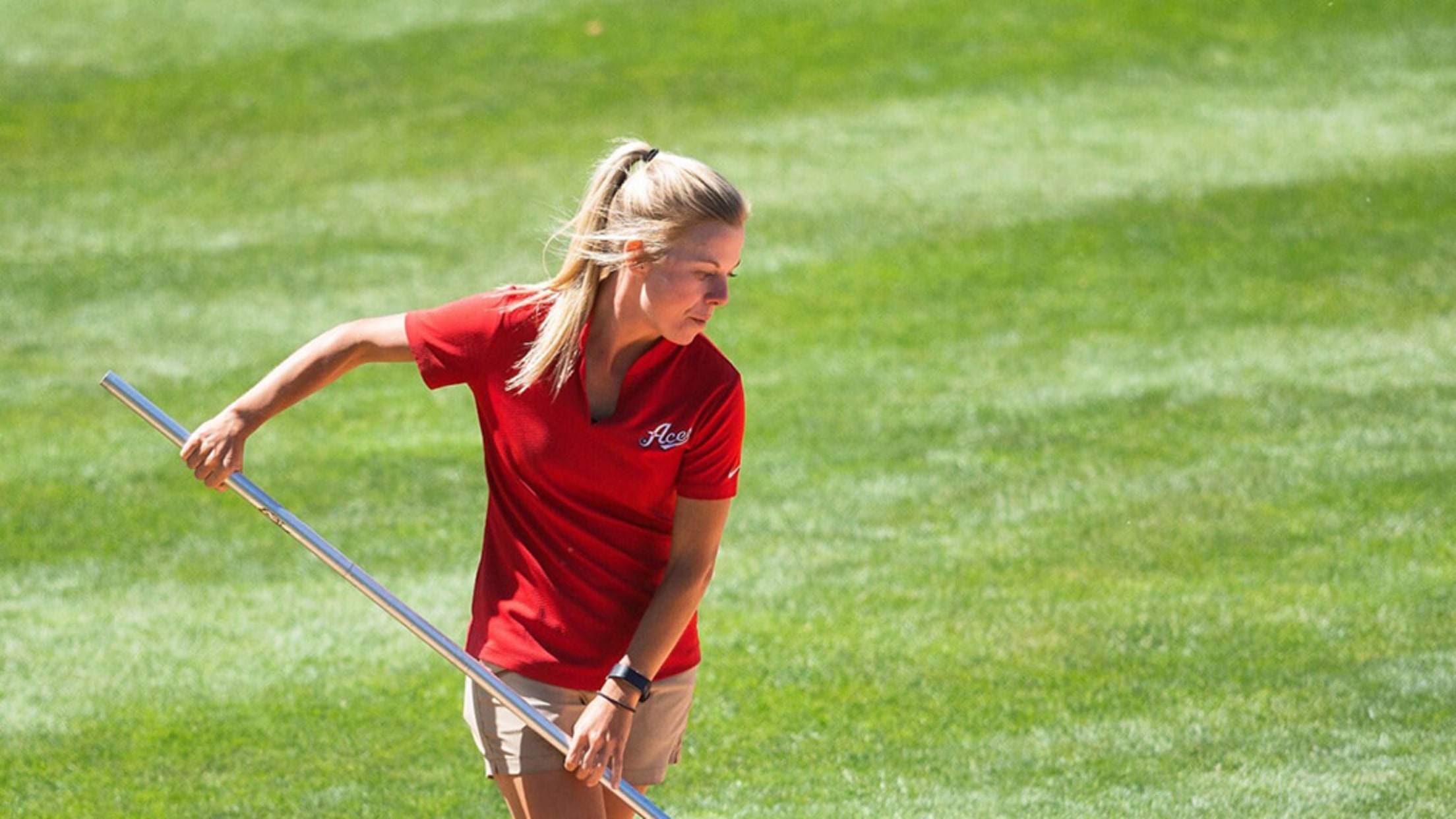 Breaking through barriers
When Withrow was promoted by the Aces in January, she didn't just become the second female head groundskeeper in the Minors – she also became the youngest. Withrow made monumental strides from her days with the club as a summer intern during college and rejoined the organization at age 23 after graduating from North Dakota State University in 2018 with a bachelor of science in sports turfgrass management and a triple minor in horticulture, crop science and business administration.
And there might have been an element of fate at play as well.
"My senior year of high school when I knew I wanted to get into this, I went to Arizona for Spring Break and I reached out to the Cardinals and the Diamondbacks and told them I was looking into turf management, you know, shot my shot. I never heard back from the Cardinals, but the Diamondbacks responded right away and said we would love to have you out and shadow our groundskeeper.
"So that day I walked onto the field at Chase Field from the right-field gate and I thought, 'Wow, this could be my office every day.' And in that instant, I was sold. The baseball world consumed me after that."
The Gardnerville, Nevada native reached out to hometown team Reno following her freshman year for an internship and got it. The following summer, she completed a big league internship with the Brewers, and after receiving her degree, Withrow accepted a full-time position with Northern Arizona University. But it wasn't where she wanted to be, so when the Aces called her in 2019 to offer a full-time assistant groundskeeper role, she accepted -- and ran with it.
"I love how there's so many difference surfaces in baseball. The dirt of the infield, the grass and then the clay on the warning track and how they all have to blend together and be fluid and in sync – it's just different than any other sport. For some it can be frustrating, but for others, it's so satisfying when you can master all of the surfaces."
Almost exactly two years from the day she accepted the assistant position, Withrow was officially given the title of head groundskeeper and all of the responsibilities tied to it.
"I was put in charge of the season and a full-field renovation this spring. It meant a lot because I know this field better than most. All of my 'firsts' were at this field, which makes it even more special because I know all of the little intricacies that others didn't – where the weird drainage spot is, all the manholes, low spots. I just know every detail and that gave me a leg up. I also put in a lot of hours at this ballpark, and I wanted it really bad. I didn't expect it to come this soon, but I also didn't see it going to anybody else."
If you've attended a game at Greater Nevada Field this season or watched on MiLB.TV, you may have noticed Withrow specializes in variety. You'll never see the same pattern in the grass across homestands.
"My mowing patterns are a signature. I change them every homestand," she said. "And we try really hard to do pretty extravagant patterns this year. It's a new field and it stripes up beautifully. And with the new schedule, it gave us some time to get more fancy with the patterns. So if you watch the replays, you'll see a different pattern almost every time."
Fall flannel🍂 pic.twitter.com/ryITKcYPhV

— Leah Withrow (@leahlou2) September 20, 2021
And much like the players who take the field she puts such detailed care into, Withrow is not content to stay put. She has her sights set on The Show.
"Just like anybody in the Minors, honing skills and working on the little things that will hopefully get them the call to the bigs. A hitter is making tweaks to his swing, and I'm tweaking my grass and making sure my maintenance programs are set."
Forging a lasting bond
One of the benefits of being part of such an exclusive group is the camaraderie. Both Beauchamp and Withrow acknowledge leaning on Nicole Sherry for guidance and support.
After a three-year run as the Head Groundskeeper for the Trenton Thunder, Sherry got her call to the bigs in 2016 and has held her position with Baltimore for the last 15 years. She became just the second women in Major League Baseball's 118-year history to have that title.
"I can call on Nicole anytime, woman-to-woman, if I have any questions. It just makes you more comfortable if you have specific questions, and you can ask someone with a lot of experience with it," Beauchamp said. "Especially being part of the same organization -- it makes it easier to relate to each other in the world that you're in."
"[Sherry] is somebody I've looked up to for a while," Withrow said. "So, to be able to talk to her, and she can answer my questions, has helped me a lot. She's a good person to lean on.
"When I got my promotion, Caroline reached out to me. She said congrats, happy to have another one in the club and I said, 'Very exclusive club, but happy to be here.' No one else understands except for us, and it's a special kind of bond you don't have with anybody else -- unless they've walked the same miles in the same shoes."
Heather Nabozny became the first ever female Head Groundskeeper in Major League Baseball history with the Tigers in 1999, after a stint in that role with Tigers' affiliate West Michigan Whitecaps.
Rob Terranova is a contributor to MiLB.com. Follow him on Twitter @RobTnova24.