White Sox Prospect Primer: Big arms coming
Offseason acquisitions jump-start rebuilding program on South Side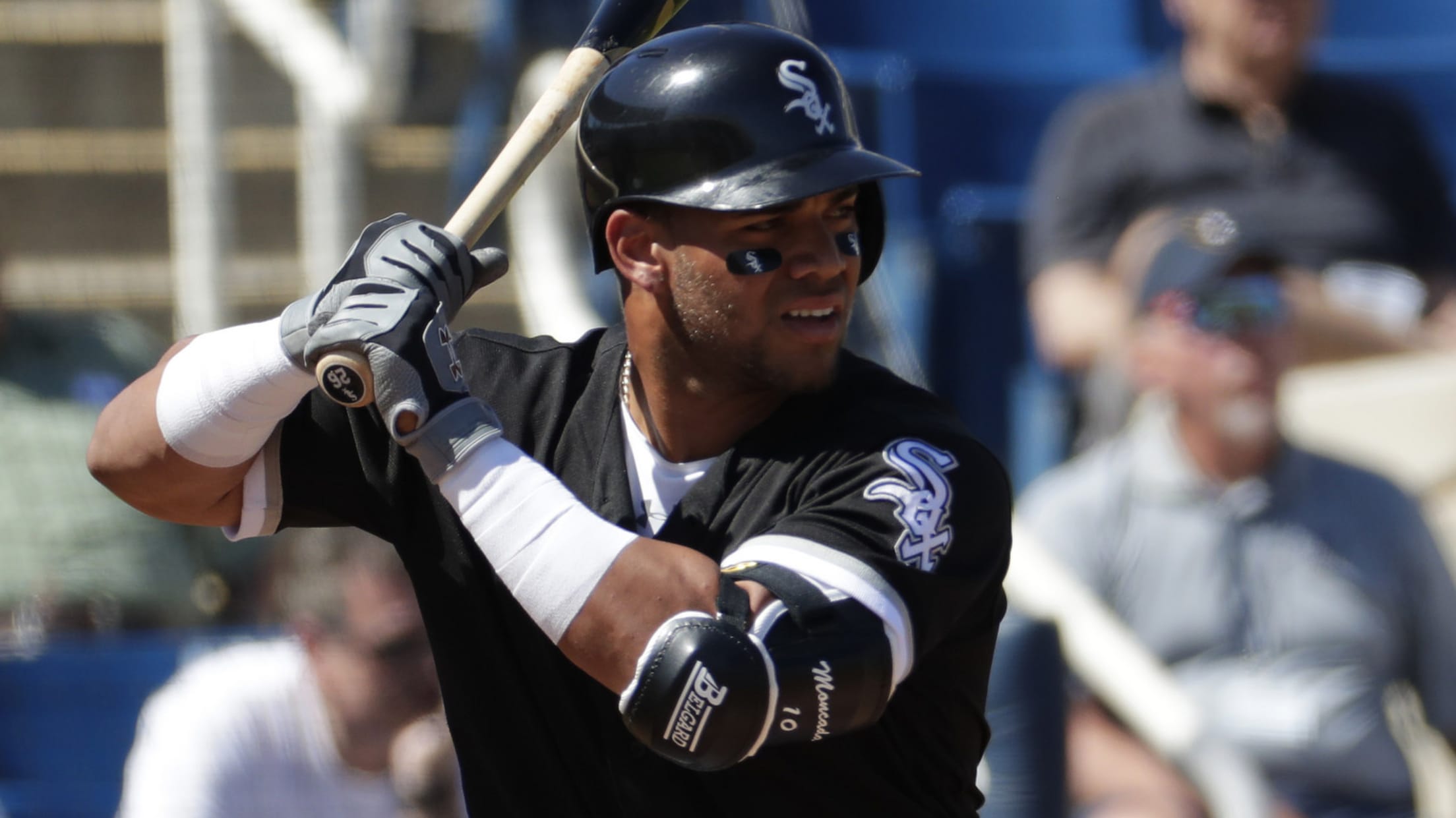 Yoan Moncada came to the White Sox from the Red Sox in the blockbuster Chris Sale trade. (Matt York/AP)
Some players are on the verge of stardom, others are entering a crucial phase of their development and still others are getting their first tastes of full-season ball. With the 2017 season approaching, MiLB.com takes a look at the most intriguing prospects from each MLB organization.Loudest tool: Michael Kopech, RHP
Some players are on the verge of stardom, others are entering a crucial phase of their development and still others are getting their first tastes of full-season ball. With the 2017 season approaching, MiLB.com takes a look at the most intriguing prospects from each MLB organization.
Loudest tool: Michael Kopech, RHP
Acquired from the Red Sox in the trade for big league ace Chris Sale, Kopech made headlines shortly after the December trade when he threw a ball 110 mph. Sure, it was an underweighted ball and was thrown from a short distance, but the idea alone gives one an idea about Kopech's mighty fastball. That pitch is graded an 80 in MLB Pipeline's prospect rankings, the highest possible mark on the scouting scale.
A 2014 first-round pick, Kopech is coming off his first experience in full-season ball, going 4-1 with a 2.25 ERA and an eye-popping 82 strikeouts against 29 walks over 52 innings for Class A Advanced Salem.
"You look at his track record, he doesn't have a ton of innings under his belt," White Sox director of player development Chris Getz said. "For us, we view him as a starter based on stuff, delivery, who this kid is, the makeup, things like that. This year, our focus is to get a full season of innings under his belt, bottom line. It doesn't really matter [where]. We'll find a level for him to be able to do that, and that is our primary focus."
The White Sox could challenge Kopech with an Opening Day assignment to Double-A Birmingham, where he'd be among the Southern League's youngest players at 20.
Shining star: Yoán Moncada, INF
Moncada has the look of an all-world player. MLB.com's No. 2 overall prospect joined Kopech in Chicago in the Sale trade, and the White Sox are thrilled with their acquisition.
"He's obviously a very special talent," Getz said. "He can do a lot of things in a baseball game that impact the game. He essentially got to the big leagues from Double-A, and I don't think he even had that many at-bats in Double-A. There's still some development left. How much of that's going to be in the Minor Leagues [is uncertain] and obviously, there's development once he gets to the big leagues. He's shown a ton of progress defensively and offensively."
Moncada played 106 Minor League games between Salem and Double-A Portland last year and batted .307/.427/.496 with 15 homers and 62 RBIs while getting time at both second and third base.
"I know our coaching staff is really excited to get a power, speed, hit tool, all those types of things in a package," Getz said. "Physically, his presence, he's built like a football player, like a linebacker. He's got a bright future, and to add him to the pool of talent that we have, it's going to be an exciting couple years."
At the crossroads: Lucas Giolito, RHP
This time last year, Giolito was the consensus top pitching prospect in baseball. Then came an inconsistent season at the Minor League level, a rough Major League debut and a trade from Washington to Chicago. Despite some less-than-optimal results last year, the White Sox are confident they're getting a future frontline starter.
"He took his bumps and bruises and I think he's learned from it," Getz said. "He's talked a lot about his mechanical adjustments. He's done really well so far."
Giolito pitched at three Minor League levels last year and put up a 2.97 ERA with 116 strikeouts and 44 walks in 22 starts, all but one with Double-A Harrisburg and Triple-A Syracuse. While the numbers were good, Giolito's velocity was down and he was rocked in his big league debut with a 6.75 ERA in six appearances. Getz and the White Sox have a simple formula to get the towering righty on track.
"All he needs to do is be able to repeat his mechanics, bottom line," Getz said. "He's got plus stuff across the board. We think [he's] a guy that can go out there and really be a part of something really special. He's hungry. He's a learner. He's got passion for the game, all those things you really want from a frontline type."
Major League-ready: Carson Fulmer, RHP
It's easy to call Fulmer ready for "The Show" because he's already been there and turned in a handful of effective outings for the White Sox last summer. Those, however, came out of the bullpen. Fulmer wants to start, as he told The Show Before The Show podcast from Spring Training, and the White Sox agree. Proving he can do it is the next challenge.
The eighth overall pick in the 2015 Draft, Fulmer took his knocks like Giolito last year, going 6-10 with a 4.63 ERA in the Minors with a fastball that looked more pedestrian than it did when he was Vanderbilt's 2013-15 ace. Also like Giolito, Fulmer worked through mechanical adjustments last year, with the White Sox heavily tweaking his delivery to start the season before letting him go back to his college motion. In his last two outings with Triple-A Charlotte, Fulmer gave an indication of what the White Sox hope will be a strong 2017 with 11 shutout innings -- including a five-inning hitless effort on Aug. 28 - with 10 strikeouts against two walks.
Full-season debutant:Zack Collins, C
Collins got a taste of a full-season level when he played 36 games for Class A Advanced Winston-Salem after being plucked from Miami in the first round last year. In 2017, he'll go wire to wire in the White Sox system and try to build on a good professional debut.
With the Dash, Collins continued to show advanced plate discipline, reaching at a .418 rate despite a .258 batting average. His walks (33) nearly equaled his strikeouts (39), and the backstop showed some pop with six homers and seven doubles. At 6-foot-3 and 220 pounds, Collins is big enough that it may be tough for him to remain behind the plate, but the White Sox are pleased with his work there.
"His defensive side, it's been pretty solid from what I've seen," Getz said. "So to say that we really want to accomplish something on the defensive side, he's in a good place. I think the game is going to dictate a lot with him. He just needs to go out and play. He's a very even-tempered player, and that's a great attribute to have as a baseball player in a long season."
Having a year under his belt to learn the arms he'll see in 2017 will help Collins' progression with Winston-Salem or Birmingham.


Others to keep an eye on: Right-hander Reynaldo López also came over from Washington in the Adam Eaton trade and saw big league time last season. He's competing for a spot in Chicago's bullpen. … Fellow righty Tyler Danish has continually been young for his level, but the 22-year-old reached the big leagues last season . … Drafted in the 28th round out of Pitt last year, Aaron Schnurbusch tore up the Pioneer League with a .357/.471/.542 slash line in 66 games.
Tyler Maun is a contributor to MiLB.com. Follow him on Twitter @TylerMaun.