Skin in the game: A Minor League tattoo odyssey
Christensen details ongoing quest to ink every team on his body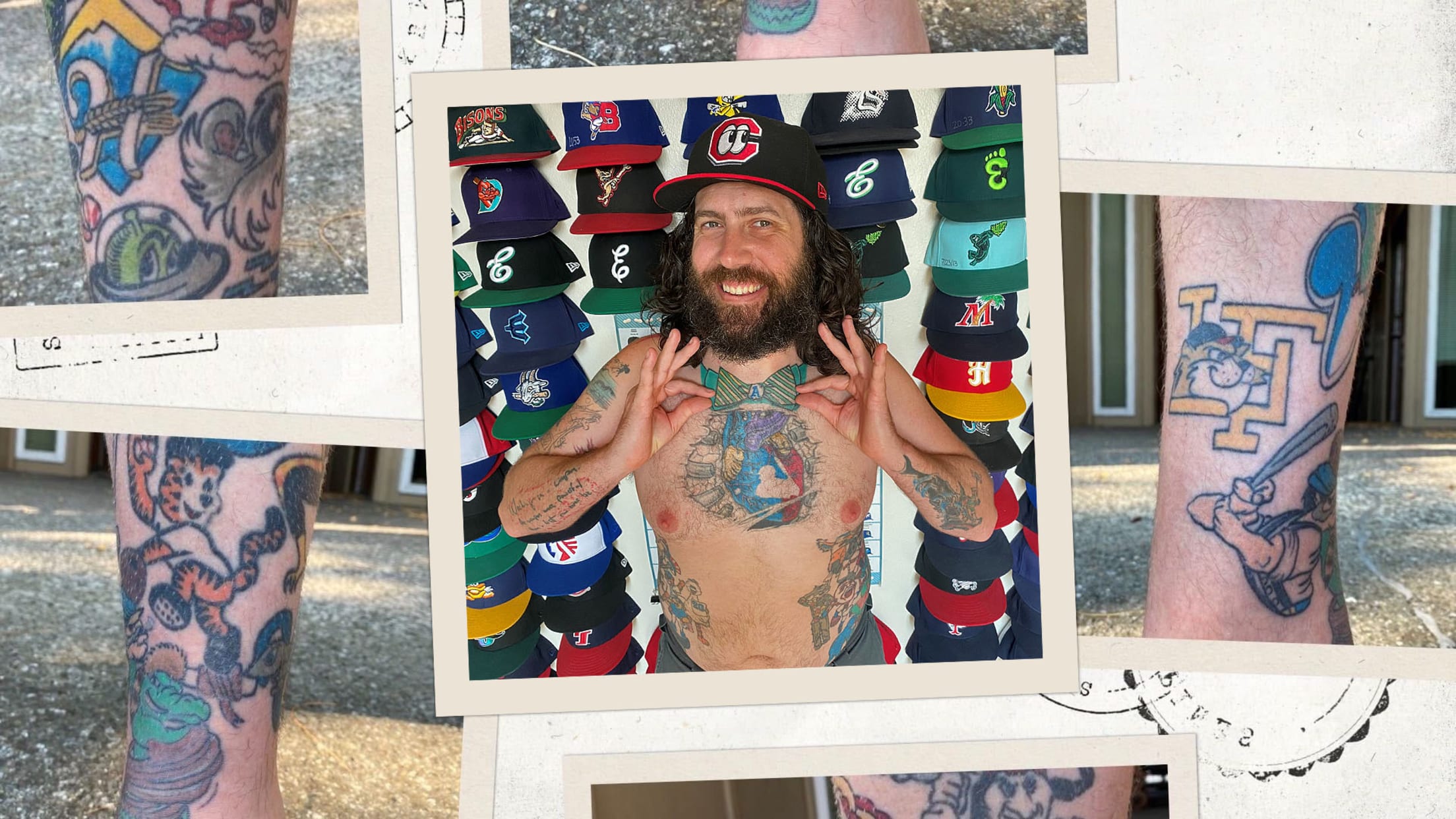 Along with boasting an impressive Minor League cap collection, Benjamin Christensen is in the process of having each team's logo tattooed on his legs.
This month we're profiling Minor League Baseball fans across the country. These fans go to impressive lengths to show their love of the game in creative ways, staying connected to their favorite teams even when the action on the field is on hold. Do you think you can stake your
This month we're profiling Minor League Baseball fans across the country. These fans go to impressive lengths to show their love of the game in creative ways, staying connected to their favorite teams even when the action on the field is on hold. Do you think you can stake your claim as "MiLB's Biggest Fan?" Tell us why at the MiLB Fan Lounge, created in conjunction with MiLB partner Brand Activation Maximizer, for a chance to be a special guest and share your story on our official podcast, The Show Before the Show.
Benjamin Christensen is a living, breathing piece of elaborate baseball artwork. The 37-year-old native of Oakland, California, has devoted his rib cages to a sprawling, eccentric tattoo tableau featuring mascots from all 30 Major League teams. National League clubs are featured on the left side, while the American League resides on the right.
Of course, one has to work his or her way up to the Major Leagues. Christensen, taking that idea literally, is in the process of having all of Minor League Baseball tattooed on his legs. It'll take a while, but Christensen is nothing if not dedicated.
"My right leg is for all teams west of the Mississippi [River]. Left is for all teams east of it," he said. "The numbers aren't dead even, but it's pretty close. The other part of it is that I'm trying to go from Rookie ball up through Class A, high-A, Double-A and then to Triple-A, where they'll eventually blend into my MLB tattoos."
At 6-foot-3, Christensen possesses more leg than most adult humans. But will it be enough to encompass the vast entity that is Minor League Baseball?
"I'm gonna be cutting it close," he admitted, before emitting a nervous laugh. "Obviously, certain areas are extremely painful, and I'm looking forward to that the least. That will be Triple-A teams, by the time it gets that high. I don't want to be too graphic, and it's still at least a couple of years away, but I think about it all the time."
Christensen, clearly, is someone who takes his fandom to extremes. He started collecting hats "aggressively" in 2010 and has 1,000 (give or take, including nearly 200 Minor League hats). This has translated directly to his current vocation, as he works for The Hat Club as both social media coordinator and manager of its store in Concord, California. He acquired his 30-team collage of MLB tattoos over the course of several months in 2011, the beginning of his ongoing collaboration with Eugene, Oregon-based tattoo artist Felix "The Tat" Epperson.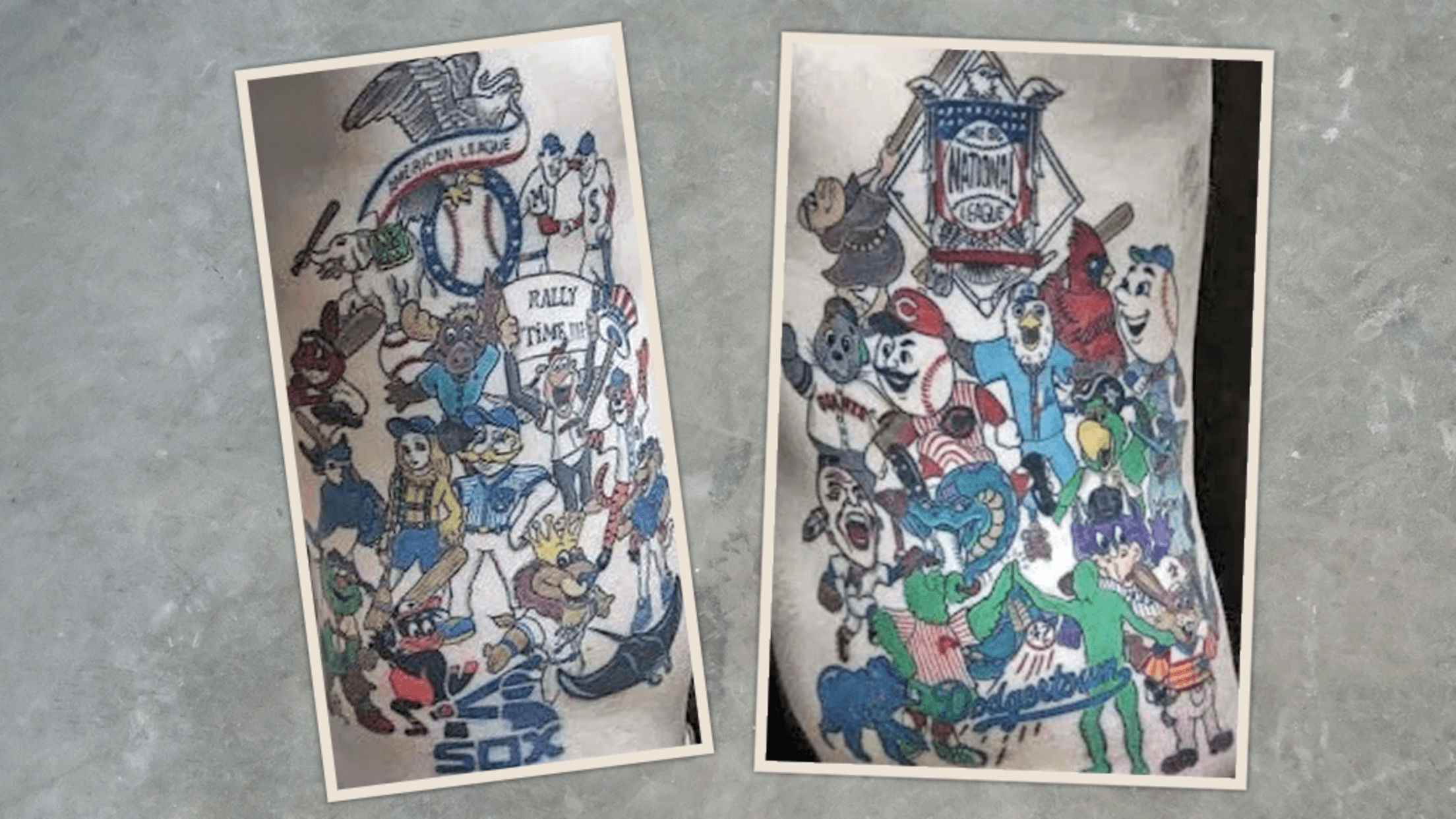 The following season, he was one of nine individuals selected to reside in Major League Baseball's New York City-based "Fan Cave." Soon after his departure from this all-immersive baseball experience, he procured a tattoo featuring the MLB logo as his beating heart. In 2013, he acquired an Oakland A's bow-tie tattoo. Christensen, who went on to work for the A's from 2014 through 2016, has been a fan of the team his entire life.
"My first A's game was in 1987 vs. the Orioles," he said. "My biggest memory from that, what solidified my fandom, was seeing Mark McGwire homer off of Mike Boddicker. It was also my first experience with the Coliseum, just completely sold out."
From the beginning, Christensen's baseball fandom included a love of the Minor Leagues. In 1987, his family lived in Stockton, California; that same season in which he saw his first A's game, he also caught an 18-year-old Gary Sheffield suiting up for the hometown Ports at Billy Hebert Field. From age 5-17, Christensen and his family lived in Bakersfield, another California League city. In 1999 and 2000, he served as a bat boy for the now-defunct Bakersfield Blaze, who played at Sam Lynn Stadium (a ballpark notorious for being built facing the sun). In 2007, he moved to Eugene to attend the University of Oregon, where he obtained two journalism degrees. While living there, Christensen became a huge fan of the Emeralds, who then played at Civic Stadium.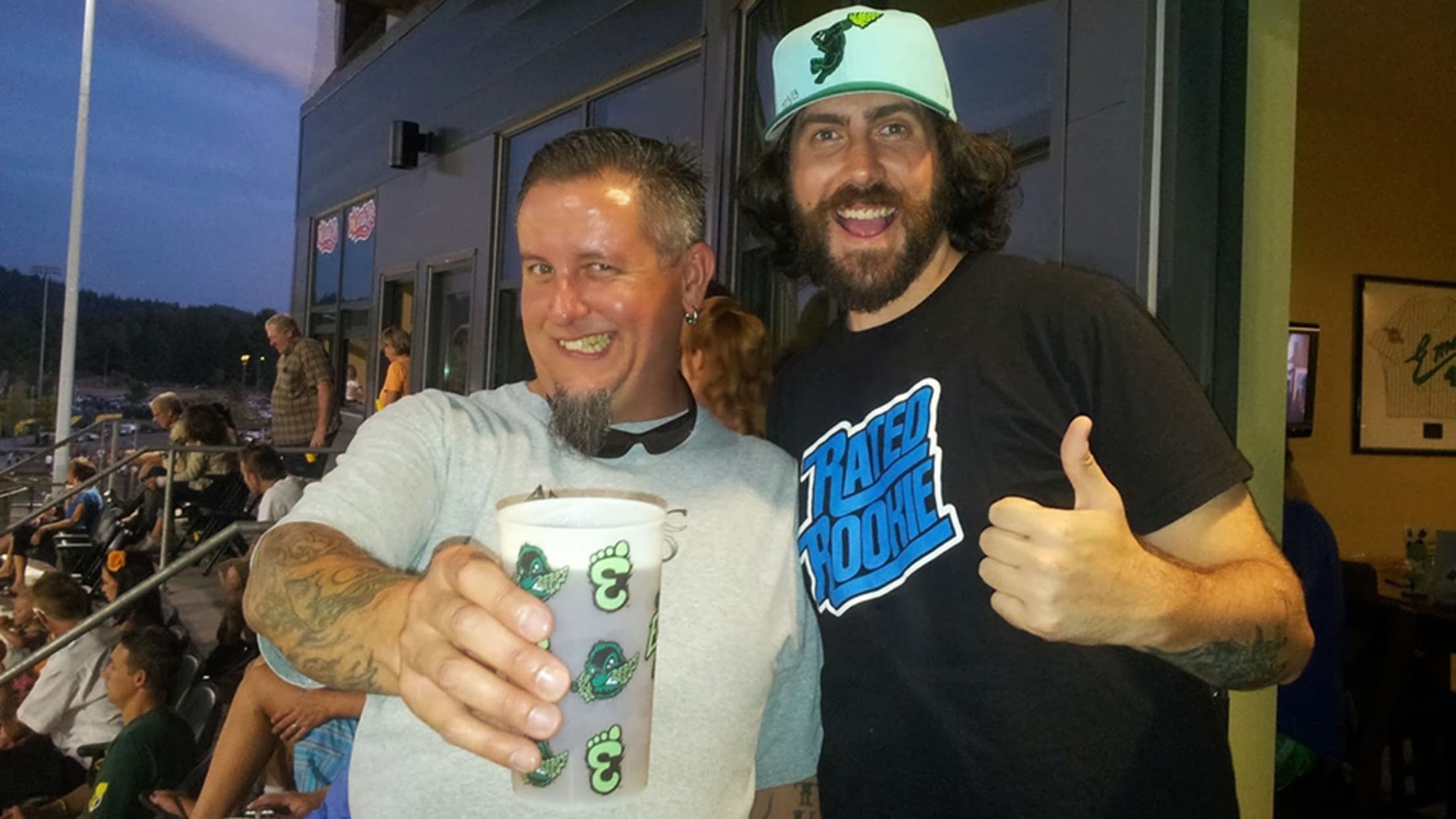 "Civic Stadium, it was the last bastion of that kind of wood-based ballpark," Christensen said. "It was ugly, but it was beautiful at the same time. ... On Thirsty Thursday, my friends and I would get dollar beers and stack the cups into pyramid form. Because we knew that, at some point, a rocket foul ball would shoot back and explode our pyramid. Sure enough, it would."
The Emeralds, who moved to their current home of PK Park in 2012, played a primary role in Christensen's ongoing Minor League tattoo odyssey. Shortly after his stint in the Fan Cave, he returned to Eugene and began writing a blog called "Hats and Tats." This led to a phone call from Emeralds general manager Alan Benavides, who pitched a "Bats and Tats" theme night.
"The Emeralds had just switched to their new sasquatch logo, so the idea was to have rival tattoo artists come to the ballpark and do sasquatch-themed, Emerald-themed tattoos. I'd be the guinea pig, one of the guys getting tattooed," said Christensen. "I talked to Felix, he said 'Yeah, let's do it.' It's good exposure.
"We took that 'Swinging Friar' sasquatch logo with the tree, but we wanted to combine the past with the present. We changed the tree to [Emeralds mascot] Sluggo. It was a good blending of the two, and not too awkward. That was the beginning. It started on my right leg, and I knew from there that if this was the beginning of having Minor League tattoos, I'd need to break it down to a point where it made sense."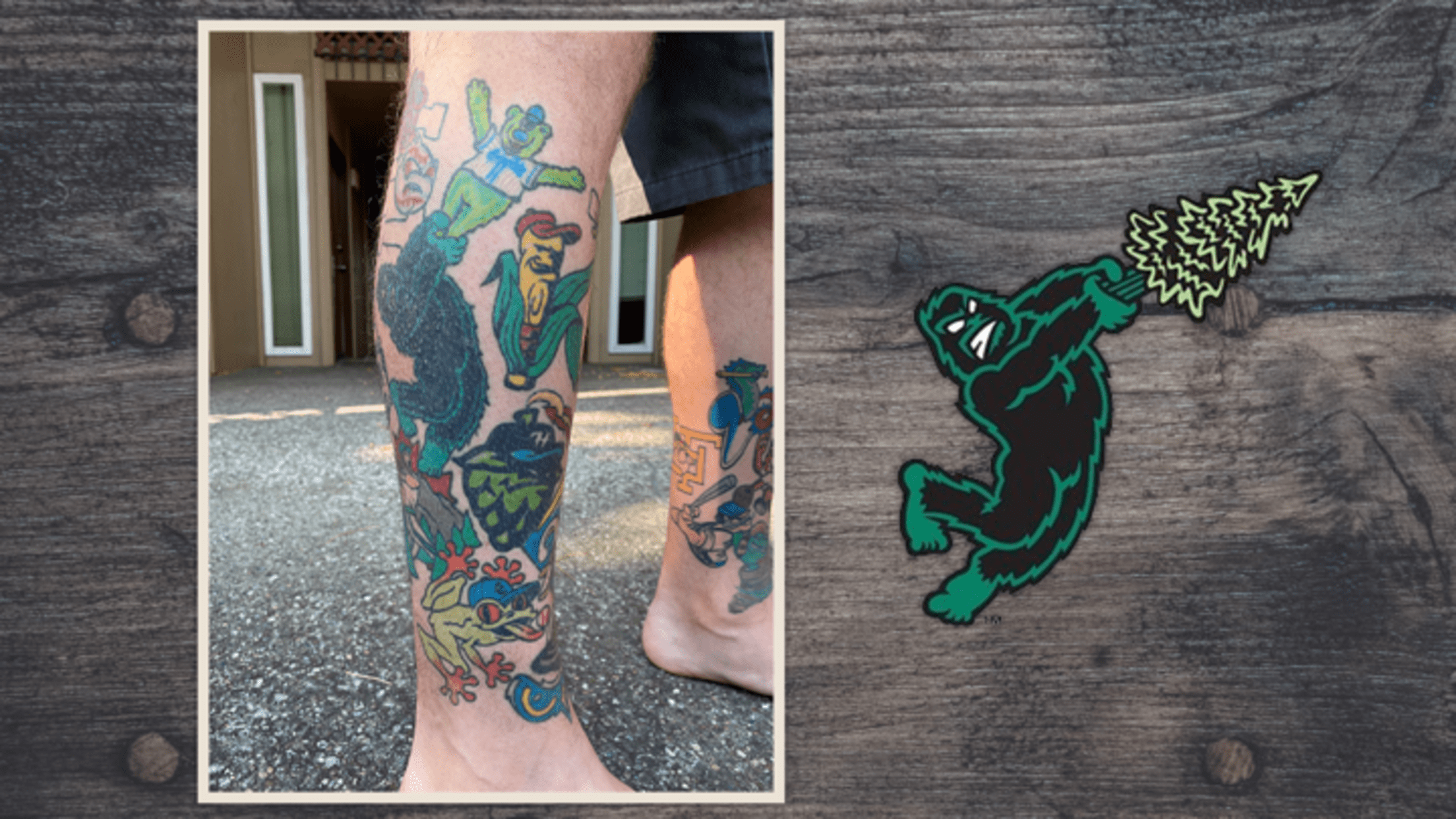 "Sasquatch swinging a mascot" set the tone for Christensen's ever-growing swath of Minor League leg art. The tattoos often combine different eras and locations in a franchise's history, resulting in a unique menagerie that is equal parts logical and whimsical. Despite living more than 500 miles from Eugene, he continues to work exclusively with Epperson on his baseball tattoos.
"He'll tell me, 'Dude, it's such a burden, it's OK to see other tattoo artists,'" Christensen said. "But I don't operate like that. You've been with me on this journey since it began, visualizing my ideas, and I'm not gonna see another person to finish this up. This is our baby."
Long distances and the myriad obstacles imposed by COVID-19 have temporarily paused the tattoo project. So Christensen is saving up money for his next round of Minor League Baseball body art, whenever that may be.
"I haven't made it too far on the left leg, the East Coast side. I've only gotten eight done so far," he said. "The Appalachian League is tough, there are no unique [non-parent club] names. So I've been focusing on the New York-Penn League and slowly working my way through that.
"Whereas the right leg, I started with the Emeralds and that kept me focused on the Northwest League. ... Artistically, I thought there were some that translated really well. For example, the Butte Copper Kings later became the Casper Ghosts. I combined those two teams, with a weird copper crown on the head of the ghost. I stuck with those two logos because now that team is in Grand Junction and named after the parent club. There's not much you can do with that."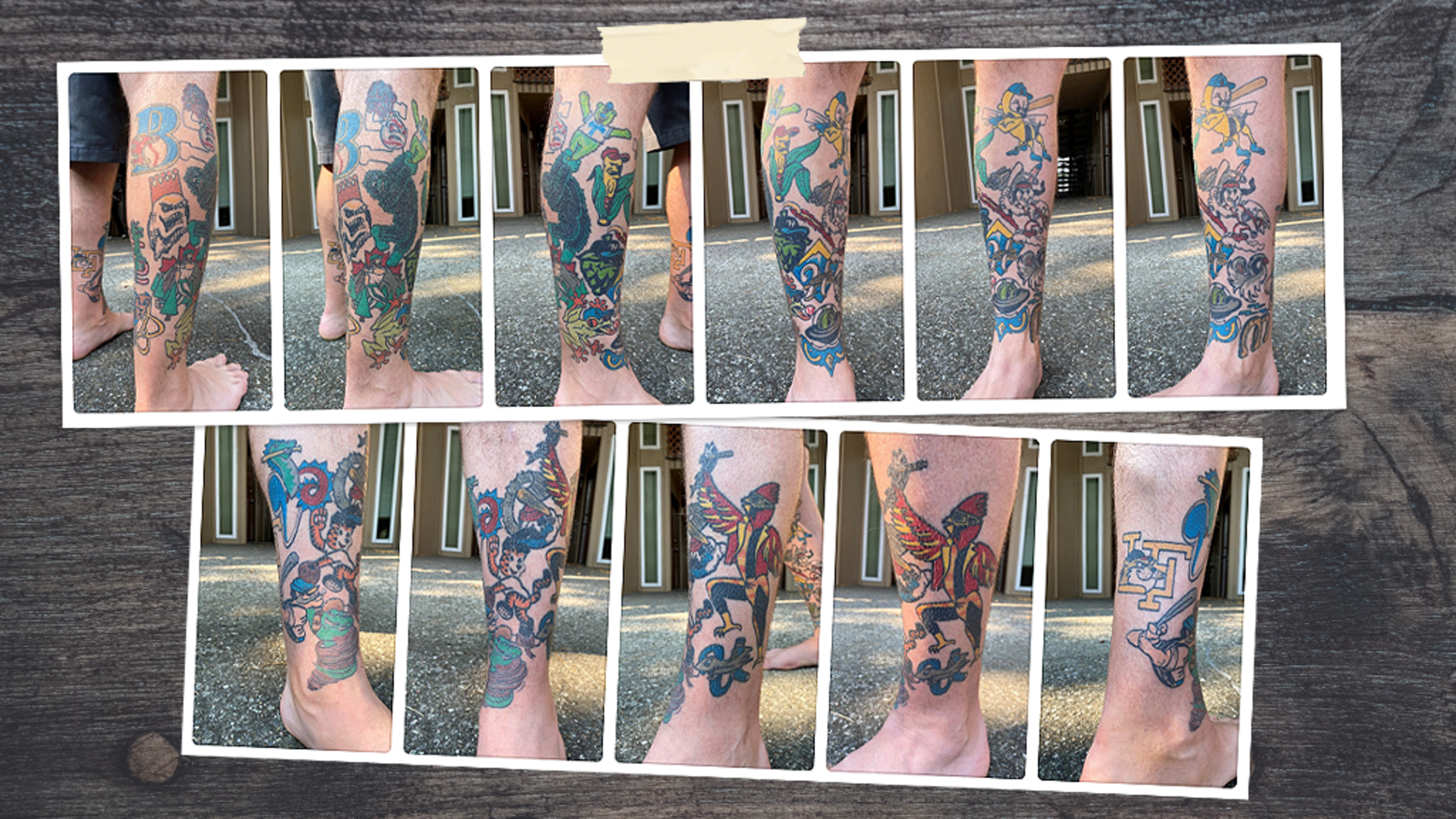 The ever-shifting nature of the Minor Leagues, combined with the uncertainty accompanying the 2021 season, has given Christensen plenty to ponder.
"I don't want to see any teams dissolved, but if that happens, I can pass on a memory," he said. "I've always been fascinated with the history of baseball and I love that this is something that can open people's minds to different teams, eras and players that came before. I love talking to people who catch a glimpse and say, 'Hey, what's on your leg there?'"
Christensen's answer to that query will adapt and evolve, but he'll always have something to say.
"The story with tattoos is that once you get one you become addicted and want more and more and more. But it's not so much the pain and the feeling of it that's addicting. It's the creativity," he said. "As long as you have ideas, you want more and more. So there's part of me that's not in a rush because a lot of the thrill is me doing research, putting together design concepts, seeing Felix and having him visually put it together based on my words. Then, finally, it's now ready to get inked on my body. The journey is more exciting, in some aspects, than the actual execution."