Hillcats' McKenzie leads Pitchers of the Week
Indians No. 3 prospect racked up career-high 14 K's in six innings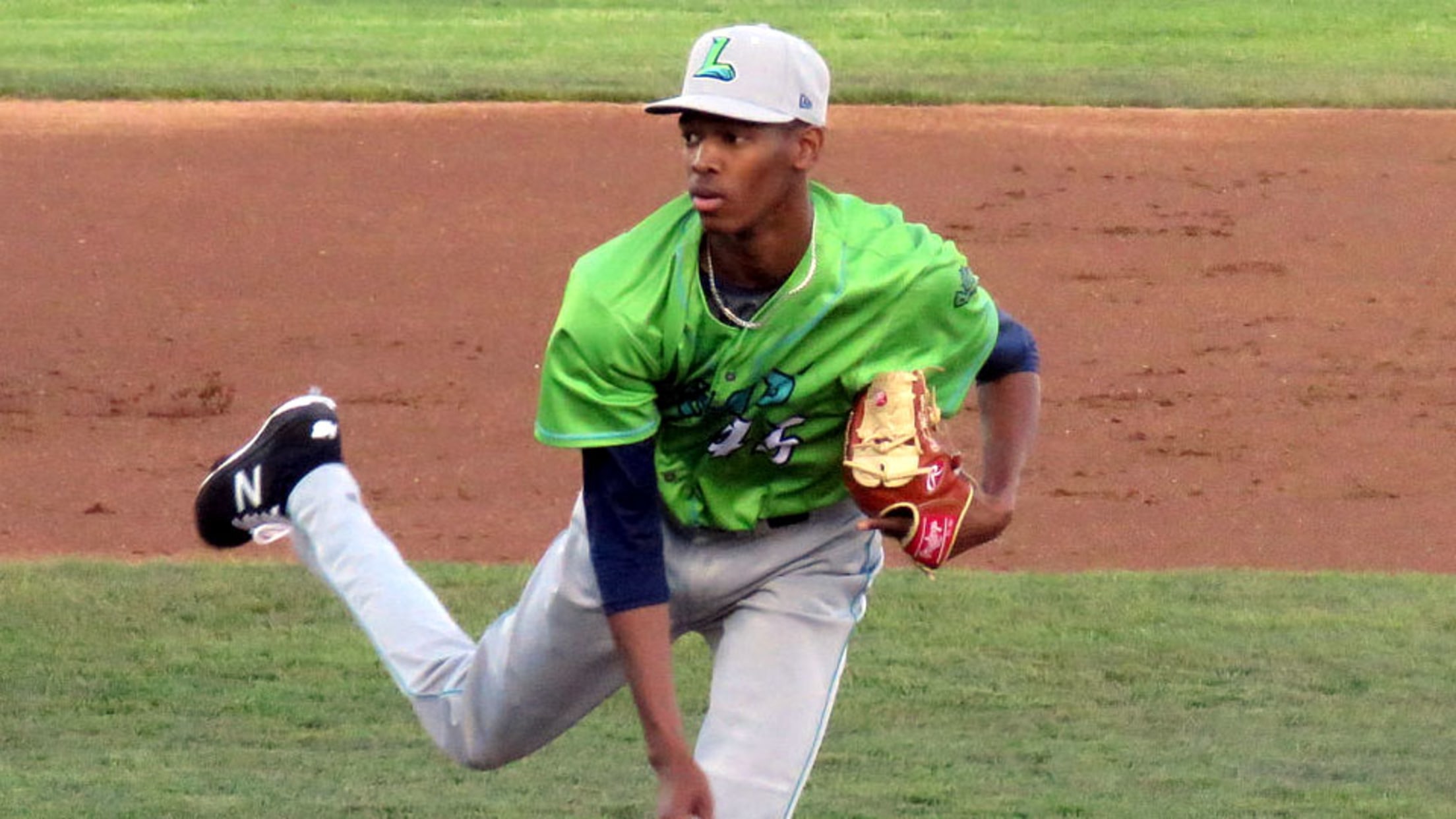 Triston McKenzie improved to 3-2 and recorded a career-high 14 punchouts on just 92 pitches. (Ashley Stephenson/Lynchburg Hillcats)
Triston McKenzie didn't just make it look easy last week -- he actually admitted it was.The 19-year-old right-hander earned the Carolina League's Pitcher of the Week award Monday after striking out a career-high 14 over six scoreless innings last Tuesday for Class A Advanced Lynchburg."During starts like this, the game
Triston McKenzie didn't just make it look easy last week -- he actually admitted it was.
The 19-year-old right-hander earned the Carolina League's Pitcher of the Week award Monday after striking out a career-high 14 over six scoreless innings last Tuesday for Class A Advanced Lynchburg.
"During starts like this, the game just comes rather easy for me," McKenzie told MiLB.com after the Hillcats' 4-1 win over Carolina.
Cleveland's No. 3 prospect allowed one hit and one walk in his best strikeout effort since he whiffed 11 for Class A Lake County on Aug. 16 last year.
"My command was great and everything was really working," McKenzie said. "I used the changeup intermittently to keep the hitters off-balance. I mean, I'm definitely not keeping count of how many strikeouts I have out while I'm on the mound, although I knew I had tallied a decent amount. But I was a little surprised when they told me how many I had when I was done."
View the Player of the Week winners »
McKenzie lowered his ERA to 1.95 in six starts. His 44 strikeouts in 32 1/3 innings rank third the Carolina League.
"My strikeouts were mostly distributed between my fastball and curve tonight, but all of my pitches were really working well," he said after the game. "My goal never changes on the mound regardless of how I'm doing. I want to do the best job that I can for my team. Whether that means striking guys out or letting them put the ball in play for the defense behind me, so be it.
McKenzie, the No. 42 overall pick in the 2015 Draft, opted for a $2.3 million signing bonus over attending Vanderbilt, a decision he said at the time was a "dream-like moment." The Indians gained the pick from the competitive balance lottery.
He debuted briefly in 2015 before going 6-5 with a 1.62 ERA in 15 outings last season between Class A Lake County and Class A Short Season Mahoning Valley. McKenzie said he's grown since last year, maturing both as a pitcher and physically from the gym.
"Knowing I was coming into my first full-season schedule, I bulked up a bit in the offseason to help with my conditioning over the longer season," McKenzie told MiLB.com. "So far, I've already noticed how much more knowledgeable the hitters are and their approach towards pitchers. They make you pitch closer to the strike zone, they're more patient and they definitely make you work harder."
Below is a full list of the Minor League Pitchers of the Week for May 8-14: