Crazy 8's: Grizzlies shuffle past 66ers 8-5 thanks to another 8th inning comeback
3rd straight game Fresno has come back to win in 8th; Fernandez and Amador: HR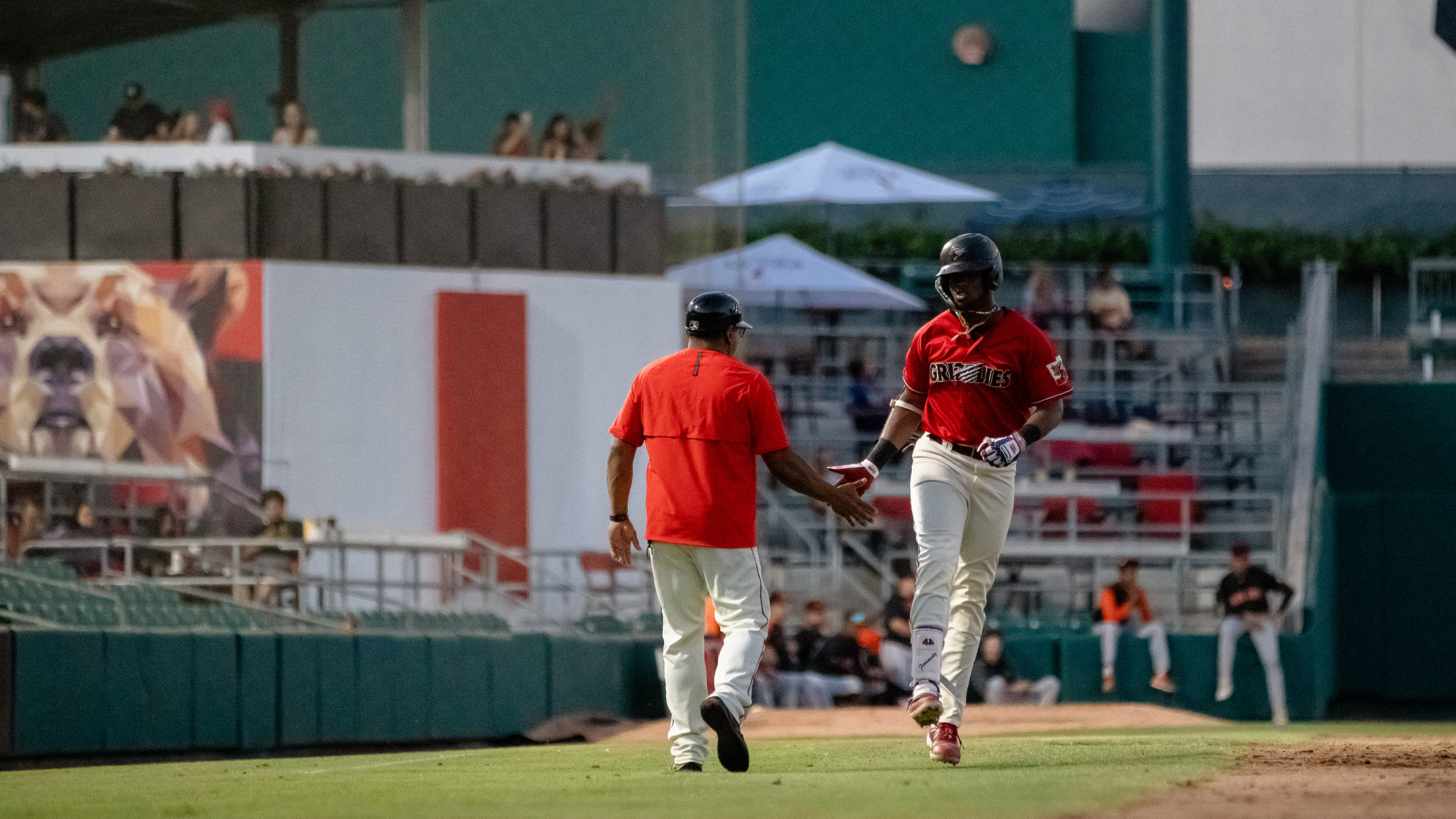 San Bernardino, CA (Tuesday, August 9) – The Fresno Grizzlies (61-42, 20-17) shuffled past the Inland Empire 66ers (53-50, 21-16) 8-5 Tuesday night from San Manuel Stadium. For the third straight game, the Grizzlies played all their cards right late, enjoying another eighth-inning comeback win. Fresno scored five runs in
San Bernardino, CA (Tuesday, August 9) – The Fresno Grizzlies (61-42, 20-17) shuffled past the Inland Empire 66ers (53-50, 21-16) 8-5 Tuesday night from San Manuel Stadium. For the third straight game, the Grizzlies played all their cards right late, enjoying another eighth-inning comeback win. Fresno scored five runs in the eighth and two in the ninth to complete their 14th comeback victory of the season. The Grizzlies improved to 15-4 in the first game of a series and 13-3 on Tuesdays.
In the top of the first, Yanquiel Fernandez surged Fresno ahead 1-0 with a solo moonshot to dead center. It was Fernandez's 14th clout of the season. Inland Empire would quickly erase the deficit and take the advantage with three runs in the third and another two in the sixth. David Calabrese and Arol Vera belted back-to-back RBI doubles to start the 66ers scoring. Then, Alexander Ramirez ripped a single to left, notching Vera. In the sixth, a double steal and error plated the first run while Myles Emmerson added BJ Boyd for the second run.
Despite trailing by four, the Grizzlies offense was ready to roar. Ben Sems led off the inning with a walk and rounded the bases after an Adael Amador tater to right-center field. It was Amador's 14th wallop of the year. After another walk, Fernandez put runners at second and third with a double. A Juan Guerrero sacrifice fly would cut the deficit to one. Next, Braxton Fulford and AJ Lewis drew walks, loading the bases. This would bring up Cuba Bess, who worked another walk (3-2 count) and pushed the tying run across the plate. A batter later, Yorvis Torrealba gave the Grizzlies the lead with a sacrifice fly to right. Fresno lengthened the advantage to 8-5 in the ninth after a Juan Brito two-bagger and a double steal on a strikeout.
Overall, the Grizzlies lineup mustered four hits, but all of them landed for extra-bases. The top third of the order yielded all the hits and scored two runs apiece. Fernandez expanded his hit streak to nine games after his homer and double. Fresno also drew a season-high 12 walks with a quartet of batters recording multiple bases-on-balls. Starter Jordy Vargas did not factor in the decision for his Grizzlies debut. He chucked four innings of three-run ball, punching out four batters. Luis Amoroso tacked on two frames of relief before a trio of arms shut down the 66ers bats. Tanner Propst (1-0) received the win, Gabriel Rodriguez secured his first hold and Angel Chivilli wrapped up his third save. The group was perfect for three innings, fanning four.
Inland Empire's offense managed nine hits with the top five batters lacing one or more hits and scoring one time apiece. Boyd and Ramirez spanked a pair of hits each in the loss. Righty Connor Van Scoyoc was dominant over six frames of one-run ball. The only hit he permitted was the solo bomb by Fernandez in the first. He walked and struck out four. After he departed, four relievers had command issues, blowing the save. Dayan Reinoso (0-2) was tagged with the defeat. The squads are back to battle tomorrow night from San Manuel Stadium.
Top Performers: Fresno Grizzlies (Colorado Rockies)
• RF Yanquiel Fernandez (2-5, HR, 2B, RBI, 2 R)
• SS Adael Amador (1-2, HR, 2 RBI, 2 R, 3 BB, CS)
• 2B Juan Brito (1-4, 2B, RBI, 2 R, BB)
• LHP Tanner Propst, LHP Gabriel Rodriguez and RHP Angel Chivilli (3.0 IP, 0 H, 0 R, 0 ER, 0 BB, 4 K)
Top Performers: Inland Empire 66ers (Los Angeles Angels)
• RHP Connor Van Scoyoc (6.0 IP, 1 H, 1 R, 1 ER, 4 BB, 4 K)
• SS Arol Vera (1-3, 2B, RBI, R, BB)
• LF BJ Boyd (2-4, R, SB)
On Deck:
Wednesday, August 10 @ Inland Empire 66ers, Fresno RHP Cullen Kafka (4-3, 4.71) vs. Inland Empire LHP Joey Walsh (3-3, 4.80) , 7:05 pm PT
ON THAT FRES-NOTE:
The Fresno Grizzlies and Inland Empire 66ers continue their six-game series tomorrow at San Manuel Stadium. This is the only regular season matchup between the two clubs and the second meeting ever between the Grizzlies and 66ers. Last season, the squads split their six-game series in Inland Empire with Fresno winning the first three games.